Day 2
The Studio 6 was actually pretty nice in general. The problem was I'd laid the Camelbak on the bed last night before heading to Outback and it leaked water on the foot of the bed. As such, I slept in a bit of a puddle all night. Once you warm up the water, it's not all that bad. 🙂
I tend to be a very early riser, getting up around 5am but on the trip, I got up at 6am 🙂 I took a shower and packed up my gear getting it on the Concours until I woke Samantha up. Aren't I nice? 🙂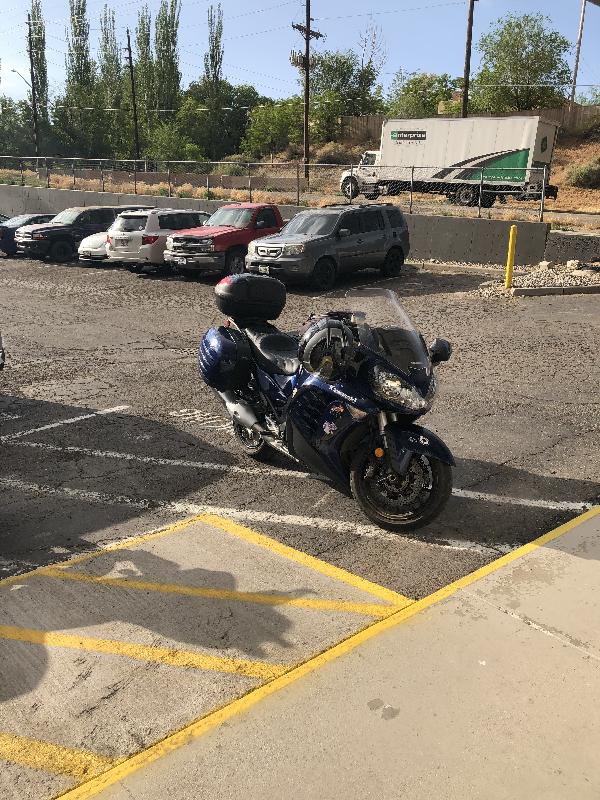 I pulled the Hayabusa up to the door and showed Samantha how to clean and wax the chain. I have a stand that lets the rear wheel turn freely. Humorously it's been so long that it took a few minutes to figure out how to lever the bike onto the kickstand to get the other stand in place. I used WD40 to clean the chain and then chain wax once it dried.
Samantha saved some of dinner for breakfast so while I was finishing up the Hayabusa, she was hitting the left overs.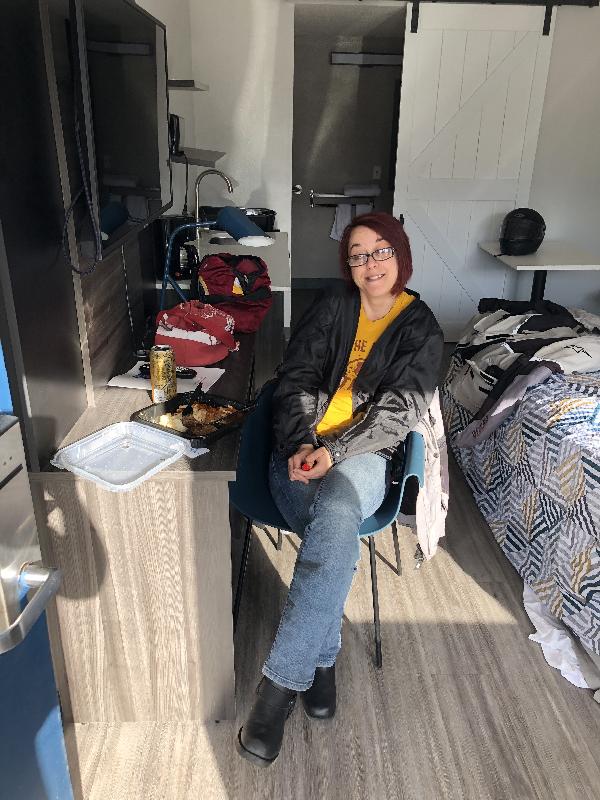 Once we were all packed up, and searched the room to make sure nothing was lost (Sam found an old water bottle under the bed, cleaning staff!) we headed out. After a bit of riding, we hit a gas station to top off the bikes. Even though we filled up last night not long before, we're going to be hitting Rt 141 and there may not be gas for 100 miles. Better to top off before leaving.
But when I was trying to open my tank, I pushed a bit too hard on the key in the tank and bent it! I was able to bend it back to just about straight but I didn't want to muck with it too much so I put it in the ignition and pretty much left it there and used the spare key from then on. I'll need to try and straighten it out better when we get home.
And when done, we headed out. I made a turn on the alternate rt 70 and within a few minutes I realized we weren't on rt 50. I pulled over and let Samantha know what happened. We made a left turn to a side road and parking lot to get turned around and back to 29th street. A left turn (and I needed to wait as I made the light but Samantha didn't), and headed on to get into rt 50 south.
At rt 141, we made the right turn and headed for Gateway and then Naturita. What a beautiful morning though. Nice and cool and a bit cloudy. It was matching the weather report, if just a little cooler but the day is early. After a few minutes into the ride, I pulled over to a flat paved pull out. I've been careful since Samantha had the issue with the slight hill and figured there might be issues with gravel too. Best to be careful 🙂
Samantha seems to be enjoying the ride 🙂
As we progressed though, there was darkness ahead. It was straight and a bit to the right so I was hoping we would skirt the rain. I was eyeing oncoming traffic to see if they showed some rain on the windshields and sniffing to determine if it was raining up ahead. You know the nice smell of fresh rain on asphalt. Nothing so far. But as we continued, it was clear we were going to be riding through some rain and lightning. Time to pull over and get set.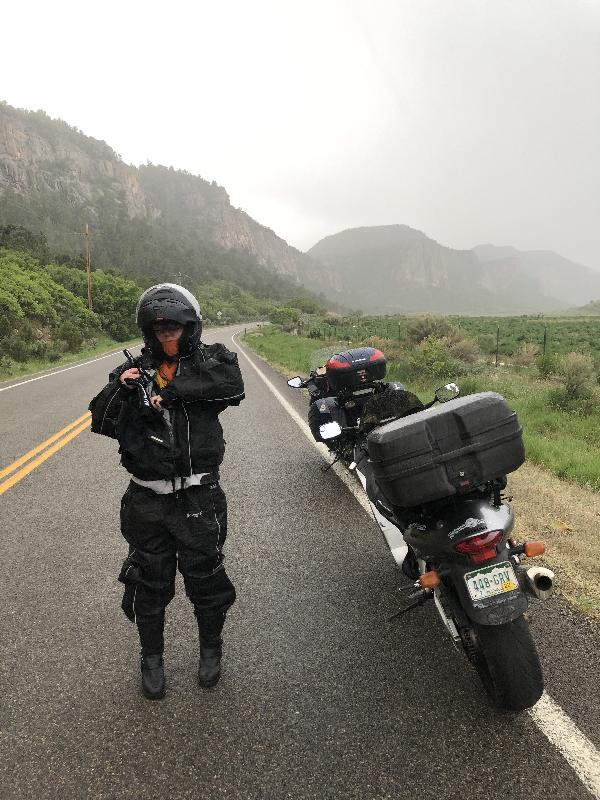 Because I have such big feet, I generally take off my boots, get the Tourmaster rain pants on, then put my boots back on. But as noted yesterday, I'm prepared. I brought rain gear, bought a second set of rain glove covers for Samantha, and I'm using waterproof gear bags to keep things dry.
As we approached Gateway, it got clear and dryer. Fortunately there was a gas station so we pulled over and filled up. Since I'm paying for both vehicles, occasionally there's a problem where the bank balks when I run the card twice and since the two bikes use different octanes, I can't fill it with the same pump (well I could but it'd be a waste). In this case, the pumps wouldn't even take the cards. I had to go inside and prepay. It worked out though.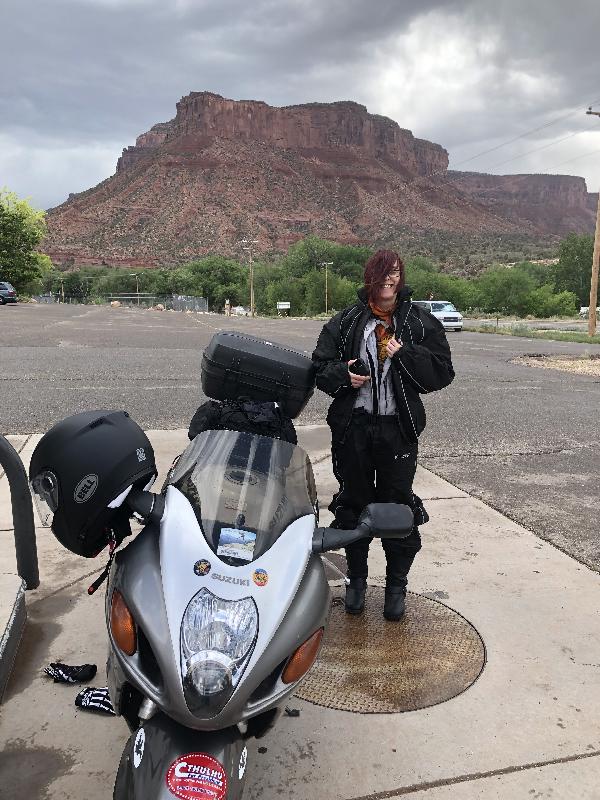 I'd passed on to Samantha that she could stop at any time. I was watching behind and if I saw her stop, I'd stop and maybe head back if I got too far ahead. But generally she waited for me to stop.
I was keeping an eye on the scenery and pulled over at a pretty cool spot for a picture.
Looks like rain ahead so we're not removing gear yet. We're still about half way to Naturita.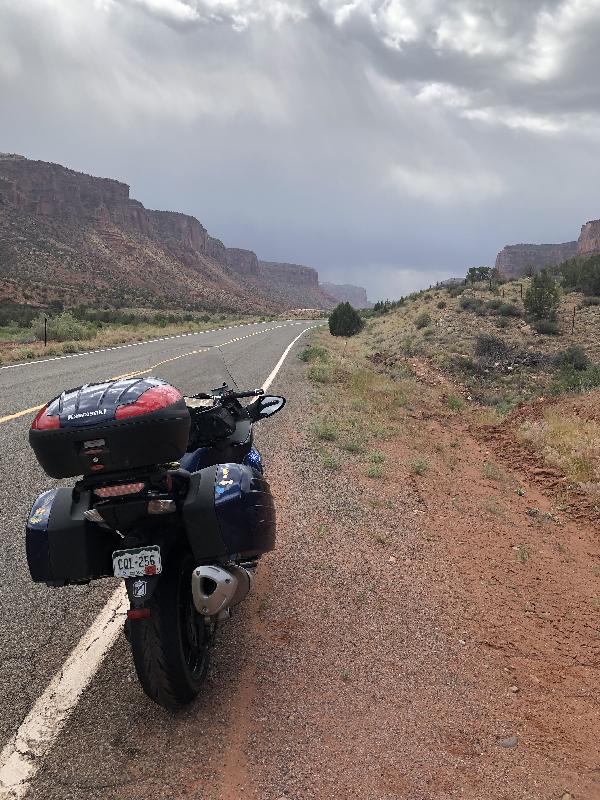 We did stop one more time on the way to Naturita for a quick break. I've generally been taking a break one way or the other about every hour. We were next to a small river and Samantha got a bit disgusted due to the ants on the ground and we had to shake off a bunch of them before we could get going again 🙂
In Naturita we stopped for gas and a break. We chatted up a couple of cruiser riders asking where they were going as we were going to tell them it was raining further on to Gateway but they were turning back anyway.
I kept trying to get maps working but I wasn't getting much of a signal. I wasn't too sure which direction to head and we pulled into a Dollar store but they didn't have any maps. Samantha asked and the guy said if we kept on the road we were on, we'd reach Montrose in a couple of hours vs 3 hours if we went via Nucia. So off we went.
It's been pretty windy on this trip and rainy in spots. I pulled into a large scenic area on our way down and it was stupid windy. It blew my helmet off the bike! But it was a great view. I did pull Samantha's bike around due to the gravel and the angle of the Hayabusa.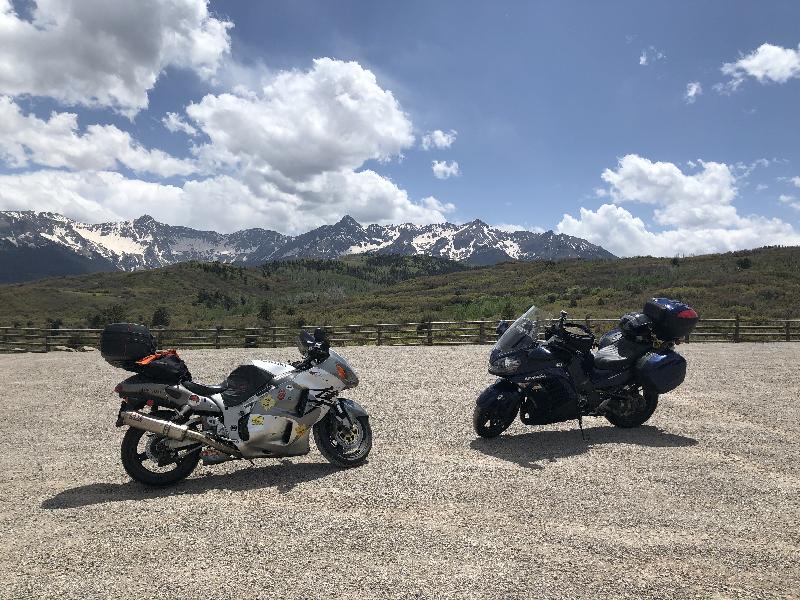 From here we headed down to Ridgeway and then made the turn north to Montrose. I called Jeanne to see what hotels might be available and eventually we headed for a Days Inn on rt 50 east of Montrose. Checked in and parked the bikes. It had rained a bit on our way in so we planned on taking a walk to find dinner.
I figured to catch something local vs some fast food place but man, it's Sunday in Montrose and nothing at all is open except fast food. We headed down rt 50 and Main Street to the main drag. We walked almost 1.5 miles and we found a Subway.
Personally I'm not much of a fan of Subs in general unless it's a Philly Steak and Cheese and my experience at Subway was their Steak was (to me) adulterated with green peppers and onions. Personally I just want steak and cheese and not peppers. Just what I'm used to I guess. Fortunately they had unadulterated steak! Woo! So I had a pretty good steak and cheese sub and Samantha had some odd thing 😀 I also had a couple of chocolate chip cookies and a soda.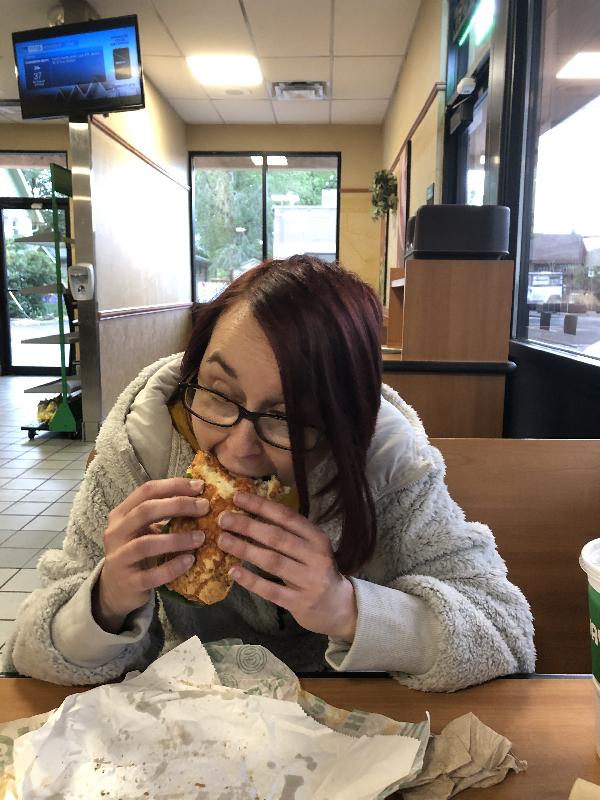 When we got done, we headed back but it'd started raining! We got wet for sure walking back. Not much we can do about it other than tough it out. There was one gigantic puddle we'd avoided on the way out but I splashed through it on the way back. My boots are waterproof and my feet stayed dry. We got back without too much trouble and a bit damp.
Samantha checked her wounds and she started bruising up pretty nicely.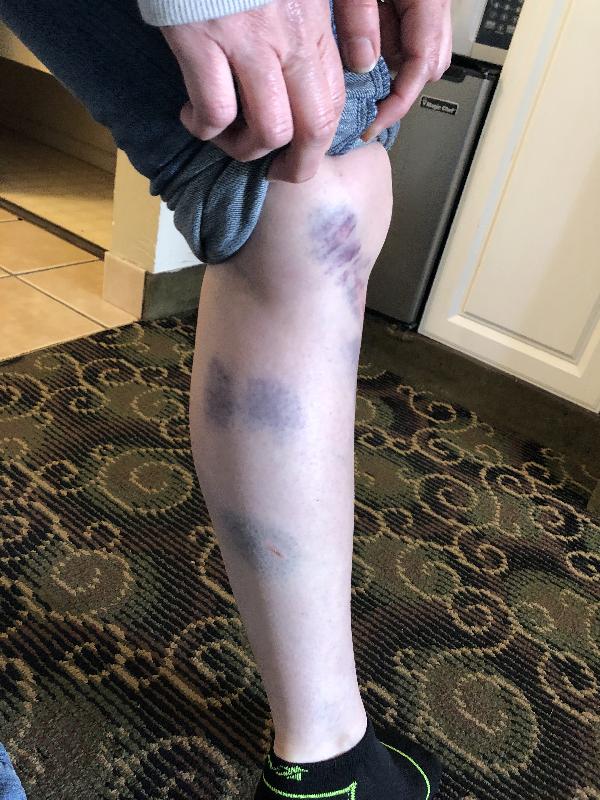 And the the back.
I did some reading and Samantha crashed hard, snoring a bit. Some time in the night she woke up and I vaguely remember asking why she was awake. "I work nights!" 😀