Rita spotted this on Craigslist yesterday. We called them and arranged a meeting this morning. After making sure it was mechanically ok (starts, lights, no smoke, etc, etc, etc), Rita dickered with them and came to an agreement. I hopped on it and drove it home.
After arriving here, I pulled all the plastic off and checked it out a bit better. Rear brake pads needed to be replaced as did all the fluids of course. We made a list and headed off to pick up the necessaries.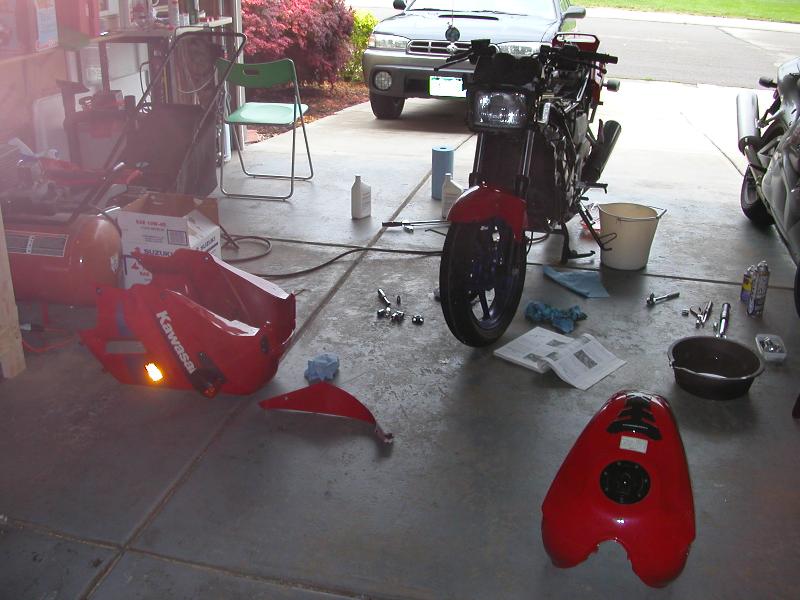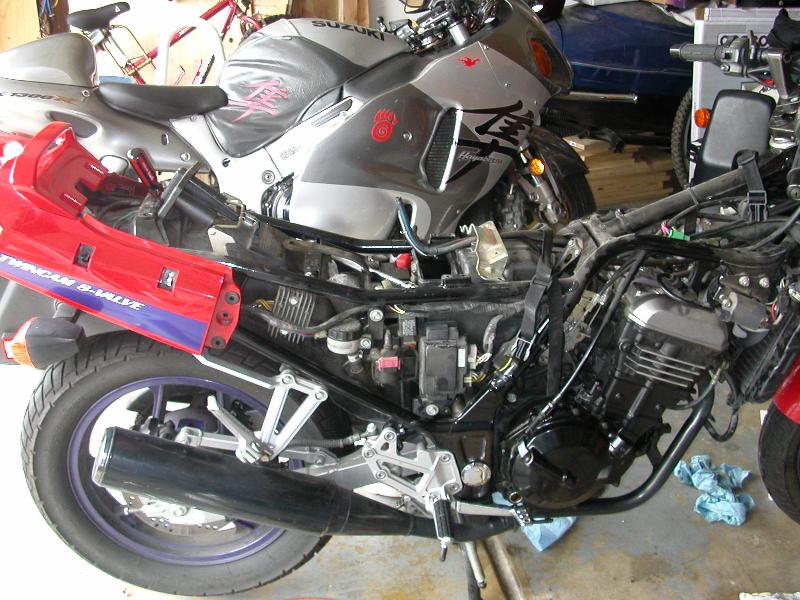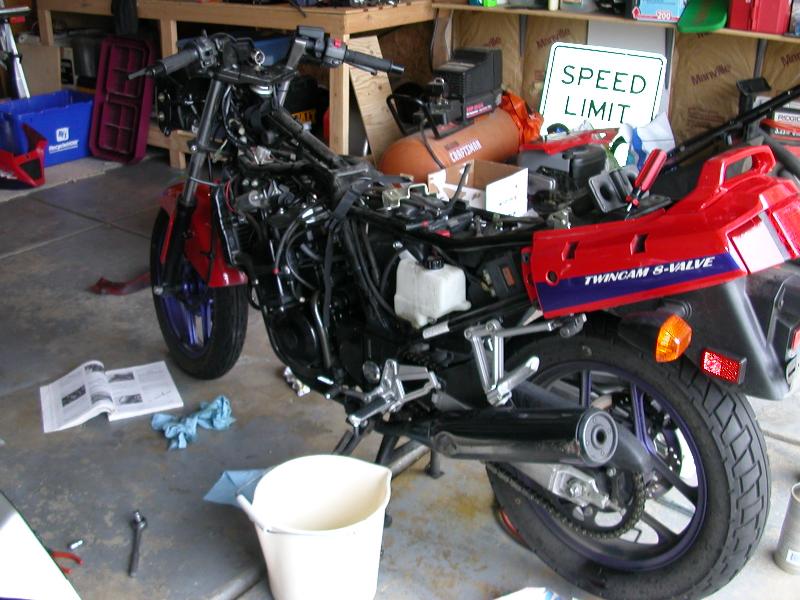 We easily replaced the brake pads. Drop a couple of bolts, pull off the caliper, pry out the pads, push the pistons back in all the way, put in new pads, remount caliper.
I replaced the oil and filter. It was way too full. I think they filled it on the sidestand instead of balanced. The filter was pretty black.
When I opened the brake reservoir, I saw that the fluid had gone beyond the normal yellow and was very dark. When I bled the brakes, the first fluid out was almost black.
I drained the radiator fluid and the water pump drain bolt and at the cylinder head drain bolt. The fluid just shot out Fortunately I was ready. I replaced the fluid with Engine Ice even though it stayed very cool on the ride home.
Oh, and I checked the tire pressure. I should have checked before I left but didn't think about it even though I have a pressure gauge in my suit. Anyway, the pressure was supposed to be 32R and 28F but in fact it was 0R and 48F I'm glad I made it home alive.
We also pulled out the air filter, cleaned it and reoiled it before putting it back.
I replaced both spark plugs. Easier since I already had the gas tank off.
I also broke out the WD40 and cleaned the chain then used Chainwax and waxed the chain.
Once it was all done and everything was put back together, I started it back up and it seems to run a little better. The front brake feels a little loose so I may bleed it again just to make sure.
I took it for a spin around the block to make sure and then checked to see if any fluids were leaking and it all looks
tight. I put a newspaper under it and will check it in the morning.
All in all, it looks pretty good. There's a dent on the tank that fits the left controls. The left side has a couple of scrapes. Looks like someone either did a low speed drop or even a driveway drop. Pretty minor all things considered.
And here she is on her new bike.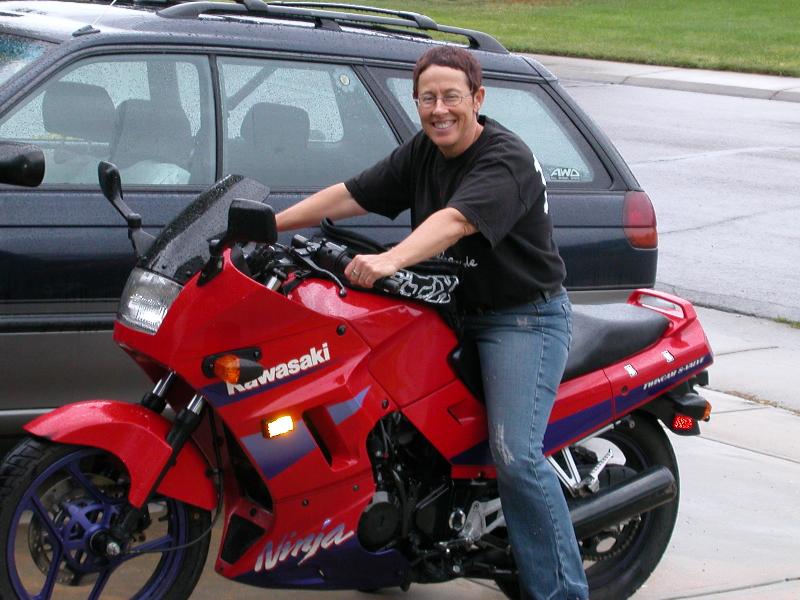 Some additional info. The lady Rita bought it from was looking to upgrade. Her husband had a larger Yamaha and her brother-in-law had just purchased his first bike. A Ducati Sport Touring bike. I passed along Sport-Touring.net as a real important resource if he was really interested in sport touring along with my screen name and my home pages for ride reports (gotta get an STN card one of these days).
I believe she only put 60 or so miles on the Ninja though, just riding around the neighborhood so I'm curious as to whether the previous owner had ever done maintenance on the bike since he bought it in 99 (per the registration we found in the tool kit). Hell I think they're the original tires!
Front: C487 I013 2913 75R 000287 100/80-16 50S Dunlop K-630F MC904F
Rear: C507 I013 2913 75R 000324 130/80-16 64S Dunlop K-630 MC904
I believe the two "C" numbers are the month/year of the tires (48 and 50th weeks of 1997). Tire info
So it probably should have new tires. It would also explain the condition of the other fluids, especially the brake fluid. The front brakes are reasonably new it looks like but the rears were pretty much gone.
Always interesting to learn new things.
Additional Pictures.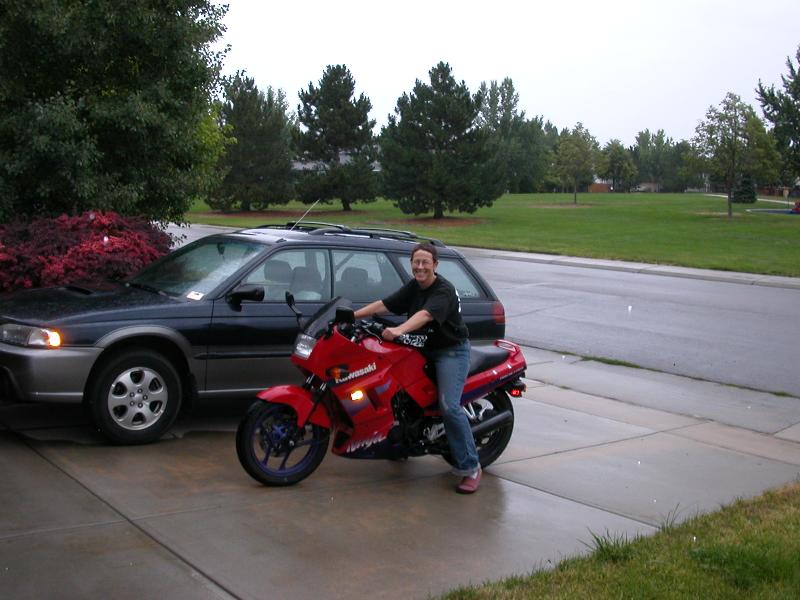 I took the Ninja to work on Monday since Rita had to go get the title and tags taken care of.