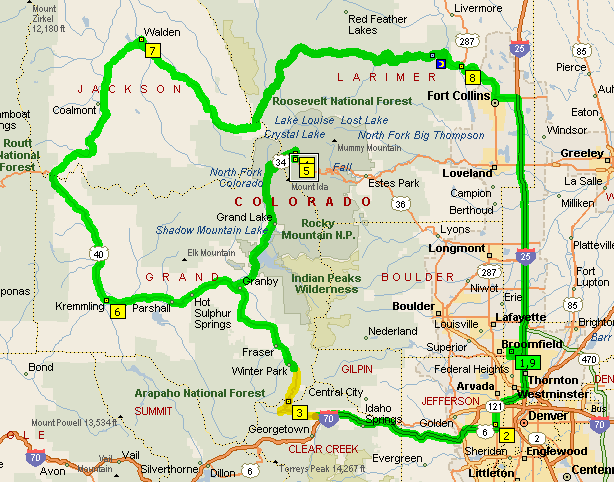 415 Miles
Yea, sorta. Lemme Explain.
The original plan was for Rita to take her new bike on a first longish day and me to take my new bike. This would let Rita take it easy and let me hit the passes. Unfortunately Rita injured her left middle finger and we decided to two-up on the Transalp. So we miss out on a couple of passes. We get to spend the whole day together instead of me being concerned about her and her worried about me.
So Saturday morning bright and early we got up and got ready to go. Because of the angle of the cushion, she put a bit of foam down and I attached a cushion for a backrest. We threw in some snacks and cold weather pants for Rita and headed on out.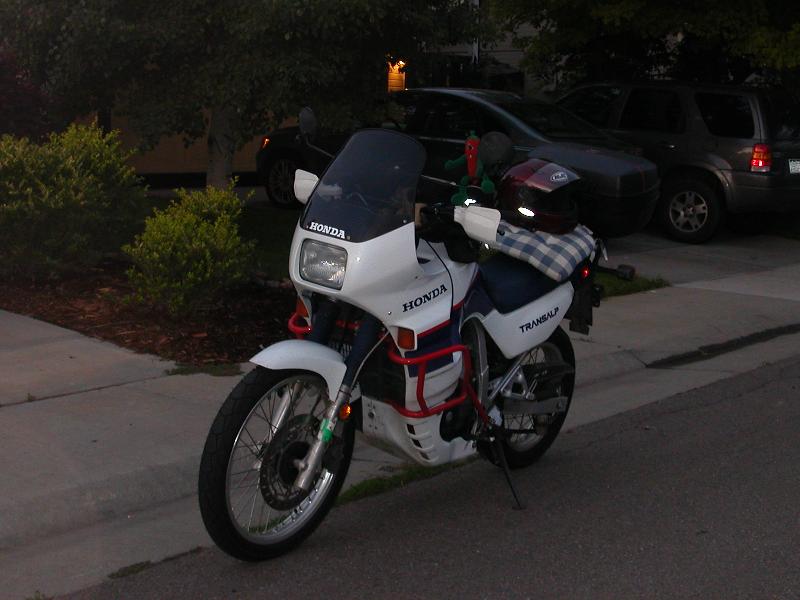 Oh yea, I took Chili along for the ride too.
So we get there and the checkin line's back to the other end of the parking lot. Hmm, 300 riders checking in from 7am to 8:30am. Yea, I guess there's going to be a little line.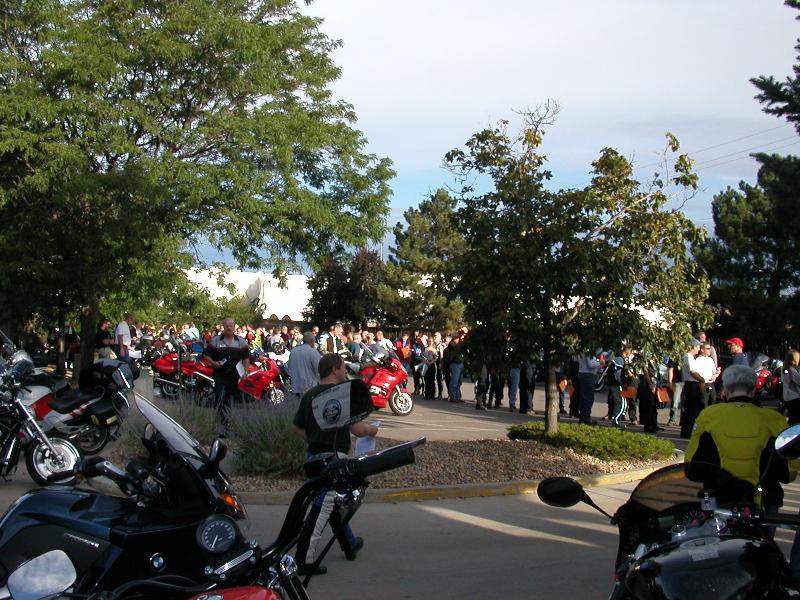 And this was after we got to the front. While we were in line, sfarson wandered by and said hi. At the entrance I spotted bogie and gave a quick "hi" but he missed it. I also spotted someone else I recognized from a ride last year but I didn't recall his name (sorry).
On the plus side, we got to stand next to a Triumph Tiger 🙂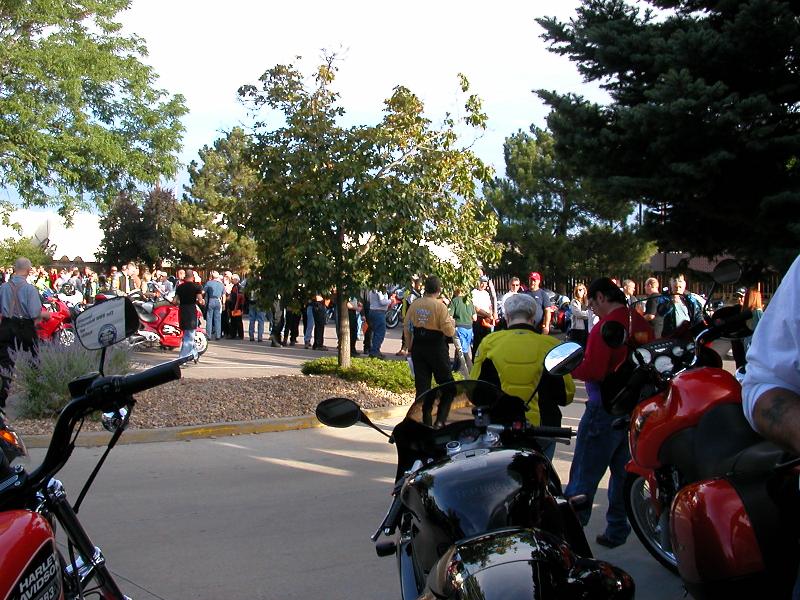 By the time we got checked in and back outside, the STN group had already left.
The route headed up 70, over Berthoud Pass, up to 34 and to Rocky Mountain National Park, back to 40 and north lunch in Kremmling. From there on to Muddy Pass and Rabbit Ears Pass. Then south to 70, over Vail Pass and back to Denver.
We filled up, hopped on the bike and off we went.
The ride up 6 to 70 wasn't too bad traffic wise. We saw a BMW ahead of us and he stayed there pretty much for the next couple of hours. A sportbike blew past us in the far right slow lane. Traffic picked up a little as we headed up and passed Evergreen Parkway. When we got to 40 and got off, traffic was a bit thinner.
As always, when going through the smaller towns, you absolutely must do the speed limit. With 250 or so bikes heading up Berthoud Pass, the cops would have a field day.
The Transalp actually went pretty well up to the pass. Right at the beginning the road was under construction so it was a little rough in spots. As to power though, we were able to easily keep up with traffic. At the top we stopped with 30 or so other bikes and other cars for the requisite photo opportunity.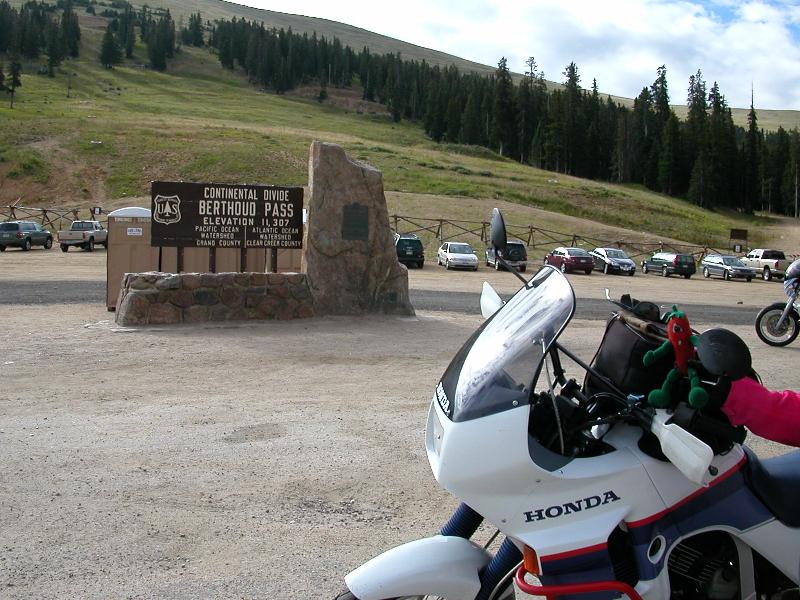 Chili at the pass.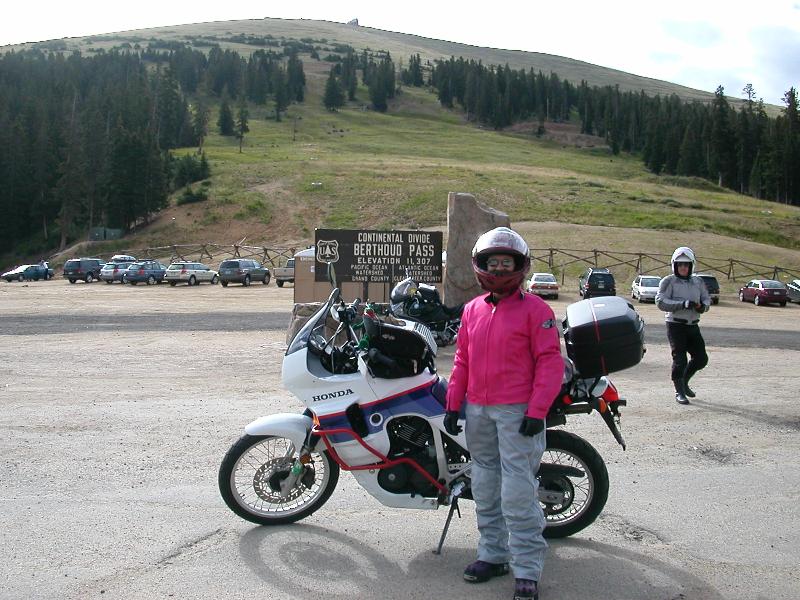 Rita and her new gear.
Carl and Rita at the pass.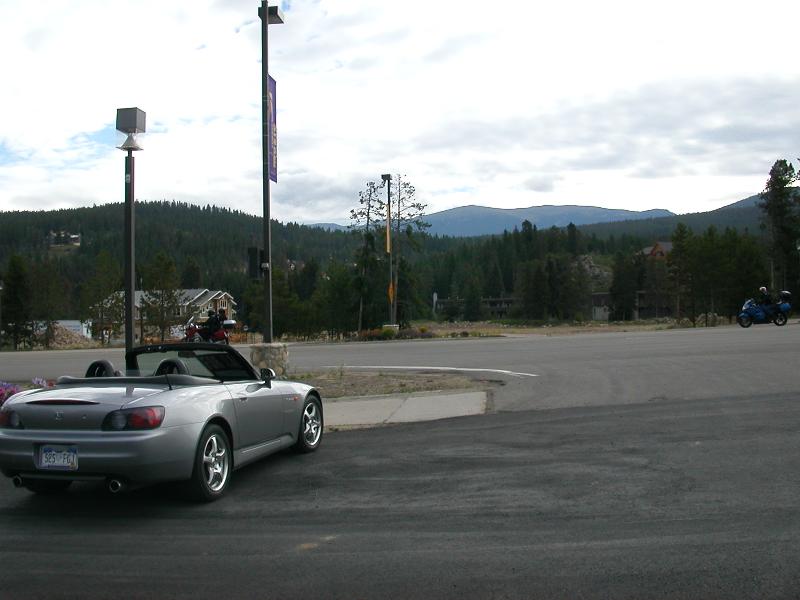 We stopped at the Police Station in Winter Park and hit the bathroom. While waiting on Rita I snapped a couple of shots. This was the only one that really came out 🙂
Just to the left the road went back to two lane. I watched as some cage tried to run over a bike, who beeped and backed off.
As we left Frazier, we saw one of the State's Finest who had a bike pulled over (honestly it looked a lot like Bogie). Tabernash wasn't a problem. Reasonably sedate traffic. We were behind a couple of bikes that finally passed the cars (just a little busy is all).
We spotted a car pulled over by the police as we got to Granby. That was the last one award we saw being given out however at lunch, one of the folks said that a Hayabusa also got a performance award. Good thing I was on the Honda 🙂
We made the turn onto 34 and headed up to the Alpine Visitor's Center.
The weather outside was actually pretty nice. It was overcast and a little chilly which is how I like to ride. Heading up towards Alpine had the temperature dropping. At lunch someone mentioned it was at 46 degrees at the center.
Anyway, the ride up to Alpine was very nice. The smells were awesome, one of the things I like most about riding in the mountains. We were going by one of the lake pullouts and a couple of guys pulling a boat almost made our morning. I beeped and waved him back.
At the entrance to the park, a ranger was halfway up the line and waving people to the left who had a National Park Pass, which we had. We went around the line and to the right past the center were 15 or 20 bikes getting paperwork filled out for entrance to the park. It pays to have your pass.
At about half way up to the center, traffic was stopping and people were getting pictures. The Honda was having some trouble and it cut out a couple of times. I probably need to get it jetted for the altitude. Unfortunately I wasn't able to see what people were getting pictures of, although someone later mentioned it might have been an elk.
There were a long line of bikes that we were behind and just as long behind us. One of the things I don't like about group rides is the exhaust. I was getting a bit of a headache although part of it might also be the altitude. We'd passed 2 miles high about a mile or so back.
When we got to the Alpine Visitors Center, we found quite a few bikes.
A big RV taking up half the spaces. He was pulling a car too.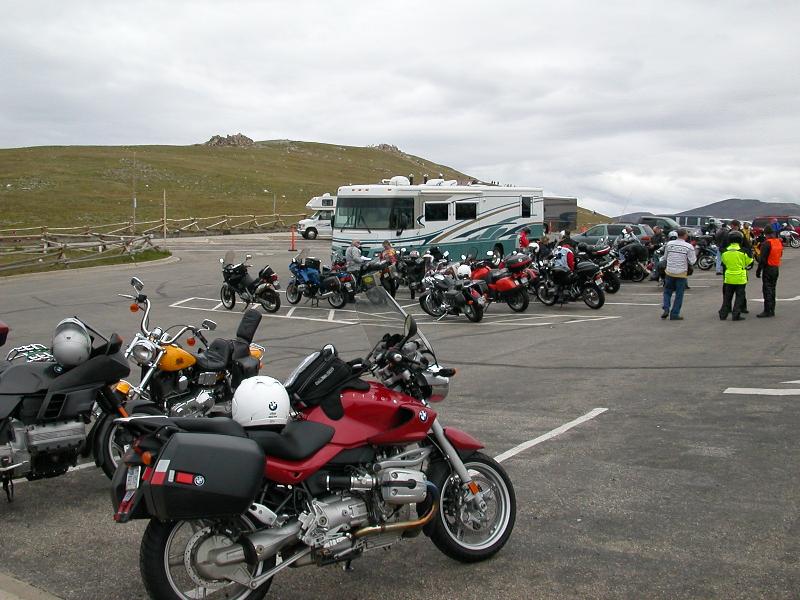 And farther back to get more bikes in the picture.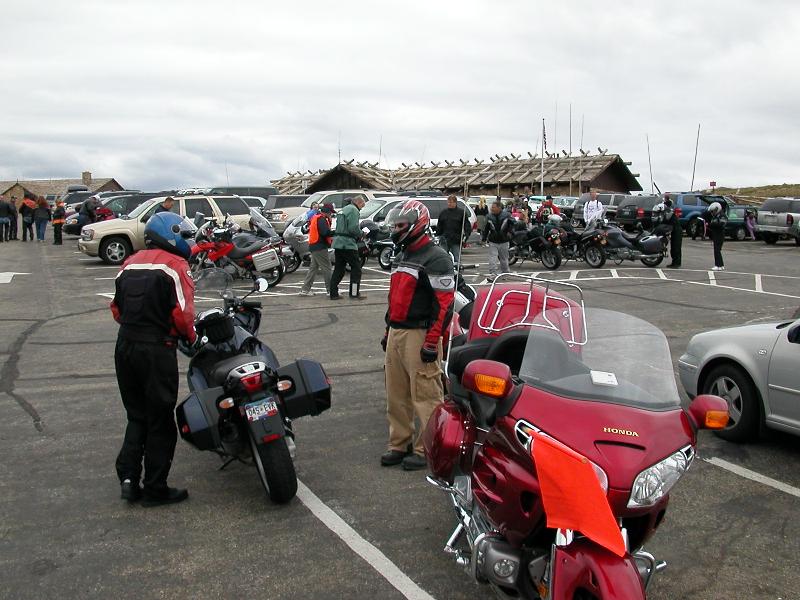 The guys with the orange vests were passing out stubs for prizes at the dinner that night.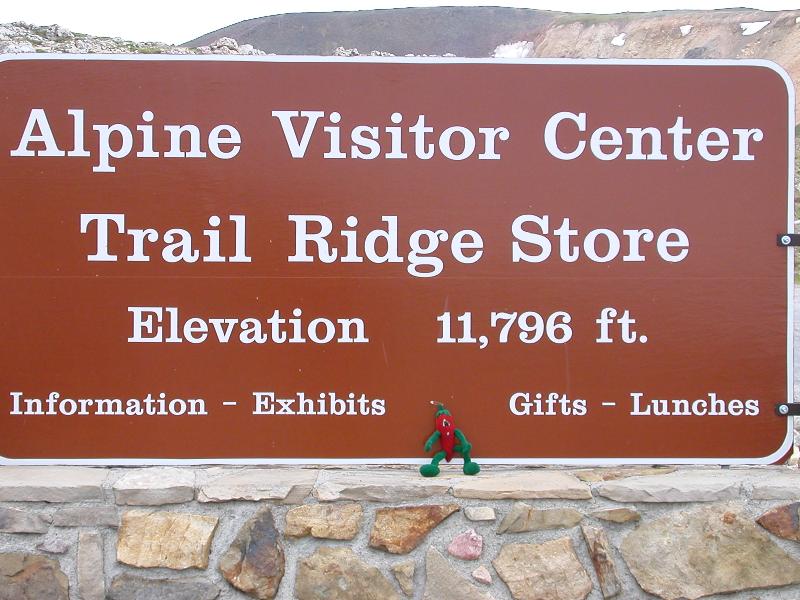 And here's Chili at the Alpine Visitor Center sign and at 11,796 feet.
We hit the bathroom (it was amazingly not too busy). Rita was jonesing to get off the mountain but the next two passes were just a few minutes up the road so I made the left turn and headed up. There was a little fresh gravel on the road but not enough to be a problem. We looped around and got up to the last pass, made the turn around and headed on back.
At about 1.5 miles from the Visitor's center, the vehicles in front of us slowed and stopped. We could see something red off on the side of the road in the rocks. At first I thought it was it was a collision between a motorcycle and a bicycle but after getting closer I could see it was a bicyclist. A lady in the first car came back asking for a cell phone but ours wasn't working so I told her we'd head down to the visitor's center and let a ranger know. The guy looked like he was in quite a bit of pain and apparently couldn't move. We got to the visitor's center and there were other people already there. Since it looked like it was under control, we got back on the bike.
We made the right out of the center and when we got to the turnout, we stopped again. I got a nice picture of the way back.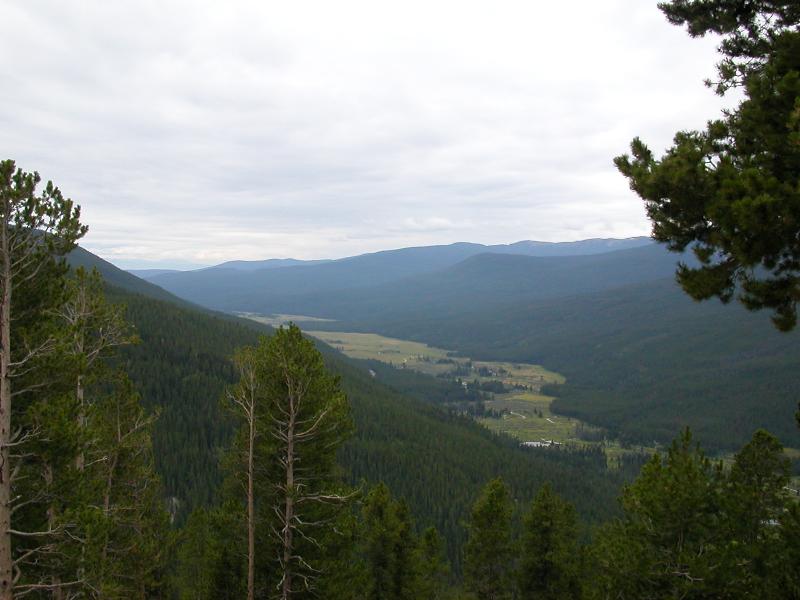 We made it to 40 and headed west to Kremmling. Since it was a little later, we decided to skip the ride up 125 and continue on to lunch. The instructions said to make a right at the Town Square sign but we missed it. Fortunately we spotted a whole bunch of bikes and made the right turn into the lot with all the bikes. We climbed off and hit the bathrooms, then lunch.
I'm guessing lunch for 300 or so riders needed to be pretty generic eats. Spaghetti and meatless sauce, garlic bread, salad, and a chocolate chip cookie. Drinks were tea, lemonade or water. I kept it on the light side and didn't eat a whole lot. I know when riding to keep it light or I'll be nodding 🙂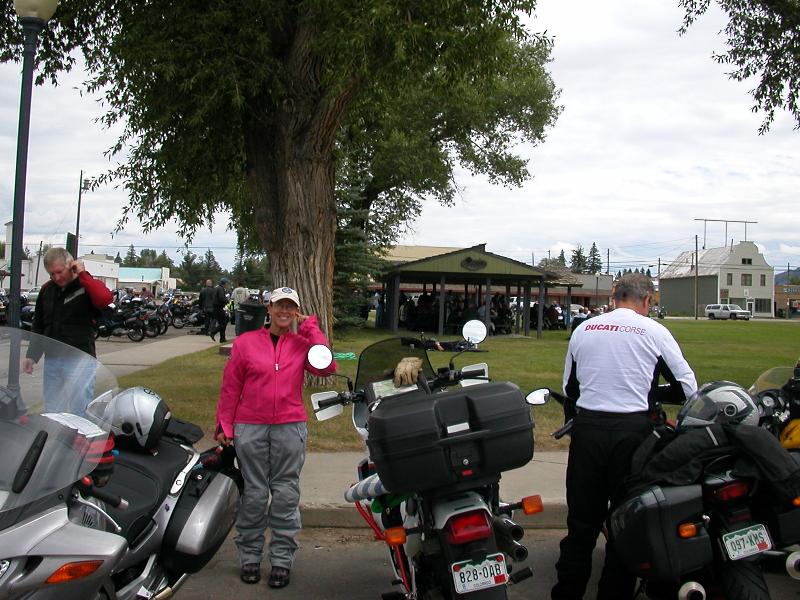 Getting ready to hit the road again.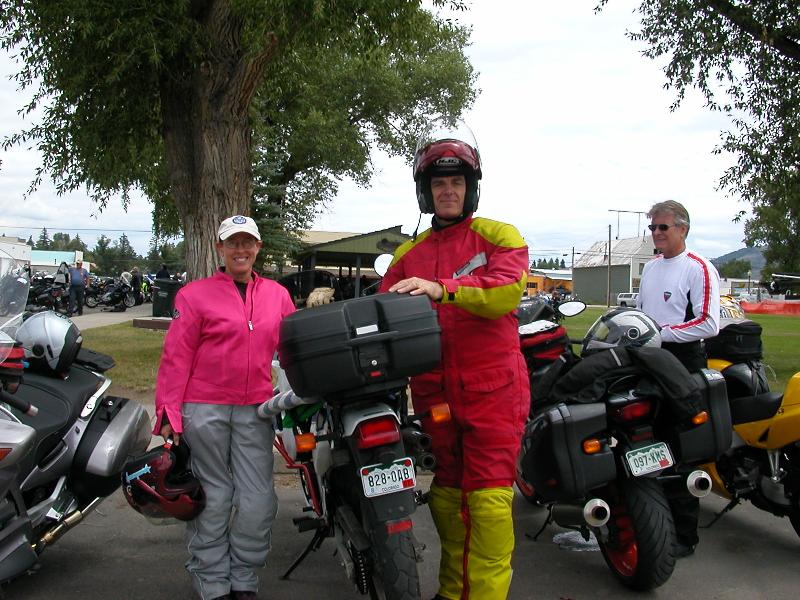 We discussed it and decided that heading up the rest of the passes and especially back to 70 to fight traffic back to Denver, and Rita hadn't been down Poudre Canyon Road. Since I happen to like riding down 14, I'm easy to please and off we went 🙂
Heading north on 14 was actually pretty fun. There were a few bikes coming towards us and several coming up from behind. As bikes got up to us, I moved to the right and waved them through.
I did identify two problems I was having as we approached Walden. First was a significant pain in my forehead. It had begun as an ache and gradually became full fledged pain. It almost felt like someone was using a cheese grater on my head. I moved the helmet around trying to get some comfort but it wasn't working. The second was my back was really starting to bother me. I found myself laying forward on the tank bag to relieve the pain (sportbike position if you will).
At Walden we stopped for a break. It'd been 60 miles since I hit the gas station. From a look at the map, it appeared to be about the same distance as it was from Kremmling so I didn't feel the need to hit the station, especially at 3.19 per gallon.
So we headed out and up Cameron Pass. The ride up was pretty nice. We passed a pine tree that was decorated up like a Christmas tree. The curves were very cool. We stopped at Cameron Pass to take a break. After getting back on 14, we had a nice little ride back down. About half way down I realized I was reaching about 120 miles on the odometer and knew I wasn't close to to the normal gas station we hit before heading west on our regular trips.
On the way we got behind a guy on a cruiser. There were several other cars in front of him but he seemed content to stay behind. At one place, I could see where I could pass but as I approached, he decided to pass. I wasn't able to get by him again so had to follow him the rest of the way down. It wasn't terrible, but I had to stay back a bit because of the exhaust.
Anyway, At about 150 miles the bike started to hesitate. Oops, on Reserve. Better get to the gas station soon or we'll be walking. 5 miles. 10 miles. 15 miles, 16, 17, 18, 19, ahh, there's the station at 20 miles. 3.9 gallons later and a nice break and we were on our way.
South on 287 to Ft Collins, out on 14 to 25 south and we were on our way. About half way home we could see the rain clouds up ahead so we stopped so Rita could get her rain gear on. After getting dressed, we got back on 25. We missed any rain weirdly enough, made the turn and scooted the rest of the way home.
The miles for the BMW ride was estimated to about 470 miles and it turns out our ride home was 410 miles.
It was a nice cool ride. I think I'll be limiting my riding on the Transalp to forest roads and the like though. I'm thinking I'm really cut out for the busa. I hopped on the bike to go to work this morning, overreved it 🙂 starting it and just enjoyed the crap out of the ride to work and home. It was such a joy to ride. It might not be the perfect bike, but it sure is close 😀
Here's the actual 100,000′ ride with all the passes and features.