This is the first run through of planning stops and routes. Most routes I do also provide cutouts. A longer loop that I can cut short in the event of bad weather, road issues, etc. Keep an eye on the weather in various locations on the way and plan accordingly. The plans below don't account for payments to a house and cat sitter.
In the past I seldom planned this well. This is more because we're spending each night in a hotel. In general I camp 2 days and then hit a motel for showers and such. I like camping. But with Jeanne along, there isn't room for camping gear on the bike. Tent, poles, bags, pads (although pads aren't necessarily required depending on the sites). I've considered a trailer and may eventually snag a small one sufficient for camping gear. Maybe.
Planning on this trip too is to visit family again but also to escort Jeanne to all the places I've been to and greatly enjoyed. A lot of "see, this is cool!" riding. It's also the reason for the shorter day rides of a few hundred miles. Time to stop and poke around, time to make a left and see "hey, what's that?" Just cruise a bit vs my normal ride until I stop and go when I'm ready sort of riding.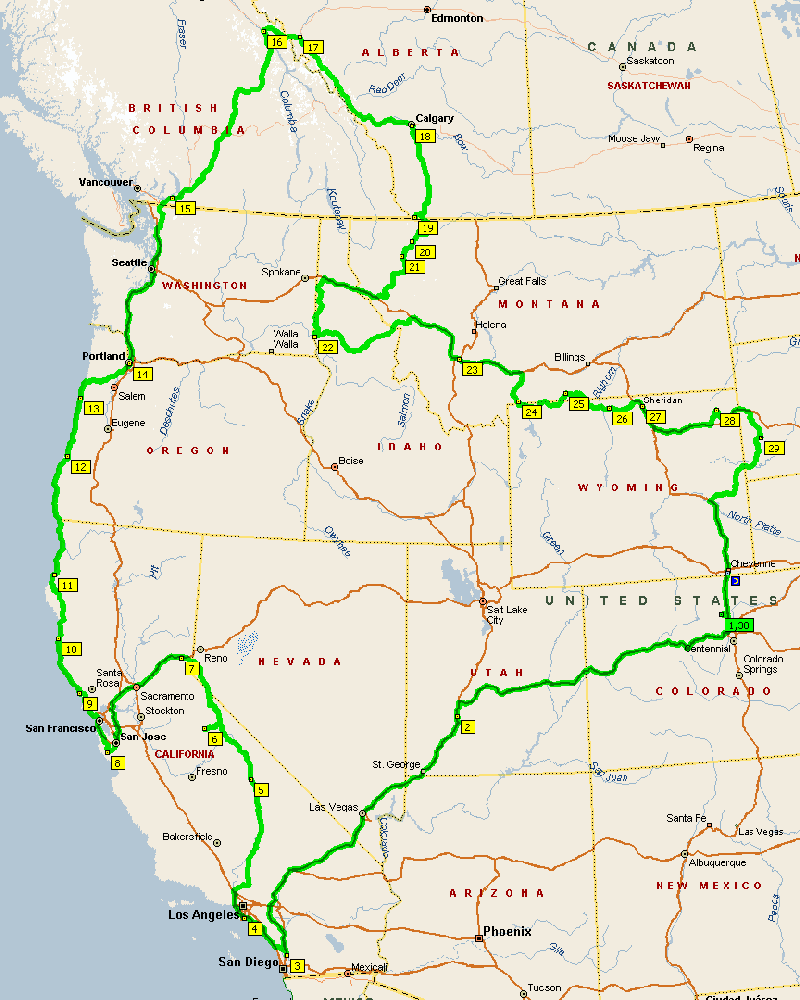 Trip: 5,868.7 miles
Start of Trip: 6/18: Longmont, Co
Nightly Stops:
6/18: Beaver Ut – 564 miles; (564 miles); hotel avg $87; gas avg $2.40
6/19: Poway Ca (Cousin) – 1101 miles; (537 miles); ???; gas avg $2.86
6/20: Long Beach Ca (Brother) – 1200.7 miles; (99.7 miles); ???; gas avg $2.88
6/21: Yosemite National Park – 1590.2 miles; (389.5 miles); hotel avg $133; gas avg $2.29
6/22-6/23: Boulder Creek Ca (Cousins/Aunt) – 2011.2 miles; (421 miles); ???; gas avg $2.91
6/24: Eureka Ca – 2386.0 miles; (374.8 miles); hotel avg $147; gas avg $2.85
6/25: Portland Or – 2814.5 miles; (428.5 miles); hotel avg $174; gas avg $2.49
6/26: Chilliwack BC – 3121.0 miles; (306.5 miles); hotel avg $82; gas avg C1.112/liter ~$4.44
6/27: Tete Jaune Cache BC – 3484.7 miles; (363.7 miles); hotel avg $82; gas avg C1.191/liter ~$4.77
6/28: Calgary AB – 3808.9 miles; (324.2 miles); hotel avg $94; gas avg C1.090/liter ~$4.36
6/29: Kalispell Mt – 4112.8 miles; (303.9 miles); hotel avg $157; gas avg $2.29
6/30: Lewiston Id – 4437.9 miles; (325.1 miles); hotel avg $120; gas avg $2.47
7/1: Butte Mt – 4776.2 miles; (338.3 miles); hotel avg $122; gas avg $2.29
7/2: Sheridan Wy – 5225.4 miles; (449.2 miles); hotel avg $124; gas avg $2.27
Trip End: 7/3: Longmont Co – 5868.7 miles; (643.3 miles)
Hotel Total: $1,322.00 ($660 @ $60 per night)
In getting the averages from Google, peeking into the list of hotels, and yes they are averages. We can certainly plan on making these stops and getting reservations in advance or at least having an idea of the available hotels. Try not to be surprised or to have to "take what you can find" which can be expensive. All the averages above are from 3 star hotels. I want to plan on about $60 per night but also plan for emergencies, baseball games, stock car races, little league tournaments, etc. Things that have had me hunting or driving further in the past.
Gas Total: $419.34
This assumes just the miles estimated here and not for any scooting about, checking out stuff, Redwoods, Yosemite, etc.
40mpg average (I actually get closer to 45mpg but best to err on the side of caution).
US Total: 4,875 miles @ $2.52 per gallon: $307.13
CN Total: 993 miles @ $4.52 per gallon: $112.21
Food Total: $900
My riding style is generally snacking on nuts and candy (like M&M's) and drinking sodas and water throughout the day with a light lunch (like a burrito at Taco Hell) and then whatever I can scrounge for dinner. I expect at least dinners will be a bit more than that especially with hotels and shorter drives.
And we're talking about two people on the road.
Maybe $60 a day, plus or minus and not ruling out family outings or meals.
Trip Total: $2,641.34
Maximum without refining, hunting for deals, getting souvenirs, and assuming no breakdowns, etc: