We got up yesterday at 6:30 ish and after a shower, headed down for breakfast. Here breakfast is eggs, sausage, fruit, vegetables, yoghurt, milk, orange juice, water, salami, cheese, bread, rolls, and more. Rita made yoghurt with granola and discovered it was sour cream :). As she has issues with dairy, I put peaches in it and finished it for her while she got the real yoghurt.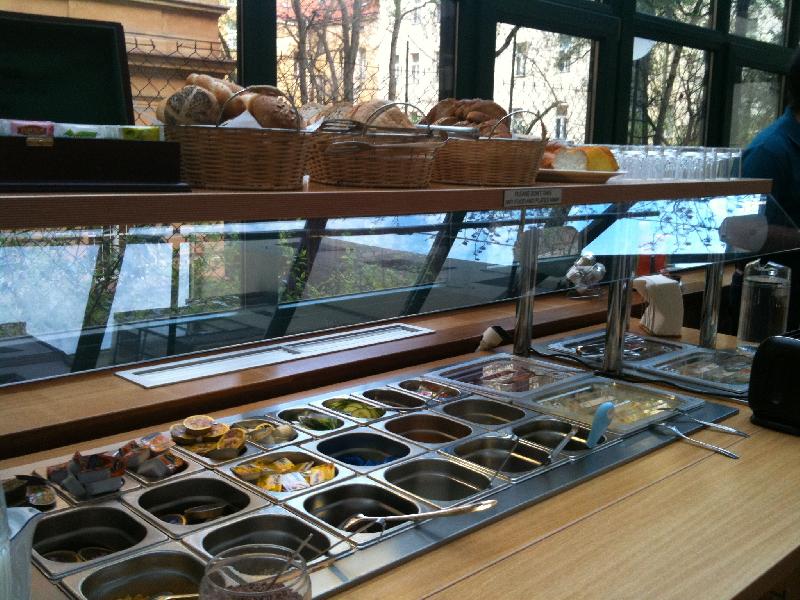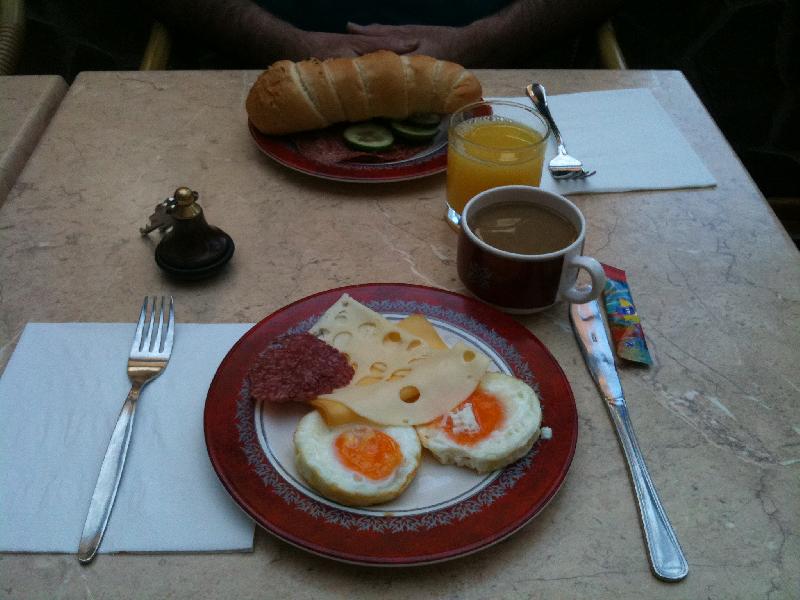 After breakfast, we headed out to our first stop at the TV tower. It was to open at 9am and we wanted to see the sights from there. We headed over to the big Church first in case it was open to the public for mass and wandered through the park on the way. It was a pretty nice day so far and we spotted a statue in the park along with folks walking dogs (there are a lot of dogs here).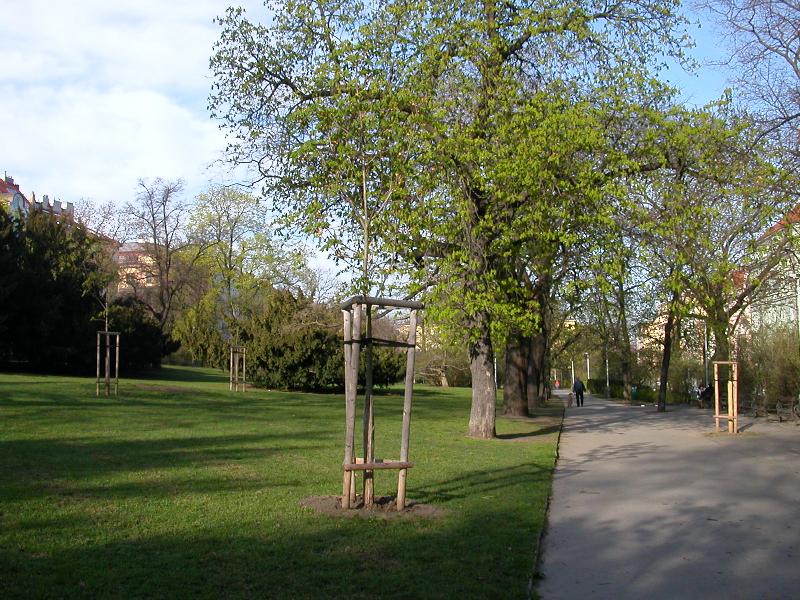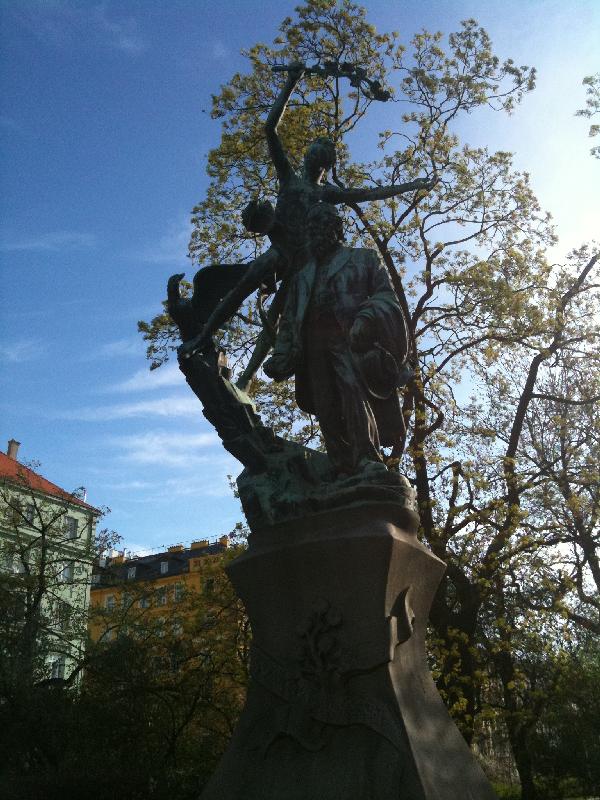 The church was open so we decided to explore it a little. I didn't want to wander around too much and make noise in case folks were meditating.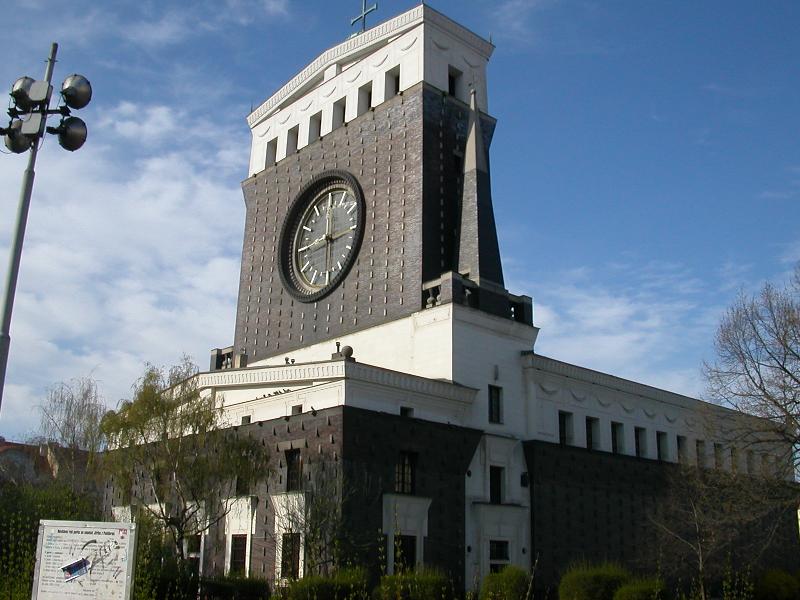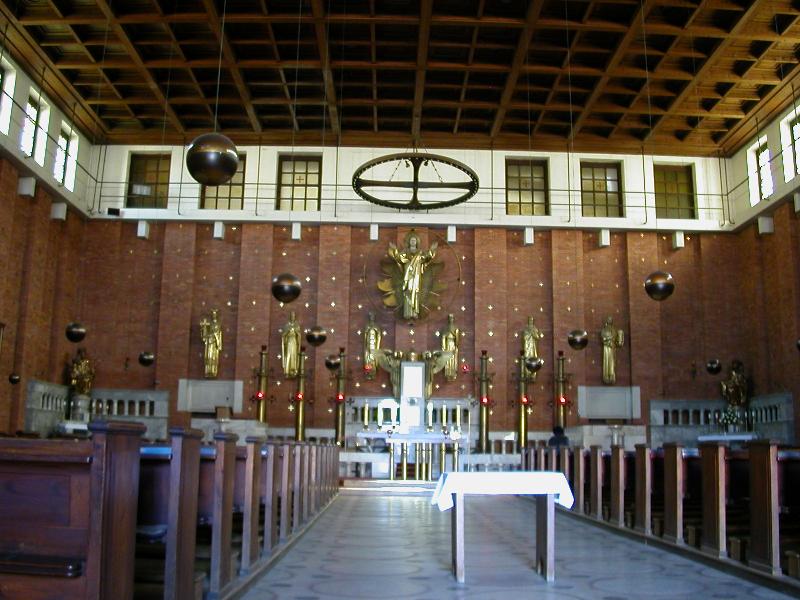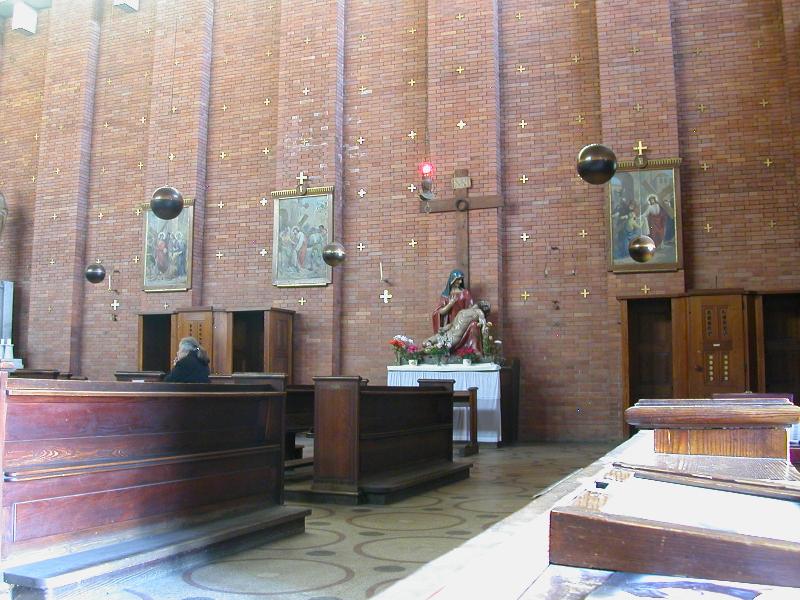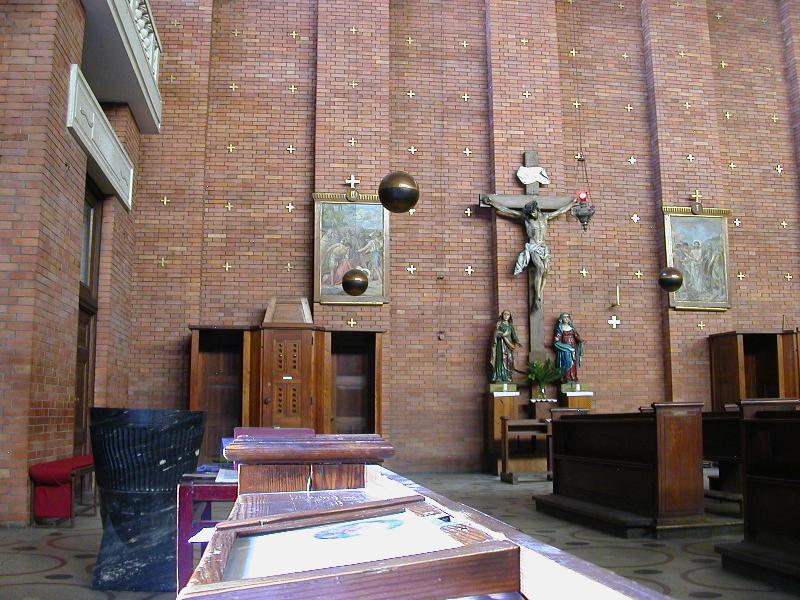 Once we explored the church, we headed on over to the TV tower.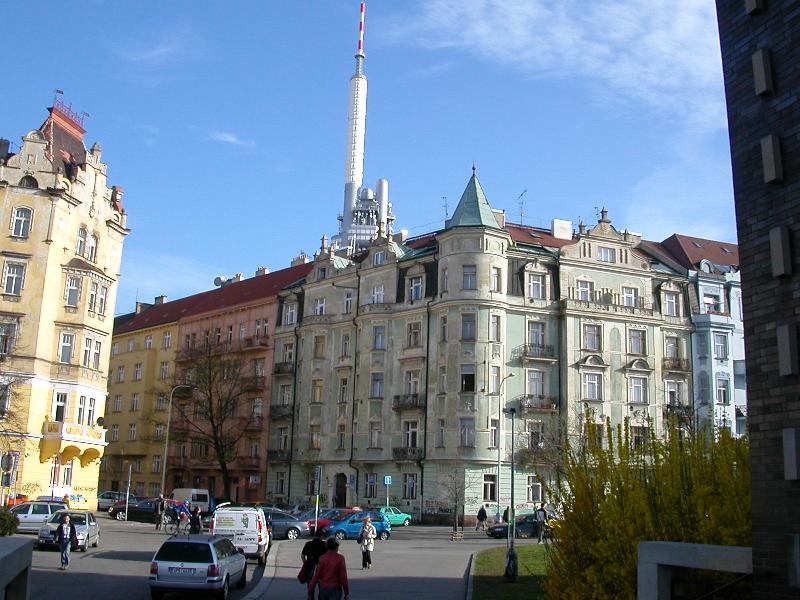 When we got there, we discovered it wasn't open yet and that the times were different than noted in the guide book. The tower opened at 10am instead of 9am. We wandered around a little. On the other side of the tower is a long building with big pipes and such. Either TV related equipment or more likely, the hydraulics and other equipment to manage the tower.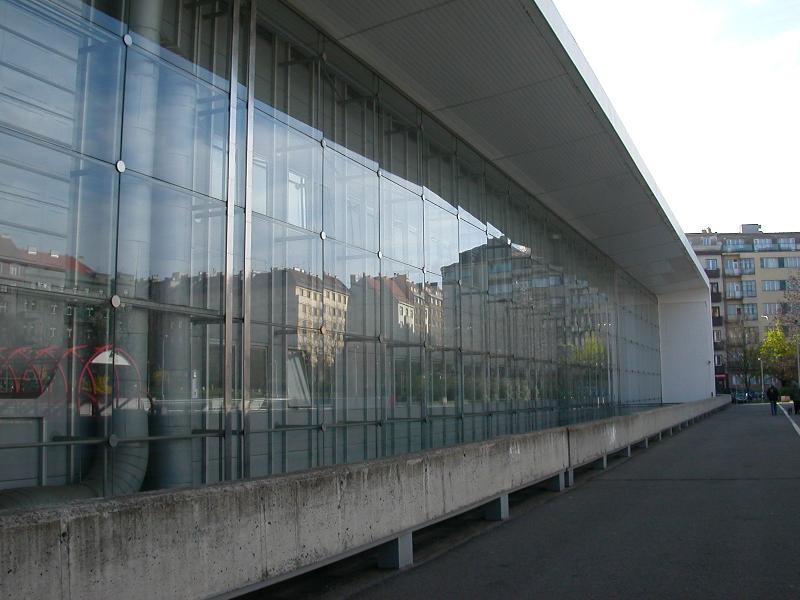 We did some more exploring of the Jewish Cemetery that's next door to the tower. Rita wanted to go on a tour but tours were Monday, Wednesday and Friday so we'd have to wait.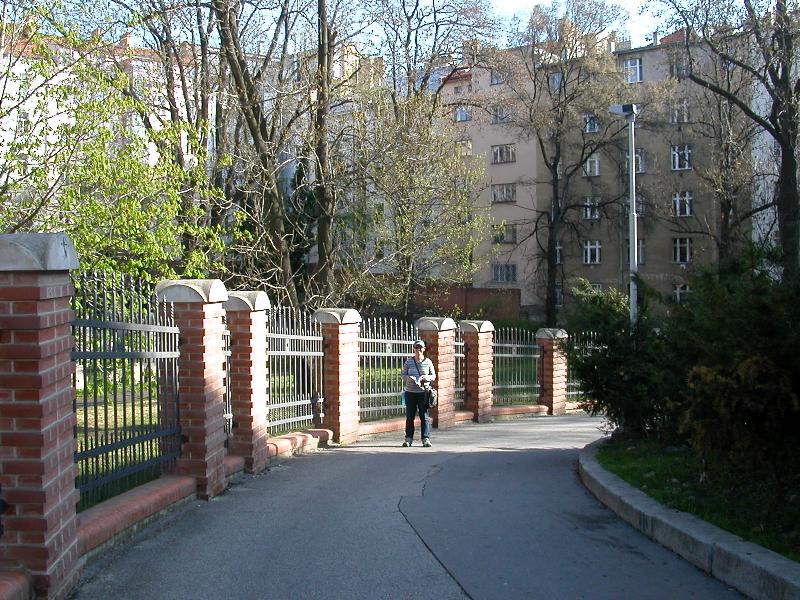 We continued downhill which was something I didn't think about much until now. Hills, even small ones are a part of the city. When driving you don't notice it as much but walk and it becomes pretty obvious. Rita wasn't talking so I didn't find out until we got there that we were heading towards Vitkov National Memorial.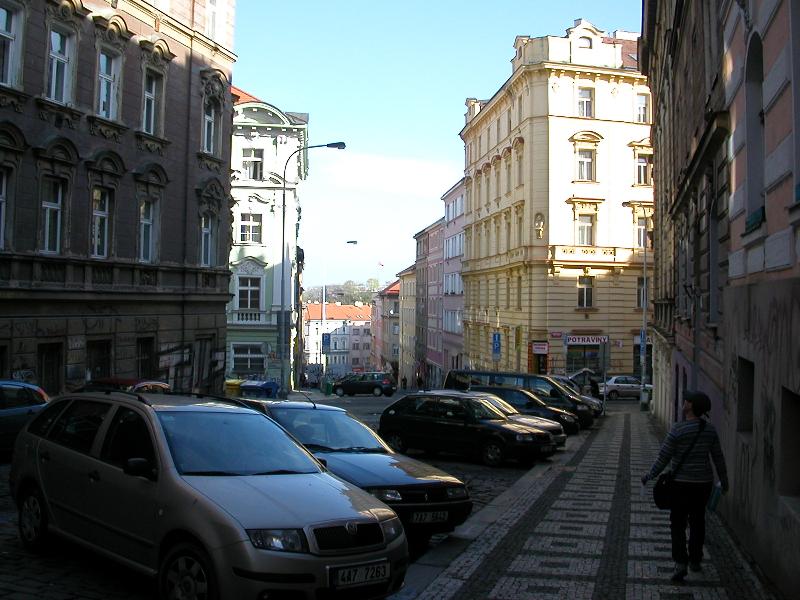 On the way we passed several interesting buildings. It seems there's a church every few blocks. When you have to walk, church has to be close by and not a mega-church with 1,000 cars in the parking lots.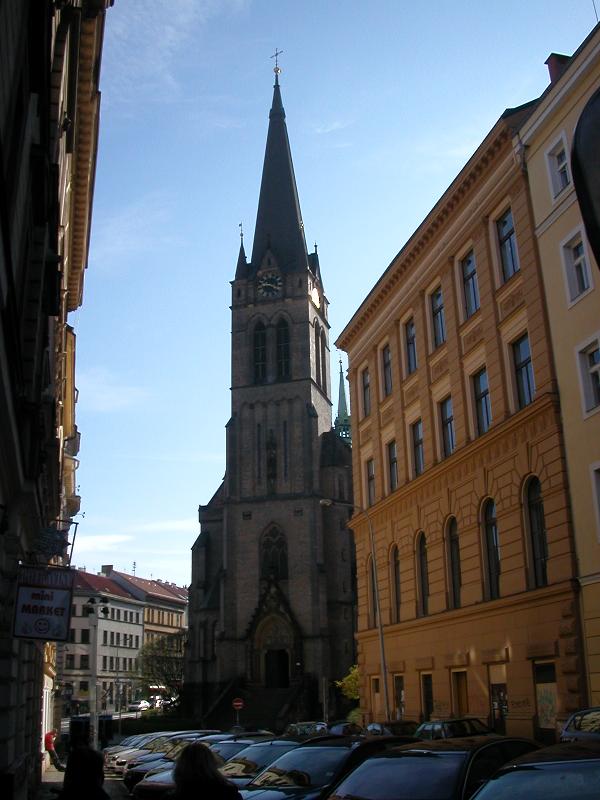 The Vitkov National Memorial is on the top of a fairly steep hill with a narrow road up along with several paths that seem to wend their way up. We took the road partly because we couldn't see where the paths went. One we were on dead ended. We also went past the Military Museum which had a large tank out front.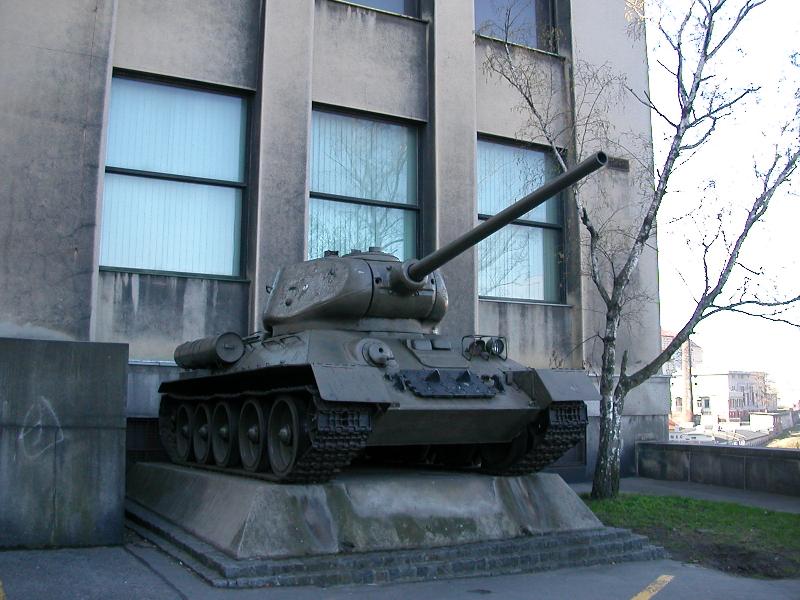 There's a very large patio in front of the statue. The entrance is off to the right and towards the other end of the building. The building itself is very impressive. The guidebook says it might look like a nuclear power plant but the inside decorations were very impressive.
While we waiting for the gate to open (we were a little early), we wandered around the outside and I snagged a few city pictures. The picture of the TV Tower looked very out of place from a distance. I can see why the population think it's an eyesore. I'll snag more pictures from various distances.
Inside we had several choices for tickets including paying an additional 50ck to be allowed to take pictures. If you recall, this is about $3 but it's on top of 180 ck each for full access admission (about $10 each) which includes roof access in addition to the museum.
The folks tending the museum were dressed in dark suits and looked very official but the suits seemed ill fitting.
We went right and entered the first chamber. The nice thing is they have the signs in Czech and English. The first area discussed the space race and how advertising had a space related bent as the space race heated up. There was moon rock and a small Czech flag that was on Apollo 11 and presented by President Nixon. There was a test panel for planes, a motorcycle, and other gear.
The next area had Examples of daily life, furniture, dishes, clothes, food, even alcohol. Clothes were grey unless it was hand made. One anecdote was that folks who vacationed at The Black Sea knew what country folks were from based on the color of the swim suit. There was a large section on work life. One showed a woman farmer and how much she received when she retired. Another woman worked in a textile factor which turned out manufactured thread (like polyester) but in her entire life, she couldn't afford to buy clothes made from the cloth and wore hand made clothes. Miners were the highest paid workers. Of course military officers had higher pay with officials receiving the highest pay and benefits.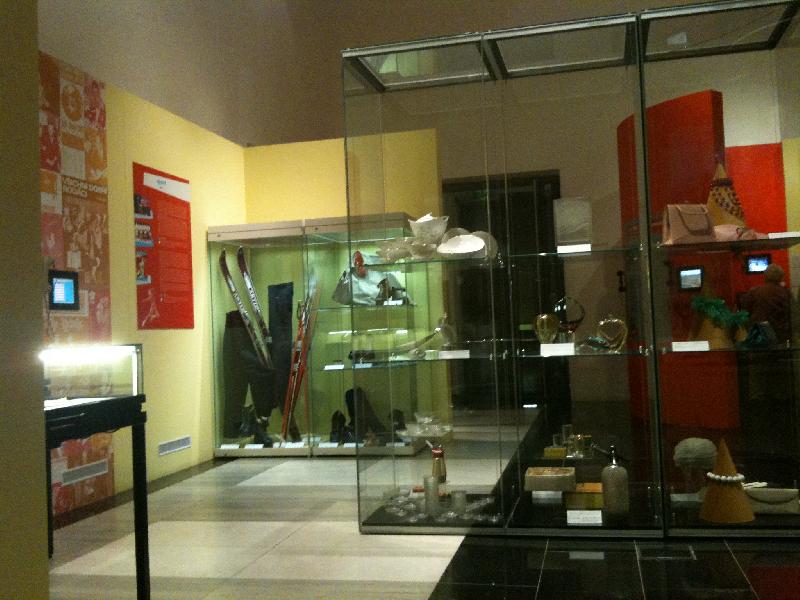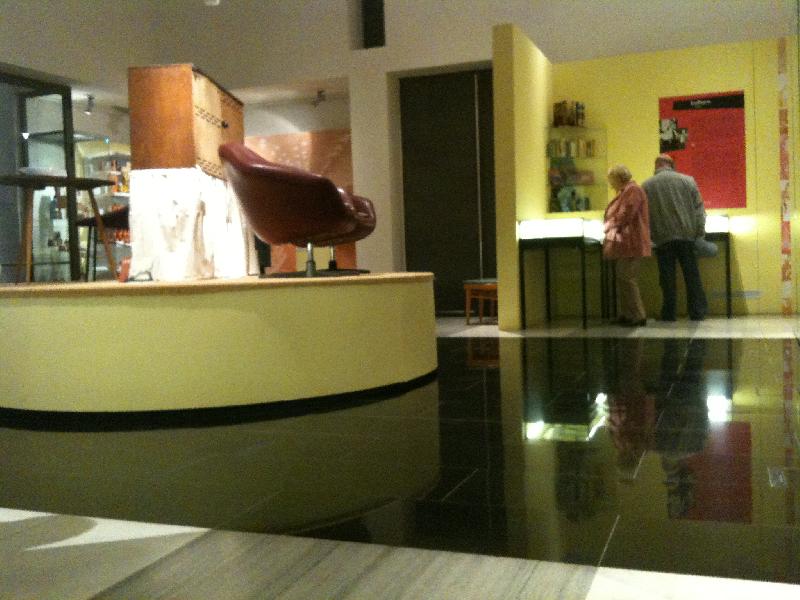 After that we visited the area under the monument where Klement Gottwald's remains were managed. He died not long after Lenin and like Lenin, doctors attempted to maintain the corpse for public viewing. You had to go through a very beautiful room with quite a few intricate mosaics.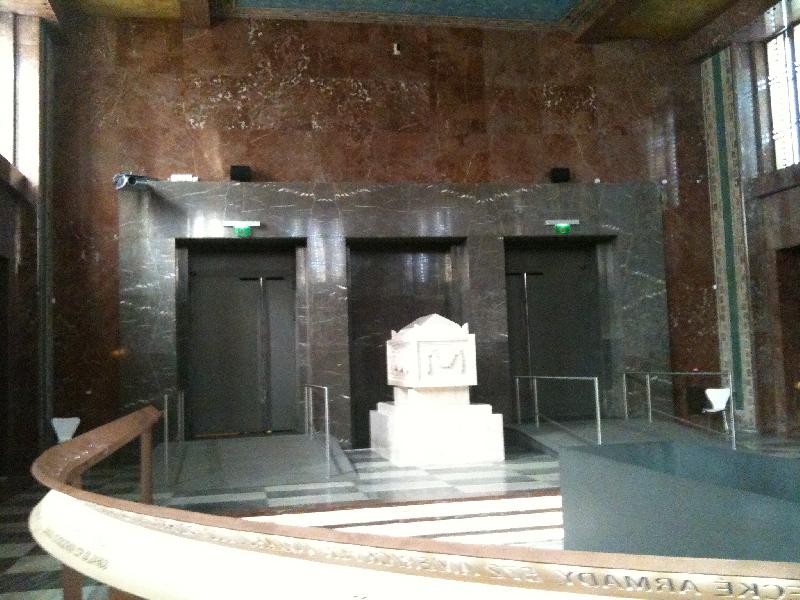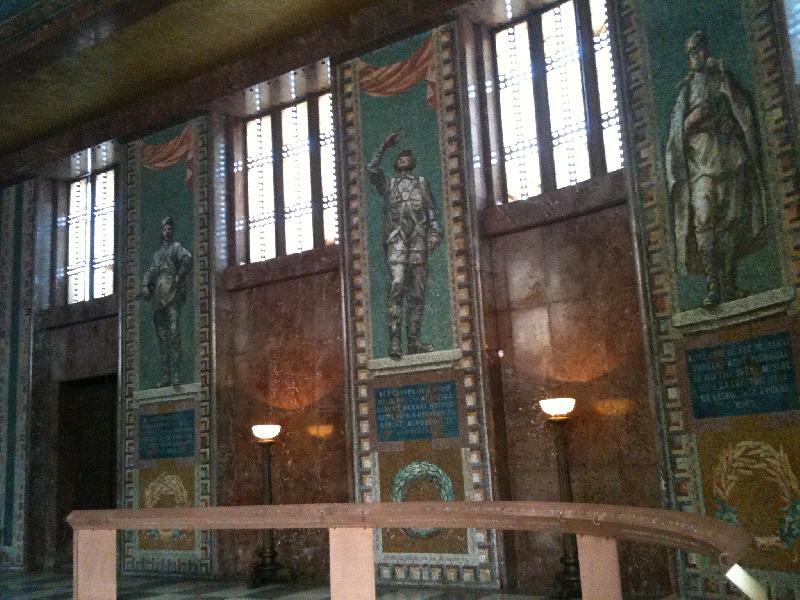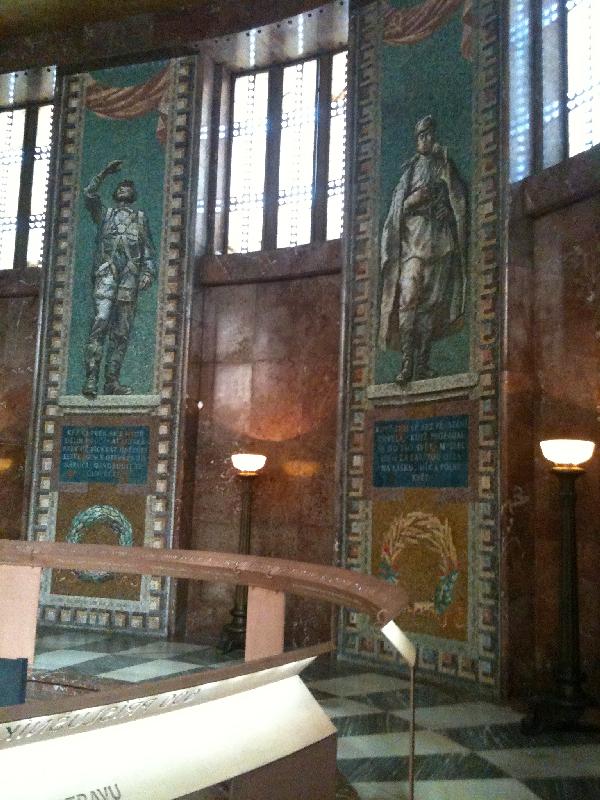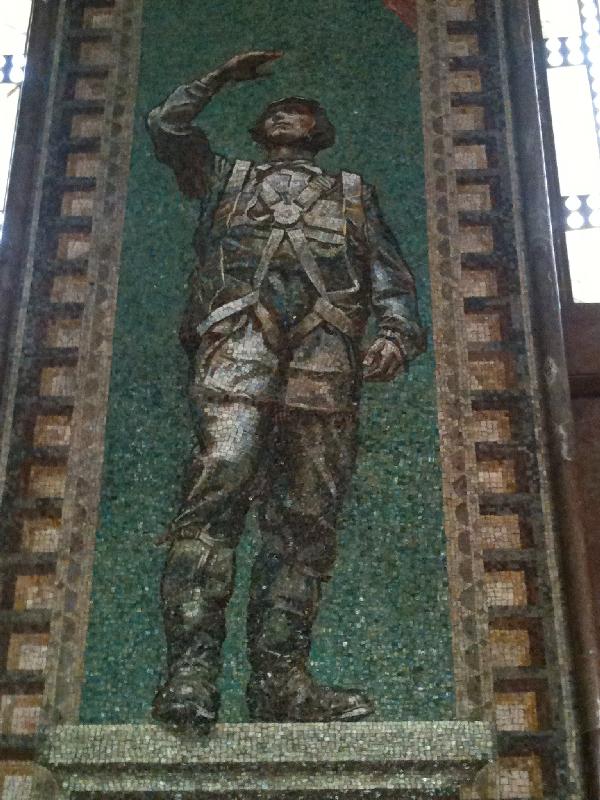 The doctors had a Frankenstein lab of 50's era panels used to maintain his corpse, much like Lenin. They weren't as adept as the doctors maintaining Lenin's corpse. The corpse deteriorated and in 1962 he was cremated. There was the large preservation room and the elevator which brought him up to the mausoleum for display. Pretty creepy really.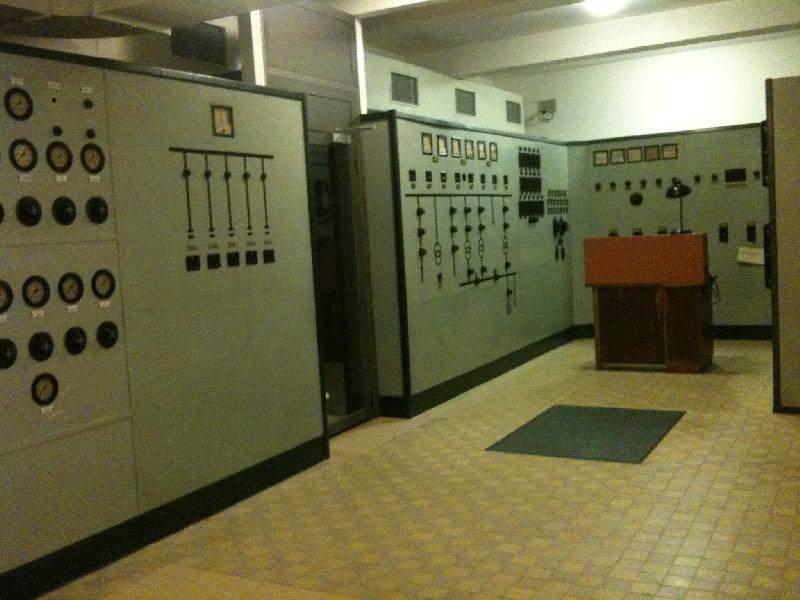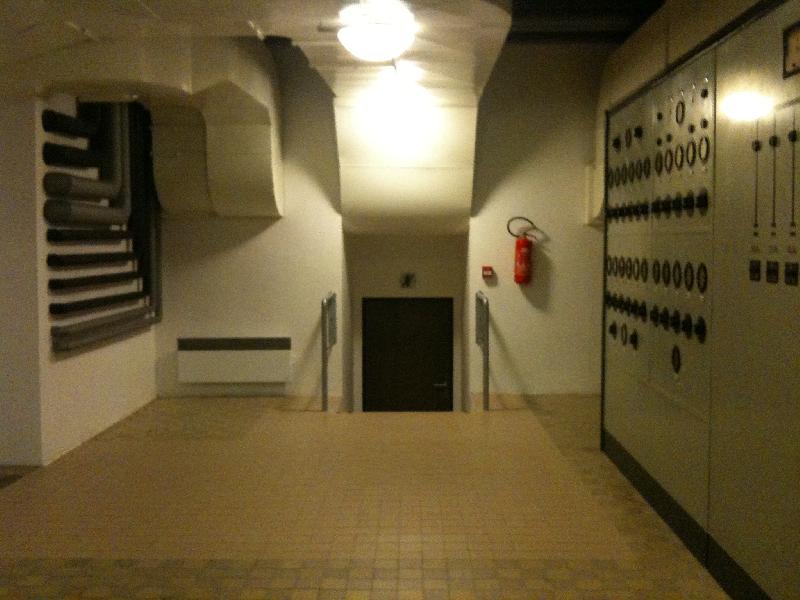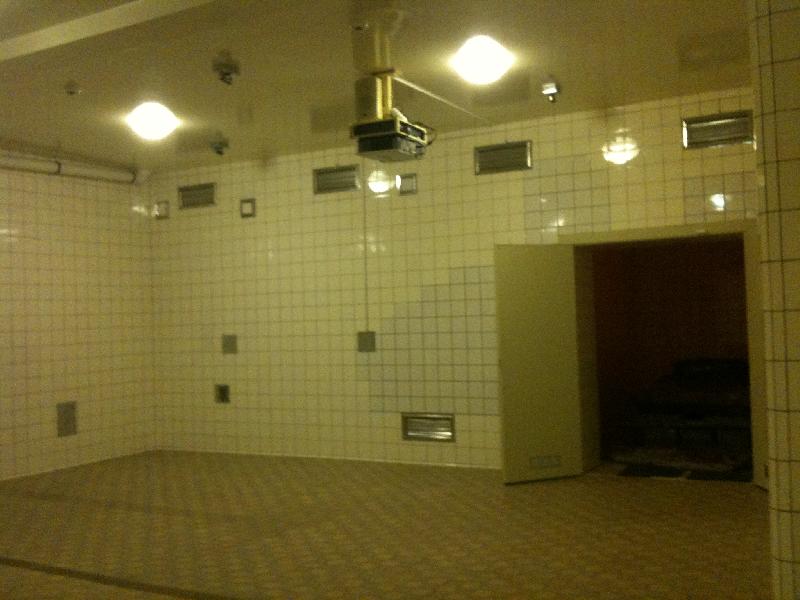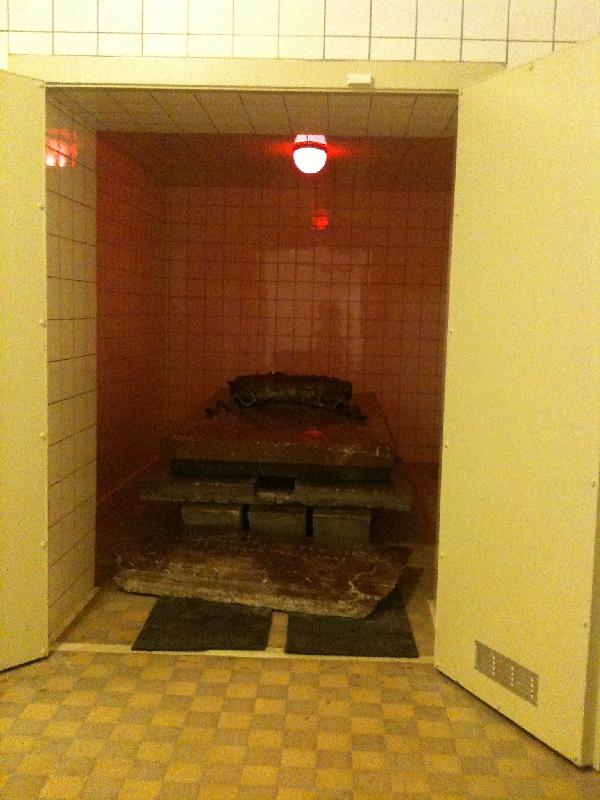 We went upstairs to the main museum. At the entrance was a map of The Czech Republic surrounded by a few artifacts. A couple of Czech stamps in sealed containers with magnifying devices above them, a feather pen in a long lit tube, and a video device (there were a few in various places around the museum). Across from the entrance was a room with several mosaics.
In the center of the main room was a smaller room with a ramp up of the history of the Czechs. It started with 1918 when the Czechs gained independence from the Austro-Hungarian Monarchy (The House of Habsburg) after WW I, 1938 and the Munich Agreement when the Germans annexed the Sudetenland with England's Chamberlain permitting it, 1945 when the Germans were expelled and when the Communist party gained majority to bring Czechoslovakia into the Eastern Block, and 1989 when the Czechs again gained independence.
Outside this room were crypts and three glass enclosures with examples of various parts of Czech life. Military uniforms, medals, and gear. Scouting uniforms and gear. Women and the ethnic dress and gear. Tramping dress, very like the old west with knives, heavy boots, and other outdoor equipment. And one of old time Czech uniforms with historical information on how folks who were members were abused by Communists.
Beyond that was the main crypt with important figures in Czech history. There were electronic displays detailing information about the people interred here although it was in Czech so we weren't able to read about them.
There was quite a lot of history presented. It was done well and quite organized. It was all very interesting to read and view.
We headed up to the 3rd floor to the cafe and then to the roof. We had to go through the gathering hall. Very big room with a large statue. There were three guys waiting at the entrance to the Tomb of the Unknown Soldier. An elevator took us to the 4th floor. One of the guys went with us to manipulate the elevator and to have us watch our heads getting to the roof. It was a maintenance access area but the view was spectacular and quite breezy. We looked over the city then headed back down and out.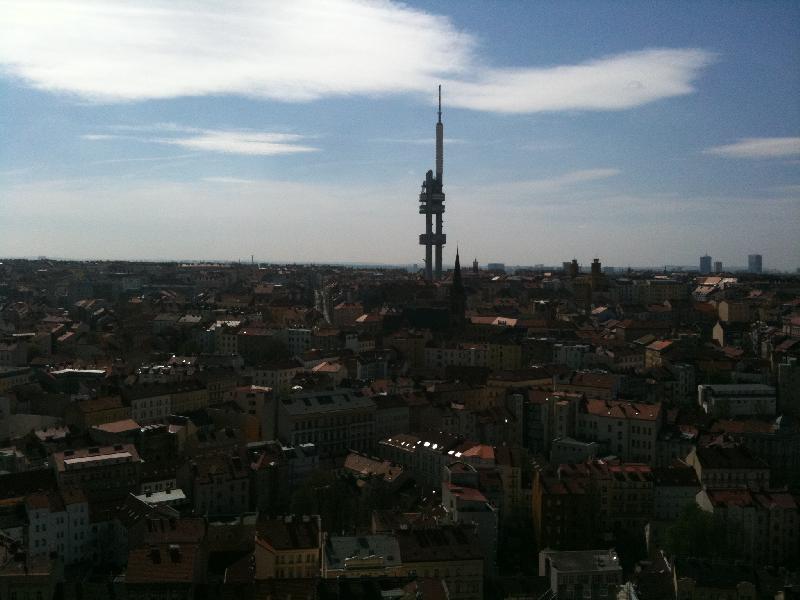 One thing to note. If you look at all the street pictures, you see 4 and 5 story buildings pretty much everywhere in the center of Prague. Sometimes you can see a road where you can go through the middle of a block but more often you see an opening through to the other side which is gated. In standing on the Memorial, you can see the city a bit better and see that blocks are just that, big squares with a central area. Look in this picture.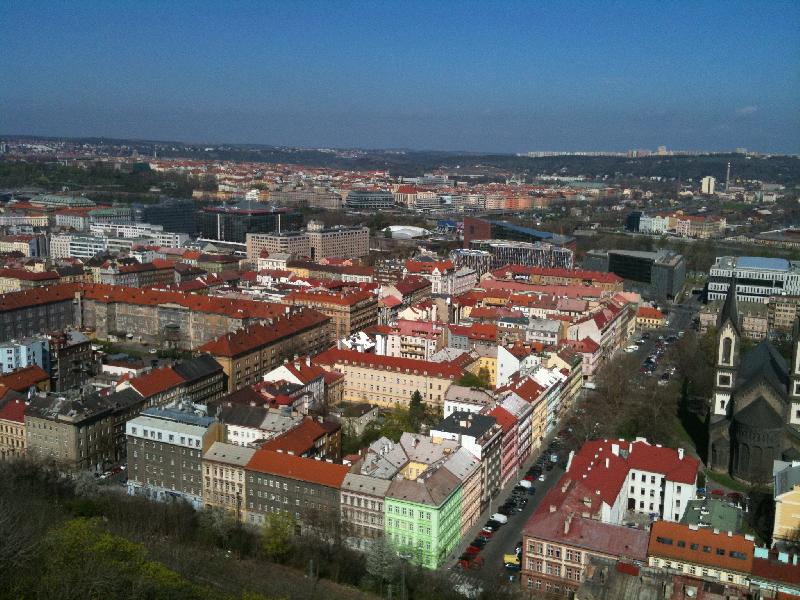 You can see the block but inside you see extensions of the block or even smaller houses, some greenery and a tree or two. Interesting how this works out.
We next headed farther down towards the river and to lunch. I had a homemade spicy sausage and mashed potatoes with cheese that was pretty good. Rita bought the chili. While we were in a non smoking area, it didn't mean we weren't exposed to smoke 🙂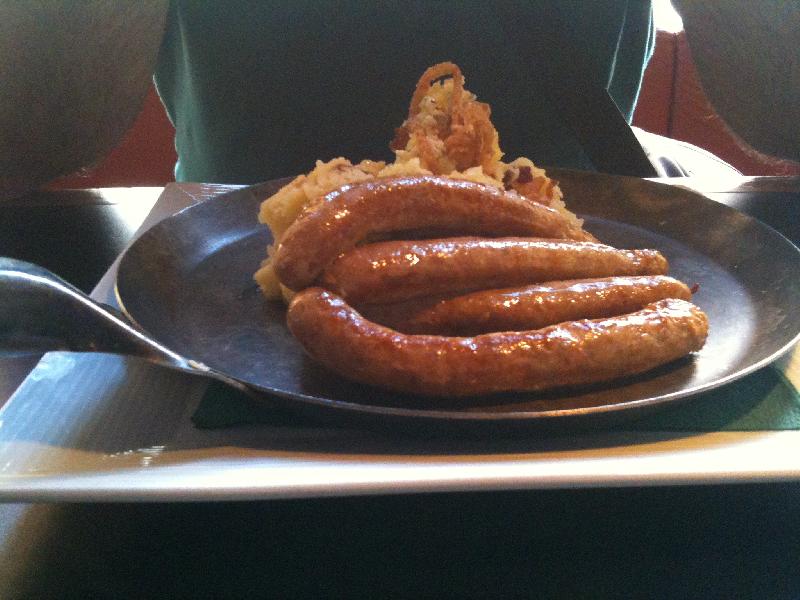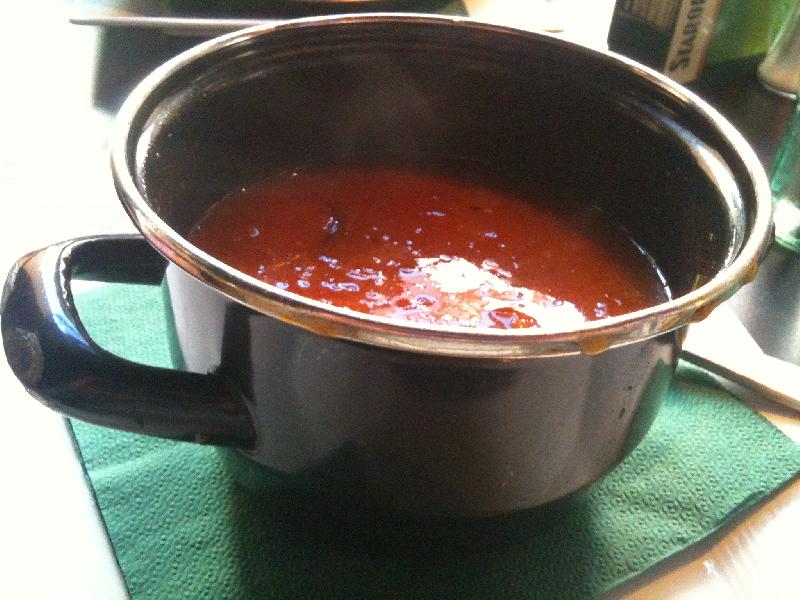 After lunch, we went to the train station which was across the street. Rita had heard there was an interesting, if sooty mosaic in the station and wanted to check it out. We wandered around the station a bit but we didn't find it. We went to the train info desk but the guy didn't know much English. Rita was asking how to get to the second floor to see the mosaic. He didn't understand and refused to let us up into the second floor where he was; it looked like access to the administrative offices which of course is off limits. Fortunately the next guy in line could speak some English and was able to help. He said we were at the first Prague train station and not the main one. He gave us directions, we thanked him and headed out 🙂 We actually didn't make it to the station though.
On our way we spotted an interesting tower. The Powder Tower. There was a guy dressed up outside chatting up a girl. When we asked (there weren't any signs), he confirmed it was The Powder Tower and we could certainly head up for a look. There was a narrow bit of stairs going up and at the first landing, a display of arms and some fake armor for tourist shots. There was a price board which would have been nice to see had it been on the ground floor instead of half way up. We looked around, got some pics and headed back down the stairs.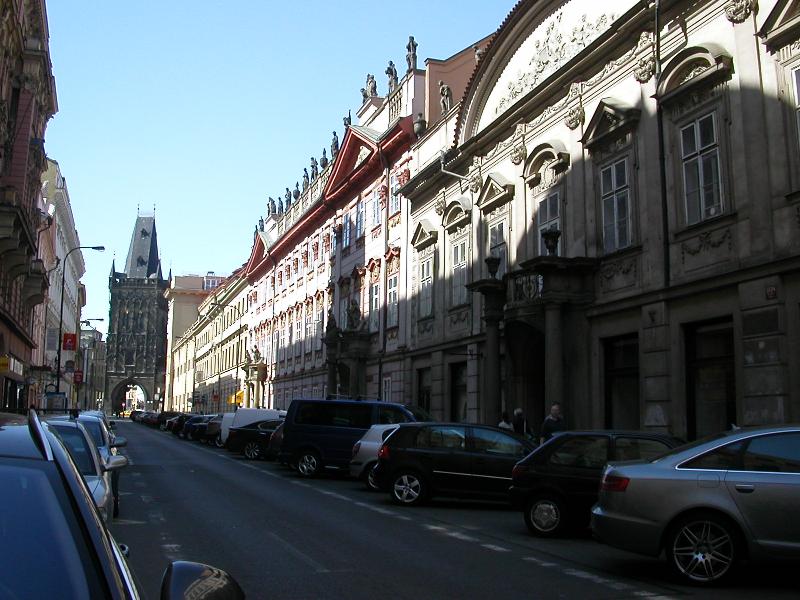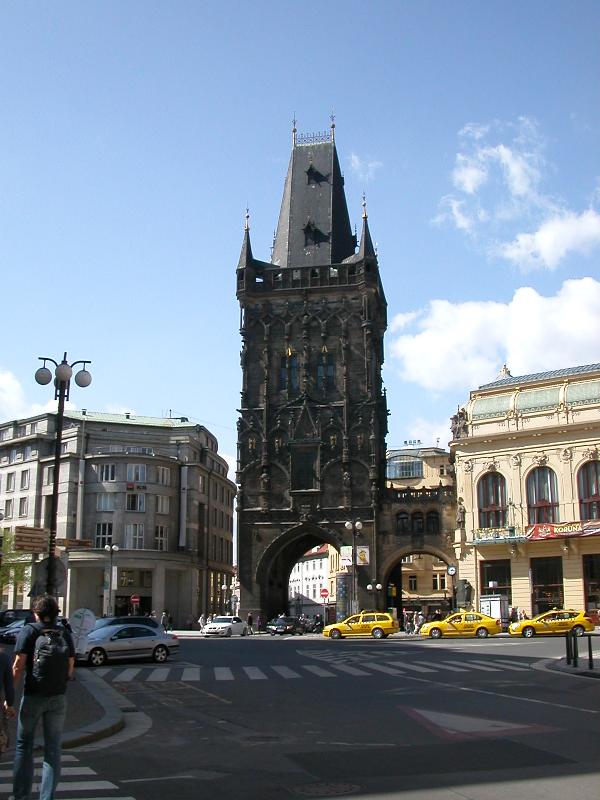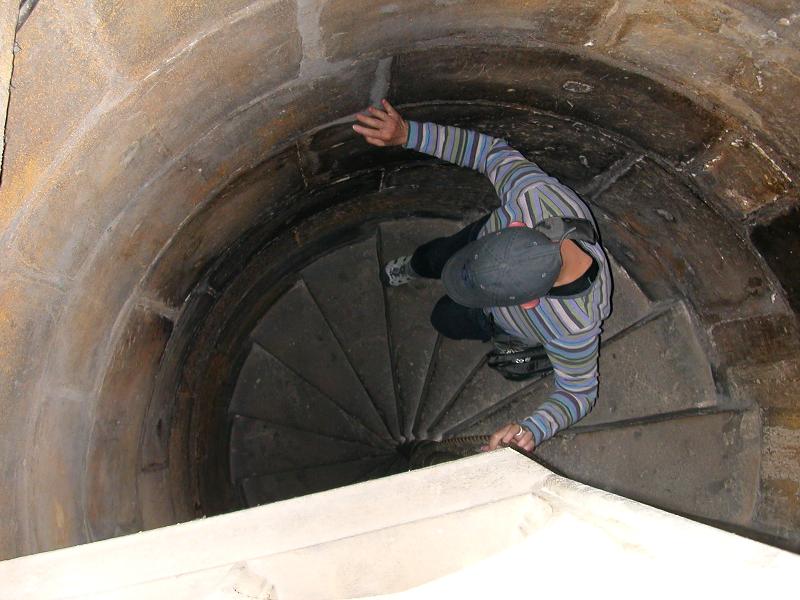 Next door was the Czech Opera House. We snapped some outside pics and headed in for a peek before heading on.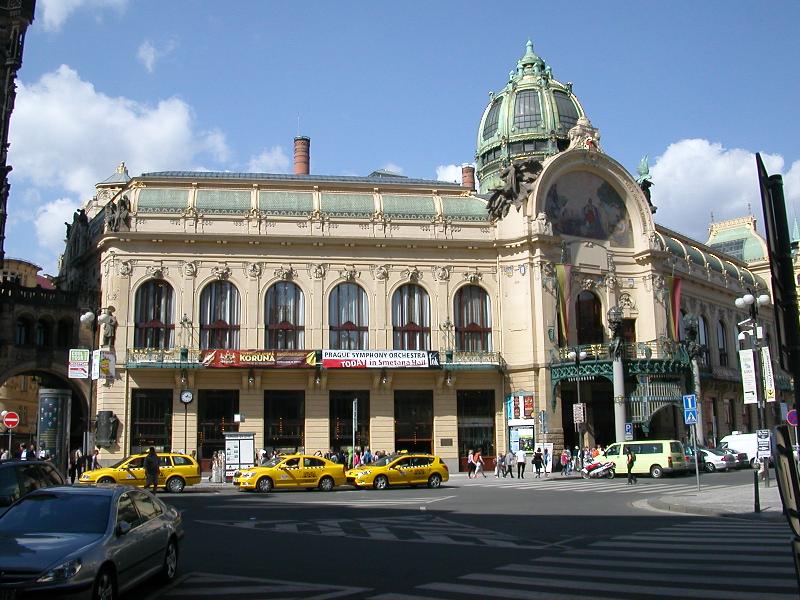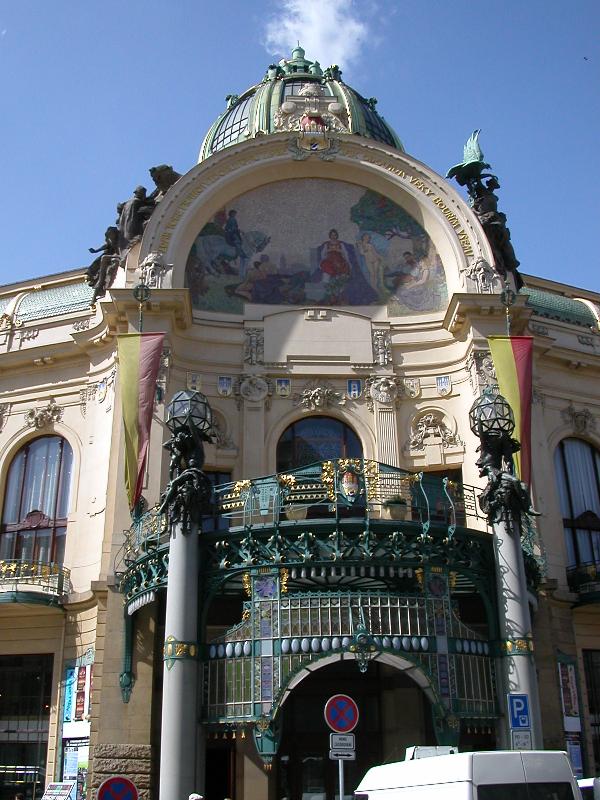 Rita wanted to go to Moser, a glass store to check out famous Czech glass. We headed back towards Wenceslas Square and stopped at the shopping center. I spotted the big billboard covering a building. I expect it's mesh of some sort as there are windows behind it.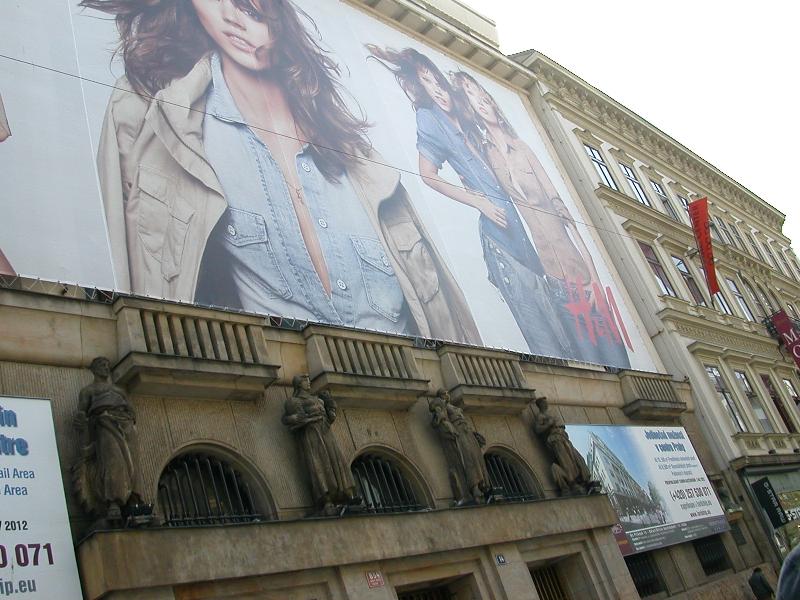 Next was the Mucha Museum. No Pictures! Check the website for a couple of pics. He was a famous Czech artist who got his start creating posters for Sarah Bernhardt's plays which were very fun and creative. He also spent 18 years creating The Slav Epic. A multi panel painting depicting Slav history which was presented to the Czechs in 1928. When they declared independence in 1918, he created the designs for their money, stamps, and medals. When the Germans occupied Czechoslovakia, he was taken and interrogated. He was released but due to his treatment, he died not long after. One of the cool things was he would do a lot of photos of models posing them the way he wanted it in his painting. He'd get a pose correct and get a photo. After he had sufficient for a collage, he'd paint the scene.
We did some more hiking around town including checking out the "Fred and Ginger" leaning building which was pretty cool.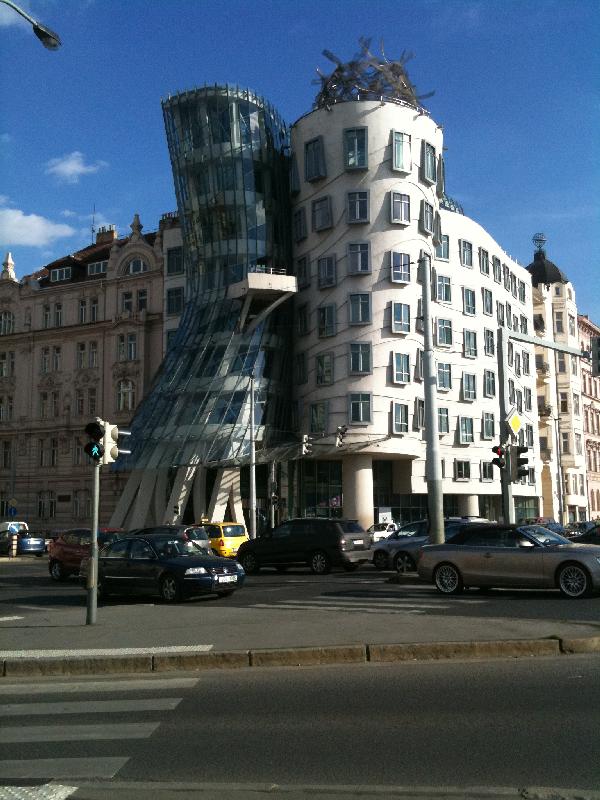 We went across a bridge to one of the islands and looked around. Across the river I could see stairs leading down the side.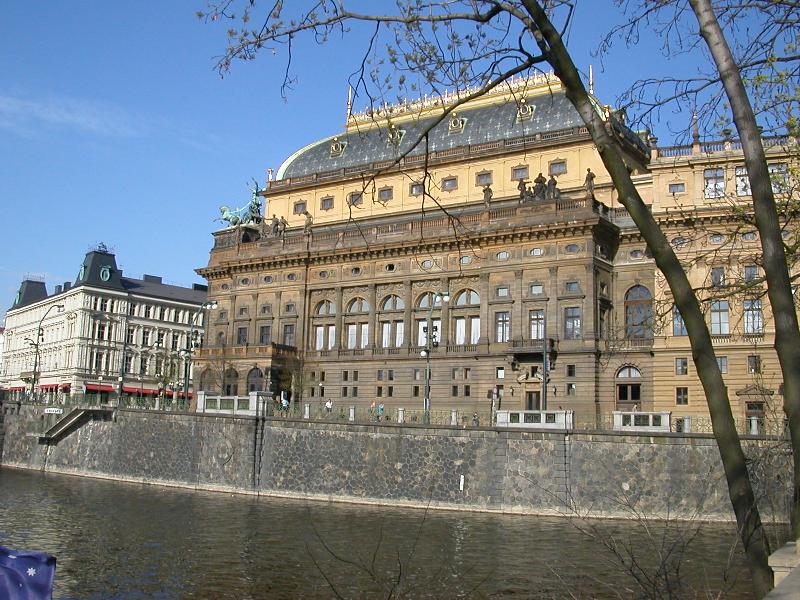 Turns out that was a bathroom (WC or Water Closet). 🙂 Back across the bridge and up ahead was the Photo Exhibition building.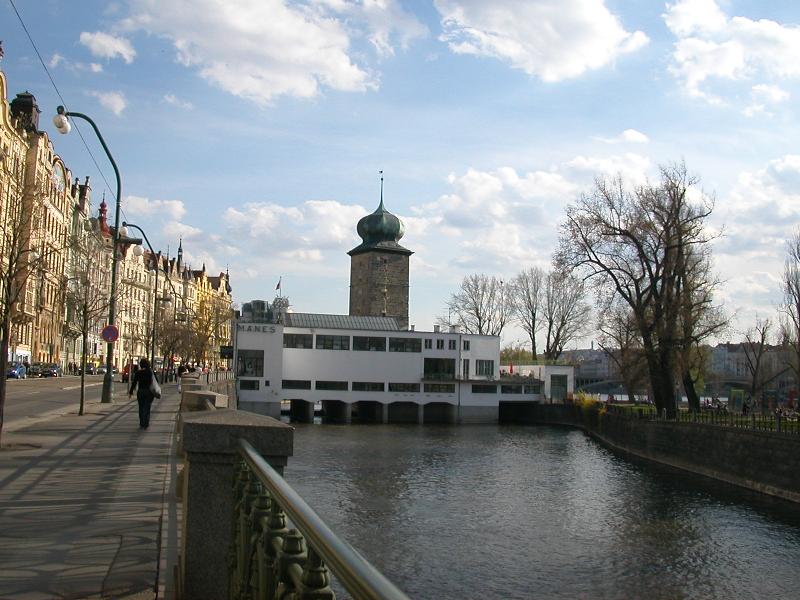 On the other side of the building were a couple of floating hotel/restaurants.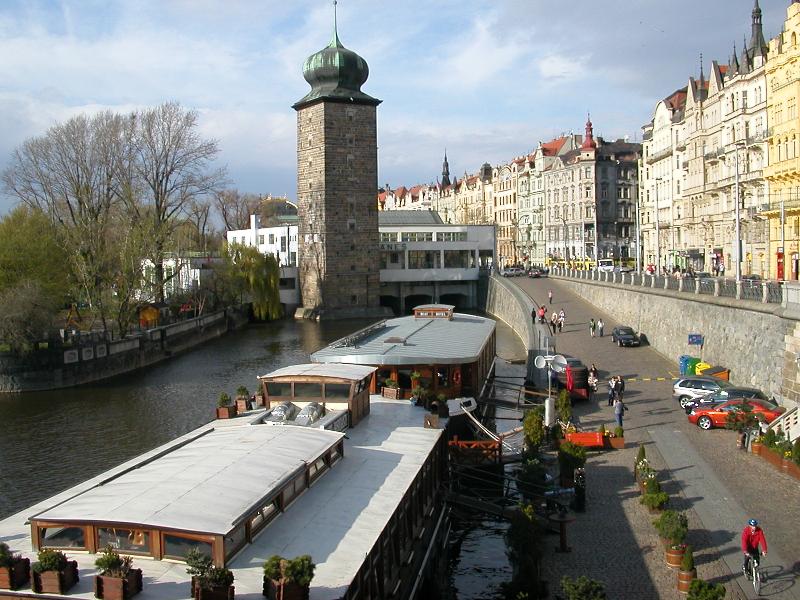 And of course the river itself.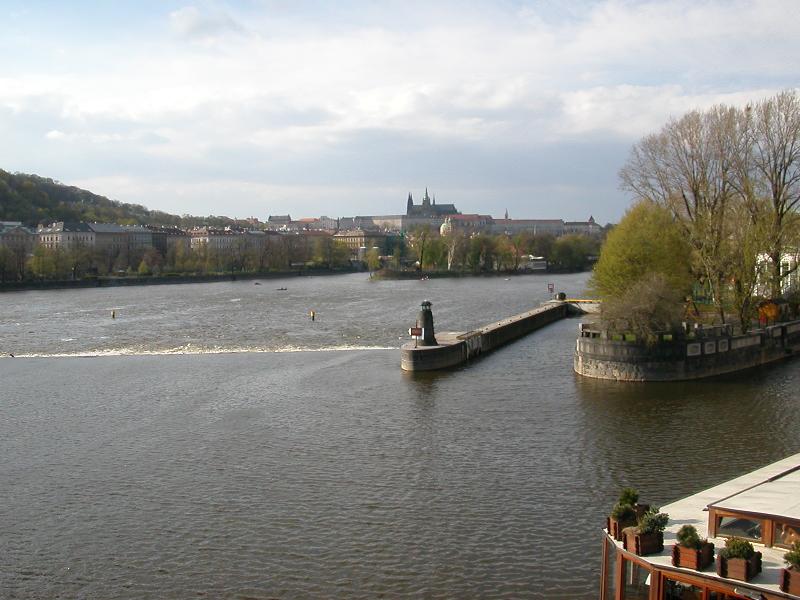 That's a lock where boats coming down the river would come in, have the lock behind them closed and the water lowered (or raised of course) so they could continue on their way. You can see another island a little farther down the river.
Rita spotted this and snapped a quick pic.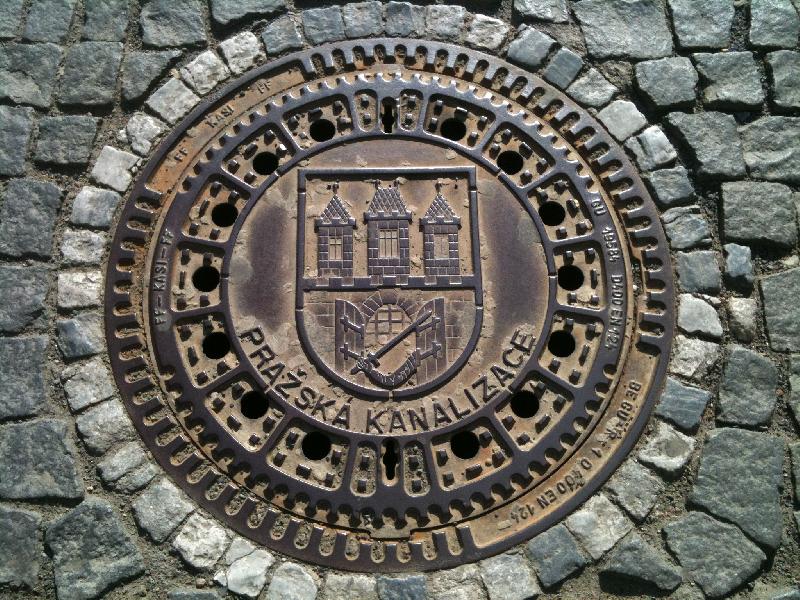 It means Prague Manhole Cover 🙂
It seems that around every corner was some interesting building or another. Ahead was an old church dome or clock tower.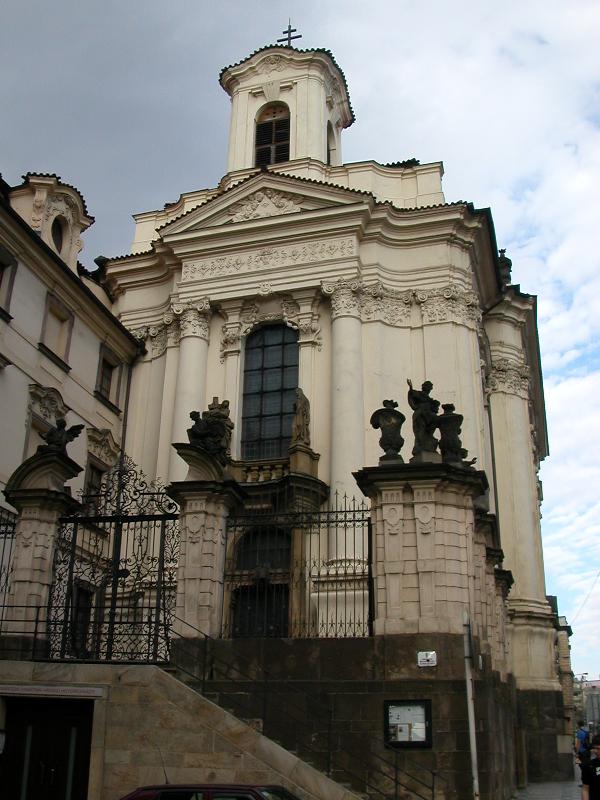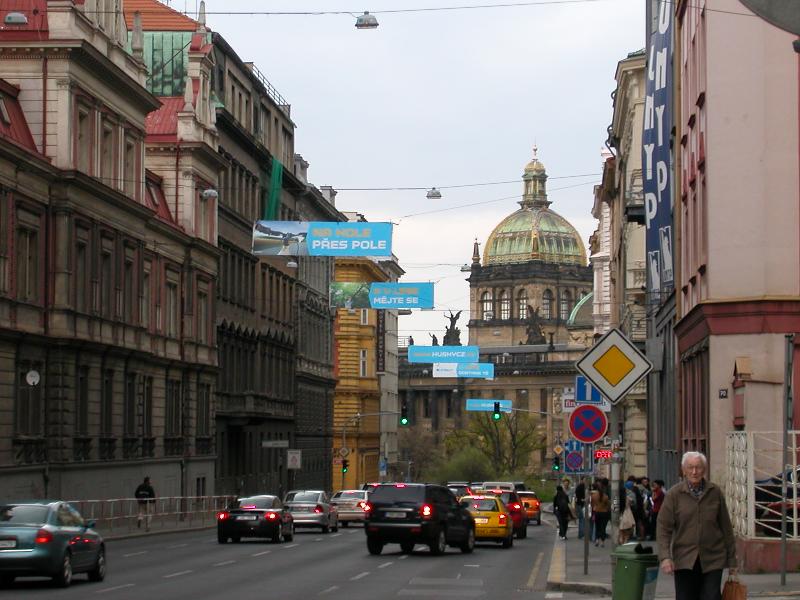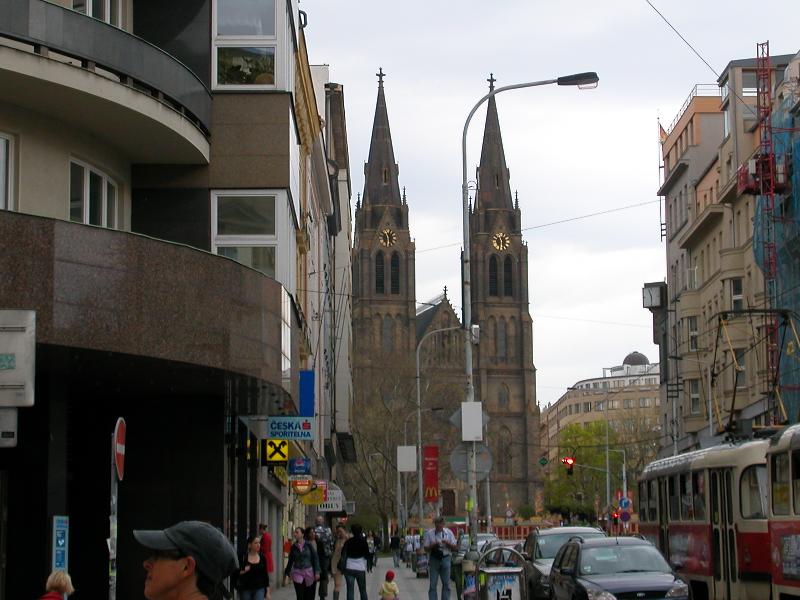 Eventually we head back up the hill to find dinner. We'd been walking 9 hours. Allergies had been kicking in all day and my feet were really having problems with the cobblestones.
Rita found this nice pizza place with a patio. We checked out the menu which had several types of pizza. This was a California Pizza type place in their options. "Hawai pizza" for example with pineapples. Rita asked about Pepperoni pizza which the waiter pointed out. It had Italian bacon and several cheeses. When I got it, it had peppers. Green, yellow, and red peppers :). It was still pretty good and likely better for me 🙂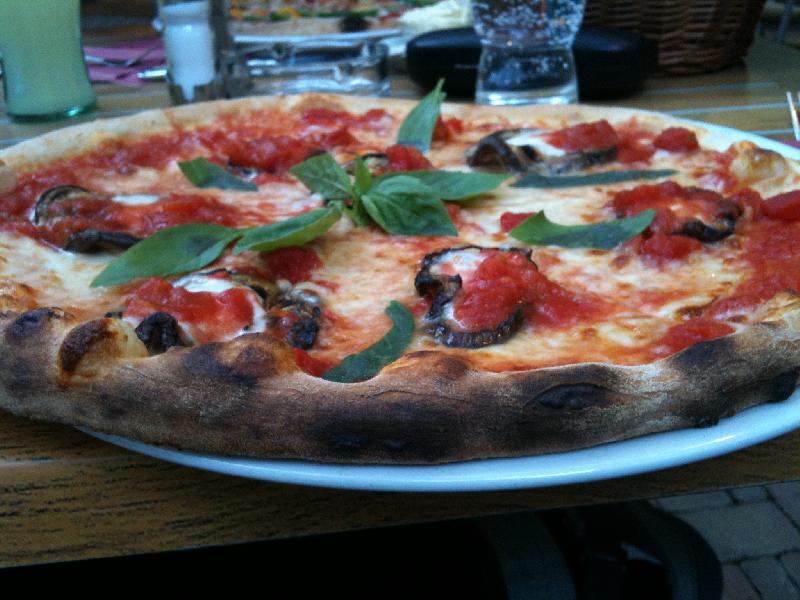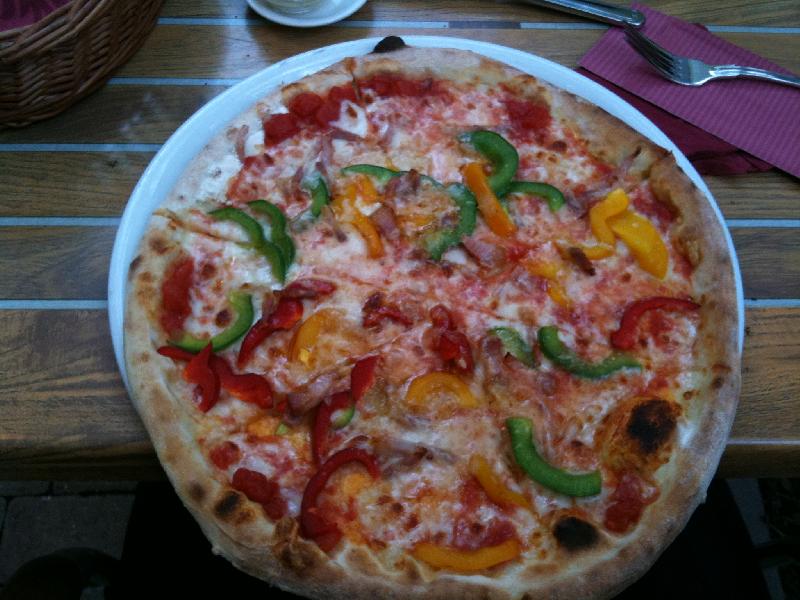 We Hiked the rest of the way up the hill to our room. I posted several pics on Facebook but went to sleep not long after. I was beat.
I did wake up about 2:30am and had a hard time getting back to sleep but eventually made it and we were up again at 7 am.