Jeanne and I have been planning an overnight trip on the 'busa. She's only ridden one other bike (a Goldwing she thinks) just once so the 4 or so rides we've done including a Peak to Peak ride are a lot. Since we're also planning a ride to Jasper/Banff in June and in August a ride to GenCon in Indianapolis, I wanted to an overnight ride plus a camping trip.
Initially it was planned as a quick ride around Colorado but the weather'd been looking bad all week. Not constant rain but periodic heavy rain showers. I checked further out and found if we headed north, we'd miss some of the rain. Then we remember it was a three day weekend. So Saturday was spent getting the bike geared up so we could head out Sunday.
Since we're camping, I'd tried a couple of spots for the location of the sleeping pad and tent but they're long enough that they obscure the brake/tail light. I was going to try going with out the trunk but we needed the couple of bits of extra room. I even added the third tier of my tank bag which brings it up to just about my chin 🙂 I had ridden with it before but it kept getting buffeted by the wind. This time though I have the Double Bubble keeping it out of most of the wind (although side winds kept pushing it left).
But it seems we had everything configured correctly. We tested out the brake light and it was fully visible from behind. On the ride back Monday, I tied an extra strap around the middle to bring it up a little higher.
Off we went. First stop was in Ft Collins to get gas. We'd started out with half a tank and it was a good spot to check the bike to make sure everything was cool and to check with Jeanne to make sure she was good. It was chilly so we had scarves and gloves plus a sweatshirt just to stay warm. At one point I had my heated grips on and Jeanne had tucked her hands between my thighs and the tank.
On the way I'd point to various sights like the missiles outside the Air Force base in Cheyenne. At the last exit before 85, we stopped again for gas. I had a banana and some cashews for breakfast. She snagged some yoghurt and trail mix I think. She had coffee and I snagged a Diet Coke. We sat at the bar in the Loaf and Jug and discussed the ride so far then headed out.
85 to Torrington then Lingle then a right turn towards Lusk.
Between Lingle and Lusk, a gigantic fog bank was sitting. I thought it was maybe over a river or lake but it was just low hanging clouds. I'd been reading The Mist by Stephen King so the fog was quite impactful and cool 🙂 As the fog was clearing a little, I stopped the bike and snapped a pic.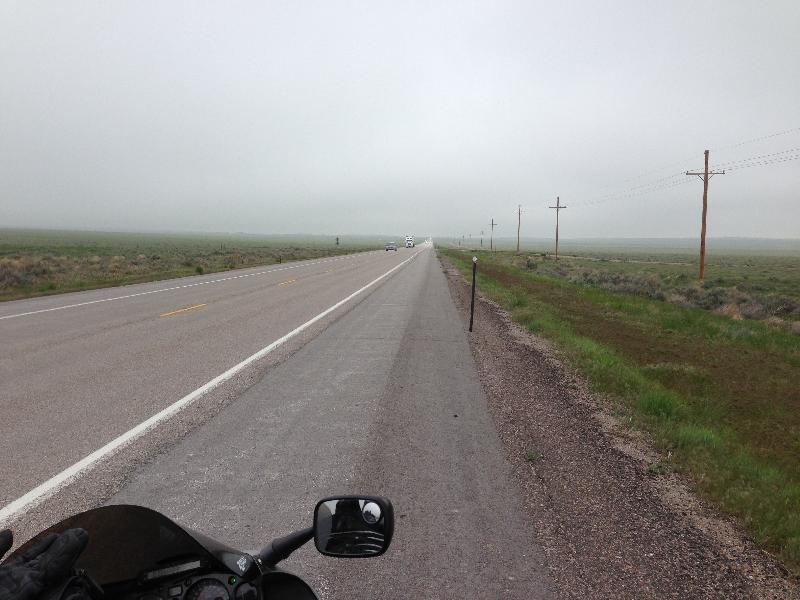 You can see ahead that the fog was starting to clear.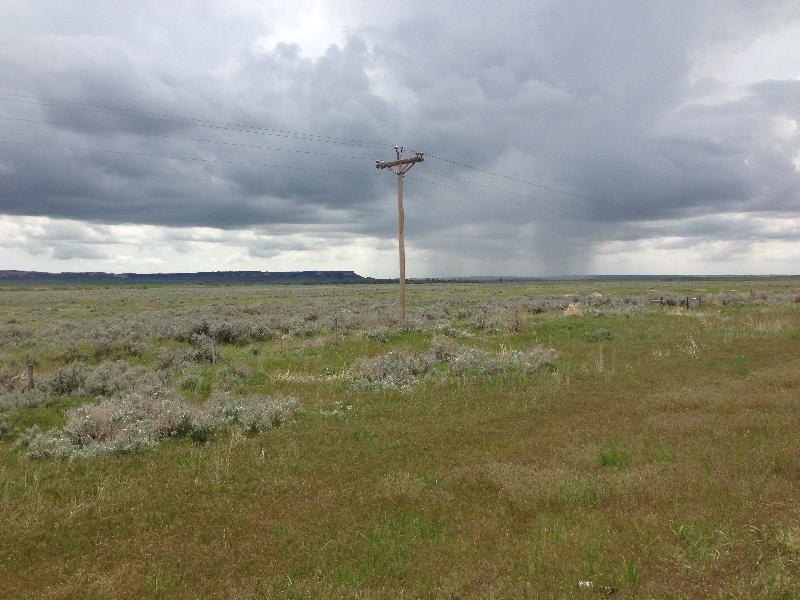 This was looking back, about 30 minutes from Lusk. We were seeing this most of the day. Quite dark clouds, mainly over The Black Hills area.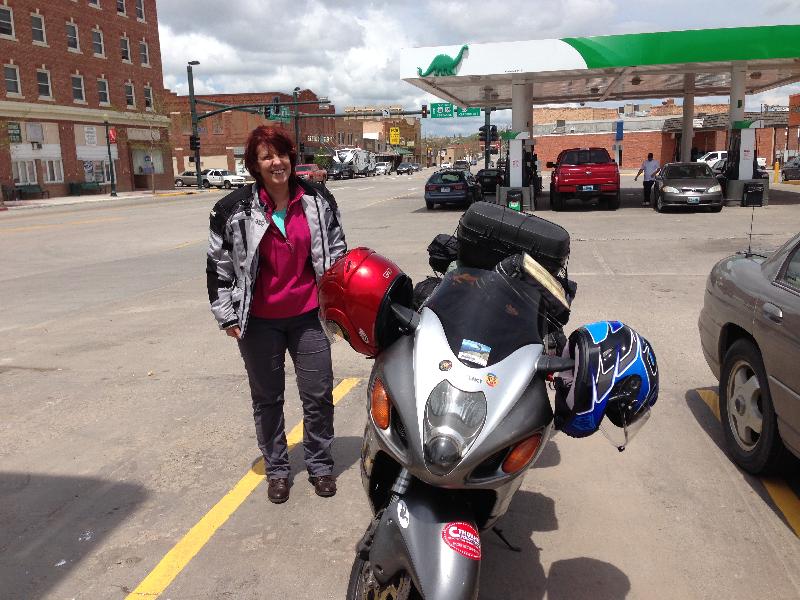 In Lusk we stopped at the normal stopping place for folks traveling that way, the Sinclair station 🙂 Took a break after getting gas and relaxed a little.
The rest of the way up 85 was pretty uneventful. I was checking out The Black Hills since it was taking so long to get to Devil's Tower. The original intent was to camp on the west side of The Big Horns but I didn't see that happening. It was getting too late to safely make the ride.
Just before 90, we rode through a quick squall but dried out quickly. After 90 and on the way to the park, I spotted a smallish turtle in the middle of the road, head stuck out. I stopped, turned around, and headed back. Jeanne hopped off the bike and chased him (or her) into the grass on the far side of the road. I figured it was just sunning itself but it picked a pretty bad place to do so.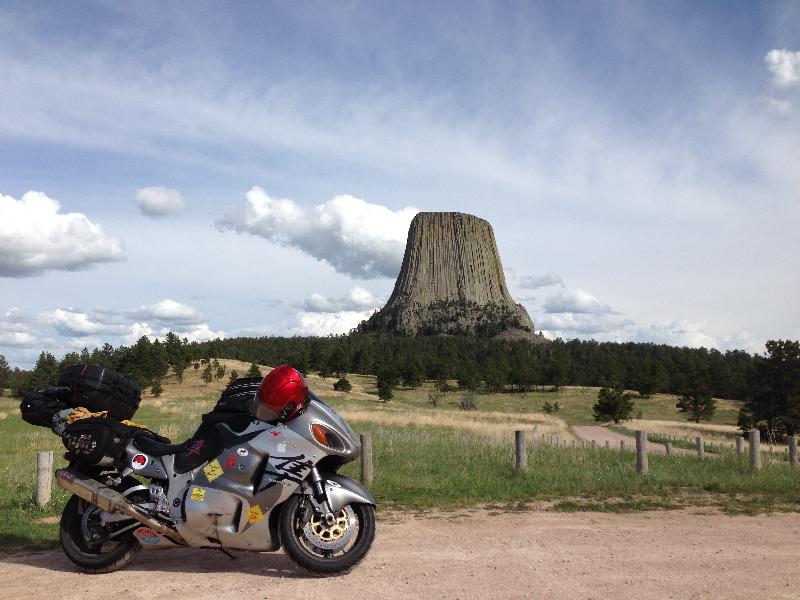 After passing the tourist store outside the Devil's Tower, we went through the gate and headed up. There was a dirt road to a scenic spot that I couldn't resist. Looks pretty cool actually. Like a painting someone else told me.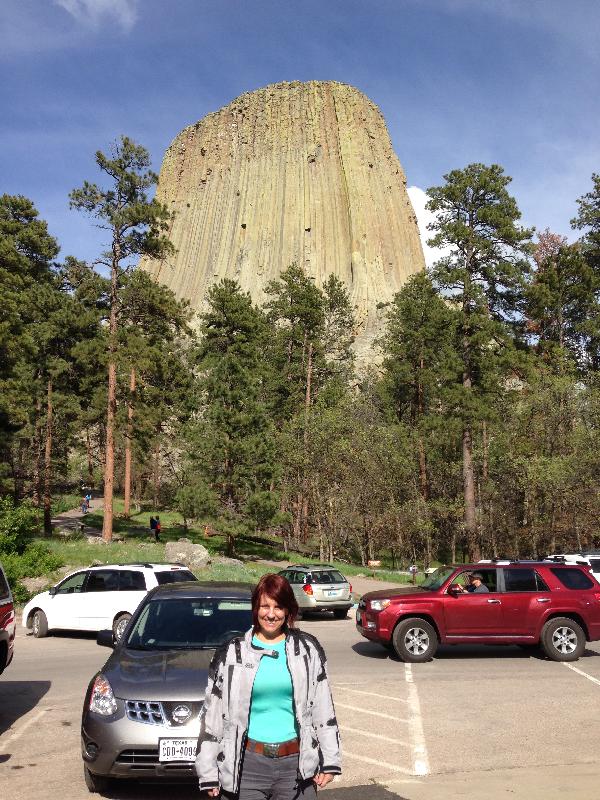 At the visitor's center. Jeanne doesn't look too much the worse for wear 🙂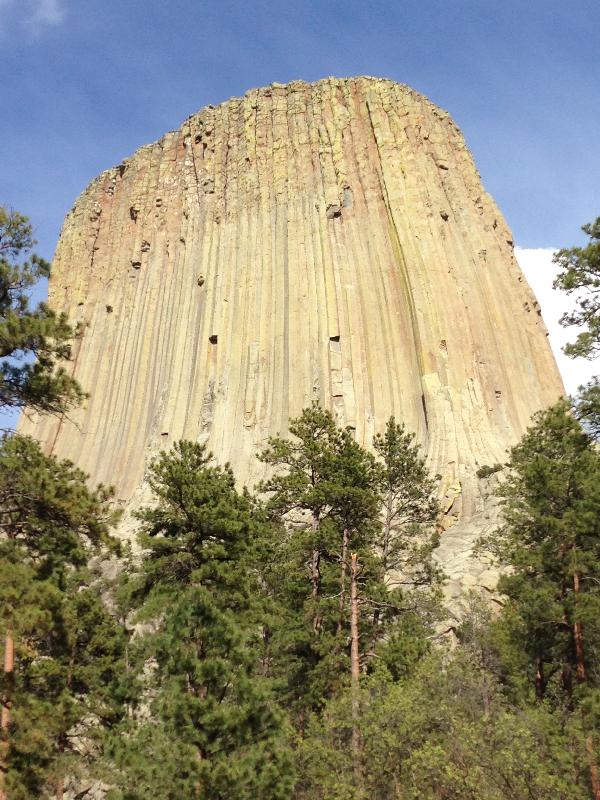 Nine years ago, I did an Iron Butt ride on my Hayabusa which included Devil's Tower. Here's that pic: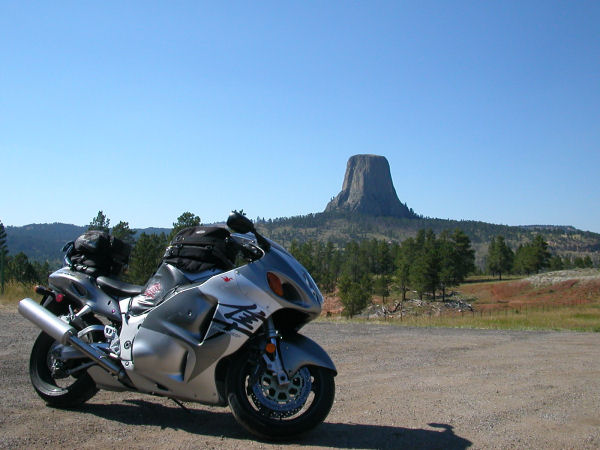 Here the bike at the same spot, a little later in the day (5pm ish):
Anyway, after that we headed out. In considering the time of day (5pm), when we stopped in Gillette for dinner, I was looking for a camp site. I didn't think we were making Sheridan or farther west that night and the chain was feeling loose. I need to make the chain a little looser for riding with a passenger for the ride north next month. Plus I didn't like the looks of the tire. But all the reviews on Google were pretty poor for camp grounds. And most are really RV "Camper" sites and not actual grass down put up a tent sites. I did some searching and just west of Buffalo on 16 was a park campground. One tenth in from 16. It would have us camping in the park and probably cheaper ($16). After a discussion, we headed on to Buffalo.
The next hour was pretty reasonable but all freeway riding. I could go faster because of the speed limit but had to be cautious due to the holiday weekend and all the cops being out in force. We'd passed several cops with folks pulled over and I wasn't itching to break my record of no police speeding tickets (I had to change it from 'no tickets' when riding through Boulder a hidden, unmarked camera caught me doing 10mph over the limit; bastards!)
We made Buffalo without issue, stopped for gas and headed on through town following 16. As it was close to 8, it was still pretty light out but the sun had gone down. It was chillier of course and heading up into the Big Horns was getting us close to snow. Fortunately we got to the turn without issue, until we discovered it was a hike in campsite! We could park the bike and schlep in all the gear, or head back down to Buffalo and snag one of the many camp sites we passed.
We decided to turn around.
The first campground was closed but the second was open. It took a bit to get someone to come out but he was friendly enough and even knew what Hayabusa meant (Jeanne knew as well and knew the story about the Blackbird 🙂 ). The bad news? A part had broken in the communal showers and bathrooms. No water. I'm good with it since I can pee around back of a building or tree, but women are a tad different 🙂 Jeanne was up for it though and we set up camp.
Since she didn't have a sleeping bag, I brought a couple of blankets in addition to my sleeping bag. I put the one down on top of the pad, then us, then the sleeping bag as a blanket and the other blanket in a pile by our feet to tuck into. The pad was just a touch on the small side but I was able to get comfortable half on my gear, pants, and shirt. I suggested she get a similar sleeping bag so we can zip them together for the Canadian trip. In general it worked reasonably well. It wasn't too cold out so various parts hanging out wasn't uncomfortable.
In the morning we got up, packed up the bike, and headed off to breakfast.
Now there is one thing to note about my normal riding. I tend to ride alone. So camp setup and break down are pretty ingrained habits. Jeanne tried to be of help and I used her mainly to hold things like the flashlight when I was setting things up and the bags and poles when I was breaking things down "hand me the tent pole bag, no the purple thin one" 🙂 Purple was the tent poles, green was the tent, black was the pad, and blue was the sleeping bag. So it was pretty easy. And of course everything in its place.
With the bike packed and ready to go, we headed over to town to see what we could find for breakfast. Being Monday and a holiday, I wasn't too sure there'd be anything. We located a Carl's Jr and dropped in there for breakfast then headed on south on 25.
The ride back was all slab and generally longer time in the saddle. We kept pointing out the antelope and deer we saw in the fields. At one point I stopped and we discussed a couple of things. She was having issues with her right foot getting numb. I asked if she could dangle her feet and of course she could so that was a new option that actually seemed to help her. I also commented that hitting a deer at highway speeds on a bike might prove disastrous. And later on down the ride, we saw a deer, well half a deer on the left and half on the right.
We did stop several times though. At one point I was thinking I could draw a few hand signals on the back of my helmet to help communicate better. At least for the Canadian trip 🙂 And thinking about a few work things like always.
Just before Cheyenne I could see heavy rain clouds. As I was zipping down the road anyway, I spotted an exit about the same time I spotted a cop in the right lane. I signaled and headed up the offramp. 🙂 I just wanted to make sure everything was protected. I use plastic bags in the saddle bags, trunk, and tank bag for protection. From the rain as well as the dust and dirt of travel. I put on my liner for my Joe Rocket jacket for rain protection and we headed on back out.
We did pick up a little rain as we passed through Cheyenne but not enough to be a bother really.
Coming down 25 into Colorado was interesting. There was a lot of traffic and plenty of left lane campers (one guy looked to be typing on a laptop in the passenger seat!) To the west were very dark clouds and clearly rain was falling. I figured Longmont was getting wet and to avoid traffic (which was getting heavier), I pulled off at 34 and headed to Loveland.
Now I'd been seeing plenty of cruiser riders out and about. Both two up and with his and hers color coordinated bikes and gear. But as we approached the apparent rain in Loveland, I kept seeing the cruiser riders making U-Turns at intersections. I guess riding without protection can get a tad damp 🙂
The rest of the ride was uneventful. We stopped at Chipotle's for an early dinner and headed back to my place.
One part of our discussion was checking out the gear we took to see if we needed everything and making a quick list of things we might have forgotten. That way we're ready for the trip to Canada.