Last weekend Rita and I went hiking in Indian Peaks Wilderness. It was a short 7.4 mile hike in to the campsite. According to the book, it was somewhat moderate with the last couple of miles being strenuous.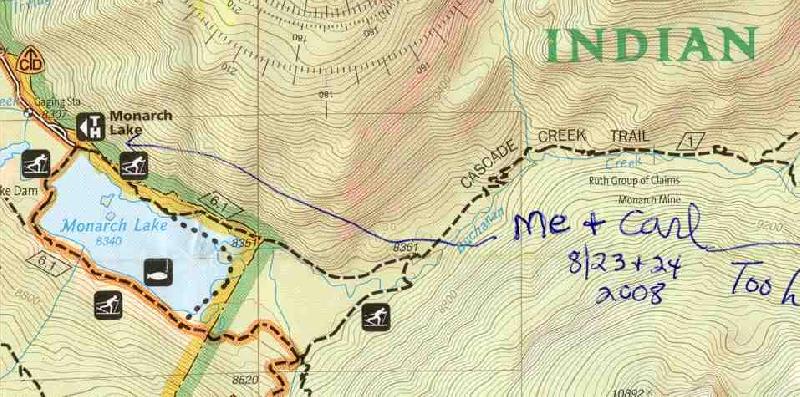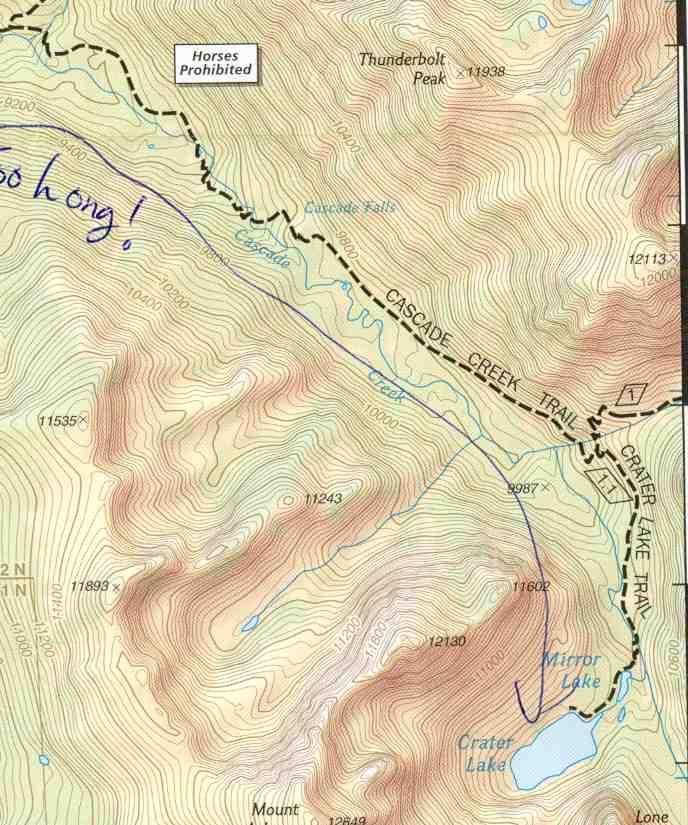 We parked the car at Monarch Lake, put on the backpacks and started off.
Rita at the start of the hike.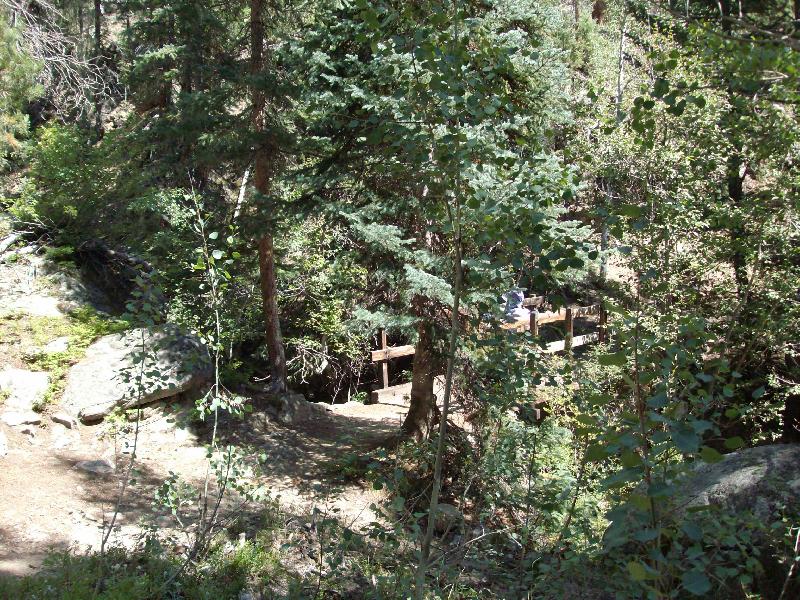 One of the many water crossings.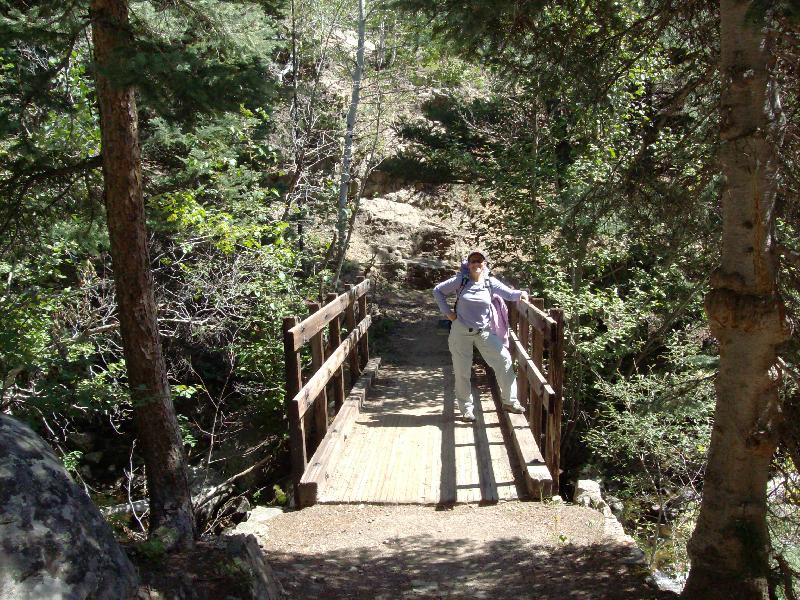 We have this "thing". We don't cross bridges without a kiss. So she's patiently waiting 🙂
The first couple of miles were ok. Mostly slight inclines but when carrying a 40lb pack (it weighed in at 35 lbs but Rita gave me the dried food before we left) it was a tad tiring. It was the first time I'd used the pack and I haven't backpacked since I was a kid in Boy Scouts. I had the belly belt too high which wasn't helping 🙂 After about 3 miles, I was ready to stop and camp for the night 😀 We kept going up past the second trail split and stopped for a break.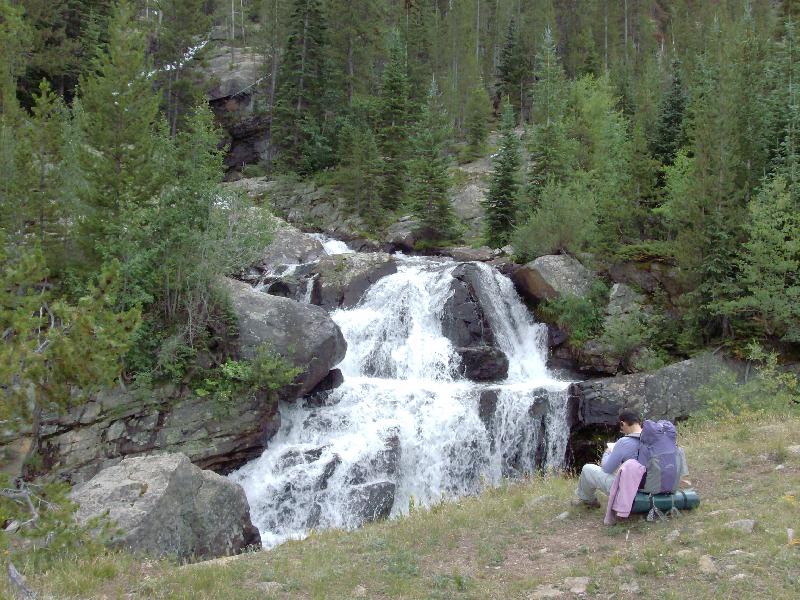 Rita studying the map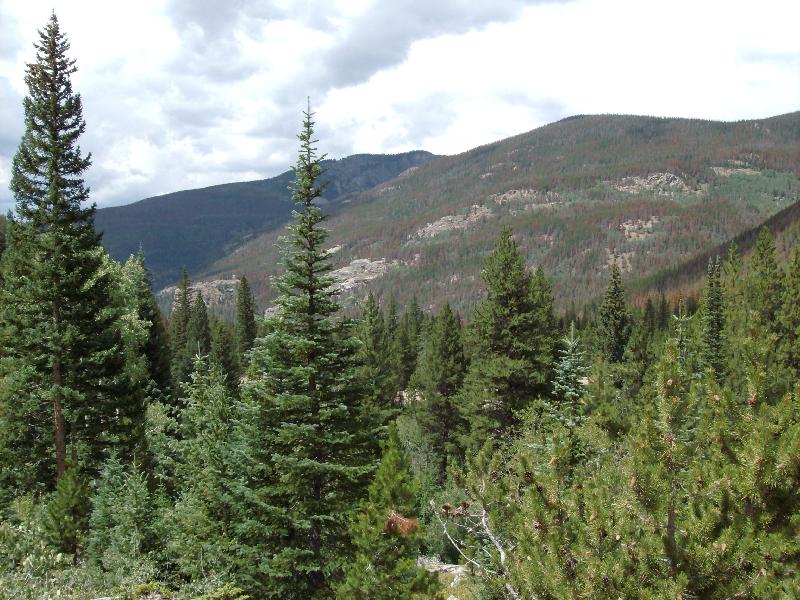 What a view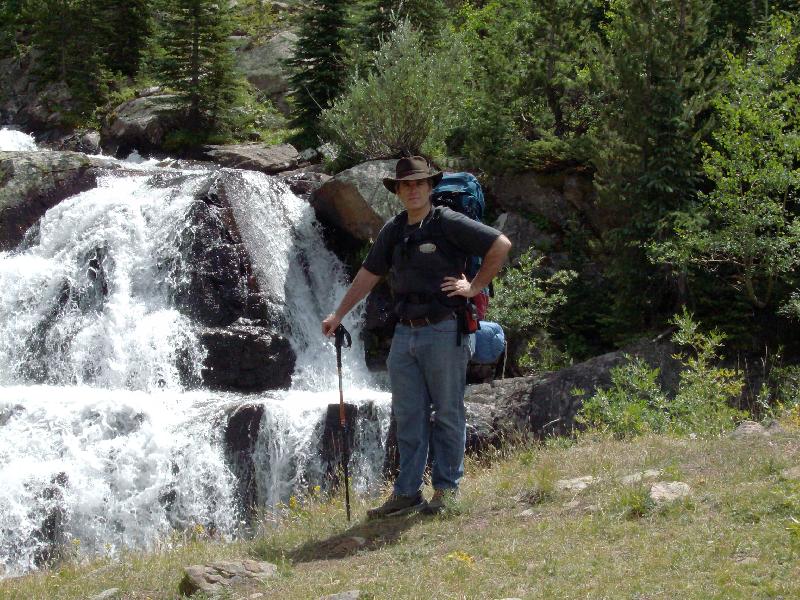 We continued on to Cascade Falls. We'd been passing folks coming back up to this point. The number of people we passed was severely reduced after this point, about 4.5 miles in.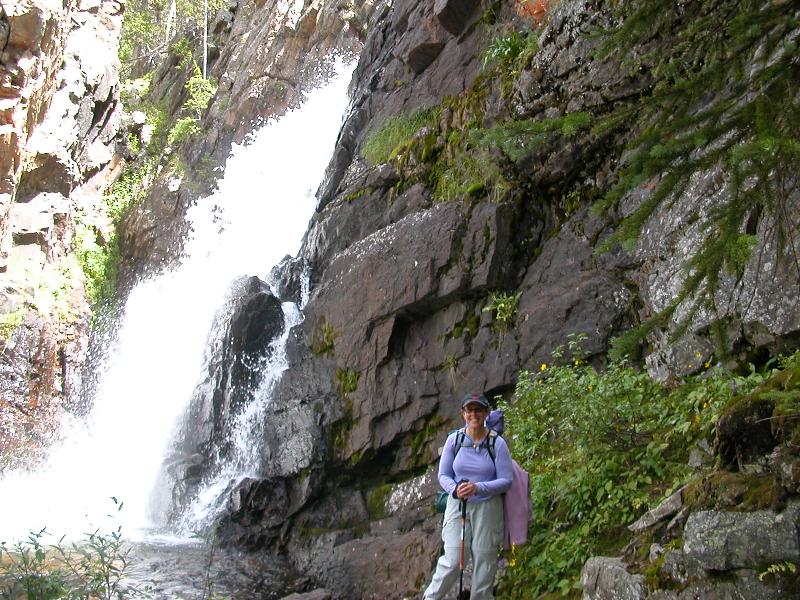 Rita at the falls.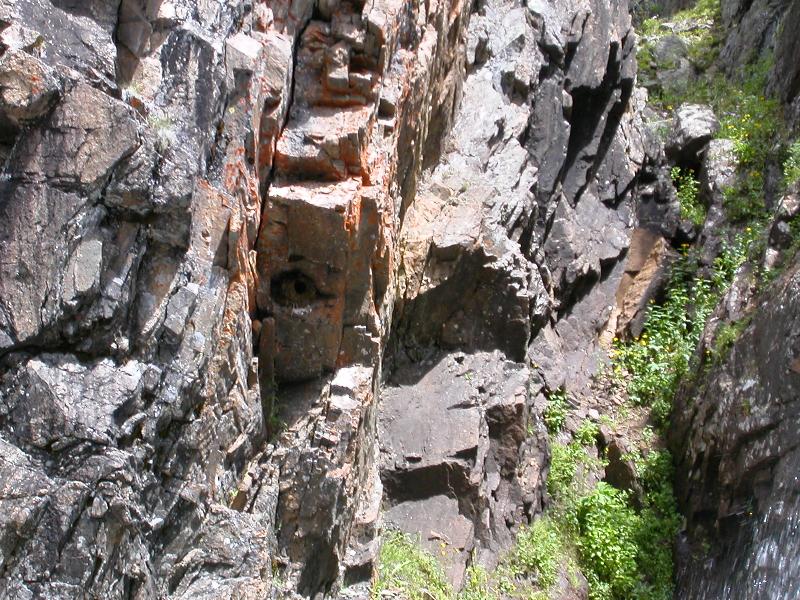 We spotted a birds nest in the rocks facing the falls. Just stick your beak out for a quick drink 😀
From this point it started getting steeper. There were a few places where there were switchbacks up and down but here is where it generally got rockier and steeper.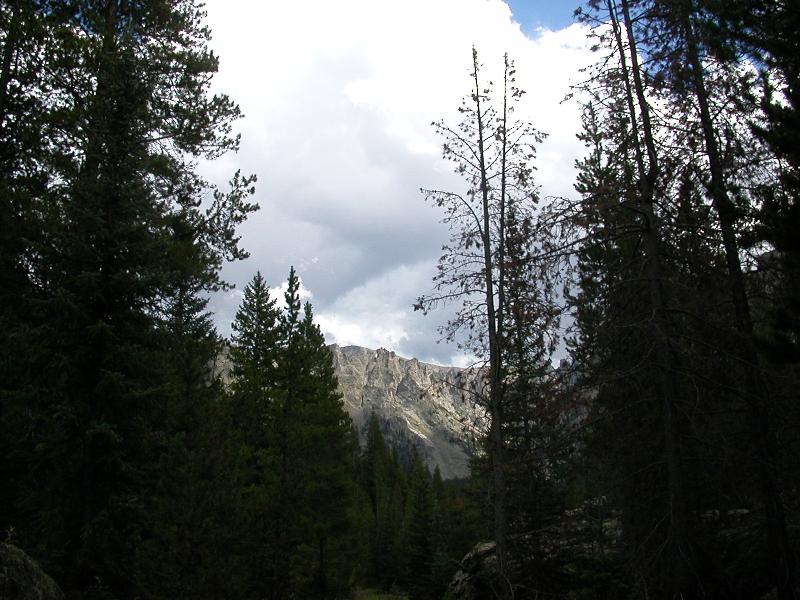 Our campsite is at the base of those cliffs.
We passed several meadows.
Rita's happy to be outside.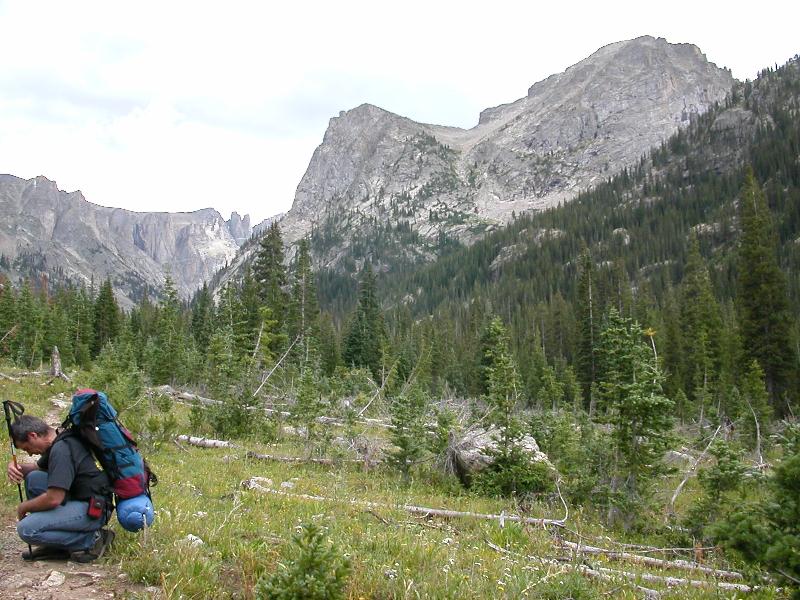 Carl's happy to stop for a moment.
Technically, I had a bit of a headache. I was tapping my head with the walking staff which made it feel better. Better than being hit with the staff anyway 😀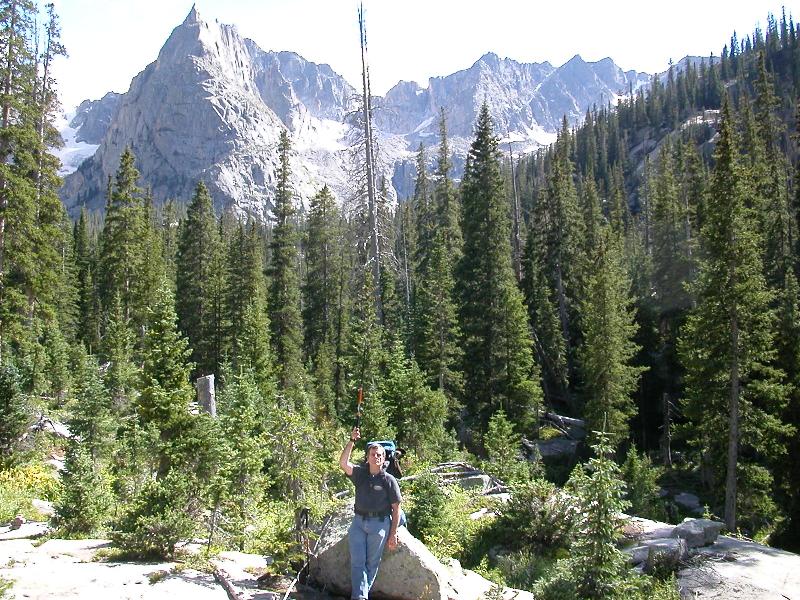 Taking a break.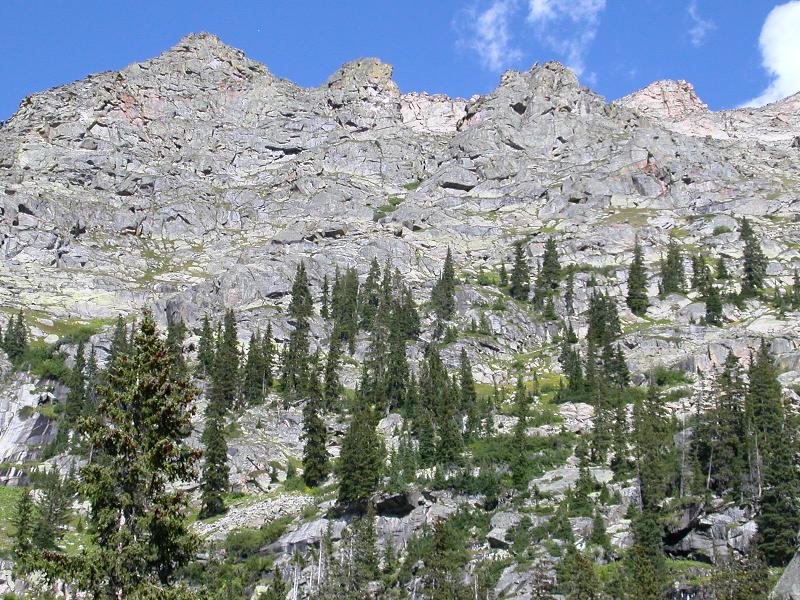 Getting close to the tree line.
Even the last bit to the lake was tough. I was already dragging tail and then there was another switchback to get to the lake.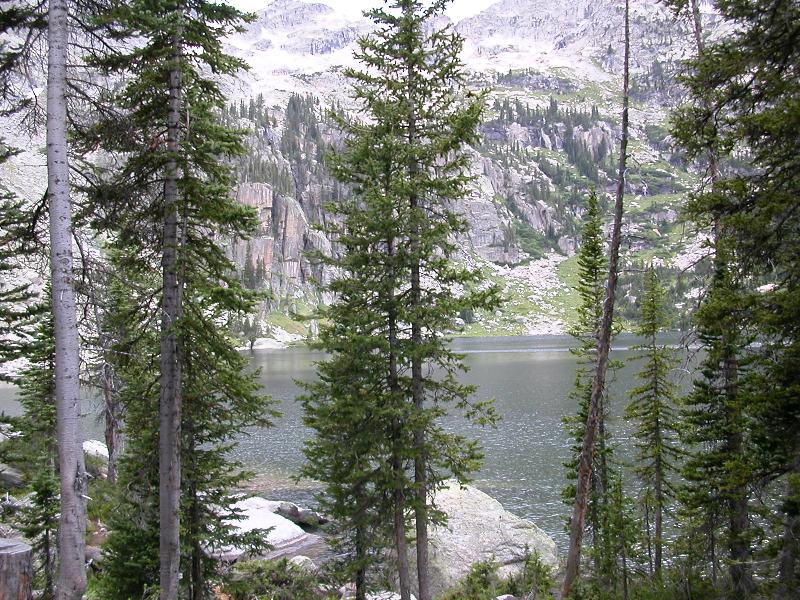 We hiked around the lake to get to our site. We went to site 7 which was actually on Crater Lake. The others were either below the switchbacks to the first lake (Mirror Lake) or were on Mirror Lake. There were another 5 sites on the other side but we didn't investigate.
Stopped. Thank goodness!
From the shore just below our campsite.
We got the tent up and ate some of the food we brought. Dried apple rings, mixed nuts, dried mangos, and dried bananas. Rita had brought the camelbak but we'd run out of water about a mile back.
Back when we first got my backpack, we'd finished hiking 5 miles up into the Sawtooth mountains in northern Idaho. I'd suggested we should do a bit more hiking and even some camping. One of the guys at work was selling his backpack for $25 if I remember correctly. We bought it (reeking of cigarette smoke) and it's been sitting in the closet up until this point. I took it out of the closet and was getting ready to pack it up when I discovered at the bottom of the pack, a Pur Hiker kit. It's a water purifying kit. We tested it the night before and decided we'd just need to take the camelbak and this. It's the reason Rita transferred the food into my backpack. She had the camelbak.
So we took the Hiker kit down to the lake and after a few pumps to clean out the hoses, we filled up the camelbak. The water tasted great 🙂
After a bit, it started to rain. We climbed into the tent and got settled in. I was pretty sore so I really didn't want to be moving around after that. It started really pouring down. It only lasted a bit though and when it stopped, Rita headed out to look around.
Sleeping that night was pretty much toss and turn all night for both of us. I camp when touring on the bike so I'm used to the tent but generally it's just the right size for me (it's a two "man" tent) but with our gear sharing the tent, it was pretty tight. It was also a tad warm in the bags and add in the condensation from our breathing and it was certainly an interesting night.
In the morning we got up and had a bit more to eat. We also refilled the camelbak before we got packed so we'd have it for the hike back.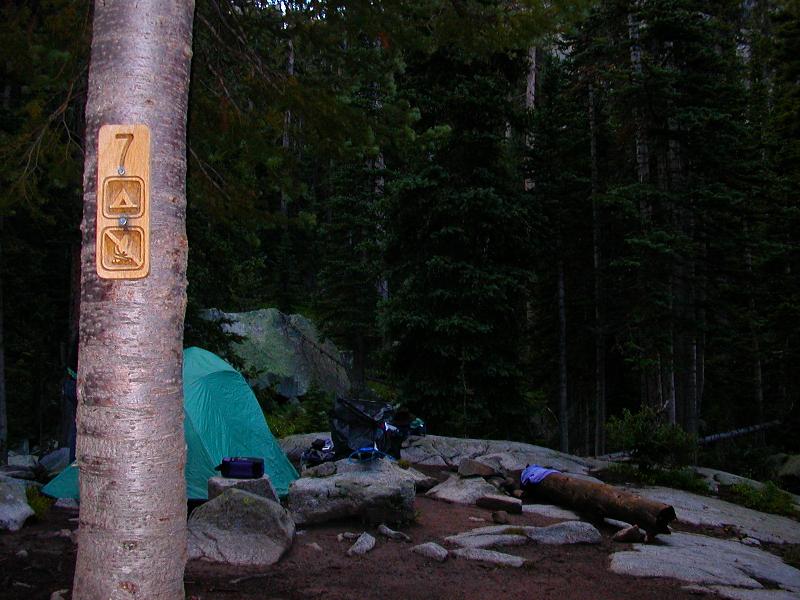 Our campsite.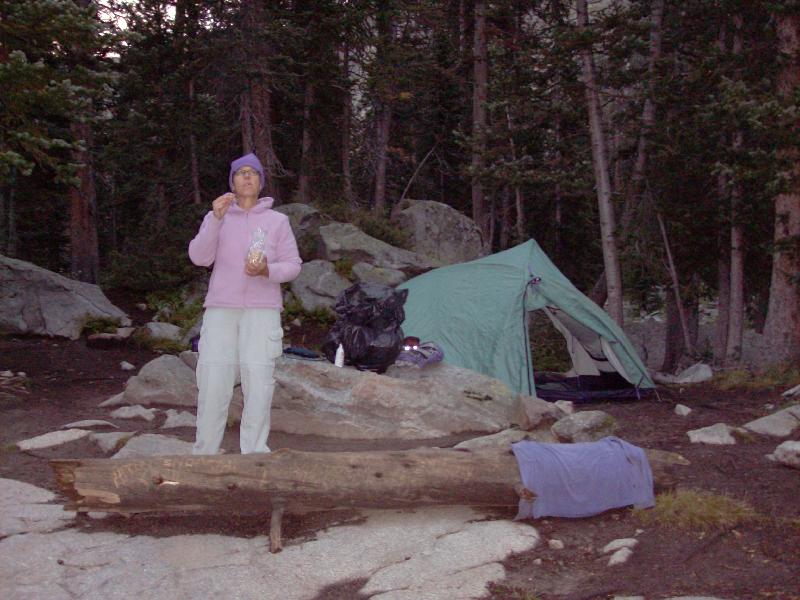 Rita having breakfast.
Crater Lake in the morning.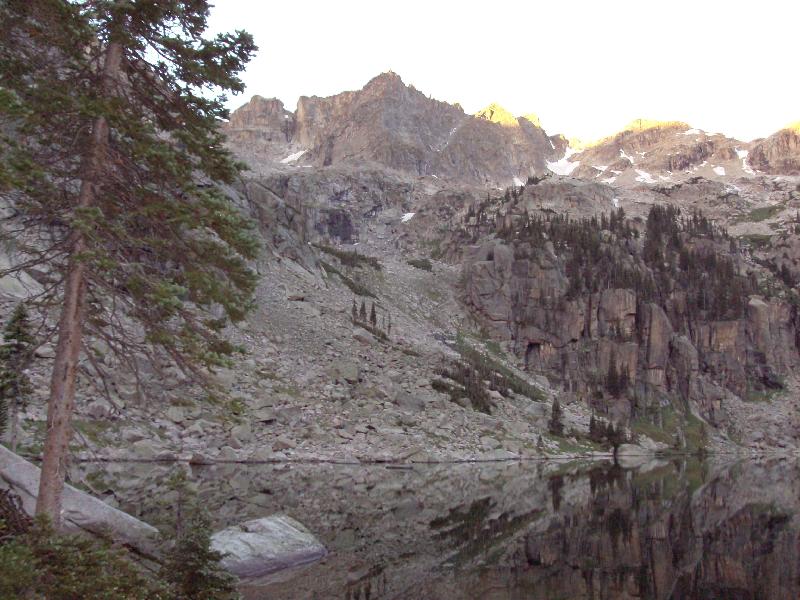 Another morning shot of Crater Lake
One of my favorites. Looking at the reflection of the sun starting to shine on the peaks in the lake. The lake was like glass.
We got the site packed up and made sure everything was picked up. I actually felt a bit better, especially since we were going down hill. One problem I have when hiking is my right foot and my heels. I get a little overextended and they begin to really hurt. For this hike, I made a conscious effort to put my feet flat on the ground instead of walk on rocks. It kept me from having all my weight on one heel/tendon and it kept my right foot from spreading too much and hurting (I'd broken my right little toe so the toe is now sideways and the joint can get very painful). But since I'd been careful, both feet were in pretty good shape.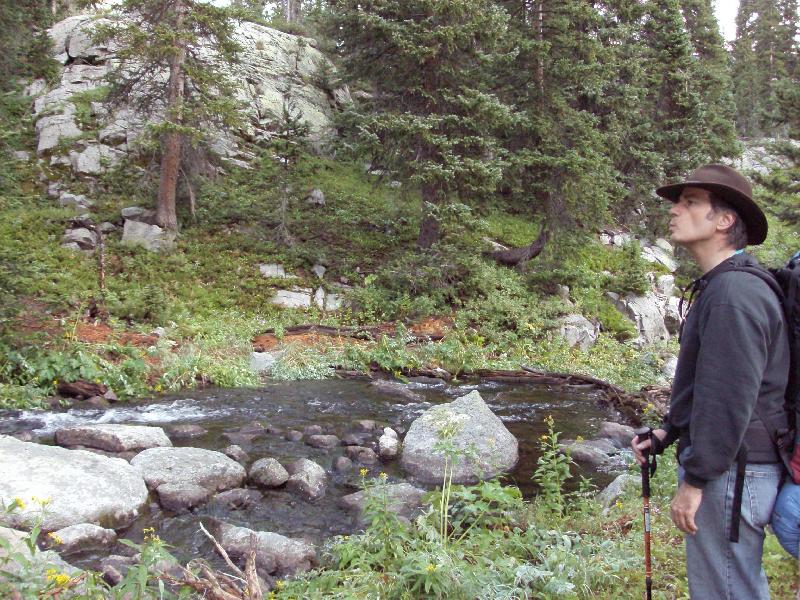 Chewing on the inside of my mouth and contemplating the hike ahead 🙂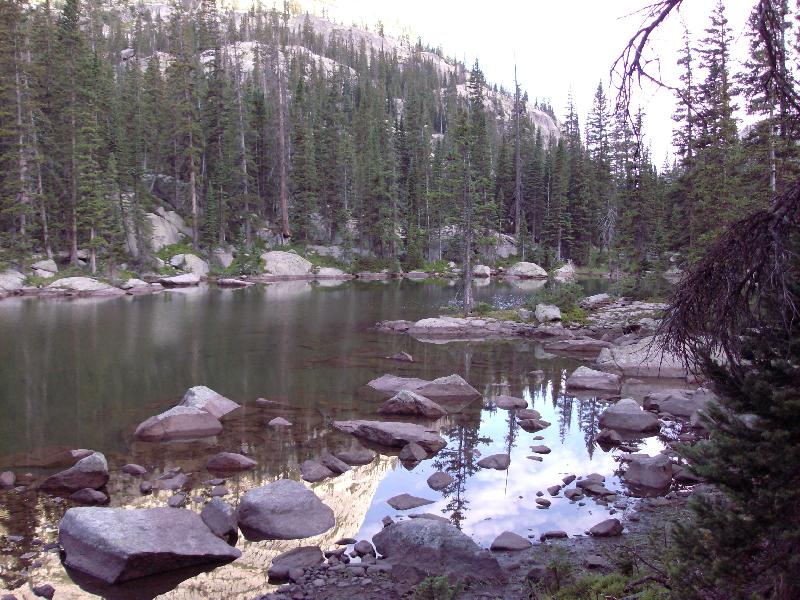 Mirror lake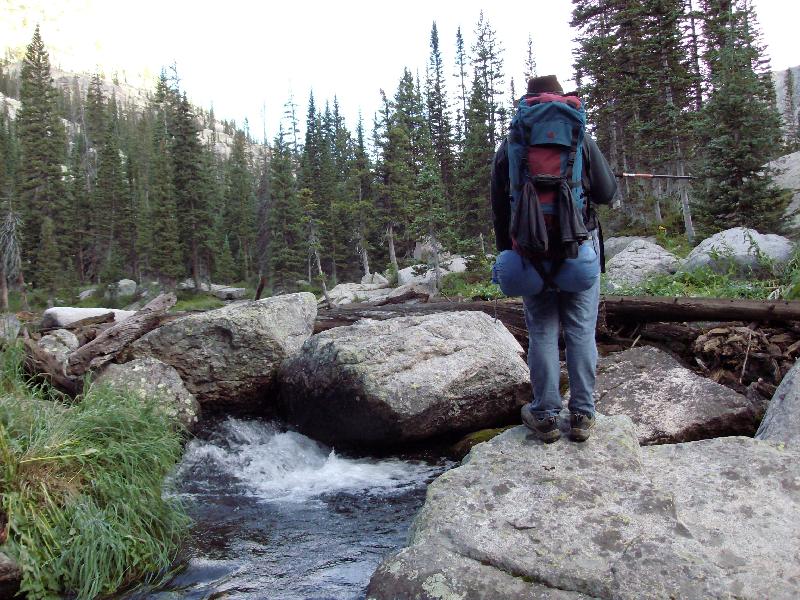 What's the best way to cross?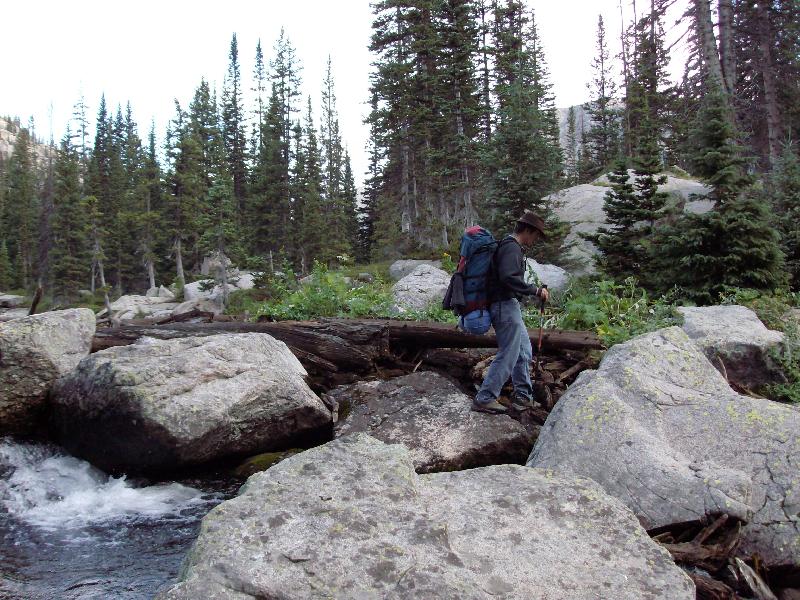 One false step. :crazy2:
Looking back at the lake.
It's funny how just a different angle of the picture makes such a difference.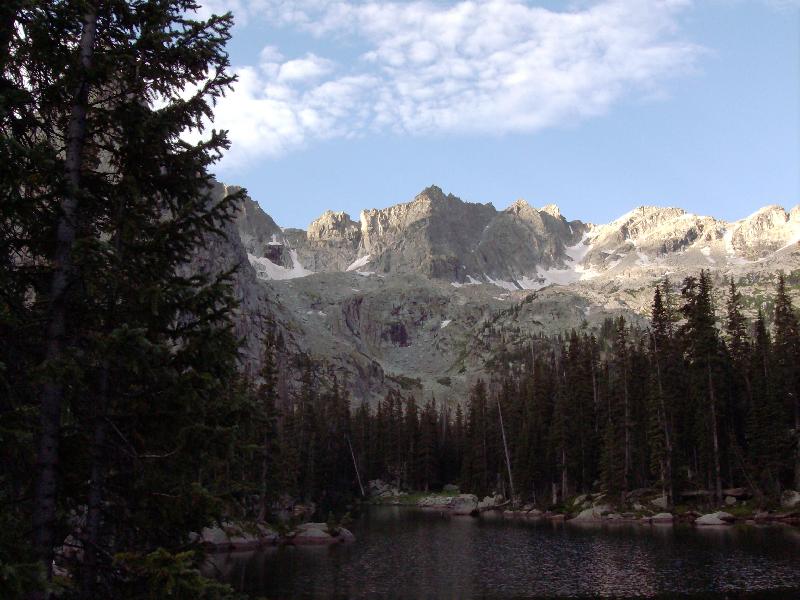 A bit higher so the mountain is the focus.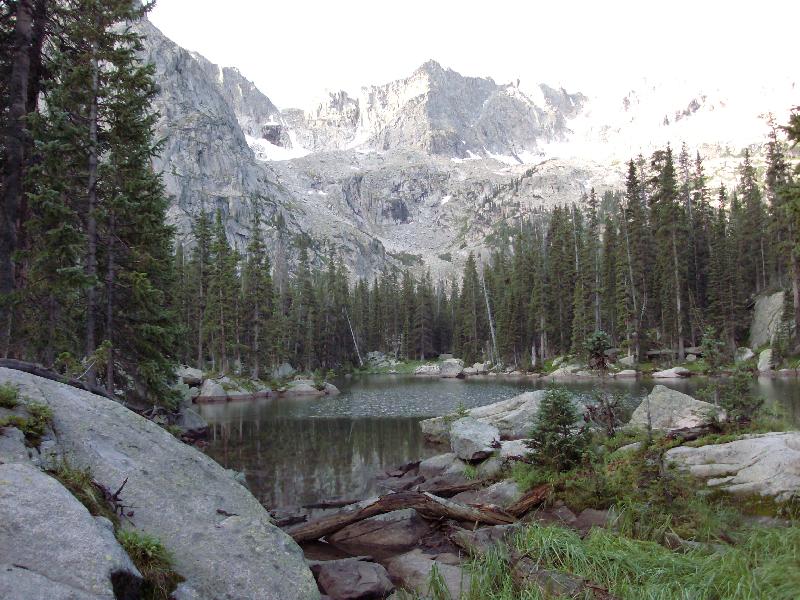 A little lower so the lake is the focus.
There were several water crossings. Some were actually bridges, some were a pair of hewn logs with a hand rail.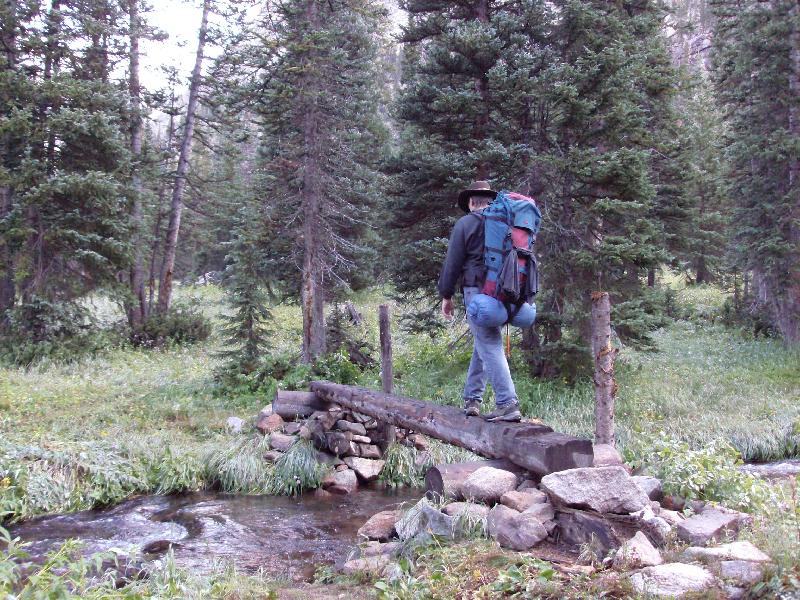 Some were just a log high above the water. Carl being sure footed made it without a problem.
"Need some help here"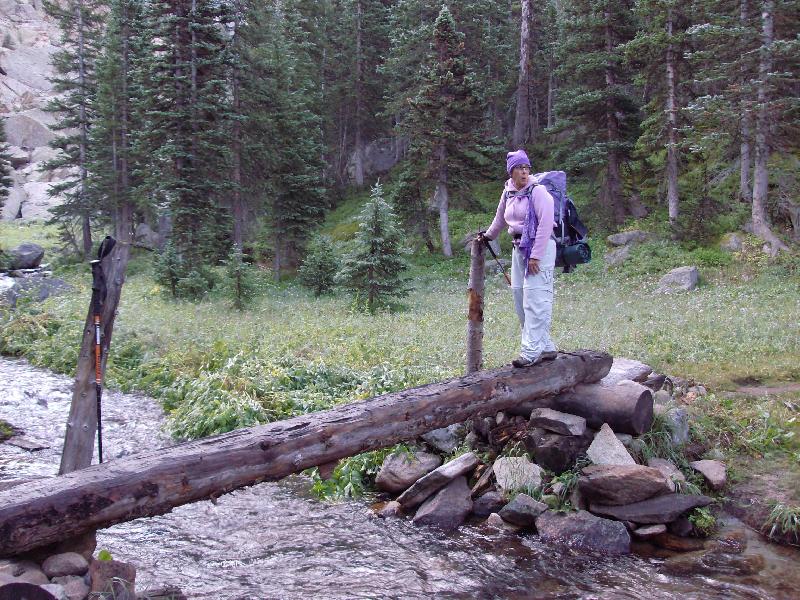 "Maybe I can cross farther up or down stream."
There were a few other campers up here. One guy with his dog and then as we passed the campsites, Rita'd go investigate.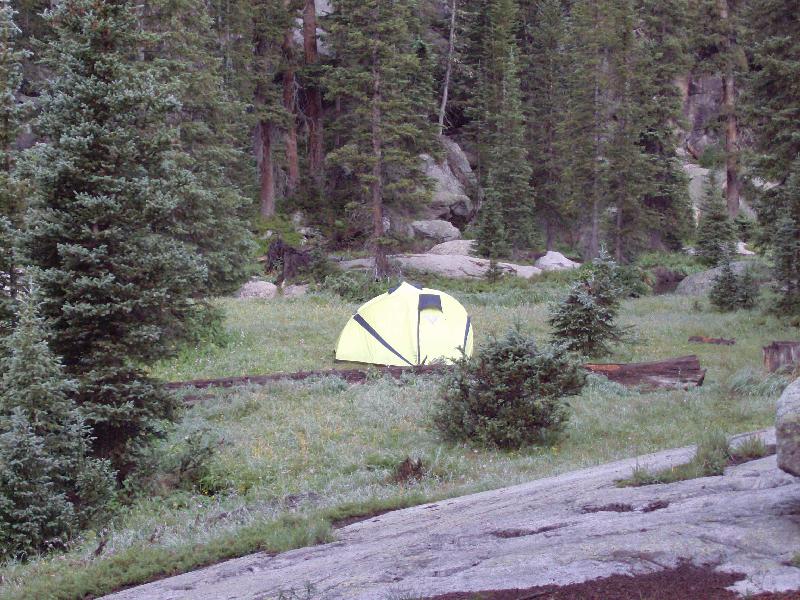 Another camper.
A group of folks came up behind us with a dog. Apparently the dog had landed on a stick and gotten impaled 🙁 They were asking if we were doctors and if we had cell service. When we said we didn't, they continued on.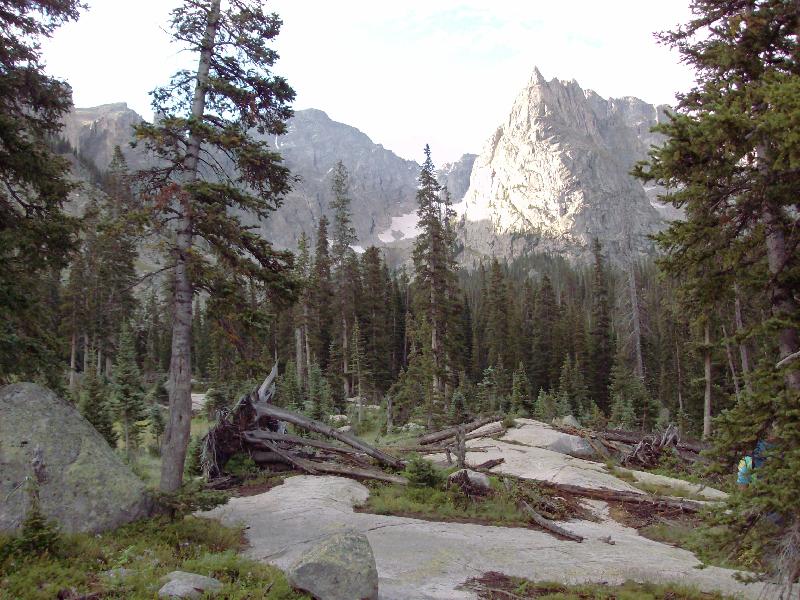 View back.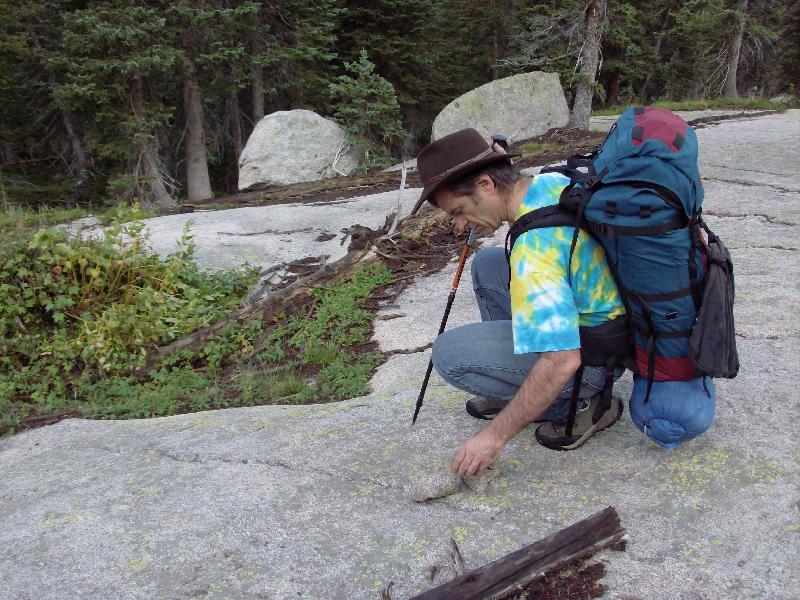 One of the stone cairns had been knocked over. When we were heading up, we had to hunt a little to find the trail. On the way back, while we were paused, I set the cairn back up.
There were several really difficult spots including this one where it was simply a water channel we had to carefully pick our way down.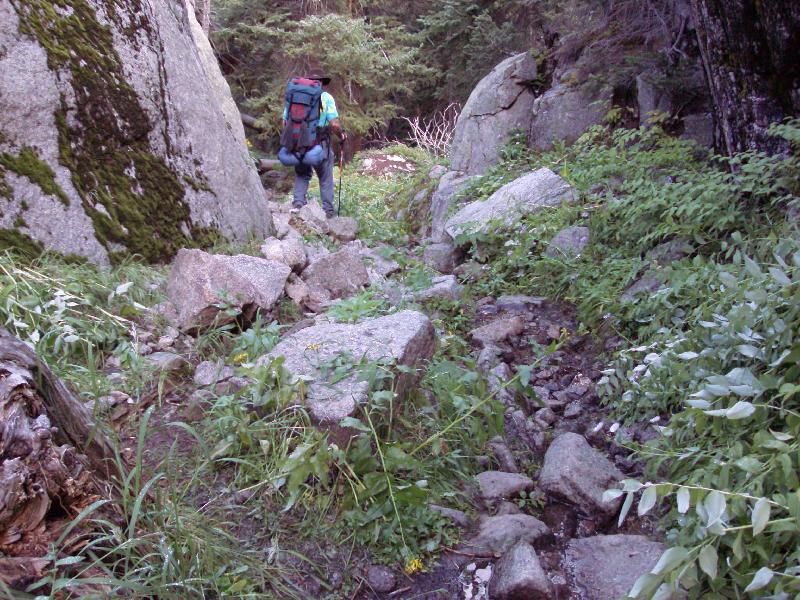 Watch your step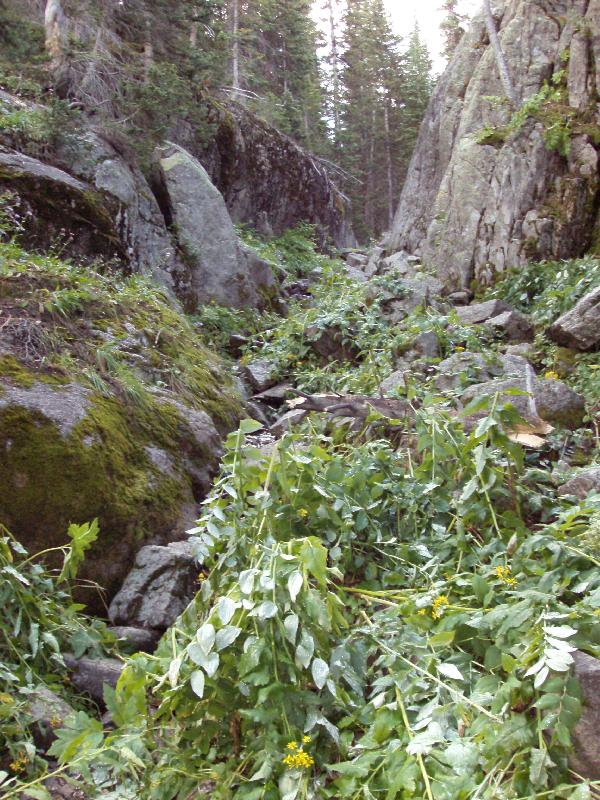 Rita snapped one from the bottom side.
Another of the water crossings.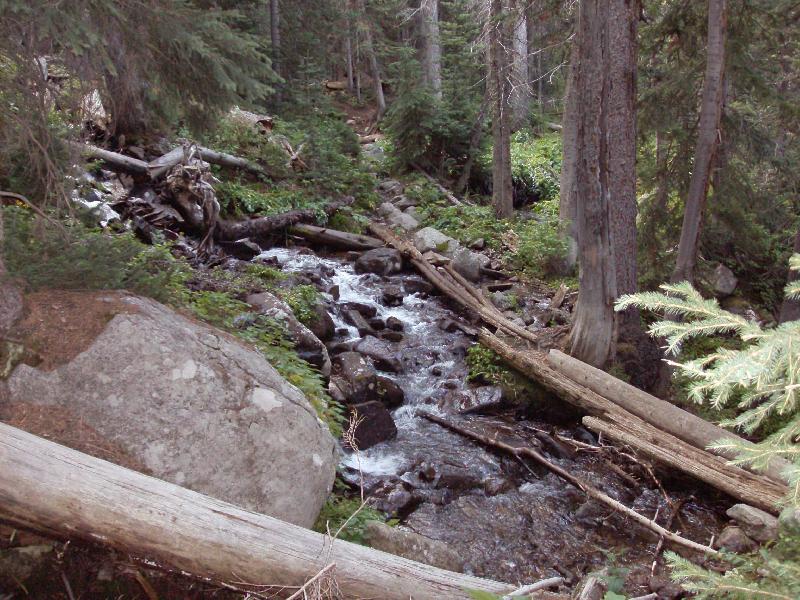 The crossings were pretty sturdy if a little wobbly.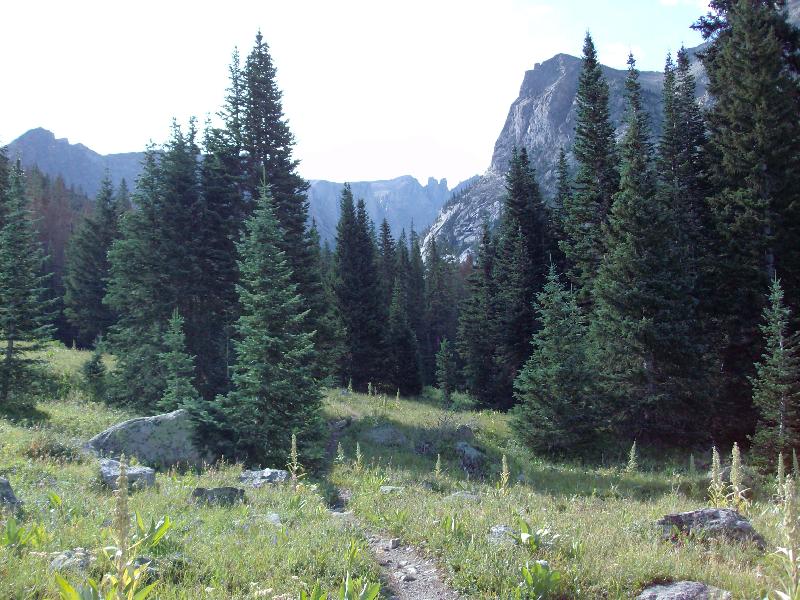 Hiking through the meadows.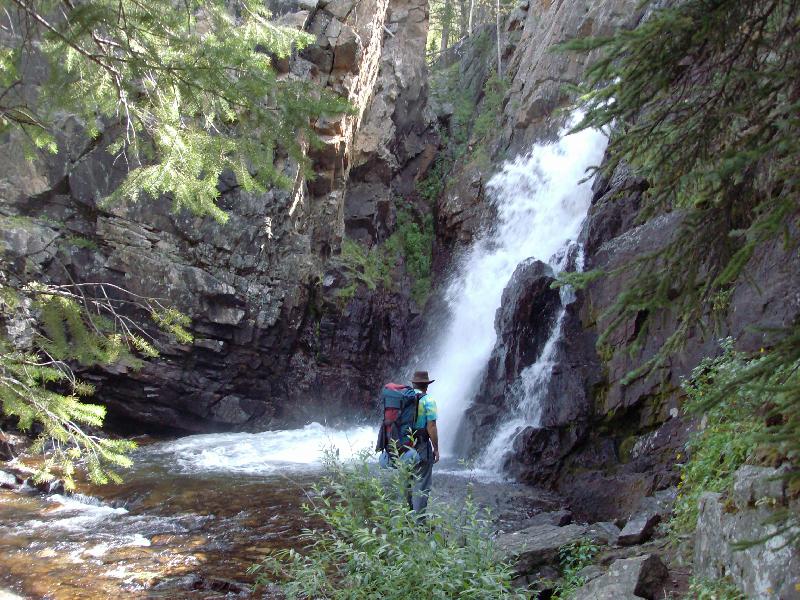 On our way back. Here's Cascade Falls again. The hike will be a bit better now 🙂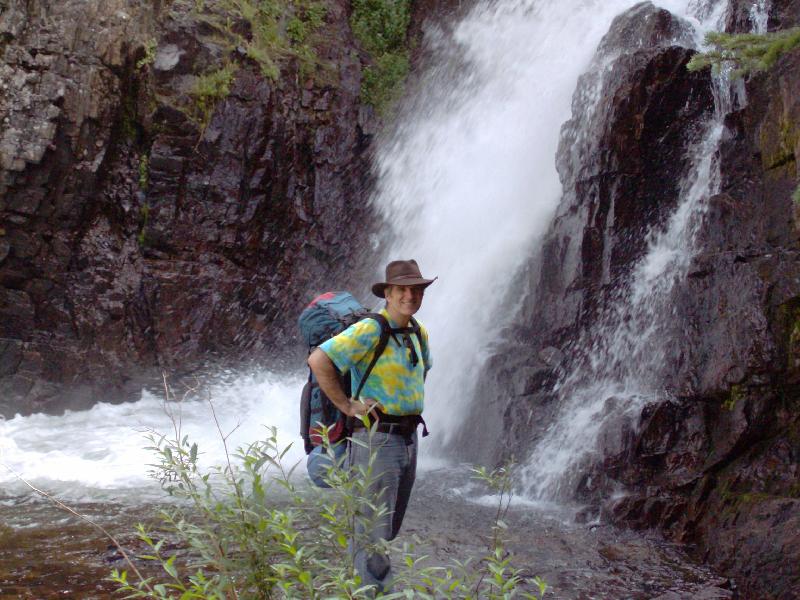 Yea, I'm feeling a tad better 😀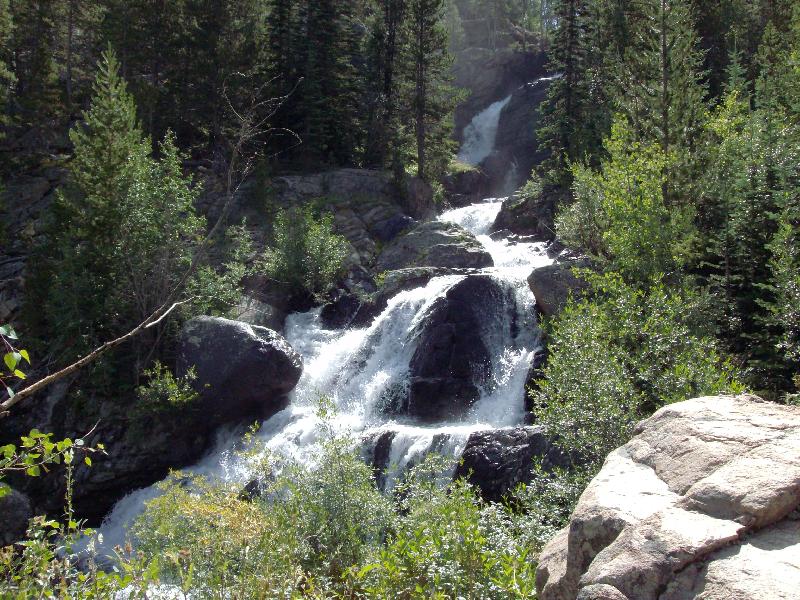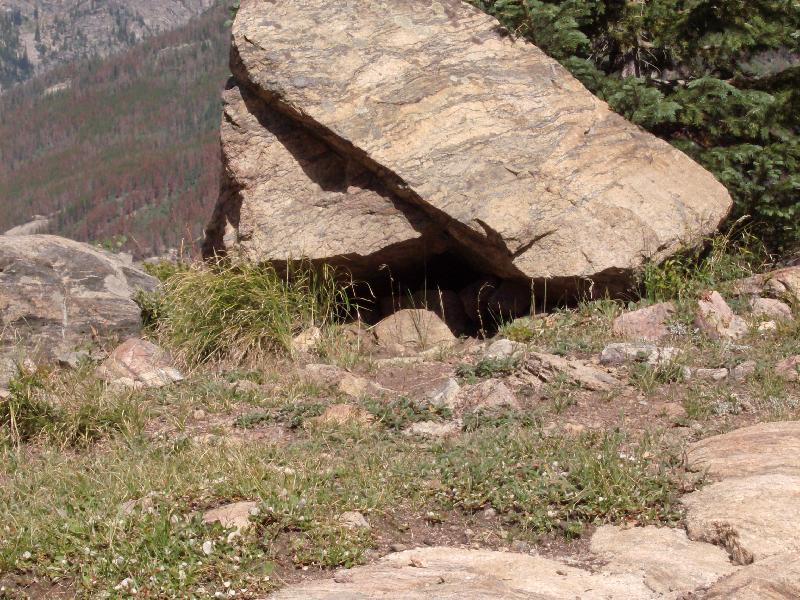 Lots of interesting rocks.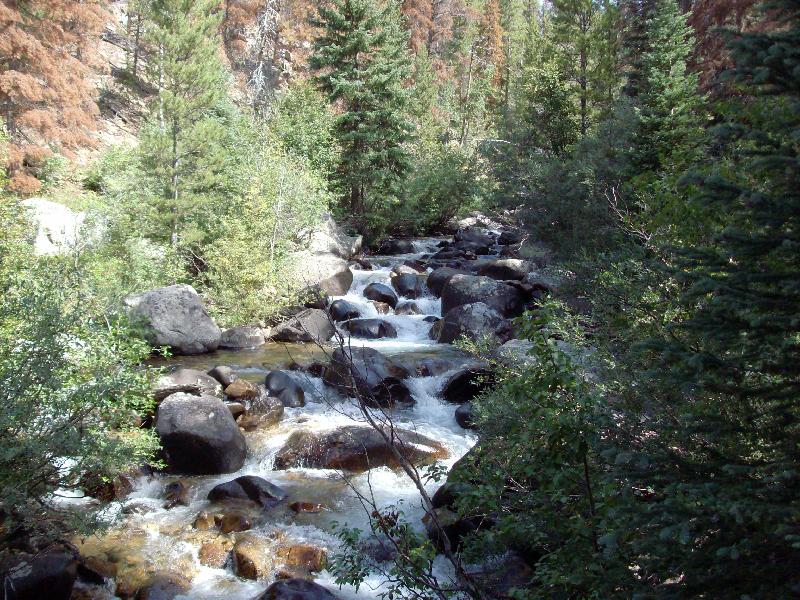 And the water's getting mellower.
The hike down was a lot better. The only real problem were my feet. They were sliding around in the shoe enough that I could feel myself getting blisters. It was still a bit strenuous though. The last couple of miles had me basically saying "everything else is feeling good, it's just the feet, just ignore it and keep going."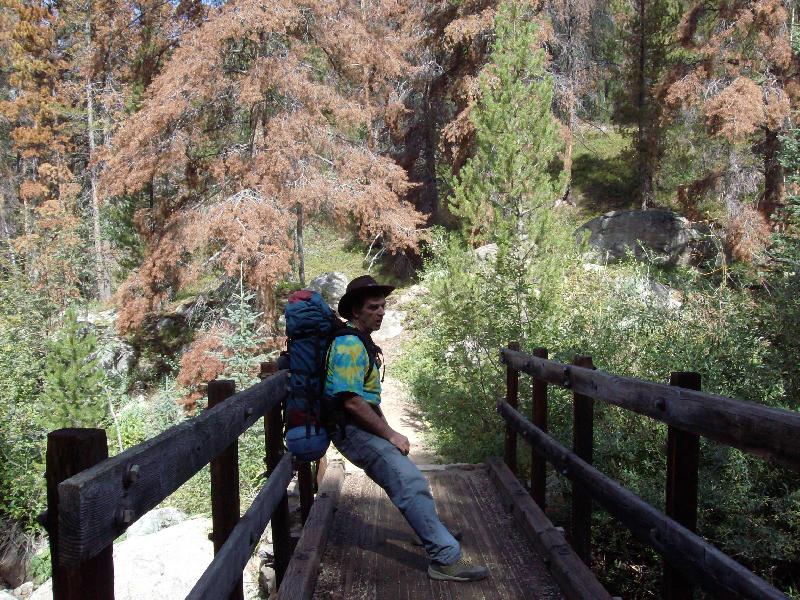 Still. It was pretty tiring 😀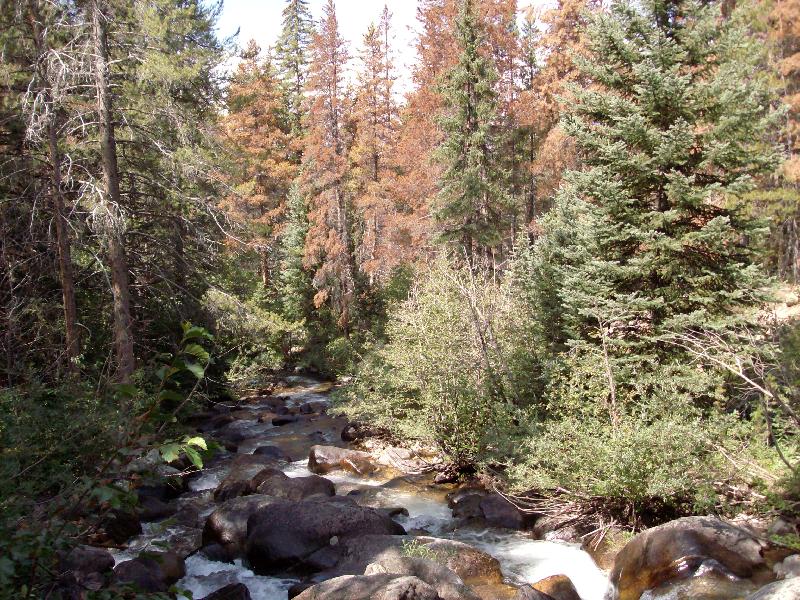 Quite pretty though. Nice place for a stop 🙂
When we got to the lake we figured we were done.
Oh wait, it's at the _other_ end of the lake. One more mile.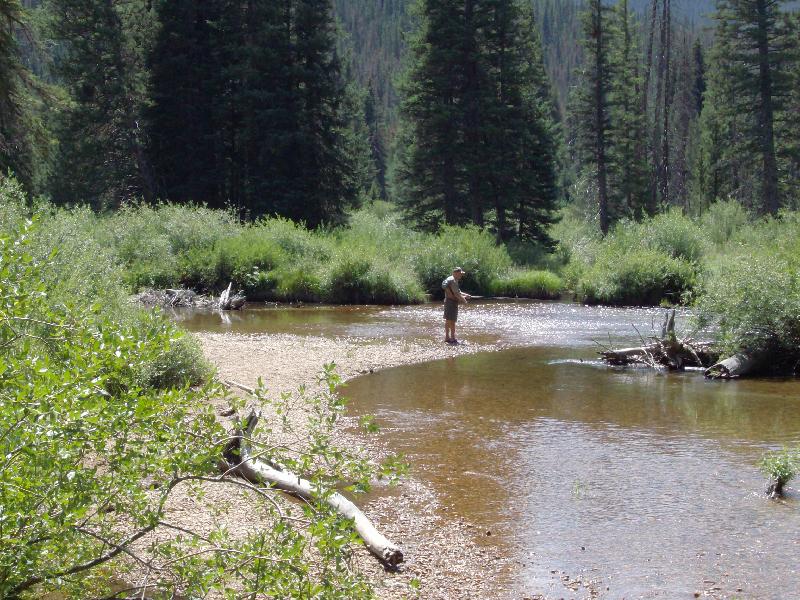 We were passing other folks now coming out for their Sunday stroll or fishing.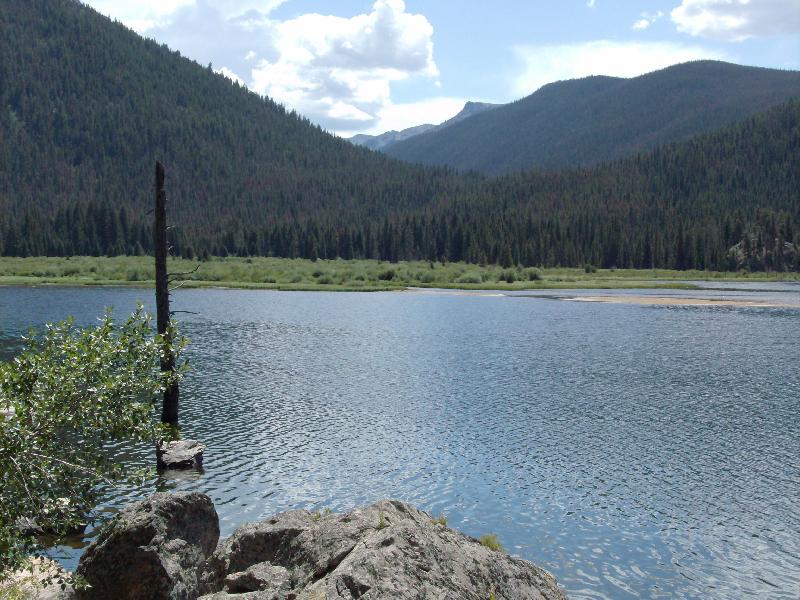 Hot damn! Monarch Lake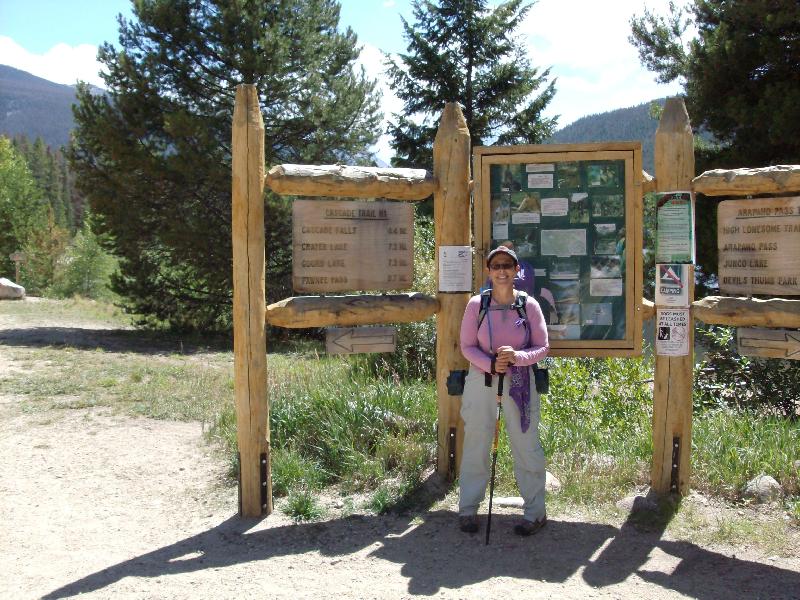 We made it.
7.3 miles (6 hours) up. 7.3 miles (5 hours) down.
We stopped at a gas station where I "old man" walked into the store 😀 We then went through Winter Park and stopped for lunch at a BBQ place. Very good, especially after the hike.
We went over Berthoud Pass and then down 70 towards Denver. At Rt 6, we exited and headed down Coal Creek Canyon to Golden Colorado, up 93 and then home.
All in all it was a fricking tiring hike. It was very pretty and the temps weren't bad. The mosquitoes were somewhat nuts. I had several on my right arm including one nicely placed to guarantee the raising of a gigantic welt.
That's the hike. Hope you enjoyed the pics and narrative.