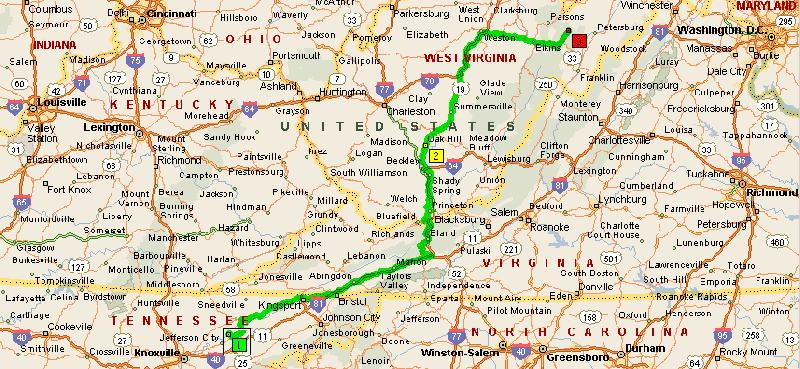 429 Miles
Leaving the state park I headed up Rt 11 until I got to 81 and headed on up looking for 19. I stopped and got a couple of pics of the bike with Chili and Lucky in their positions of power.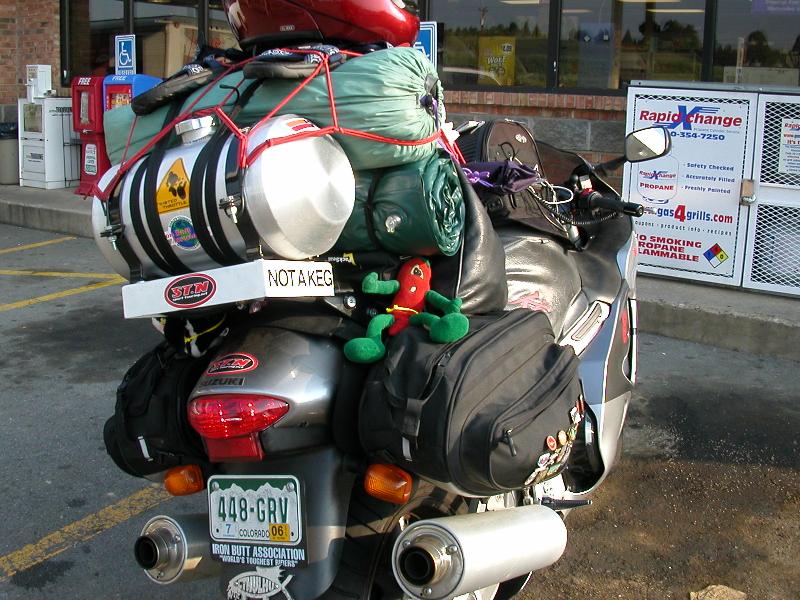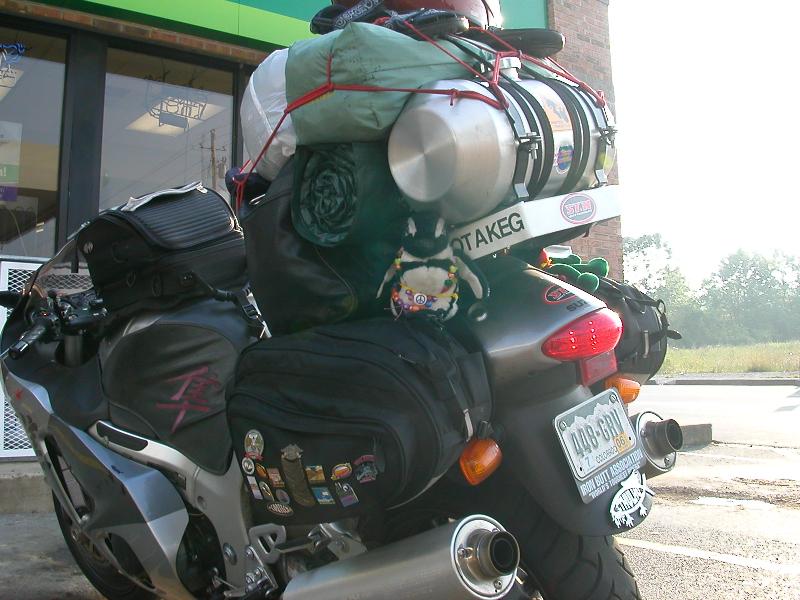 If the bike looks a bit heavy, it was. While I was able to ride with a load like this, it really was heavier that I liked. Since it's a three week trip, I packed a bit more than I normally do and when you add in the fuel tank (empty), the bike gets a little weird feeling. But it's still rideable.
Coming up to Virginia I got off at the Rt 19 exit because I was taking that north vs the highway. I am trying to avoid the larger freeways 🙂 It was actually a pretty nice ride for the most part. The humidity made even the closer hills hazy and indistinct.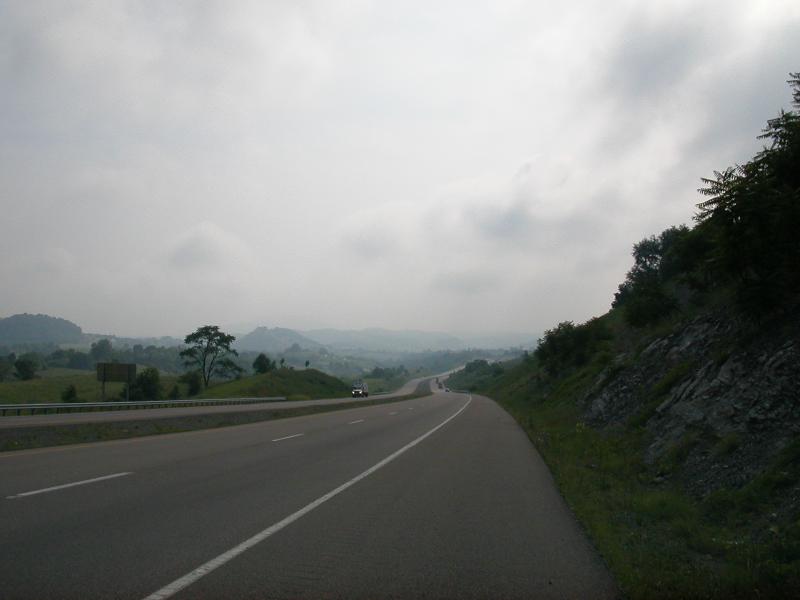 I followed 19 north into West Virginia. It paralleled 77 but was an infinitely better road with nice curves and high points were I could overlook the freeway or run next to it for short bursts of speed.
I got into Beckley and followed the two lane road through town backed up behind lots of traffic. It seemed like I'd hit just at lunch time. I considered stopping and grabbing a bite but we were supposed to be at Canaan Valley by 5 or 6pm and I wasn't sure how much longer it was going to take to get there 🙂
On the other side of Beckley the roads got a little clearer and I was able to enjoy the beautiful green countryside again. The nice thing was the humidity had gotten better on my way north which was a relief. Unfortunately my cell wasn't able to connect any more.
Heading further north on 19, I got to Fayetteville. There were lots of warnings on STN prior to the trip warning to be careful of the local police. They were very very picky about speeds. I kept the speeds way down (not that I flew around anyway) and didn't encounter a single officer.
On the other side of Fayetteville I crossed over the New River Gorge Bridge (no stopping on the bridge). I pulled in at the other side to get a NRG pin of course but also to get a picture of the bridge from the overlook. There are two levels where you can get pictures. I decided to head on down to the lower one. I also didn't remove my Aerostich suit. See I had my bicycle pants and compression shirt on under the suit and I wasn't sure how people would take someone in boots, bicycle pants and compression shirt. 🙂 I also took Chili planning on getting a picture.
Heat wise it wasn't all that bad. The suit had the vents open and I could ignore the worst of it. I got to the bottom and took a couple of pictures of the bridge. Most of the pictures show the bridge but I found a pretty nicely framed shot.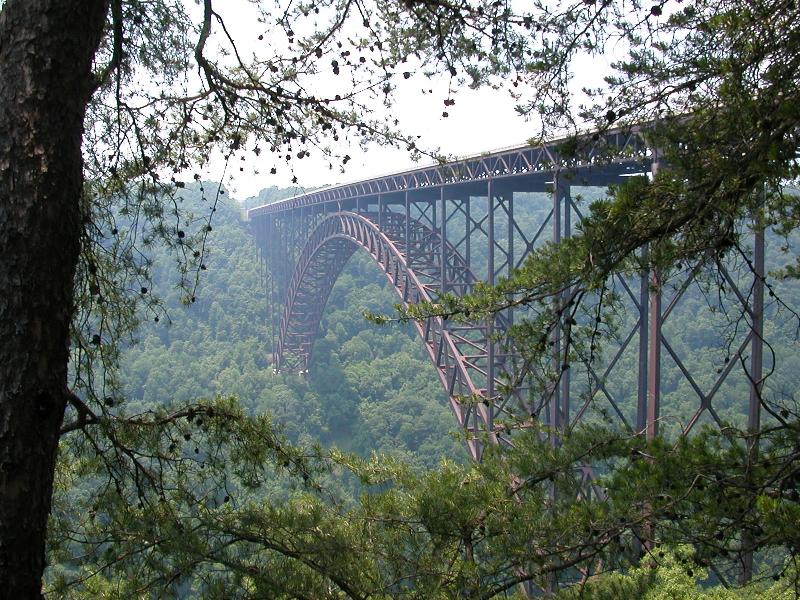 You can see the humidity misting out the background as you get to the other side of the bridge. I was looking around for a place to put Chili to get a picture but the rails were all angled (to keep idiots from sitting on them and falling into the gorge I'm sure). I was considering getting a couple of cable ties so I could get a picture of Chili when I had an idea.
I looked around and there was a family with the kids all running around the deck and I decided I wouldn't trust them but there was another couple. I approached them and started out by telling them that I had a strange request. They were willing to take my picture but I stopped them.
"No no, I'm a member of a motorcycle touring group and I have the group mascot. I wanted to get a picture of him against the New River Gorge Bridge and I'd like you to hold him."
Weirdly enough they agreed to pose with Chili.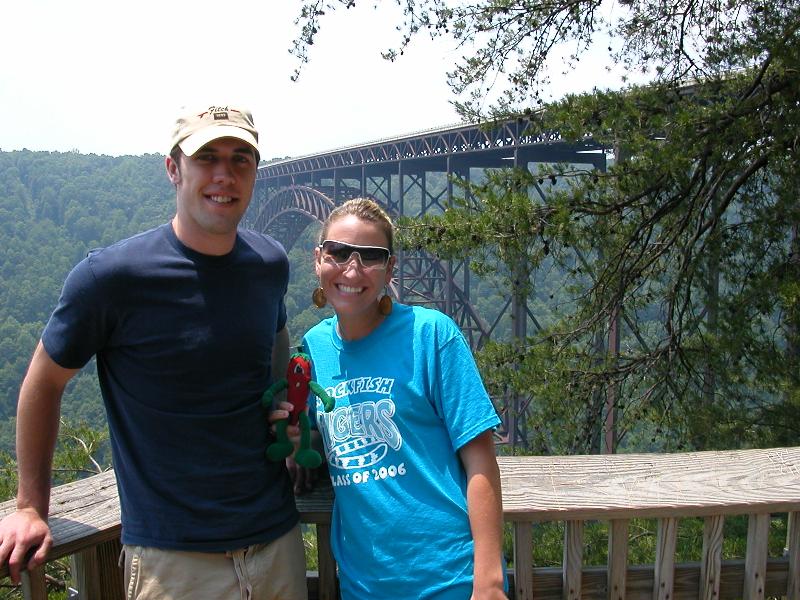 Afterwords they asked if I'd take a picture of them with their camera. Laughingly I asked if they wanted one posing with Chili and they said yes. So somewhere there is a couple with a similar picture of Chili posing against the New River Gorge Bridge.
I hiked back up to the bike and after getting the NRG pin, I got back on the bike and headed north. I must say, rt 19 is a very nice road. Good roads and nice curves. Not much in the way of really bad traffic or anything.
I considered following 19 on up to 33 once I got to 79 but it was getting late and I had a bunch more miles to go before I got to Canaan Valley so I stuck it out on the freeway. Once I got to 33, I exited off and hit that first gas station to top off the bike.
I watched as other bikes went by and pulled in for gas, here or across the street. Yep, we're coming together for the meet.
I got on 33 and headed east. The road wasn't bad but it looked like some of the road was being converted into a freeway. The curves are being straightened out. I got to Elkins and cruised through town. When I reached Harman I stayed on 32. I got behind a couple of riders and camped there for a few minutes thinking they were STNers but I saw that one of them had short pants on. Because they were on the slow side and because of the short pants, at the next opportunity I hit my turn signals and went around.
I enjoyed the rest of the ride up the Canaan Valley passing by Rt 72 and the great warning sign about longer vehicles and said to myself that I wanted to hit that road while I was here.
I got up to the campground at the resort at about 4:30 and checked in to get my packet. I asked if there was a way to walk over to the resort but there didn't appear to be a good path. I unpacked my gear and got my tent set up and then rode over to the dinner.
Sport-Touring.Net National
I have a whole lot of pictures of the dinner. I'll post a selection of pics and thumbnails of others. The thumbnails will be clickable and will take you to my photo album so you can see a larger picture. I'm not a reporter so I didn't get everyone's name. I will identify the ones I remember or took notes of. If you want to provide a name (screen or otherwise) I'll update my pages. So without further ado, here are the STN pictures.
Sport-Touring.Net National Check In
We had a check-in room to ourselves. Head downstairs and it's just to the left.
>Mr. Ed to the right and Twist at the laptop, were at the check in table passing out name tags, t-shirts and prize tickets. I dropped my riding gear in the corner.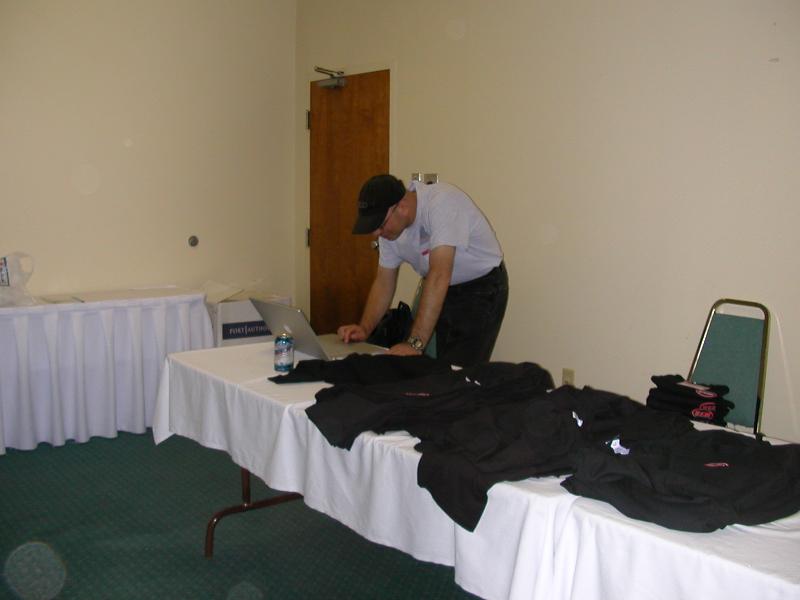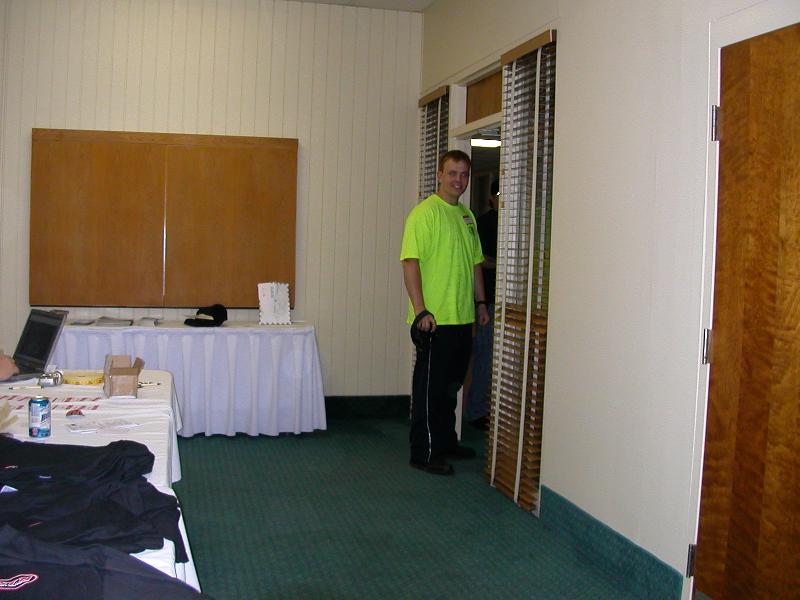 Sport-Touring.Net National Meet And Greet
While walking through the lobby, I snagged Black Ice (right) and had him pose with Chili.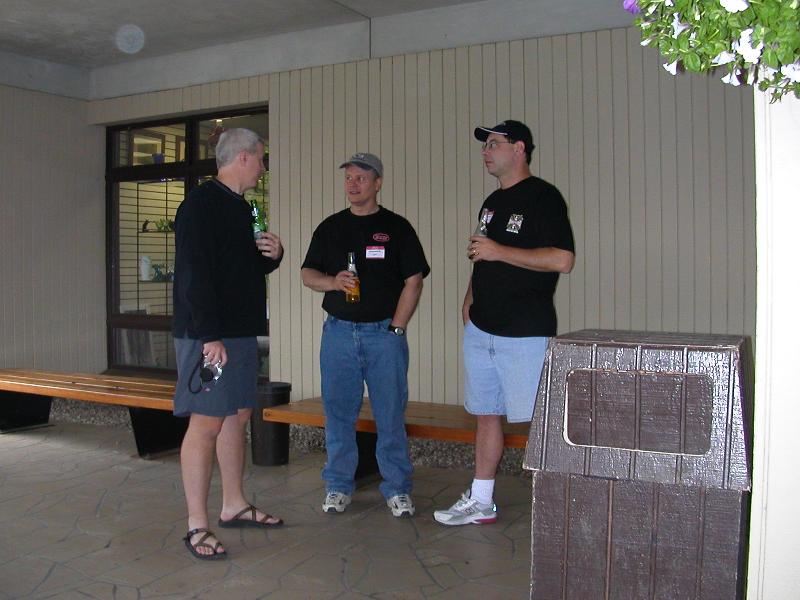 As a group we hung out in mini-groups chatting and eyeballing the bikes as they came in. I snapped pics of the groups and tried to specifically get pics of the folks I know on line.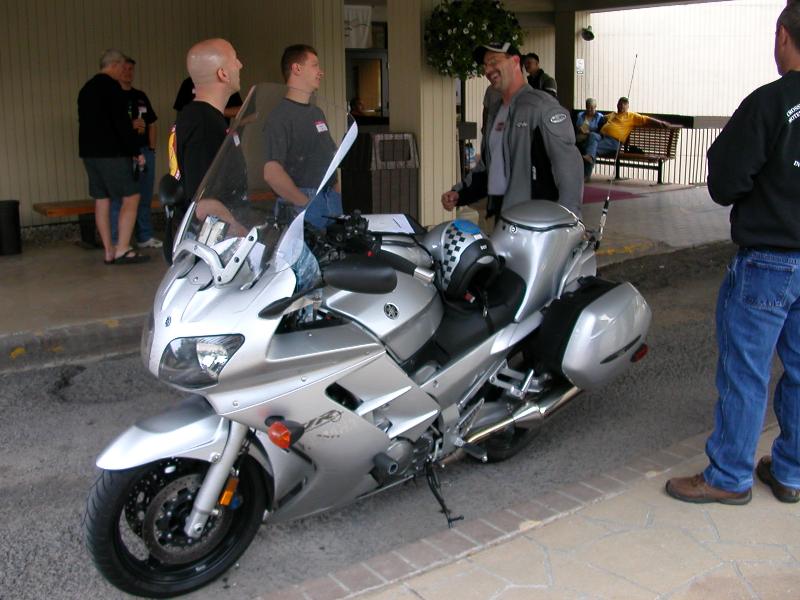 Yamaha FJR with a beer cooler on the back. Heck of an idea.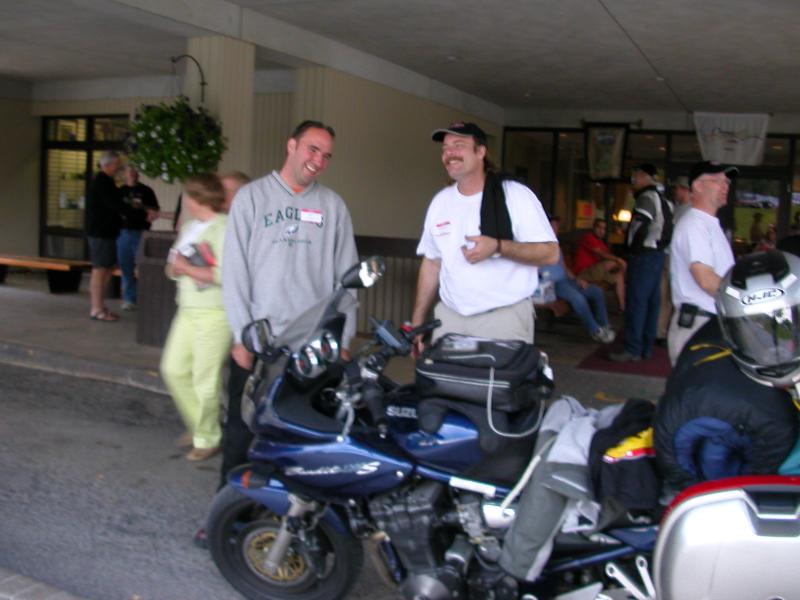 Suzuki Bandit.
Strgzrgrl not really enjoying a quick pic.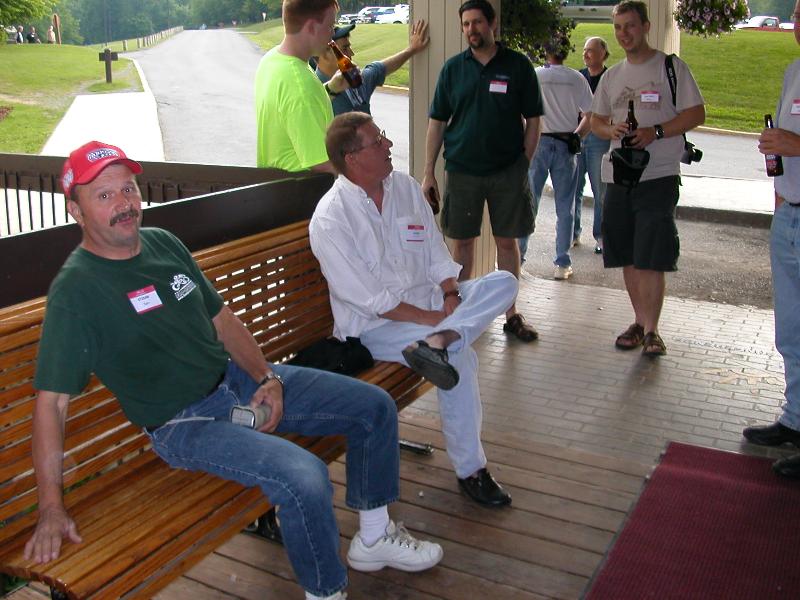 County on the right on the bench.
Sport-Touring.Net National Dinner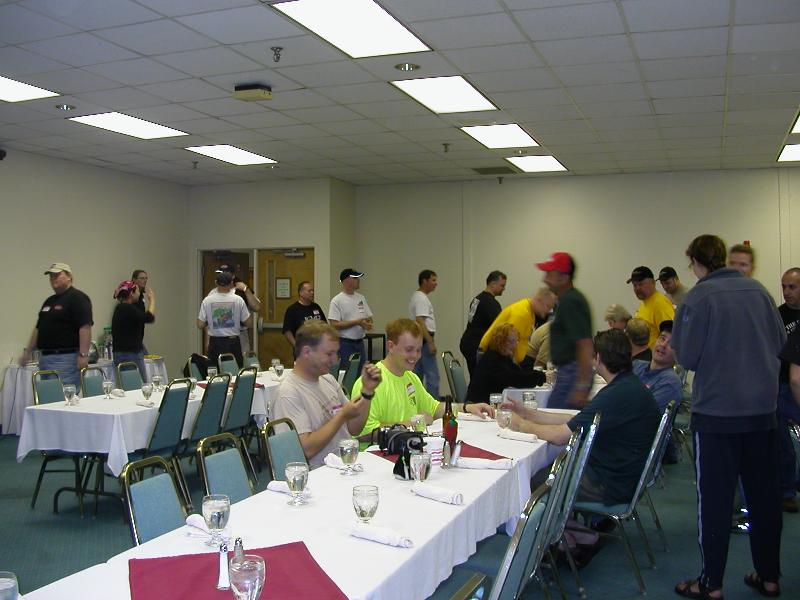 A view of the tables. Slingshot in yellow. Mr. Ed to the far left with Strgzrgrl behind.
Looks like they're trying to figure out how the beer keg works, doesn't it? There's the best shot I have of the the new National T-Shirt designed by DogBoy. Probably the best shirt done so far. A big thanks goes out to DogBoy.
Mr. Ed giving away prizes. Strgzrgrl, DantesDame, and Twist on the far right. For some reason we had a lot of Nikwax (all the green topped bottles). There were also billed and knit STN hats. I actually picked up the "Shiver and Shake" award receiving a STN Knit Hat and a bag of chocolate covered espresso beans.
We found out during dinner that one of the riders had encountered a deer and it took out his bike and broke his collar bone. He came to the dinner in a hospital gown.
At the end of the awards I had a bit of news to impart as well. It turns out that while Russ was watching the game he got up to grab a snack and one of his dogs got a hold of Chili pulling off one of his legs. He had one of the local seamstresses sew the leg back on. He's still ok but a little more care needs to be taken in carrying him around the country.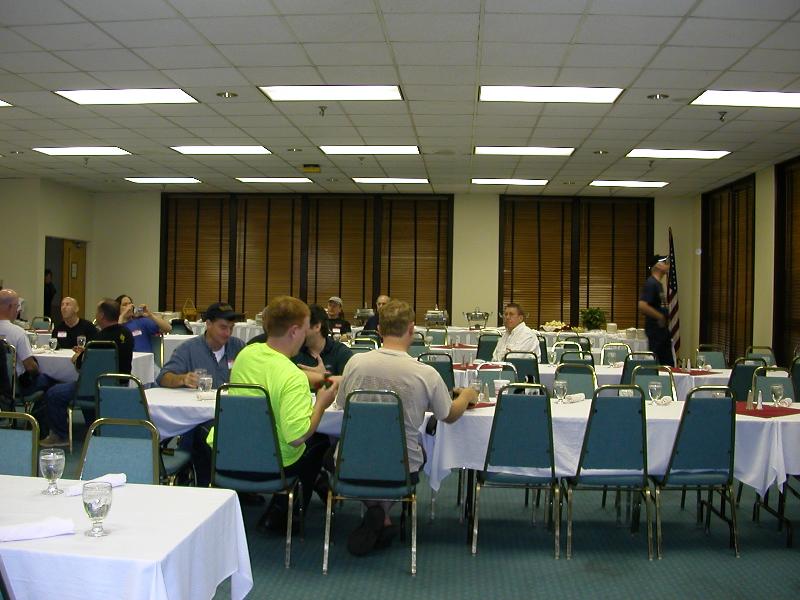 The Northern Virginia group. Slingshot in yellow kidnapped Chili twice to the point where I was reluctant to let Chili sit with DantesDame.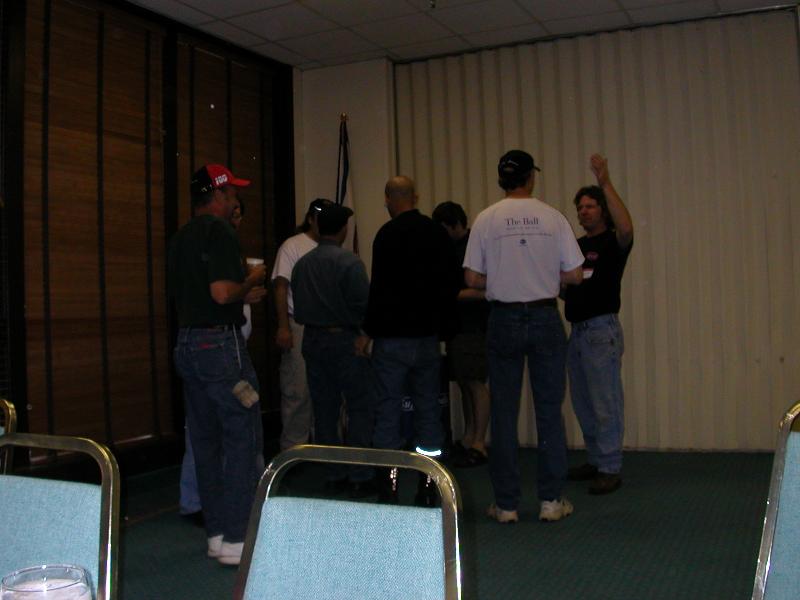 More Beer!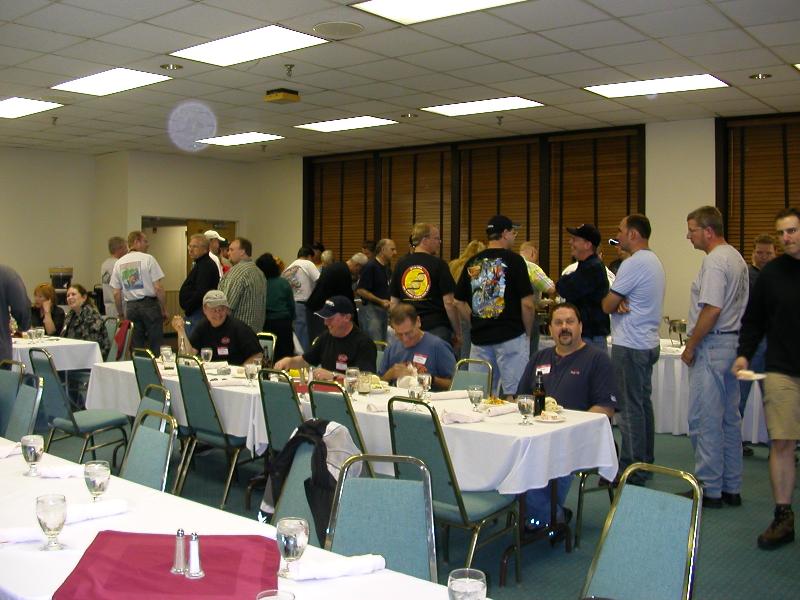 And it's time to grab some of the awesome food that was provided.
Spooooonnnnnnnsssssss! Strgzrgrl is showing off her magnetic personality.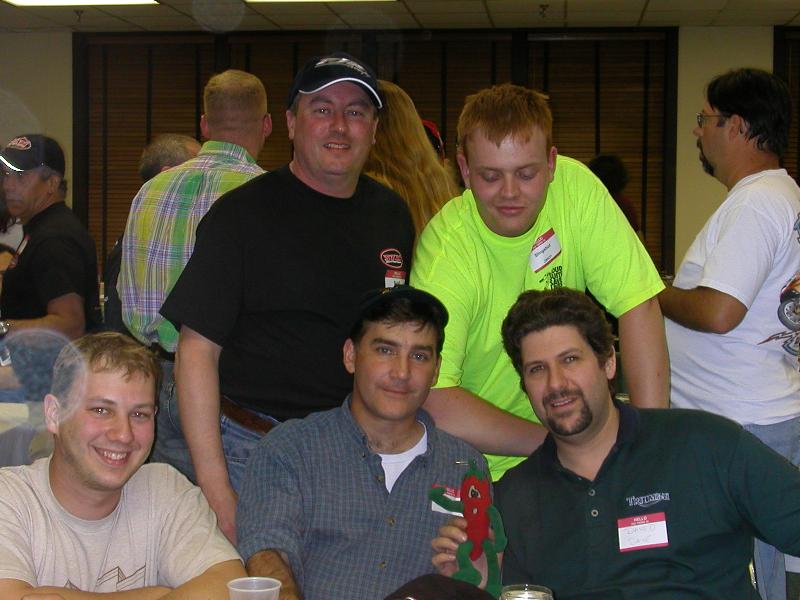 A group shot of the NoVa group with BugR (from Canada) standing next to Slingshot.
Sport-Touring.Net National Afterwards
We broke up into smaller groups after the dinner. One group took the keg out behind the building and the party continued there. Others sat around the dinner tables or went out front. SWRiverstone had created a map for a nice long ride tomorrow and many of the riders had decided to head out for that ride. Because of the length though, the starting time would be pretty early.
John (Black Ice) had expressed interest in the LED setup I'd done for my bike and I wanted to show him my setup for the BlueSea fuse box. He'd done a write up about it and I followed it in putting mine in. So at about 8ish, we head out to my bike to check out the setup and the LED lights. We had a nice discussion about Rita and my possible trip to Alaska next year and he expressed an interest in coming along if we were willing. We discussed it for a bit, talked about bikes and whatnot.
Finally it was time to head on out. I wanted to see if I could make the morning ride so I went back, got my gear and got ready to go. Before I left, I rolled down to the area where all the bikes were parked, just to see who was hanging around. I had the LED's on and everyone checked it out. Several pictures were taken and it seemed to be accepted well.
I turned the bike around and headed back to the campsite. The temps were a little on the cool side which was actually pretty nice feeling. I suspected however that I was going to be needed some warmer gear up north. On my way back, I spotted three deer crossing the road in front of me. I was already going slowly and carefully. I'd seen a skunk waddling through the parking lot and with the deer strike earlier I was quite wary.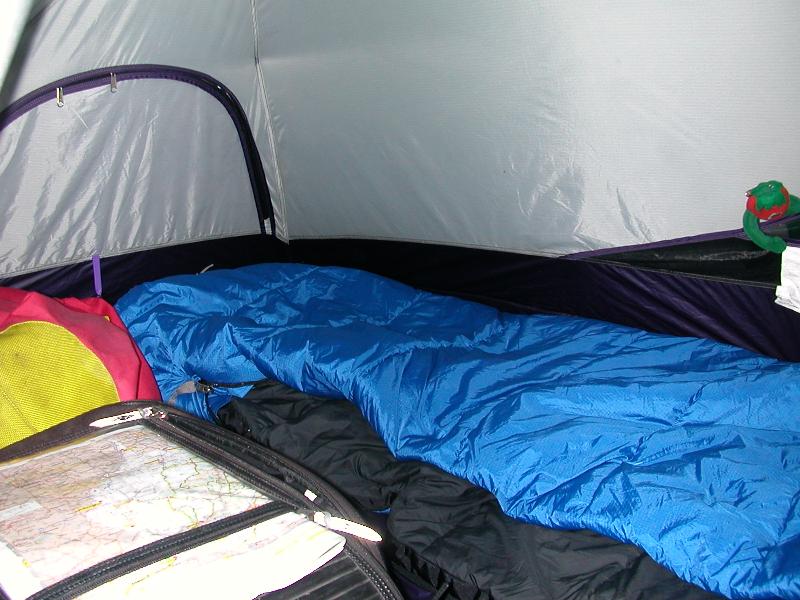 Finally. Back to the sack. I'd set up my site earlier so I was ready to hit the sleeping bag. I'd found earlier that the sleeping pad had a hole in the pillow part so I've been using a bag of clothes. No problem. I'll just have to find something later I can use.