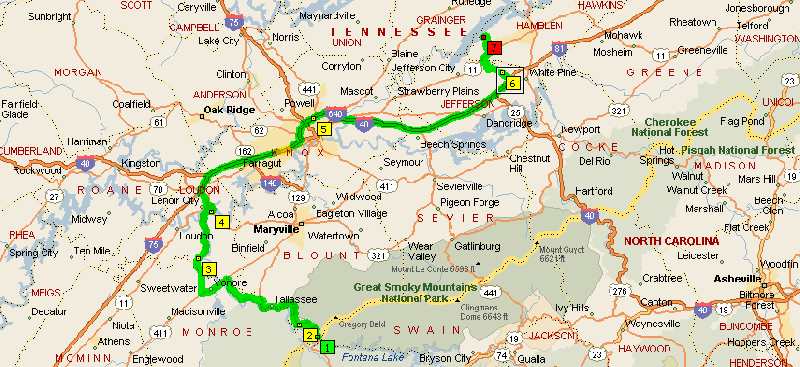 32 miles (8 runs) +138 miles to campsite
So bright and early I arose, got dressed and wandered around for a bit. The breakfast opened at 8am so I got my bike ready and tied Chili in place ready for the run down The Gap.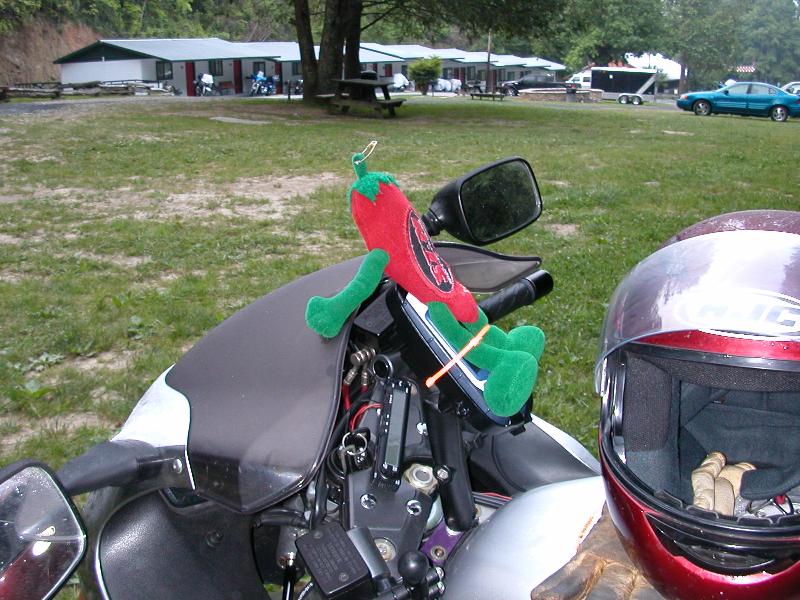 I got some pics of the campsite. I set up way up at the far end and away from the crowds. Unfortunately I was also next to the little creek and picked up a few mosquitoes. I could have camped in the enclosed area but they didn't want vehicles parked in there so I stayed to the outside of the area.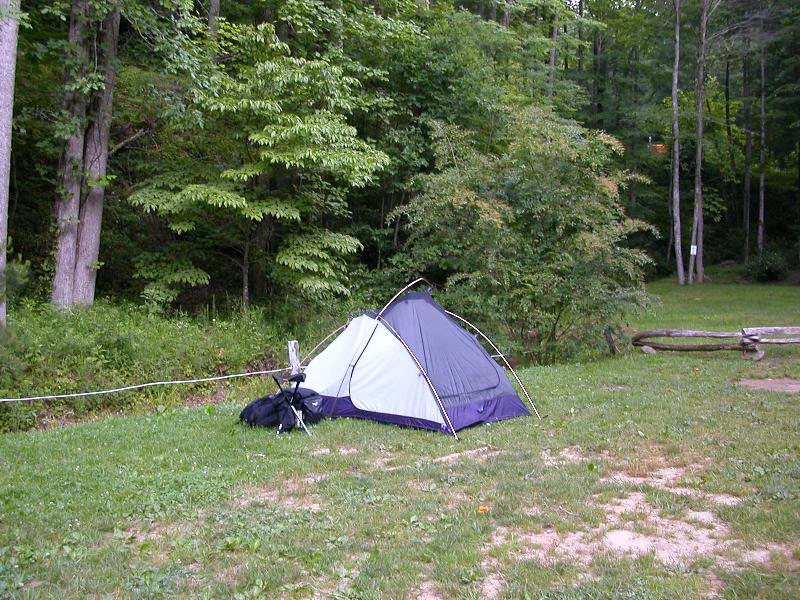 If you look up and to the right (that bit of red), that's where the garage is. The bonehead who went up at 2am used the dirt road to the right of the trees there.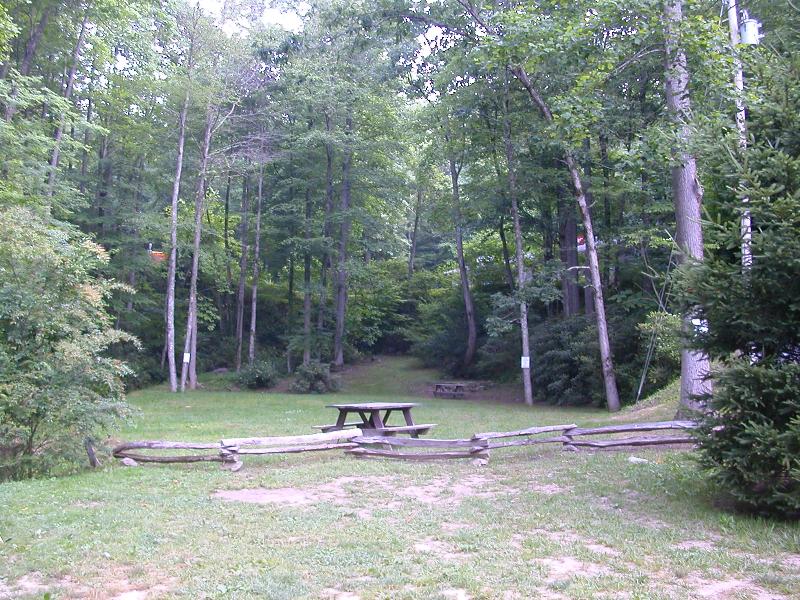 This next shot is looking down towards the entrance of Deal's Gap. That first tent is Rocketbunnies.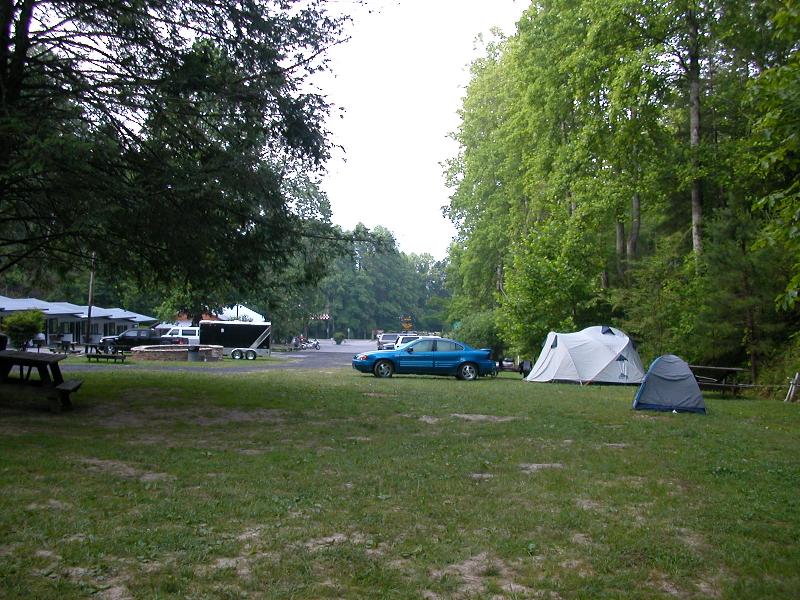 I hit the inn and snagged breakfast. It wasn't too bad I guess. We watched the TV and basically sat around and chatted with the others who were up early. There was some discussion that Killboy wouldn't be out because it was a Tuesday. That was disappointing as I was hoping for a couple of good shots. Ah well, I'll still enjoy the ride but will miss the pics. While we were there, other bikes started heading up The Gap. On my way back to my bike I snapped a quick pic of Rocketbunnie's damaged bike.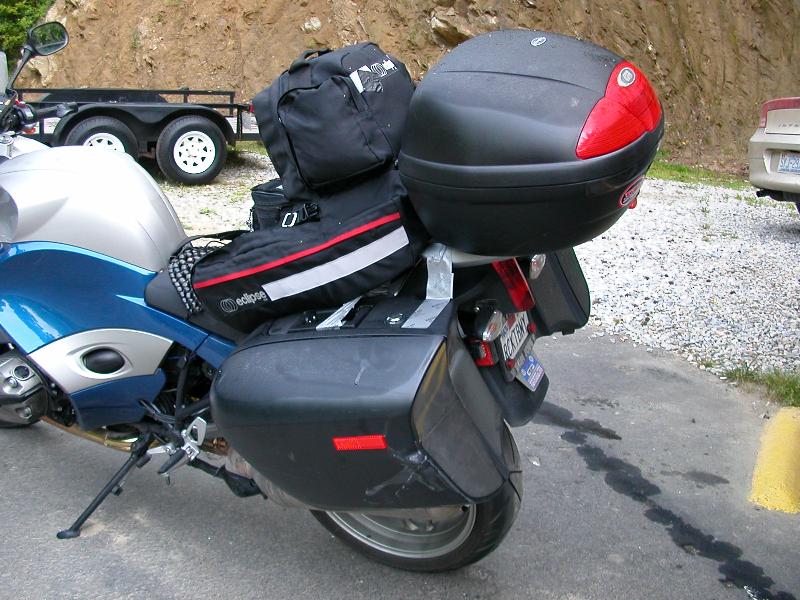 I made my first run to get warmed up and stopped at the Overlook. No one around so I stopped and watched a few guys heading up towards the resort. I waited a few minutes before heading out. I'm not Mr speed demon but I don't like running up behind folks either. On my way back I spotted Rocketbunny on her way out. A quick wave and I'm into the next corner.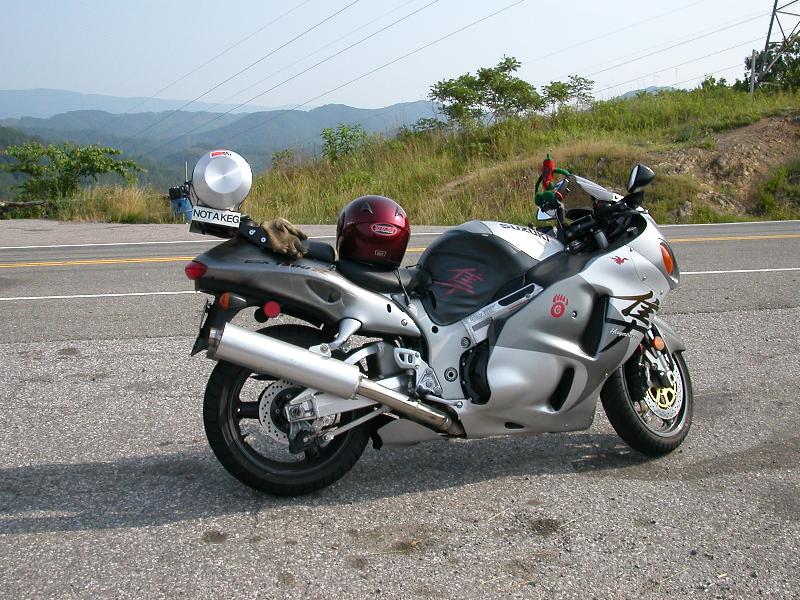 The run back was pretty interesting. I got a warning wave from an oncoming rider to be careful. I came around the corner and a semi was across both lanes in a corner. Not fun. When I got back to the resort, I hung out for a few minutes to let the semi finish getting though. I removed the spare gas tank and luggage rack while I was hanging out.
Once I thought it was clear I went ahead and went through again. I'd gone through a couple of times when I spotted Killboy in one of the corners. Cool, so I might still get some pictures.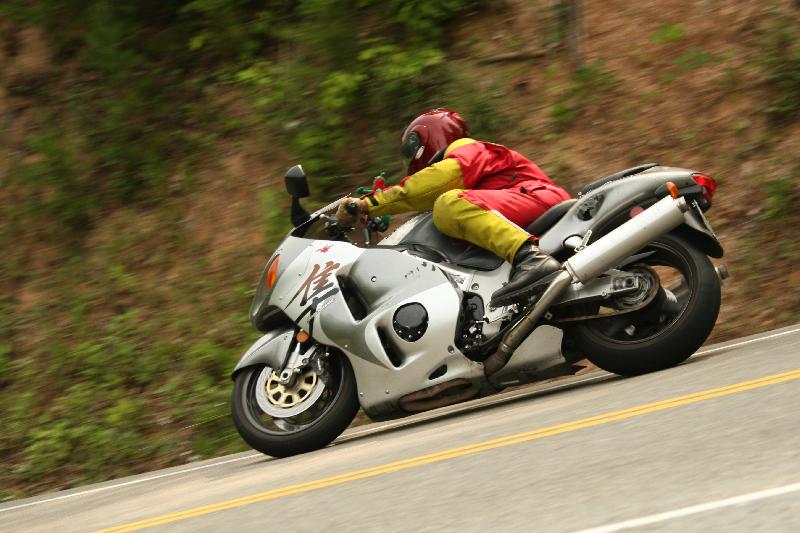 On my way to the overlook.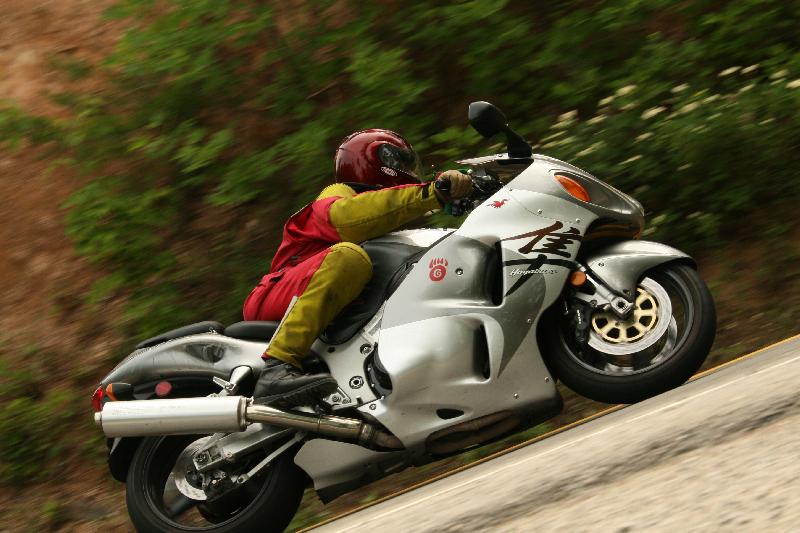 And on the way back.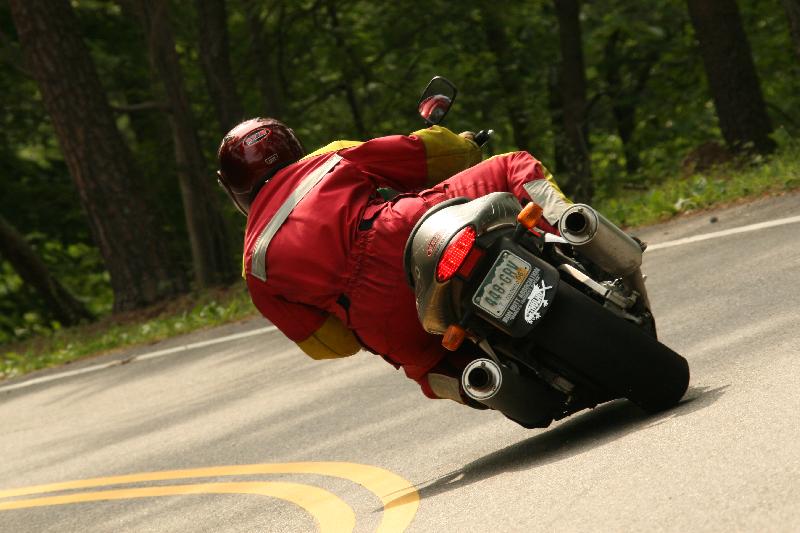 And my absolute favorite shot. I was on the line, shifted over correctly (but knee not down and feet not dragging like last time), looking into the curve, etc. As far as I'm concerned (and I haven't heard different yet), it's about the best form I've seen for me.
At around noon on my way back I again encountered some lead riders. Quite a few this time. Apparently a cattle truck was coming. And unfortunately it was leaving a 1′ wide swath of cow dung and pee. Not something to instill confidence in the state of the road. Once I got back to the restort I stopped and hung out a bit and then decided that I still wanted to talk to Joan (my coworker) and get beyond Knoxville to avoid traffic in the morning.
So I took a shower at the showers located next to the tree of shame. While I was taking the shower, several folks tried to come in (it's a one shower, one toilet small cinderblock building with ladies on the other side). While I was getting dressed, someone had retrieved the key and started to open the door when I told them I was just finishing up taking a shower. Sheesh.
I broke camp using the picnic table as a staging station. I got the bike all packed up nice and neat and headed on out avoiding the dung trail. On the way out I passed DantesDame but since it was 2:30 or so I kept on. I figured I see Colleen at The National tomorrow night.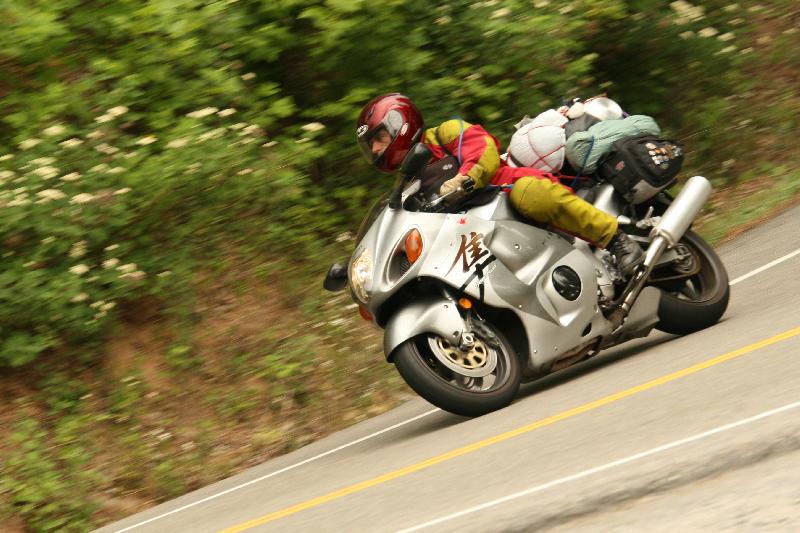 At about 4ish I pulled in to the shopping center where Joan was eating and we grabbed some ice cream and chatted about work. My job had been offshored (found out for sure while I was on the trip) so we were discussing new positions and in general the things coworkers discuss 🙂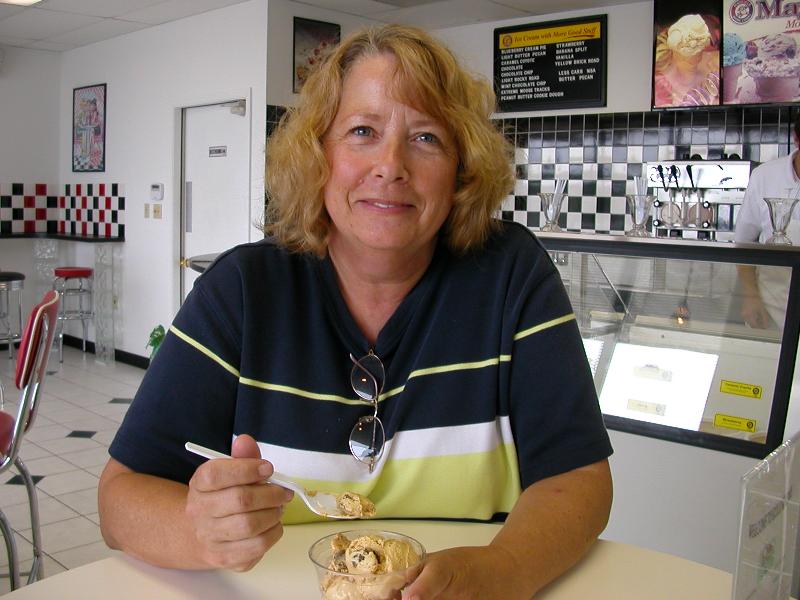 Ice cream was pretty good considering the heat and humidity. When we got done at about 5, we went out to the bike and I had her post with the bike.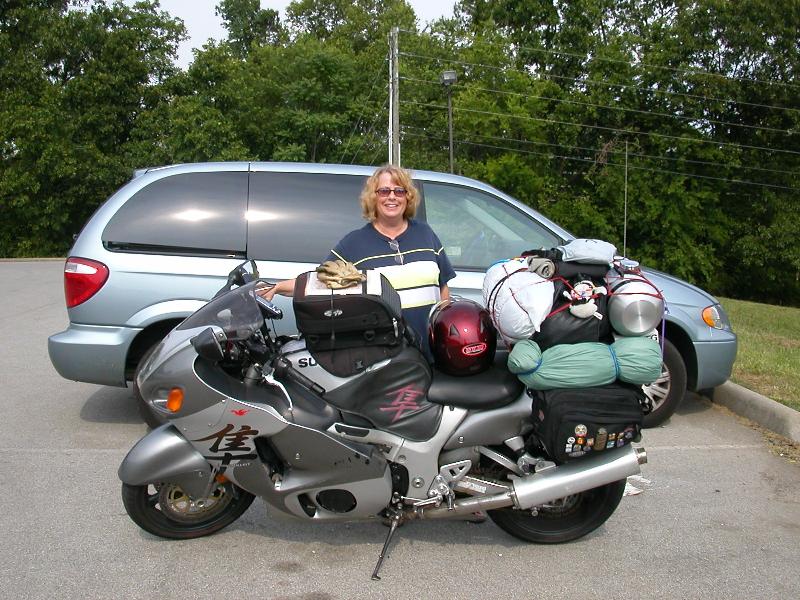 I got back on 75 and then 40 and headed northeast. I went around Knoxville intending on getting off at 11 but missed the turn. I'm not good at turns which is why I got the GPS. Unfortunately it doesn't have as many maps as I'd like and I'm unwilling to spend the $80 on the map software since the GPS is really a Marine type and I'm considering selling it. No point in getting the software/maps if I'm not going to keep it.
Anyway I headed up 40 looking for a likely place to stop. After passing the turnoff for 40 south, I spotted a sign for Panther Creek State Park. Hmm, sounds like a likely place and I didn't want to camp off of the freeway. That's very noisy 🙂 So I headed up 66 to 11, made a right and a couple of miles up the road I spotted the sign for the park. Making a left I headed on through the back country. Finally I got to the park. It looked pretty nice.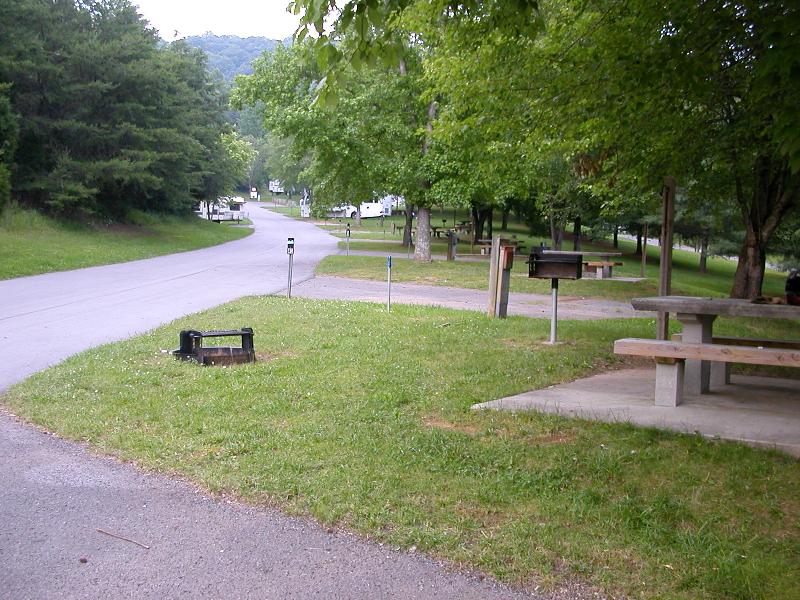 I decided to stop at a higher point to see if I could avoid the mosquitoes and keep out of the damper areas. This spot is really a camper/RV spot but there's just enough space there for my tent. So I paid my $16 in the deposit area and pitched my tent. The showers were pretty nice and in general this was one of the better camp sites I stayed at as far as a neat and well maintained site.