Jeanne and I had a discussion on the adjustable windscreen on the Concours. When up all the way, it pulls me forward to the screen so I was suspecting Jeanne was getting more of a breeze and maybe more disturbance than was necessary. But in checking, she claims it's actually a little warmer for her. Since temps were in the low 50's and it was drizzly, it was an important check.
We got breakfast from the hotel, donned our rain gear (and it was a bit constricting around the right knee), and headed on our way. We continued up the coast however with the temps and drizzle, we decided we'd have a nicer ride further inland. In Reedsport, we made the right turn on 38 and headed east to I-5. It was quite a nice road next to the Umpqua River, nice sweepers at good speeds. At Scottsburg, we stopped for a nice pic of the bridge.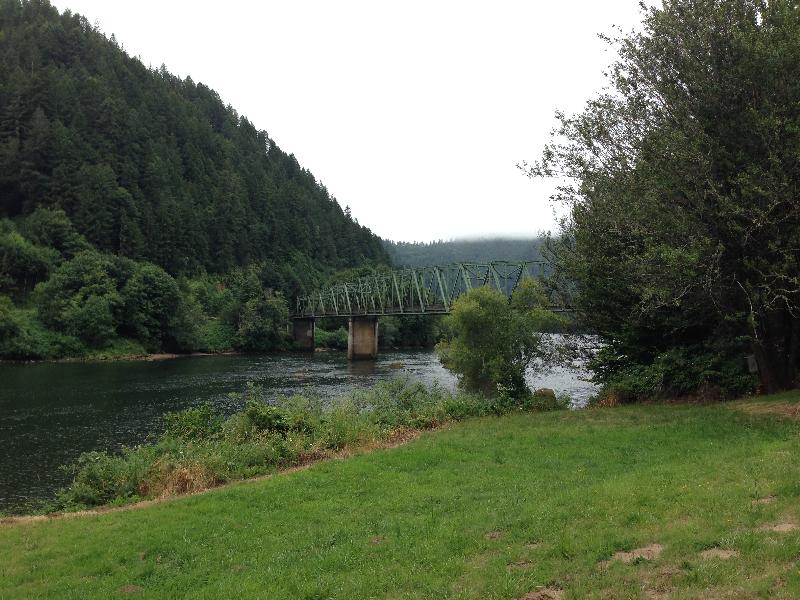 And Jeanne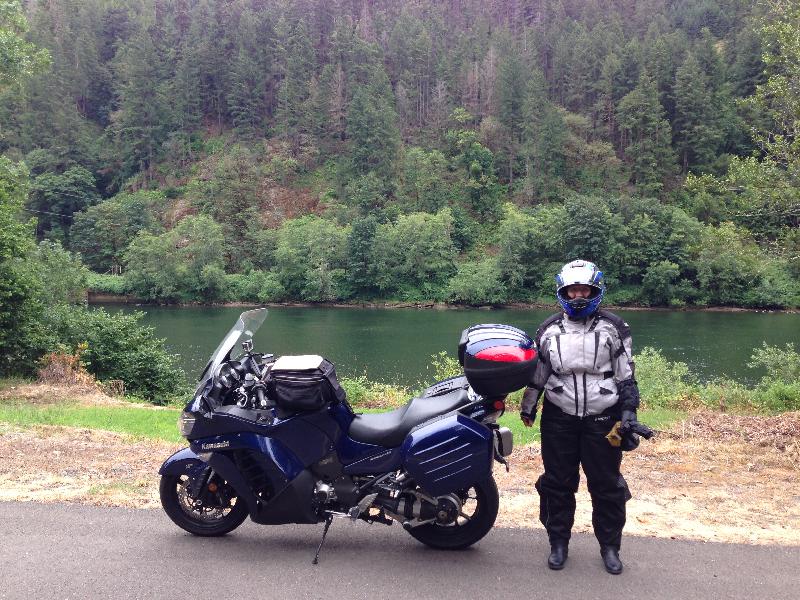 We stopped in Anlauf on I5 and removed our rain gear as it was a touch on the warm side 🙂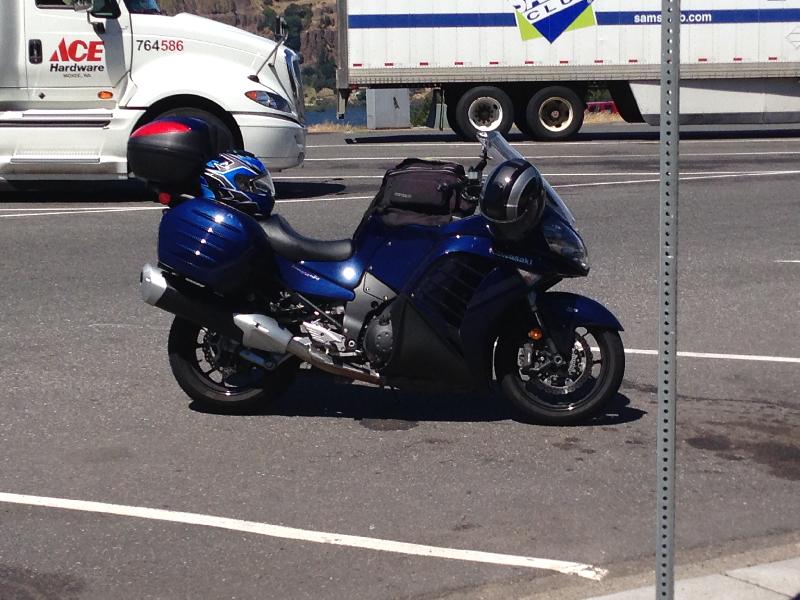 After that it was basically just riding north to Portland, following 205 around to 84 east. We followed the Columbia River east, enjoying the scenery and generally enjoying the ride. I'd been up this way before back when I visited my daughter who was living in Portland at the time. It gradually got hotter of course as we got closer to where 84 turns south, going from around 70F up to the mid 90's. Of course I missed the quick sign to Walla Walla and had to jump off at 930 to go north to 730. We stopped in Irrigon (where gas was $3.99 a gallon!) and followed 730 to Umatilla.
As temps were up there and we were away from moister air, I was able to feel cooler when I opened up my sleeves. The sweat cooled me down quite well 🙂 At certain positions, the jacket would balloon up quite fully and be cool.
I was in the right lane approaching a light when a semi-truck pulled out when I was quite close. After the light changed, I followed the cars in the left lane and then scooted around the idiot. I learned later that folks who drive the larger vehicles will pull out even when there may not be enough space knowing people in cars (and on bikes) may be upset, but will stop and they'll be able to get into traffic quicker. It increases the chance of an accident of course, especially nowadays when too many people are texting or otherwise distracted.
Not long after, we arrived in Walla Walla and after a bit of turning around, we found the hotel. Dropped off the gear and headed out for a walk. We arrived earlier than normal so we could go strolling and Jeanne spotted a book, crafts, and GAME store. Many of the places were closed as we walked by and stopped in at Olive for dinner. Sadly the food wasn't all that (at $50 and the Tuscan Beef sandwich was mostly bread) and since there were no servers, I didn't get any refills so I was sad 🙁
After we continue walking and passed the Starbucks (they're everywhere!) to the Book store. We went in expecting books and suddenly games. Lots of Games. Lots and lots of games. Woah, this is pretty cool. It's a college town so I guess there's some expectation of good reading and games but the size of the collection was a lot larger than I expected. 🙂 While I was looking at books, Jeanne spoke with the owner (or at least the person responsible for the games 🙂 ) and was getting me to show off my collection of games. We had a great discussion of games, which ones were appropriate for what sized groups, which ones I liked, which are fun, which are resource gathering, just general gamers discussing games 🙂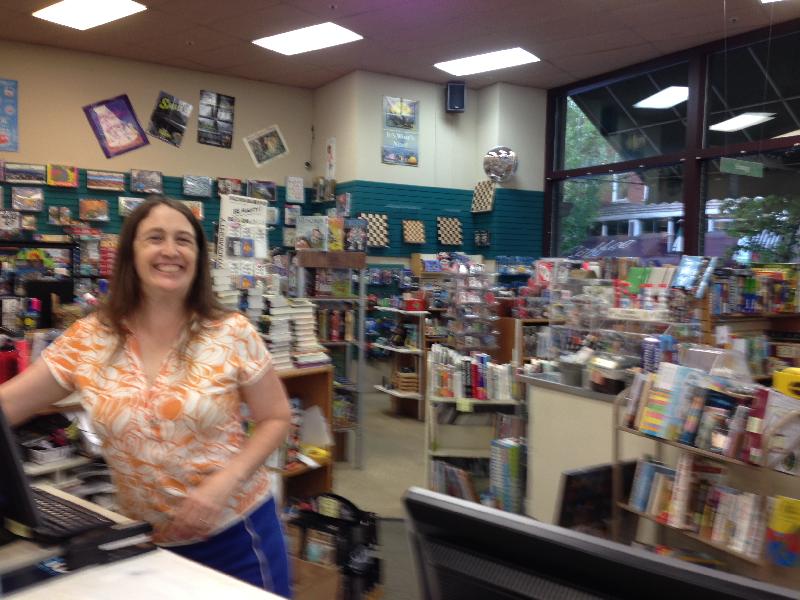 I snagged an interesting Miskatonic horror type book and a pack of Pinochle cards. 🙂
Next we headed over to Wingman as Jeanne was jonesing for dessert.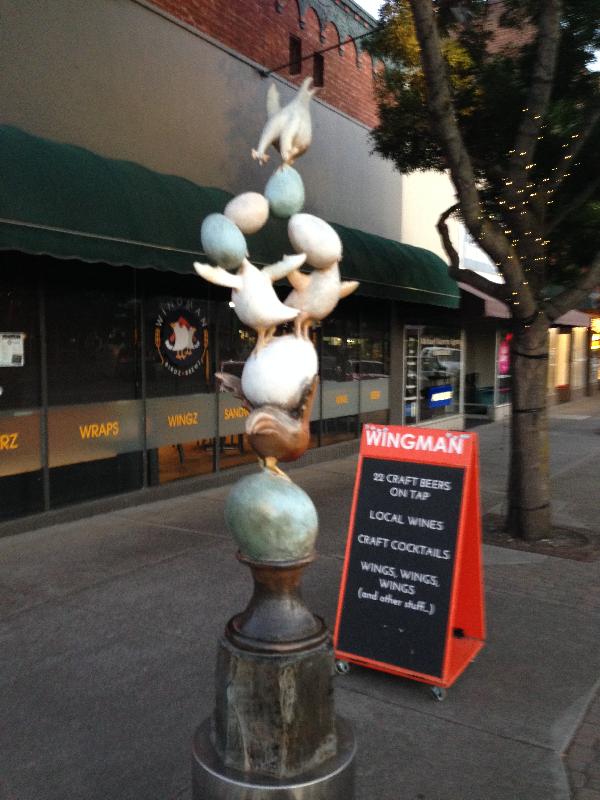 I got myself a carafe of soda (diet) and to the surprise of the server, finished it off 🙂
After we headed back to the room and relaxed a bit. I've been keeping track of receipts in part because of the prep I'd done for the trip so I was writing it in the book and storing away the receipts. I'm pretty sure we missed a few so far but we were keeping pretty good track.