We're planning on staying here for the day and leaving tomorrow so we got up when we wanted, had breakfast, and got the bike ready. I took a few minutes to decorate the bike of course. First stickers 🙂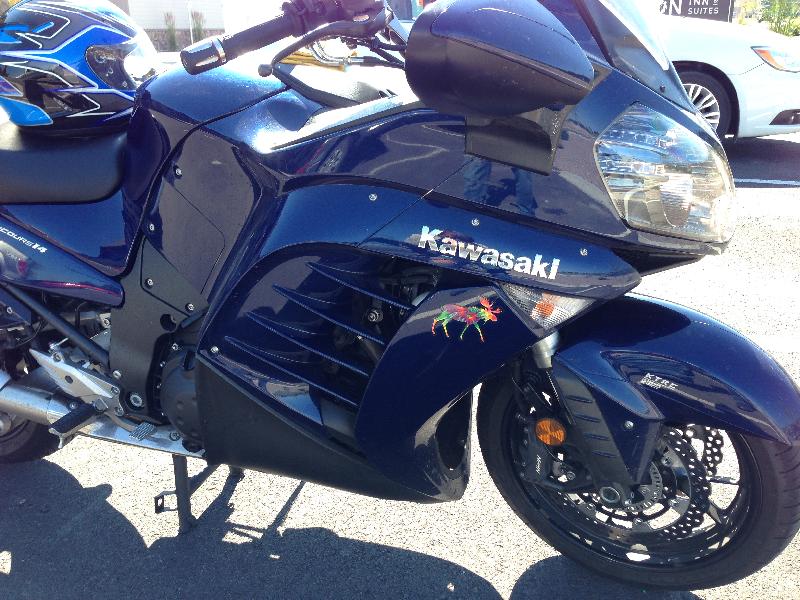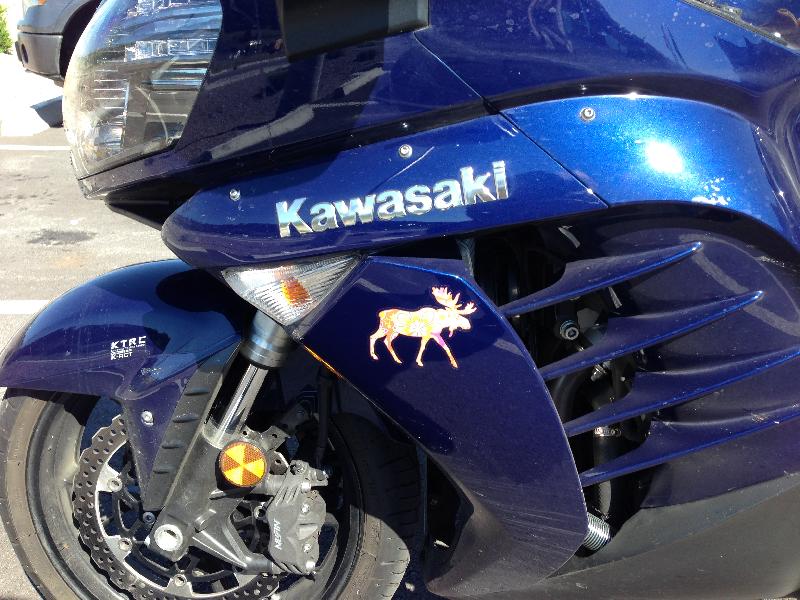 We hopped on and headed to Glacier at about 10:30am. About 90 minutes with a little traffic. I suspect local folks aren't much interested in tourists. One guy wasn't happy apparently with being passed. Sadly, going slower than the speed limit and rubbernecking the mountains just keeps the folks behind you watching what you're doing in case you do something foolish. But hey, no reason to get upset when passed. Just keep looking at the mountains. And yea, you're not going to keep me from passing if that's what I want to do.
At the park entrance, we flashed the general pass I bought at Yosemite but right inside the entrance was a black bear and a cub. The cub was cute and momma was curious and watching folks. Being on a bike, I pulled up just a bit vs being right next to her and watched as she scurried across the road to her second cub.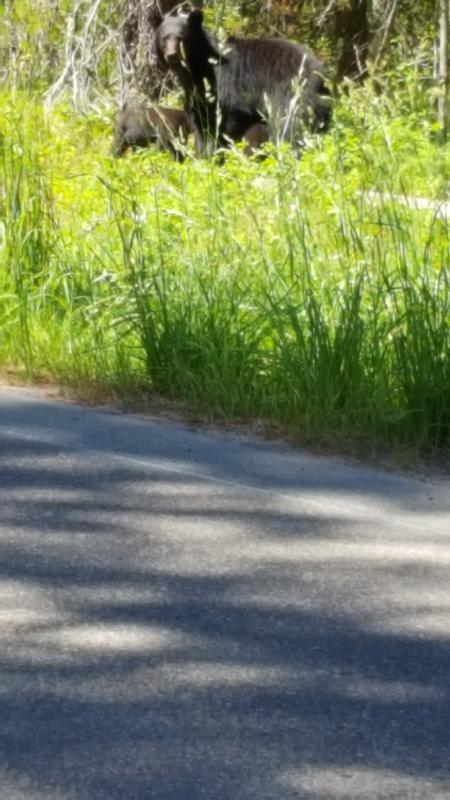 Later we saw cops, rangers, and a bunch of other vehicles just outside of West Glacier. Then an article where two people were attacked and one killed by a grizzly bear sow identified with two cubs. The ones we saw maybe??
Later they changed it to a Black Bear so I suspect it was the one we saw.
I do like to get scenic pics and Glacier is certainly a scenic place so yea, the occasional stop will occur. Expect lots of pictures 🙂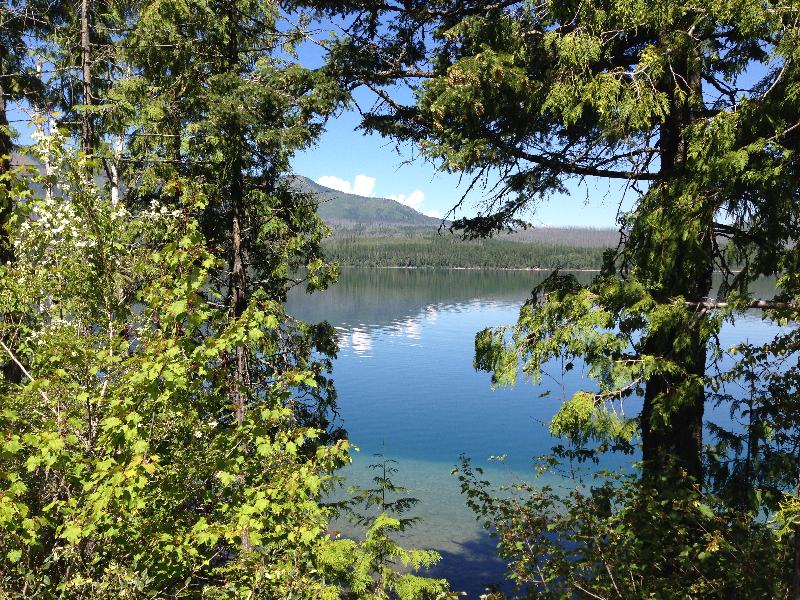 And Jeanne snapping a few 🙂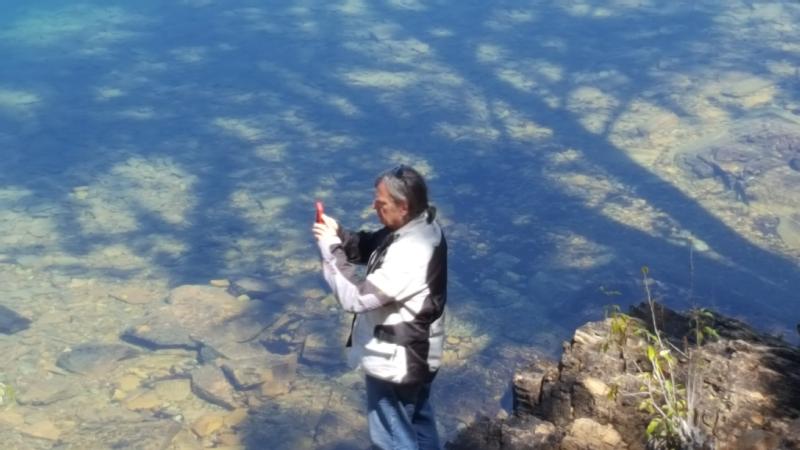 The one I was taking

We stopped at the Lodge to take in the lake. And someone caught a ride.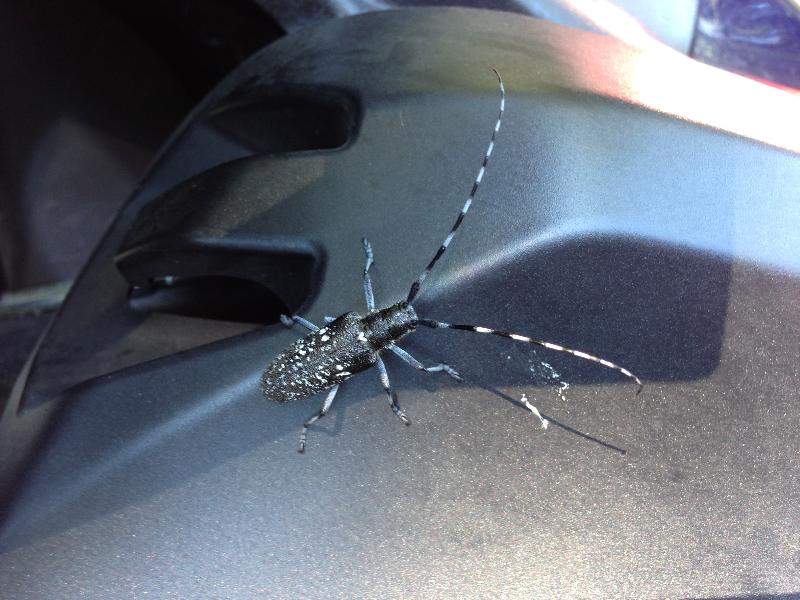 No worries, he'd bailed by the time we returned. 🙂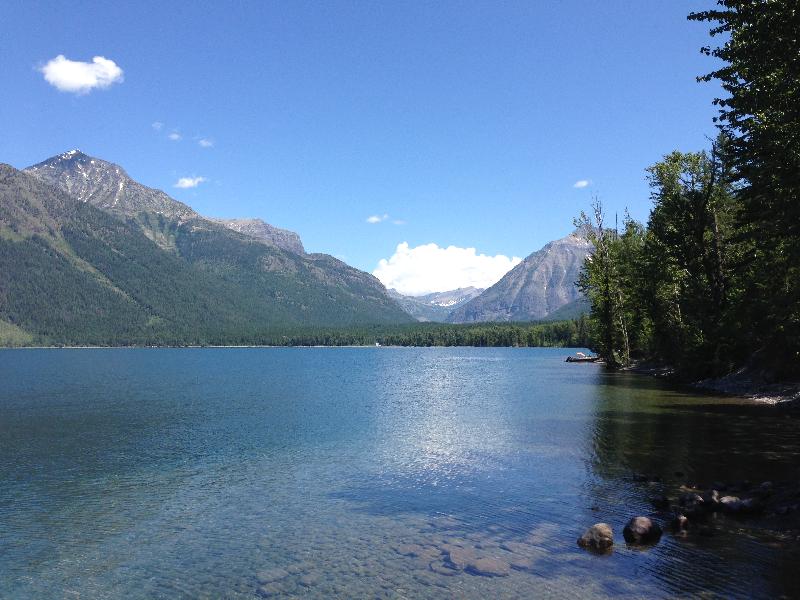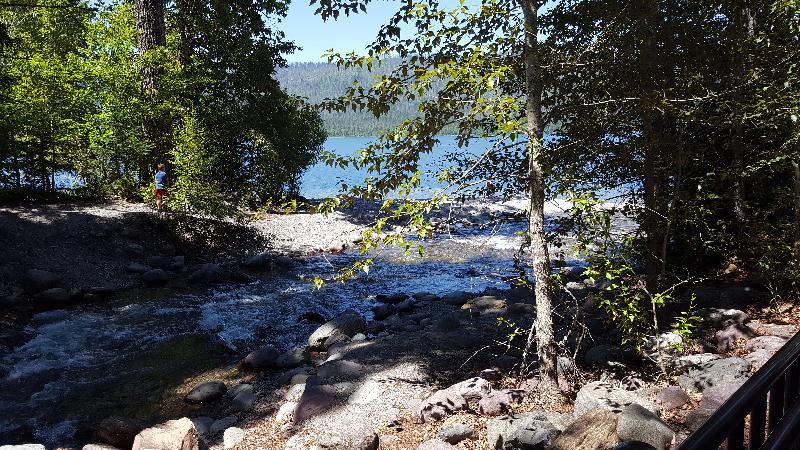 Jeanne is finally taking pics as we move 🙂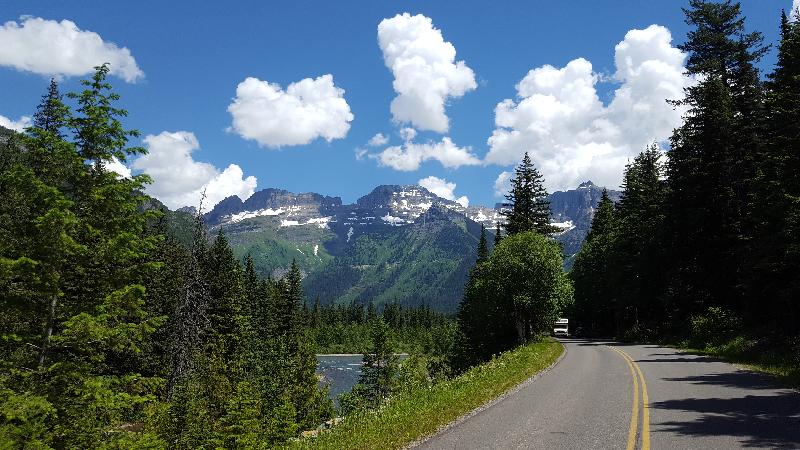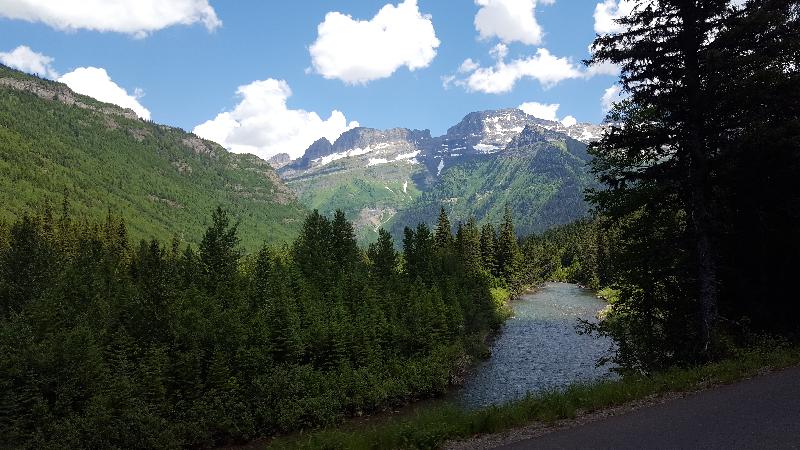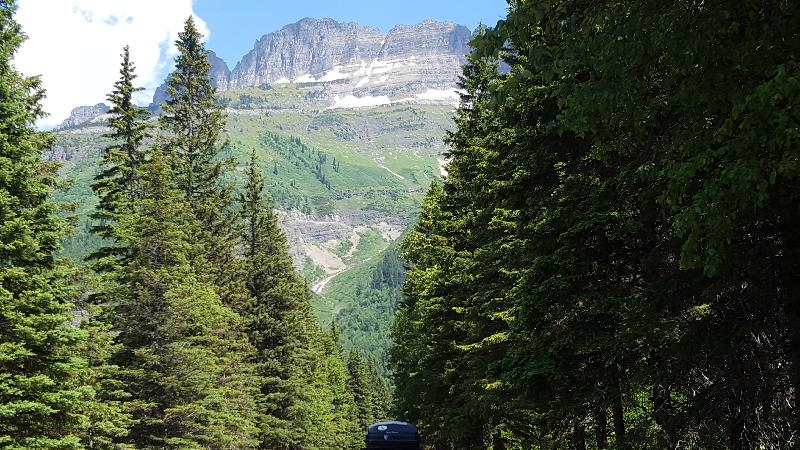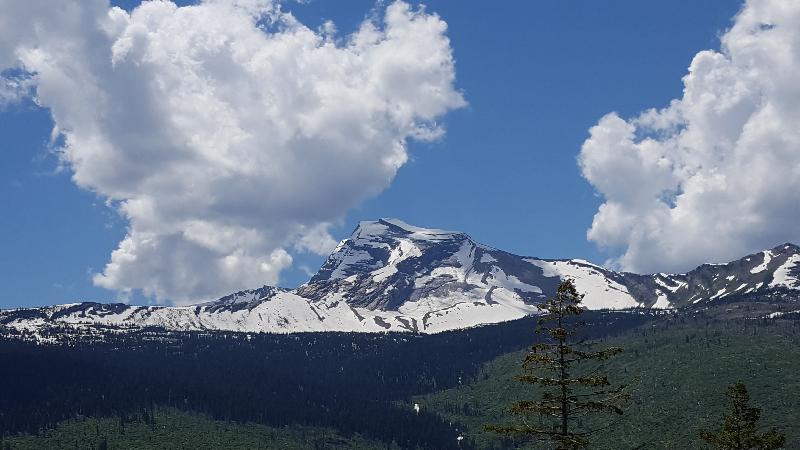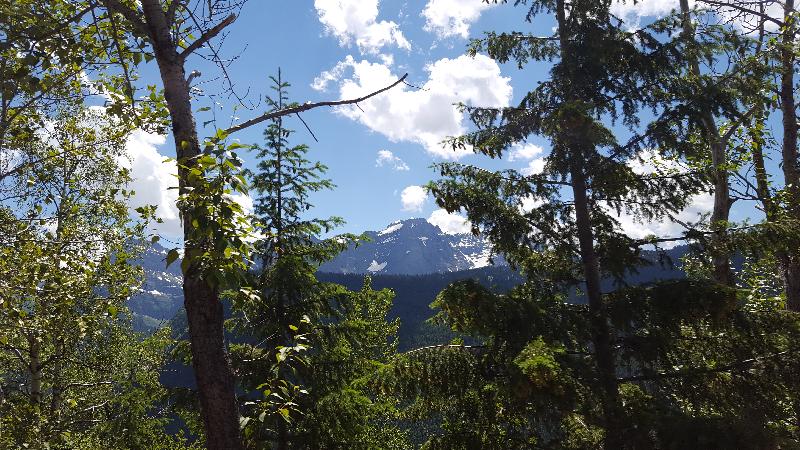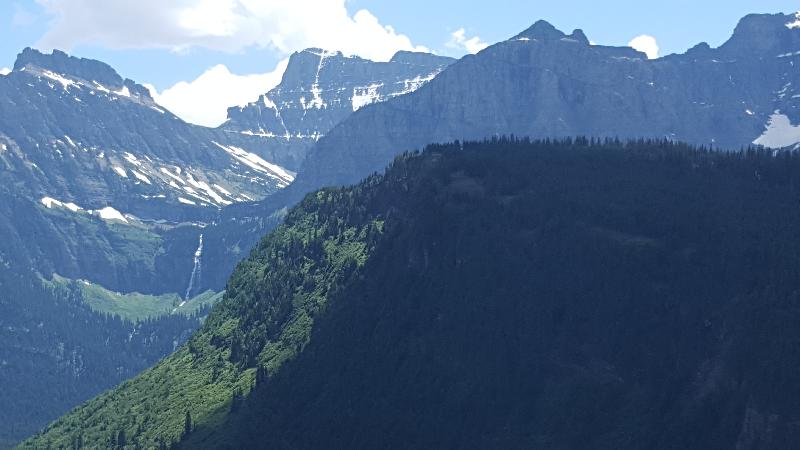 We did stop to get a few pictures though 🙂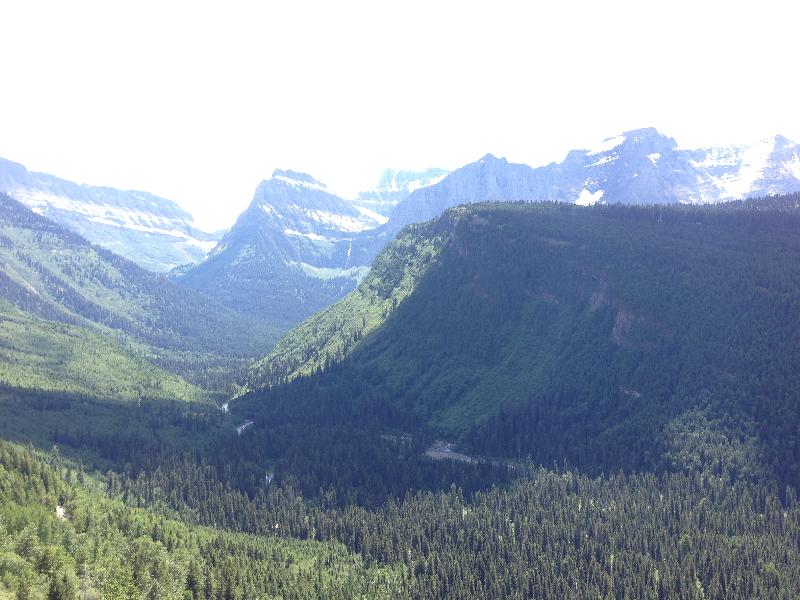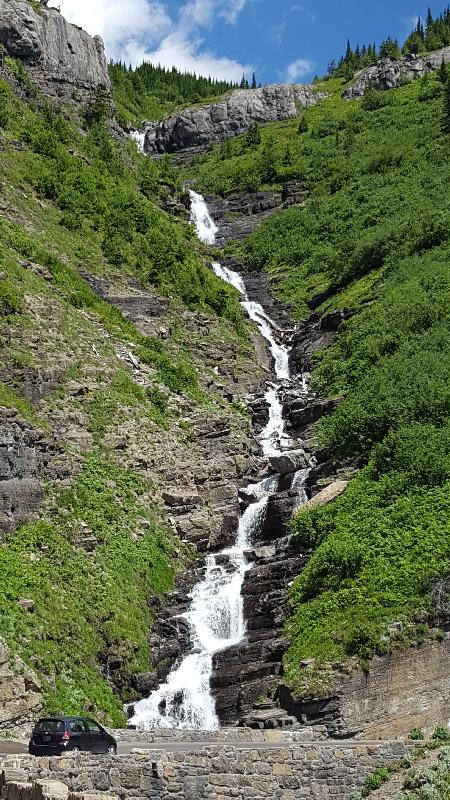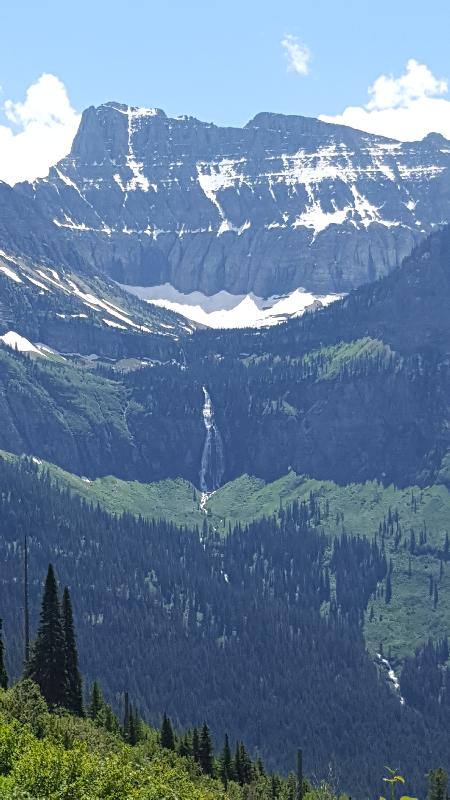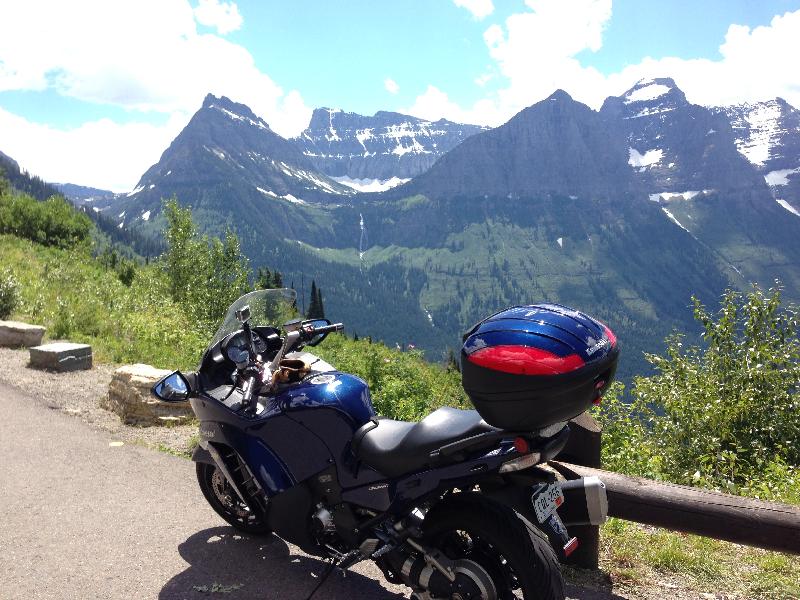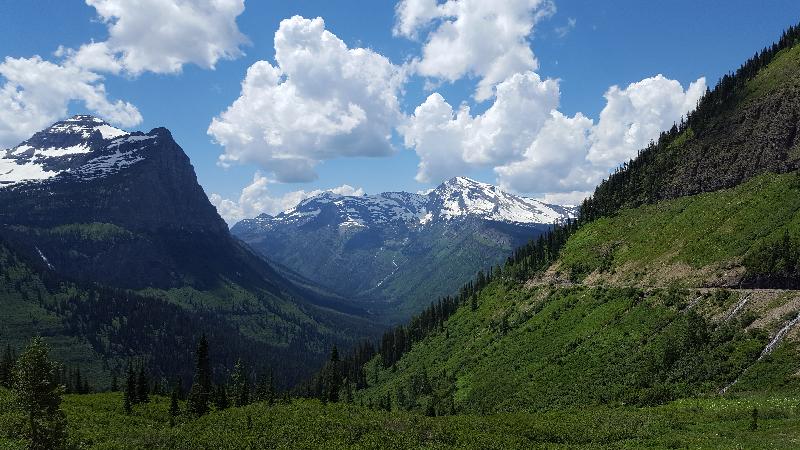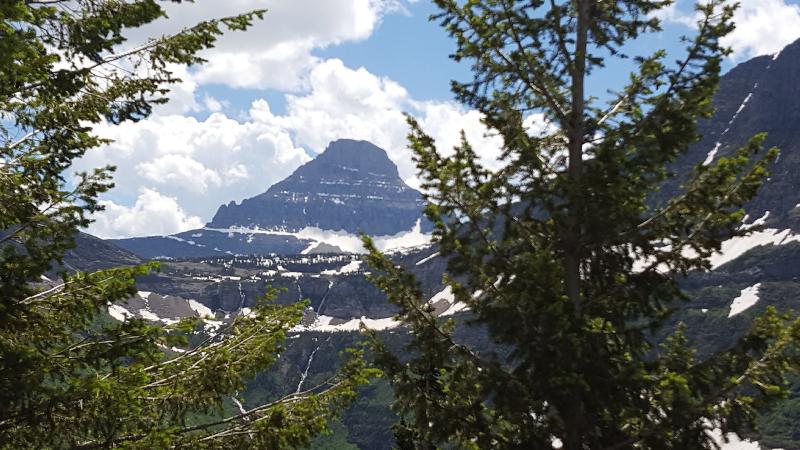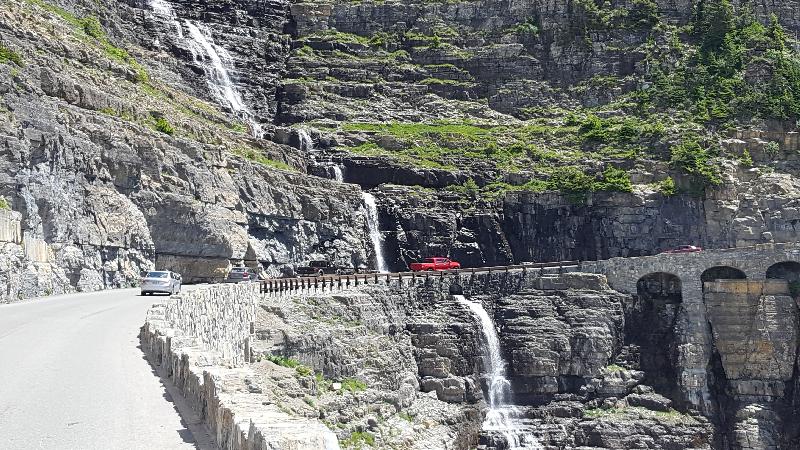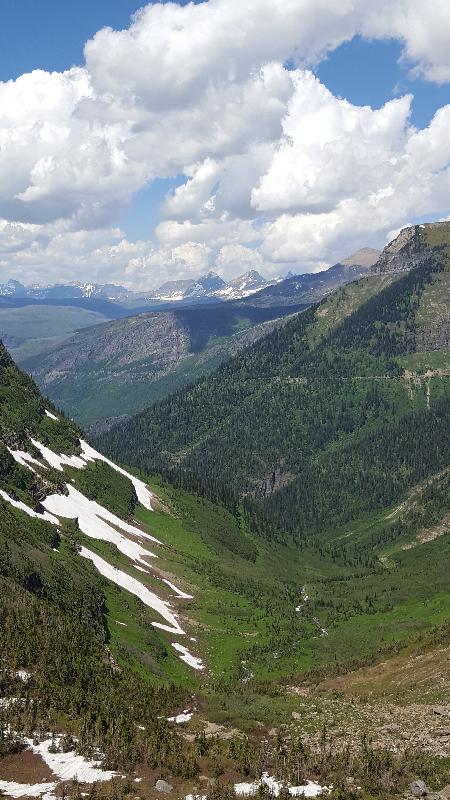 At the top (Logan Pass), we stopped to take a break, grabbed a plush bear for Jeanne's daughter and a Glacier set of stickers for the bike.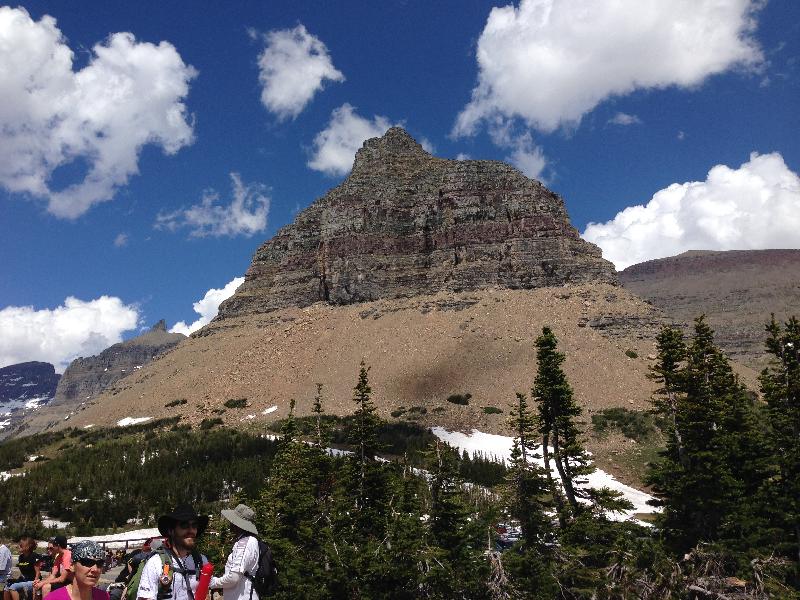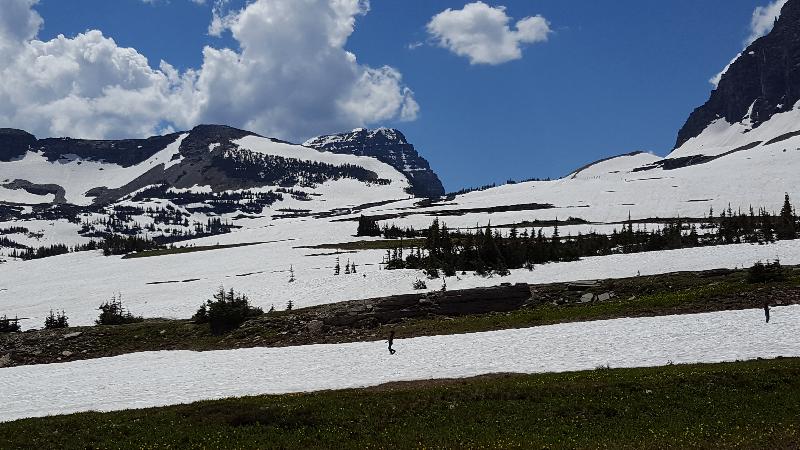 A herd of mountain goats stopped traffic on the way out of the parking lot.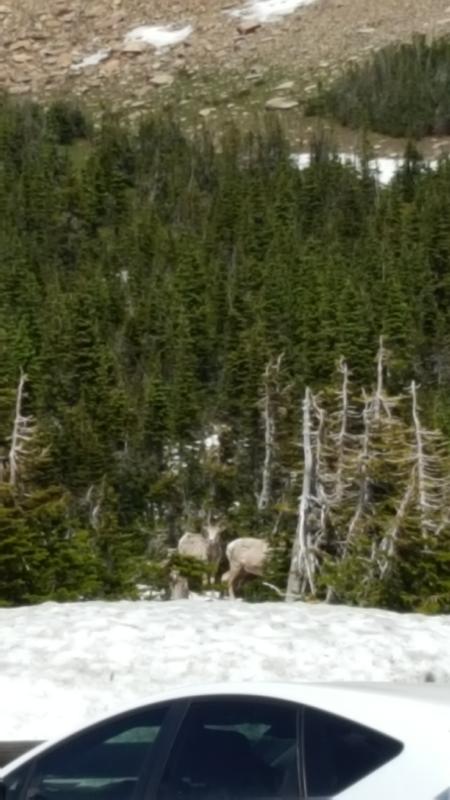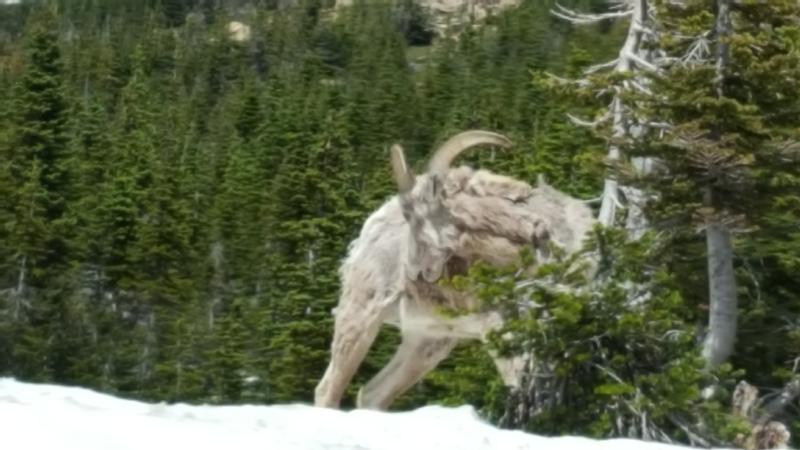 And back down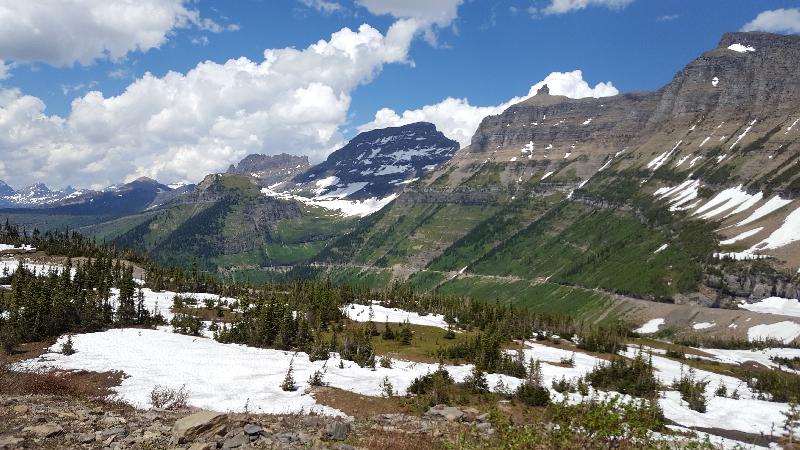 I basically coasted back down alternating between front and rear brake. At Apgar Village, we stopped for ice cream. The ride was torture on my butt so stopping was required. Mandatory in fact. As we wandered around, I spotted the boat rentals.
For 18 bucks, we rented a canoe and spent an hour on the lake just rowing about and sitting quietly. We went quite far out. We got the hang of paddling pretty quickly and pretty much enjoyed a nice serene paddle out onto the lake.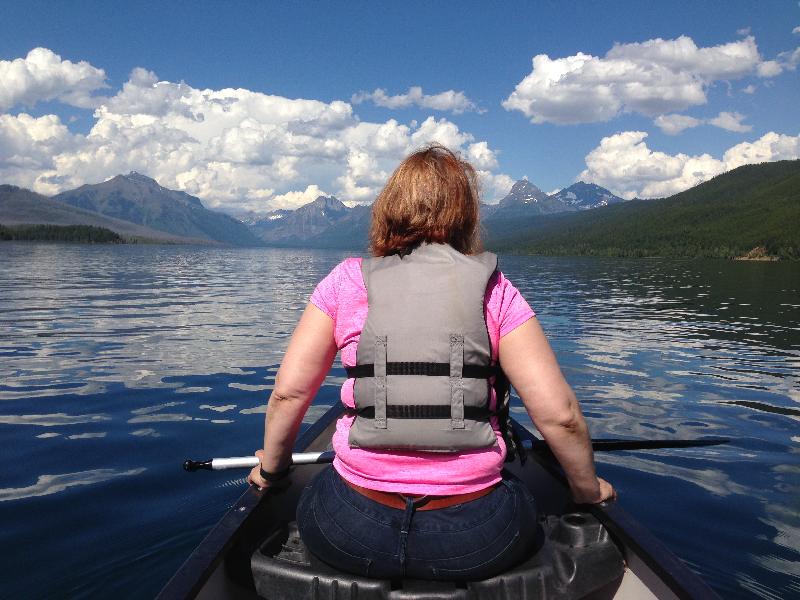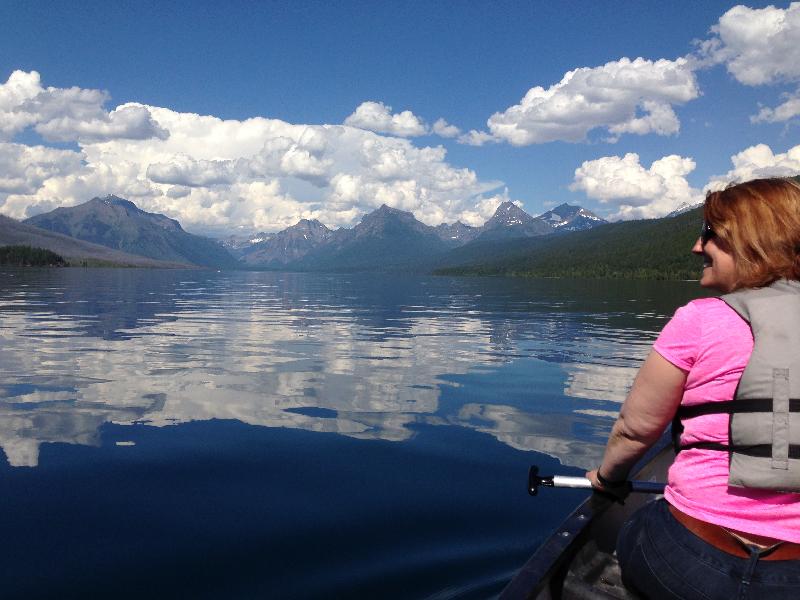 After the lake, we headed back to the hotel for a nice sunset on the patio.