I've been doing some prep work to get the bike ready for a week long ride to Canada (Jasper/Banff National Park) in June with Jeanne. With the recent discovery of the bearing problem which I replaced and the additional work I did with normal maintenance tasks like tire, brakes, fluids, etc, I think the bike is ready to go.
I've used Microsoft Streets and Trips for years to help plan routes. It has several nice features that I haven't seen on Google maps so I can plan for stops, gas, etc.
Proposed Route:
I'd planned the trip to head to Canada to visit the Jasper/Banff National Park plus check out other sites on the way up and back. The Grand Tetons, Bear Tooth Highway, Glacier National Park, Medicine Wheel National Monument, and The Snowy Range. As always, I plan on alternates in case of problems. Since this is Jeanne's first longer trip, I wanted to make sure we could turn around if necessary or otherwise return should the trip become a problem. Either with me, the bike, or Jeanne.
Jeanne picked up a new sleeping bag. It took us several trips to try and find one that would zip up with mine. Unfortunately the only one we found was a down one that cost around $500 which was silly. We eventually found one that would zip up one side and left it at that.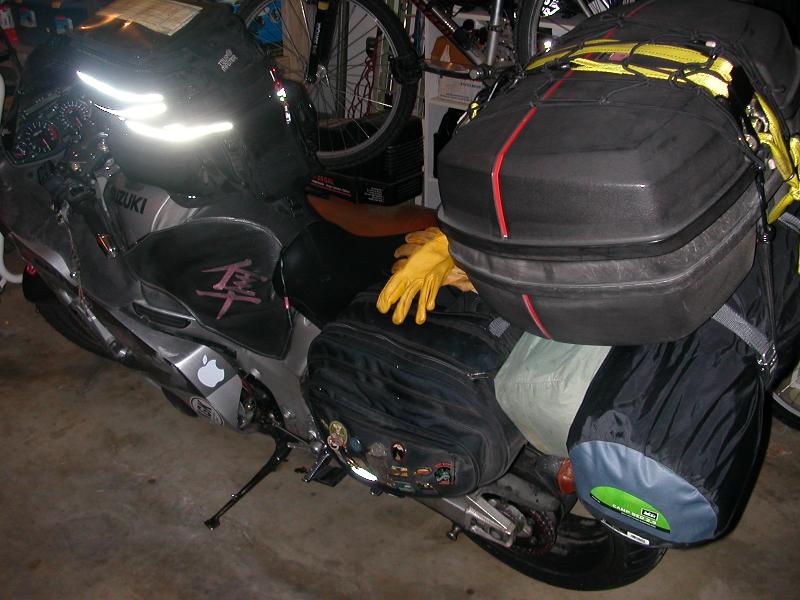 With the gear all packed on the bike and ready, we were ready to head out in the morning.