Ahhh, morning in Wyoming. I'm an early bird so I'm up before Jeanne anyway. After relaxing for a bit, we head for the park showers. Nothing too horrible for public showers and early enough that there's hot water. I'm a tad bit quicker in the shower so I'm out, dressed, and wandering around when Jeanne's out 🙂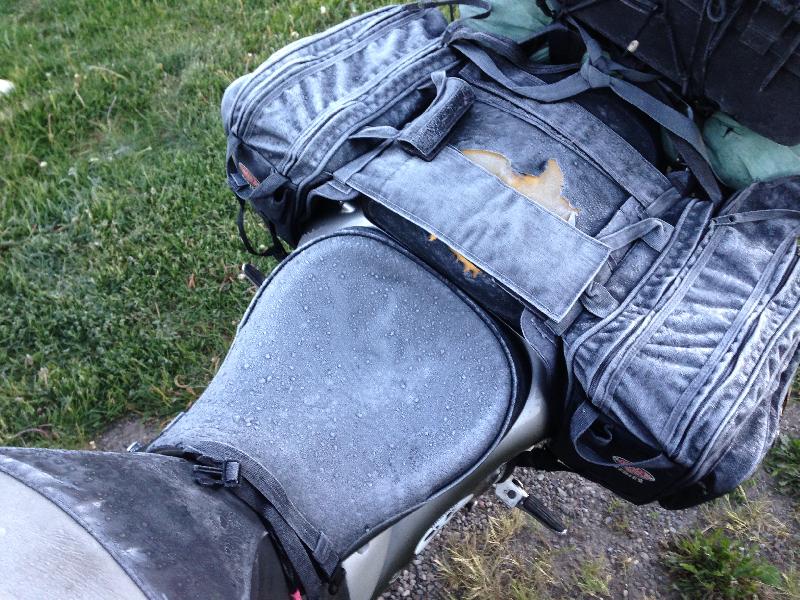 There's a bit of frost on the bike. I moved it to a sunnier spot and the ice evaporates pretty quickly. Still after a discussion, we decide to head to Moran Junction and make a decision as to whether to head north to Yellowstone or south to Bryce Canyon. It is a nice day though.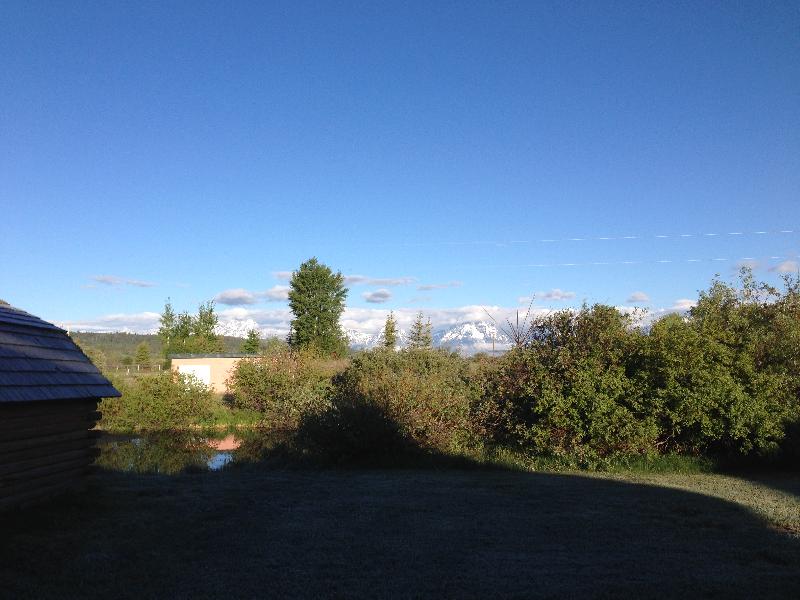 At Moran Junction (just a three way intersection really), we finalized the discussion. To the north we can see dark rainclouds. To the south it's mostly clear with some rain looking clouds farther east. Since in heading south we'll actually be heading south with some west, we decided to head south anyway through Idaho and Utah to Bryce Canyon.
But first, some browsing through The Grand Tetons. Now I get to play with my iPhone a little. The Panoramic function of the phone looks pretty interesting and The Grand Tetons are, well Grand 🙂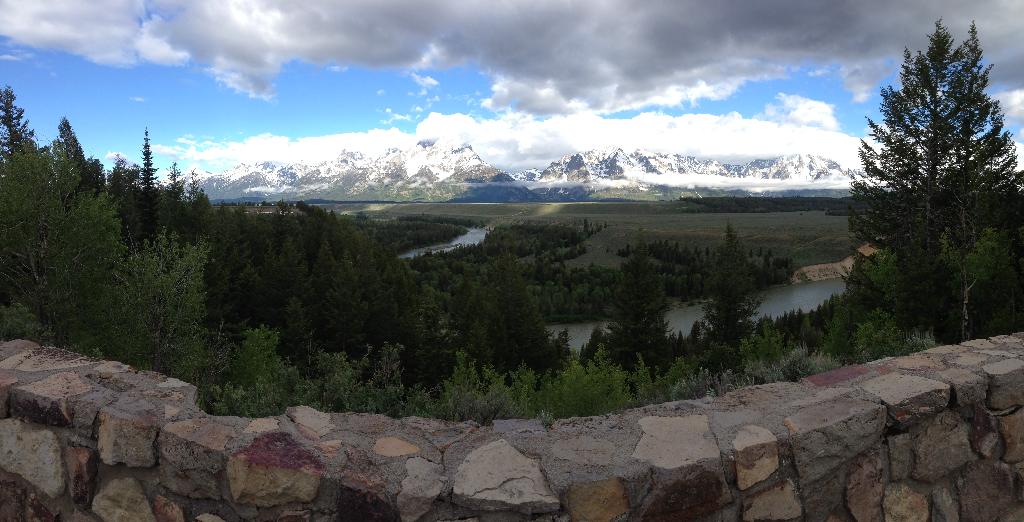 I think I'll be playing a bit more with Panoramic mode this trip. Still, the Nikon does a pretty good job too.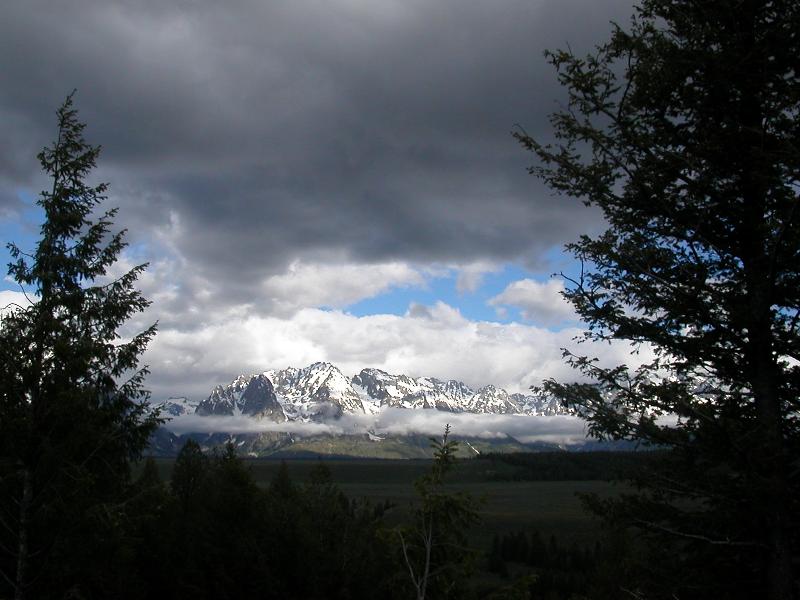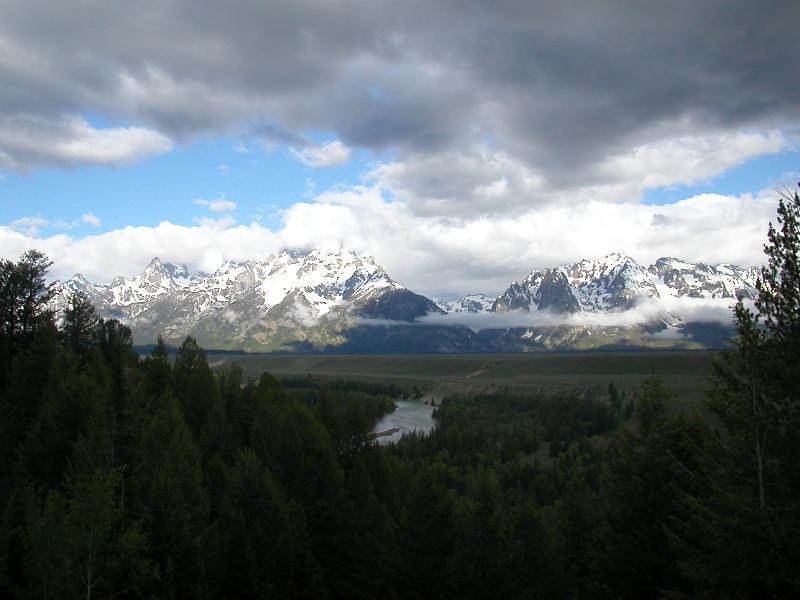 After a few more pictures, we headed on down to Jackson searching for Breakfast. We stopped down town and parked on the street. We did walk around looking for a place for breakfast but it seemed only one place was open and there was a line half a block long. We did walk around a bit more, just to take in the scenery.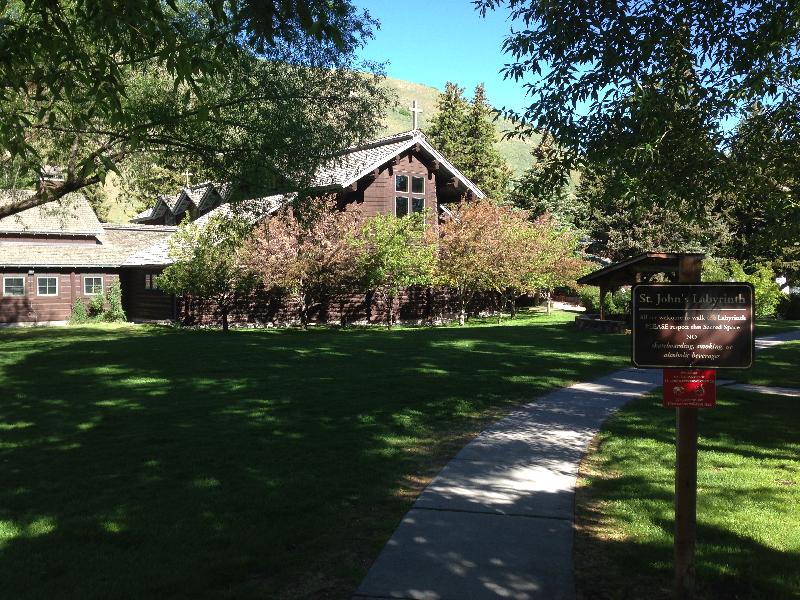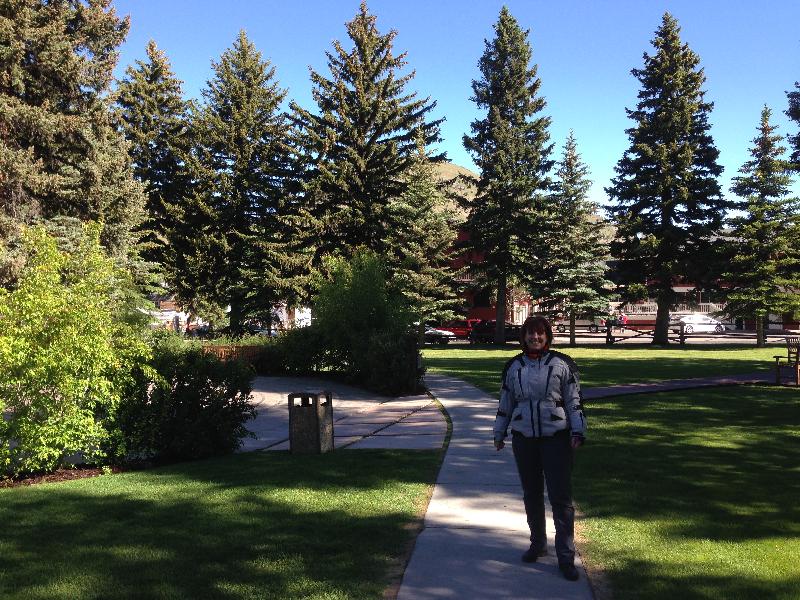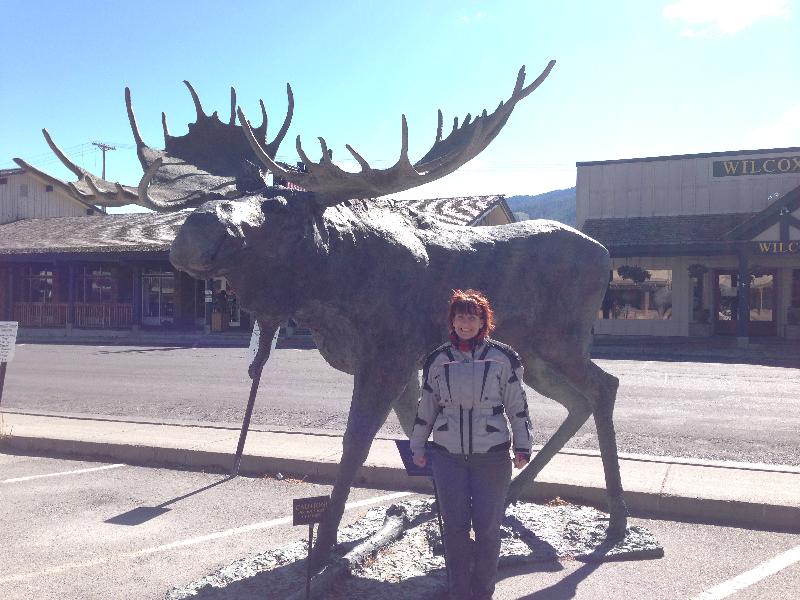 Not finding a good place for breakfast, we did some snacking (I'd brought a gallon sized bag of mixed nuts and Jeanne had some trail mix so we didn't starve 🙂 ) and headed on south. We took the scenic route through the Bridger National Forest and crossed over into Idaho east of Montpelier and then south to Bear Lake. At Garden City, we turned west to Logan. The idea to snag a late breakfast/early lunch and head south on 15 at least to the other side of Salt Lake City.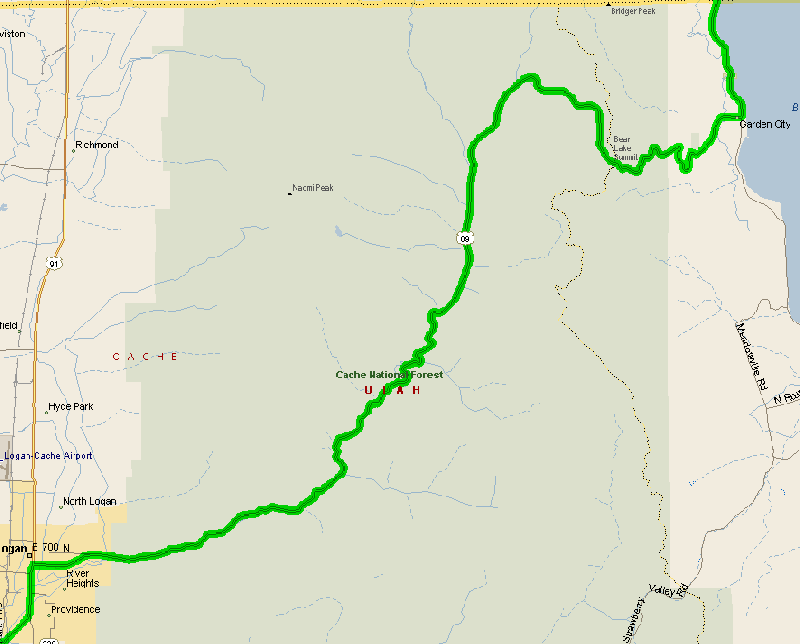 At the parking area above Bear Lake, we took a break and wandered around. It was a pretty nice view of the lake and there were a couple of hummingbird feeders. The little buggers were flying around all over the place.

The road from Bear Lake to Logan was a great deal of fun. In some places it was a touch tight but no tar snakes to speak of. Traffic was up there a little but the Hayabusa had enough power to get past when necessary. There was one car that was going pretty fast around the turns. Since I wasn't racing anyone, I felt it no problem to stay behind. I was trying to indicate to Jeanne that the guy was a 'rabbit'. Someone you'd follow farther back and let them deal with the Police. But they weren't all that fast.
We stopped at a buffet for lunch. Not too bad a place I guess for a buffet. I'm not really a buffet person since I don't eat until I pop, especially since I'm wearing my Aerostich suit that just fits right now 🙂 After lunch and on our way to I15, we stopped at a jerkey place for Jeanne. Pet a nice black and white fuzzy cat and chatted with the biker owner. He asked Jeanne if she'd like some assless chaps 🙂
Once we hit I15 and headed south, there was no stopping. The Salt Lake City metro area from Orem on through Provo was just a big highway. I stayed on the freeway until the HOV lane ended south of Provo We headed down a little farther until we saw a sign for the Great Basin National Park. We were looking for a camping spot so hopped off the road at Nephi. We got to the turn to the Park only to discover it was 150 miles away. Boy, what a bummer. In looking at the map, it's in Nevada 🙂 We turned around and headed back to Nephi and stayed at the Safari motel. We dropped off our gear and headed on out for a walk around town. Nephi was pretty dead I must say. The only place we found open aside from the motel was the Dollar Store 🙂 I snagged a small roll of Orange duct tape to try and repair the leg tearing on the rain pants Jeanne was wearing and I snagged a soda before heading back. We read for a bit and hit the sack.