Ok, earlier this year I made plans for my yearly multi-week ride. This time I wanted to go to Labrador in Canada. Specifically I wanted to go down the Trans-Labrador Highway. I've been taking my bike down the occasional dirt road and felt that as long as I wasn't trying to go down a dirt trail, I'd be ok. I got lots of flak about wanting to take a sportbike down a long dirt road but it's my bike and as long as it doesn't get stuck somewhere,
it should be ok.
So I did some prep work by working on getting my bike ready and getting me ready.
First I hit AdvRider specifically one of the threads about a couple of guys who went down the Trans-Labrador Highway. They had lots of good information including about getting a satellite phone and the gas situation but especially that the road was a gravel type of road. Generally I didn't think that was a big deal, however a good tip was that the gravel tended to migrate down to the valleys between the hills so you'd have a dirt road down but a deep "river" of gravel at the bottom you needed to power through. There were other bits of good info, check out their report for some good stuff.
Next I had to make reservations on the ferries going across from Nova Scotia to Newfoundland, Newfoundland to Quebec/Labrador and from … to Goose Bay. The Ferry service has a web site where you can check the schedules (important) and find out where to call and make your reservations. I made the calls and put down the amount I needed to put down.
I needed to make a list of the things I wanted to do to get the bike ready for the trip. I've been going on long trips and had shaken out my main gear load down to a pretty good and well organized setup. But there were things I wanted to do to the bike to make it a little hardier and ready for the trip.
Pull the clutch cover; clutch has a small leak and front sprocket should be checked and replaced.
Replace the oil in the front springs and since I'm getting it done, have the springs replaced.
Install the new louder horn.
Install the GPS cable so I don't have to replace batteries on the trip.
Get longer screws for the GPS mounting bracket.
Get the right sized screws for the right side mount.
Investigate the installation of a fuel cell for the 'busa.
Install a luggage rack.
Build a plate for the luggage rack to hold the fuel cell.
Purchase the correct fuel cell.
Replace the front brake lines with steel braided.
Check and replace front and rear brakes.
Replace brake fluid.
Install voltmeter.
Install fuse box.
Install 12v accessory plug.
Build riding music playlist (more rocking and kill the quieter songs.
Get new tires before trip.
Test ride a few days before the trip to make sure all is set up ok.
Of the list above, I was able to get most of the work done and especially the important work. Other things checked (brake pads; ok) and all was ready for the trip.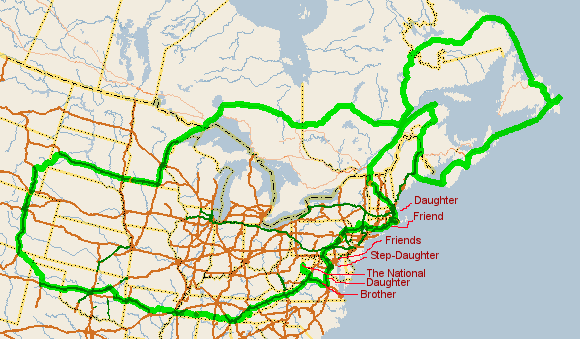 For the trip, once I decided on the direction I wanted to go, I listed all the stopping points and started building the map using Microsoft Streets & Trips. Part of the map had to take in to account several destinations as well as cut-offs in case I was delayed or over-optimistic about the route. One of the goals as listed above was riding the Trans-Labrador Highway. Another goal is to complete my riding in the lower 48 of the United States. I already had everything but the northeast. I also needed to add in the Canadian Maritimes (a little later in the planning, I discovered that Prince Edward Island was in fact another province so I had to plan a little jog there as well).
Oklahoma – Pick up Chili, the Sport-Touring.Net mascot
Deal's Gap – I always like to stop there
Knoxville – Visit one of my co-workers
West Virginia – Sport-Touring.Net National.
Richmond VA – Visit my brother's family and my daughter
Falls Church VA – Visit my step-daughter and where I used to work.
Groton Ct – Visit with an old friend
Riviere du Loup – Just to see it. (Harry Turtledove)
Labrador
I'd made several attempts to meet up with the current caretaker of Chili who lives in Oklahoma including an attempt to ride down with Rita the weekend before but none seemed to work. So the first leg of the trip is a little dip south of Oklahoma City to pick up Chili.
Next was a ride through Eureka Falls in Arkansas, a pretty nice set of roads. I'd been there last year.
I like to try my hand in Deal's Gap located on the border of Tennessee and North Carolina. One of my co-workers also happens to live in Knoxville so I can kill two birds with one stone.
The Sport-Touring.Net National meet is in West Virginia this year so I was able to fold in a visit there as part of this trip. Just a killing birds left and right here.
My brother and his family, my youngest daughter and my wife's daughter live in Virginia. I also used to work at NASA so I don't mind dropping in to say hi there as well.
A friend whom I used to work with at NASA now lives up in Groton Connecticut so I made plans to stop by his place and visit for a day.
My older daughter lives in Boston, but moved about the same time as the trip so she got dropped. I was able to see her as she passed through Denver on her way to Portland Or but that's for the end of the tale.
From there it's a ride into The Great White North.
I'd purchased a rear tire about a month before the trip but since I've worn through tires on trips three times now, where I had to get replacements while on the road, I decided to replace the rear tire with a new one the weekend before the trip. That would give me fresh rubber and keep me from having to sit around getting a replacement.
Something else I did was go a GPS location at various times when I stopped. I'd call Rita or I'd snap a picture of the GPS and let Rita know when I called her again. She'd enter the information in the database and people can keep an eye on my progress. This database is located here.
One of the members of Sport-Touring.Net was also on her way to Deal's Gap but is visiting family a hair north of where my route is. We invited her to drop by on her way through so she'd have a place to hang out and update STN and check her mail before heading out on Saturday.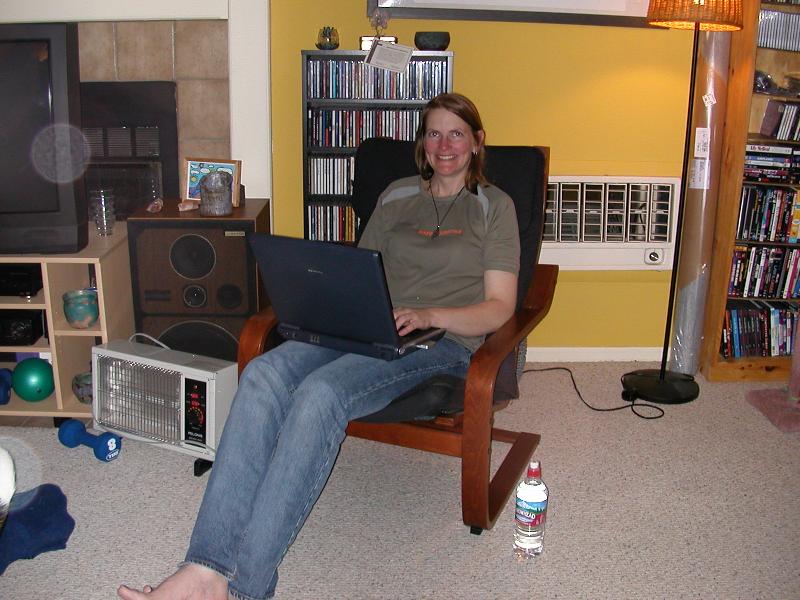 That would be Colleen or DantesDame chilling out and checking her mail. Since we weren't sure when she was arriving, we didn't have plans for dinner so she got some nice Mac 'n' Cheese and a place to crash.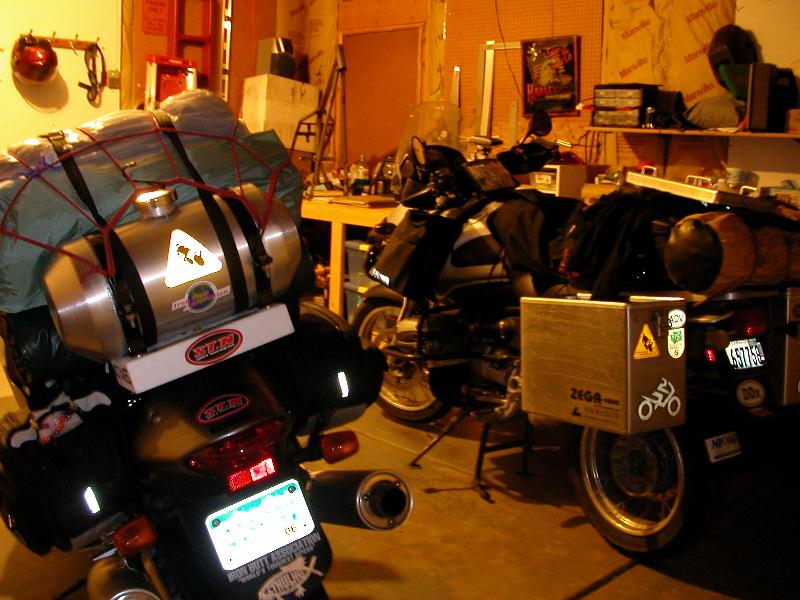 The bikes in the garage, bedded down and ready to hit the road in the morning.
I'd planned on getting up early as I usually do on the first day of trips but the excitement of having Colleen in the house and getting ready to go kept me from getting to sleep on time so I bailed and didn't get up until a little later in the morning.