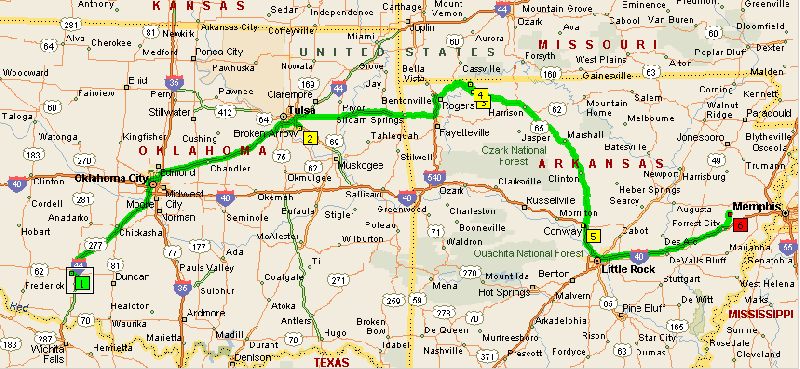 661 Miles
Since it was the first night on the trip and I was sort of intruding, I spent the night dozing rather than really sleeping. It really kinda sucks because Russ was nice enough to let me hang there and I spent the night trying not to wake him up (my phone alarm was set and I didn't want it to wake Russ up unnecessarily).
For this part of the ride, I wanted to revisit Eureka Springs again in Arkansas so I headed towards Tulsa on the freeway. At about Oklahoma City, I began to encounter the beginnings of humidity. With the Aerostich suit, I'd been able to keep cool on the road even with the heat, but with the humidity it was getting harder to keep cool. It was bad enough that people were asking me if I was hot 🙂
After Tulsa I headed straight east. In Springdale I kept going past the main freeway (540) to 71 and followed it north to 62. A right and I headed on up to 187. I've been down to Beaver before and really enjoyed the ride. It goes across Table Rock Lake on a beautiful single lane wooden bridge and then up through Eureka Springs.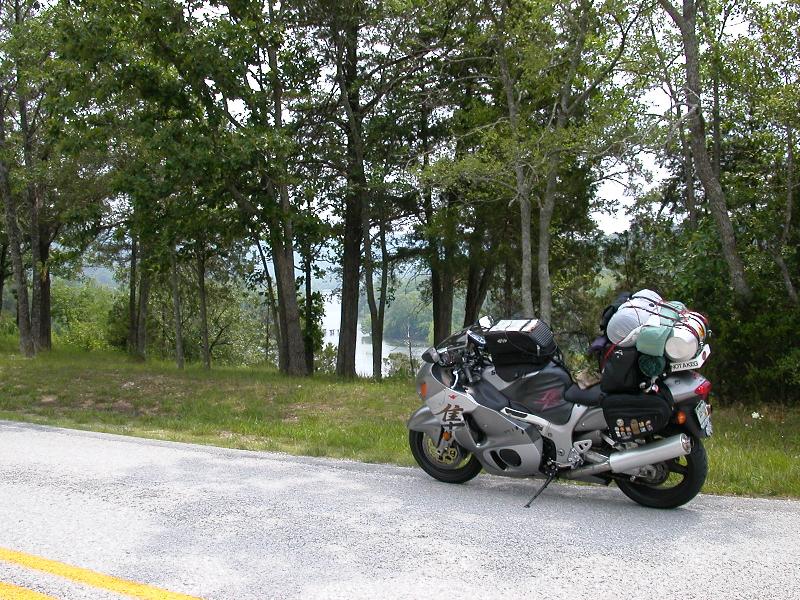 This is just before the bridge looking out over Table Rock Lake.
While heading towards Eureka Springs, I encountered many more motorcycles and especially cruisers than I had last year when I drove through. I was also somewhat surprised by the number of "Welcome Bikers" signs I was seeing. I guess I didn't realized this was another biker destination.
After going through Eureka Springs and heading down 62 again, I was very surprised to discover that the corners had been ground down a little. Not quite like a full grinding like they do before repaving but just a set of grooves. It made going around corners pretty treacherous and I went around them at a very very slow speed. Perhaps this was something the local counties wanted to keep bikes at a more reasonable speed. If so, it sucked a lot. This went on on the way down the mountain and seemed to clear up once I made the right turn on 65 and headed down towards Little Rock.
The rest of the ride was pretty uneventful. I got on to 40 at Conway and headed on east to Deal's Gap. I wanted to get to the other side of Memphis but it wasn't to be. With the bad humidity and what looked like a storm coming in, I thought I'd see if I could find a camping spot. I called Rita and she found a state park just a little way off the track. I headed on out but didn't see the sign for the park. I pulled into a gas station, filled up and asked about the park. "Oh yea, you're right at the corner. Just keep going right and you'll see the signs."
It was a nice little ride, if humid, on down to the park. I pulled in after 8 and pulled up to the Village Creek State Park office. They were closed but the sign said to just drop by in the morning after 8am and drop off the fee. Sounds good so I headed on to the campground and found myself a site.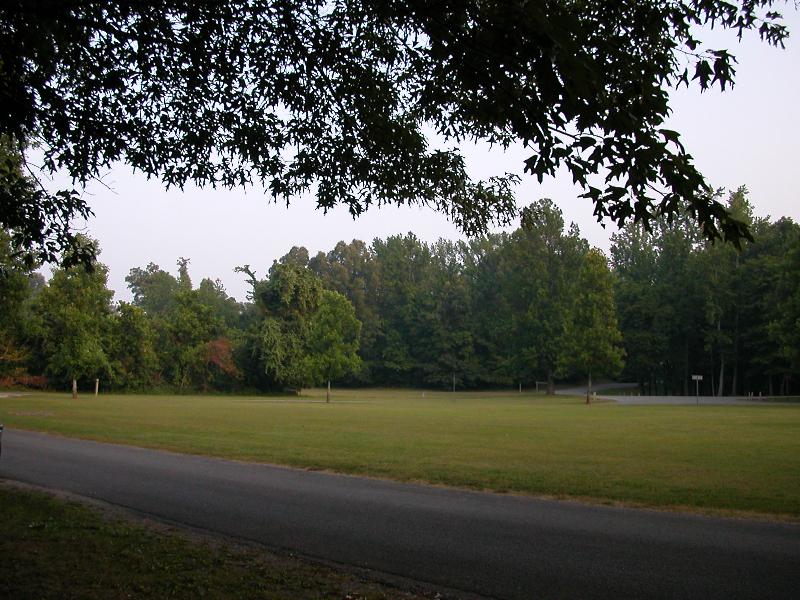 There were a couple of other campers out and quite a few mosquitoes. It was bad enough that even with the humidity, I kept my Aerostich suit on while I put up the tent. When I removed the 'stich, I was dripping with sweat. The 'stich must have gained 5 lbs of water weight it felt so heavy. I hung it on the bike assured that it would still be wet in the morning.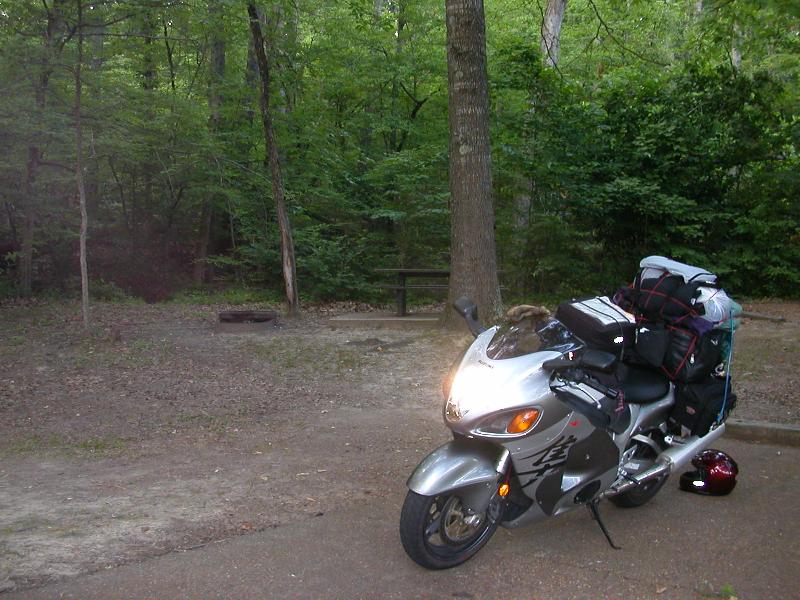 I climbed inside and used the flashlight to kill the few mosquitoes that actually found their way in the tent. I didn't lay out the sleeping bag because it was so frigging humid. I lay on the mat though. It was very strange. The sweat was dripping off of my face and my ears so I could hear the splatting of the droplets hitting the mat. The hairs on my body were gradually drying and popping back up. It felt like little ants or other crawly things were on my skin. It was very creepy.
I'd lived in the DC area for 30 someodd years and after living in Colorado for about two years, I actually felt a suffocating blanket of humidity. Until you feel the difference, you really do get used to it (or get air conditioning). Oh, and on top of that, the crickets and frogs were serenading me all night as well.