531 Miles
I packed all my gear up and got suited up. The suit was still on the heavy side but not chilly. I checked out the bathrooms in case I wanted to hit the showers but they looked like no one had cleaned them since last year so I bailed on that 🙂 Since it was early, I stopped by the office in case anyone was in but it was still empty. So with a free night behind me, I headed on out. As I left the campground, I spotted the following sign.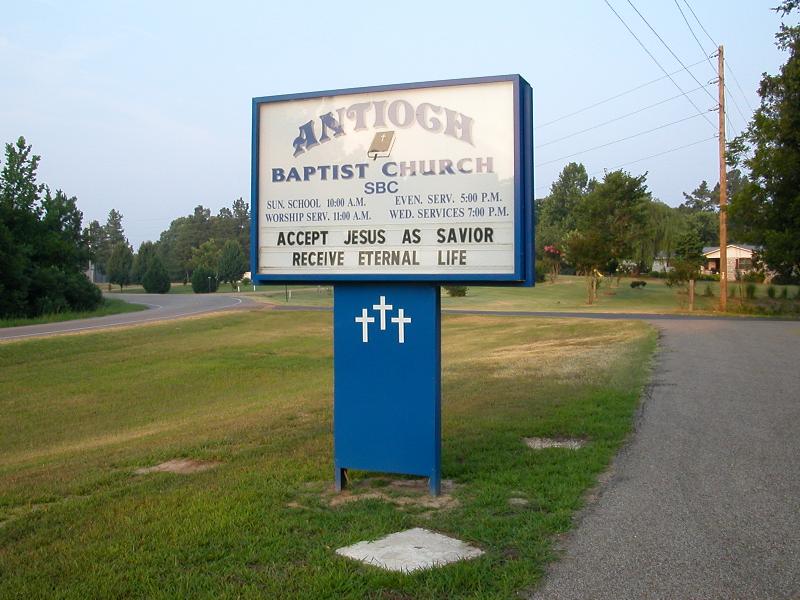 Maaan, I have to get a picture of that. See I'm a big fan of comedy type music and really like Ray Stevens. A couple of years back he came out with the Mississippi Squirrel Revival and it was in the Antioch Baptist Church. Now granted it wasn't in Mississippi but I had to get a pic 🙂
My intention was to try and bypass highway when I could. I zipped through Memphis and missed the turn to 64 east. After a couple of miles I checked out the map and made a right on down to 64. I followed it out for a couple of hours but I really didn't like the single lane roads I was sharing with semi's and having to stop every mile or so for a light. The speed limit was averaging 35mph. I was dealing with it as best as I could though.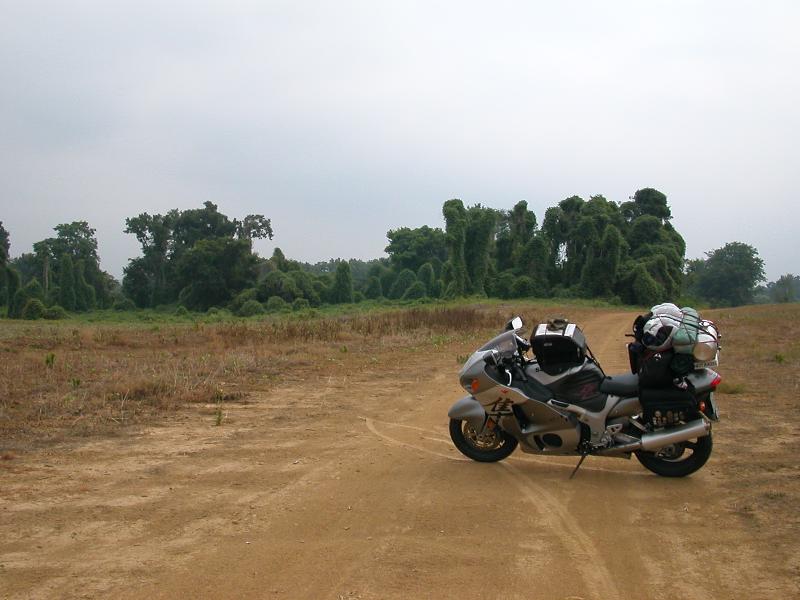 At one point I spotted an abandoned farm to the left and looped back around to get a picture of the trees being overwhelmed by the vines (kudzu?). For all I know there were houses, barns and other outbuildings in all those vines.
Eventually at Rt 13 I bailed and headed back to the freeway. It was getting later than I liked and I still wanted to get to Deal's Gap at a reasonable time. I wended my way north on 13 and got to 40 a little west of Nashville. I followed 40 on through and out the other side without a problem.
On the other side of Nashville however, I got behind a car and semi just as the semi decided to pass a slower semi in the right lane. Cars were stacking up behind me and the semi was just huffing. I could see there looked to be lots of space in front of him for me and after giving the car in front of me a second to move right if that's what he wanted to do, I hit my signal and shifted right.
With this I broke one of my own rules. I don't like going around cars in this situation. I was going to try and make the gap between the two semi's before they closed up and figured I could make it. Unfortunately the car decided to shift right just as I got to his left rear quarter-panel. I beeped at him and really didn't think I was going to be making it to The National. The two Latinos looked over at me as they kept coming. I backed down, went left, in front of them to the right and between the semi's and out into clear space. Believe me I really thought that was it for me.
A nice thing though was either I got used to the humidity or the level dropped quite a bit as it seemed to get much better. I made it to the cutoff at 321 and headed towards Maryville. Just outside of town I spotted the local Harley-Davidson dealership (Smokey Mountain Harley-Davidson) and popped inside to pick up a HD Dragon pin. I looked at all the gear and found a pin I liked. When I got back out to the bike, a couple were there on their HD. We chatted for about 10 minutes about gear ("aren't you hot?") and places we'd been and where we were off to. I gave them my card with links to STN on the back as well as my web site and headed off to Deal's Gap where I was to be camping tonight.
Heading up 129 to Deal's Gap was mostly fun. I had a full load of gear so I was a little wary and I didn't really push it very hard. No sense in losing it when I just got here. Still it was as cool as always and with familiarity, I was a lot more comfortable with the ride. At one of the first turns after the overlook, Killboy was there getting pictures. He got a couple of me loaded up.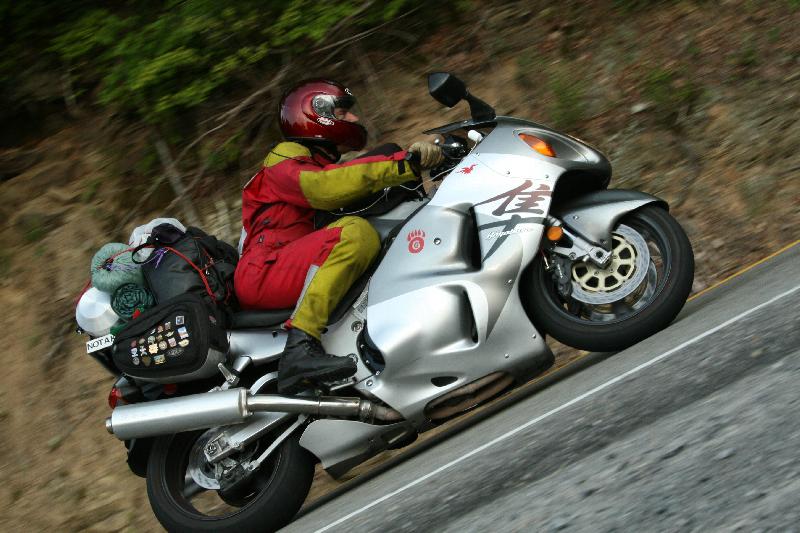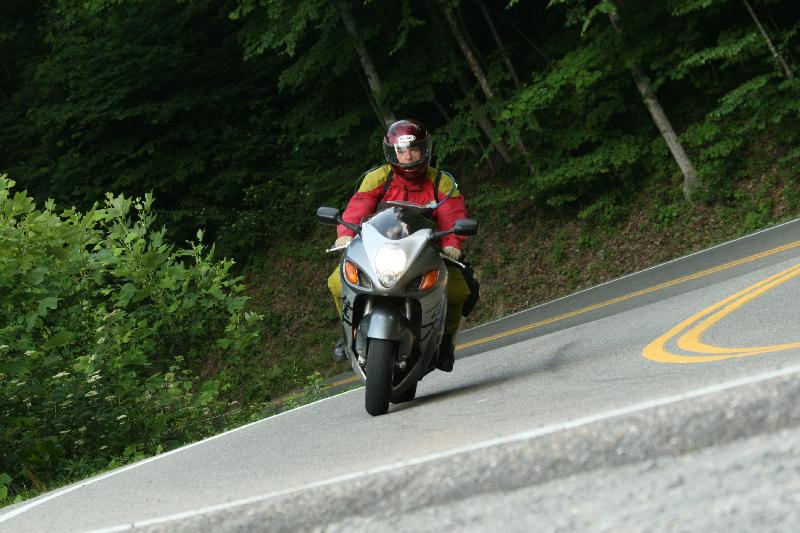 By the time I got to The Gap, the doors were just closing at the shop. I was able to get in and get a campsite (not that they were busy) and a couple of sodas for the night. I set up my tent, rolled out my sleeping pad and bag and took the gear off of the bike to get it ready for a run. I made a couple of runs before figuring it's getting a little late and I should just hang out for a bit.
I got some pictures of Deal's Gap including the new sign. I put Chili and my riding companion Lucky up on the sign for pictures. I also got pics of the old sign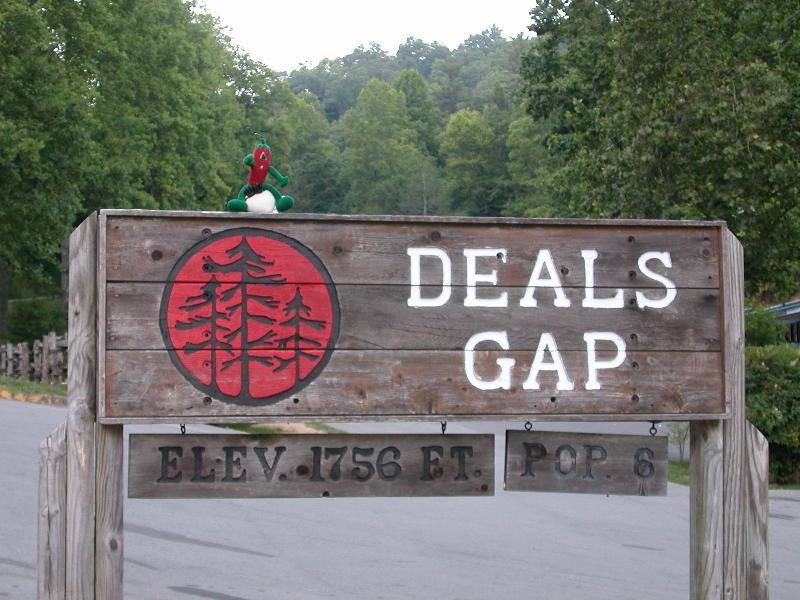 I expect to see others from Sport-Touring.net since The National is just up the road in West Virginia. I know others will be in the area especially DantesDame but I was surprised by Rocketbunny on her GS about an hour after I got there. She recounted how she got into an accident on her way here. While waiting at a stop sign, some yahoo in a truck knocked her over. It took a little help (none from the bozo in the truck) to get her bike back up on two wheels. It's good that the damage was fairly minimal.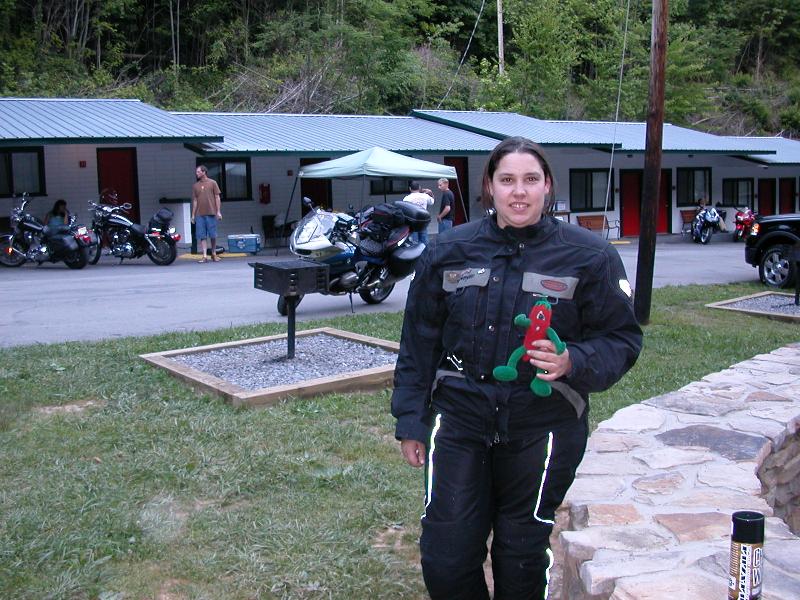 While RocketBunny has pics of her with Chili, I figured the trip wouldn't be complete without getting a picture of her and Chili.
We wandered around looking at the bikes and checking out the rooms. I noticed several had bunk beds 🙂 There was a couple out front of one of the rooms and we chatted a bit with them. He had flashing lights installed under the spotlights of his Harley. It made his bike look like a police bike.
They told us about an accident that happened on the Cherohala Skyway where a bike had slid into a guardrail. They figured the guy was a goner but we found out later that the guy had lost control when he hit a small animal and washed the bike out. He walked away with a few bruises but nothing worse.
I hit the sleeping bag not long afterwards. Sometime in the night I was awakened by some bonehead roaring up the dirt road that runs from the motel to the shop. I could smell race fuel (I guess that's what it was) even after I got up in the morning. Inconsiderate fool.