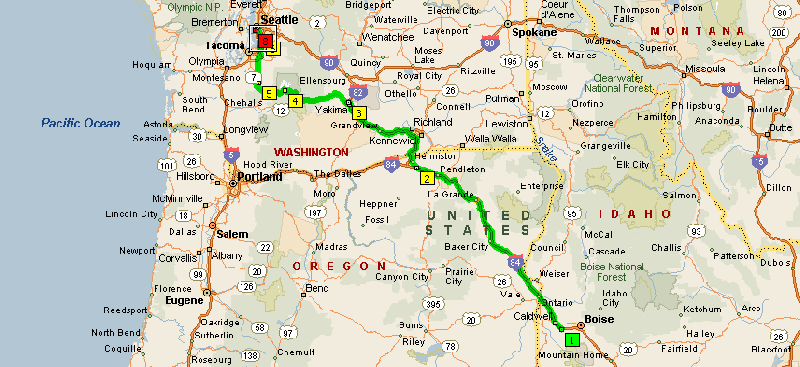 536.9 miles
The previous couple of nights, I'd been using the Mac and ripping the CDs that Rita'd brought along. Better than the droning music I'd accidentally had on my iPod. She had Bare Naked Ladies Greatest Hits, They Might Be Giants Flood, The Ramones Mania, Eve6, Randy Newman, and a mix CD with Cake and Rob Zombie on it. She also had a couple of chick CDs that I didn't bother with. I dumped the 400 or so songs for the 200 or so from Rita's selection and enjoyed the music on the trip.
I got up on time and Rita and I hit Dennys for breakfast. The hotel had some deal set up that we'd get 2 bucks off or one of a small selection of meals in place of a continental breakfast. We found these were more than sufficient for breakfast and enjoyed our meal. I got my gear all packed and left Nampa at 7:53 hopping on the freeway and heading northwest. It's a straight run up 84 to 82 so I expect no problems other than a possibility of rain in the PNW.
At a rest area at mile marker 209ish, I'd pulled in for a break. The lady asked if I was air conditioned. Of course she waited until I had earplugs, my hood and helmet on before asking so I didn't initially hear her. When I turned around and she asked again, I said that I was of course air conditioned, then laughed and pointed to the vents on the suit. As I was getting ready to go, I saw some drops of rain so I pulled out the tank bag cover and put it on. I hit a little bit of rain but not enough to be interesting.
When I got to 395, I decided to head up the side road and search for lunch. I went by Stanfield to Hermiston for lunch.
I made the right turn on 12 in Yakima and headed to Mt. Ranier. The last time I'd seen it was when I attended school in the area as a kid but there was a lot of fog in the park so I wasn't able to see the mountain.
At the end of the park I spotted a deer on the side of the road that I snapped a pic of.
After the park I headed up 7 to 161 and up to Puyallup. Traffic was pretty heavy but not insane. I followed the road up to 405 then over to 5 and to Spokane Ave. I was following the lower road and curious about the discussed bridge when I got to a draw span. It spun clockwise to let some boat through. While I was idling, I realized that the upper bridge was probably where I should be so I checked the map and figured that I could still get to the right road. Once the bridge closed, I headed up and found Dantedame's abode. In the driveway, a largish orange cat was patiently waiting for someone to let him in. He was very friendly and stood still for petting and a pic.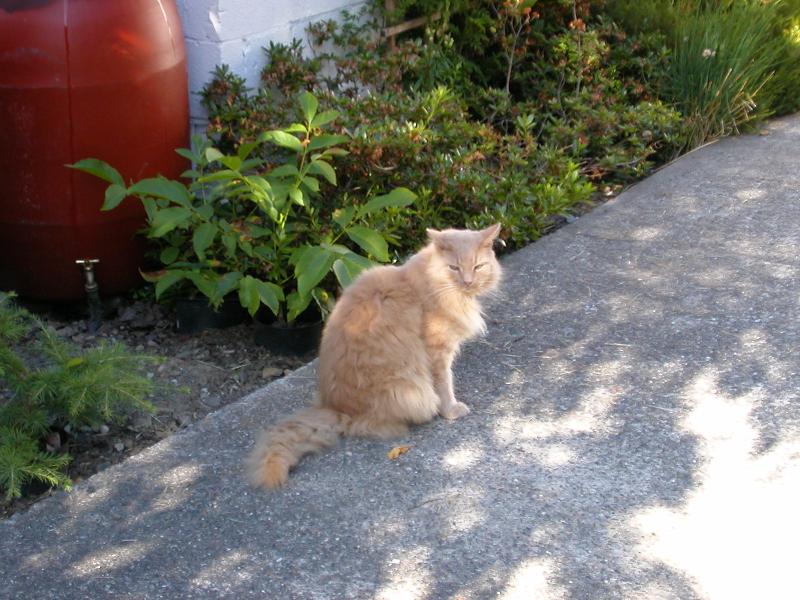 DD had offerred the hospitality of the house but it was late enough that I still needed to get to the motel and grab some snacks for the BBQ so I headed out, found the Travel Lodge and signed in. The room smelled of furniture oil which smelled somewhat like cat pee. The bathroom smelled of old towels but it wasn't over powering so I unpacked then went to the local Safeway to pick up some chips, salsa, hotdogs, and buns then back to DD's.
The group had arrived while I was getting settled and the BBQ was in full swing when I returned. I parked the bike, took off the suit and delivered the food. One of the neighborhood kids (about 12) yelled over that he wanted a bike. I asked how much money he had. "$300". "Sorry, not enough". 🙂
Of the 20 folk who were there, I met BluePoof, Uncle Bob, Dwane, Nathan, Twist, and others whos names escape me.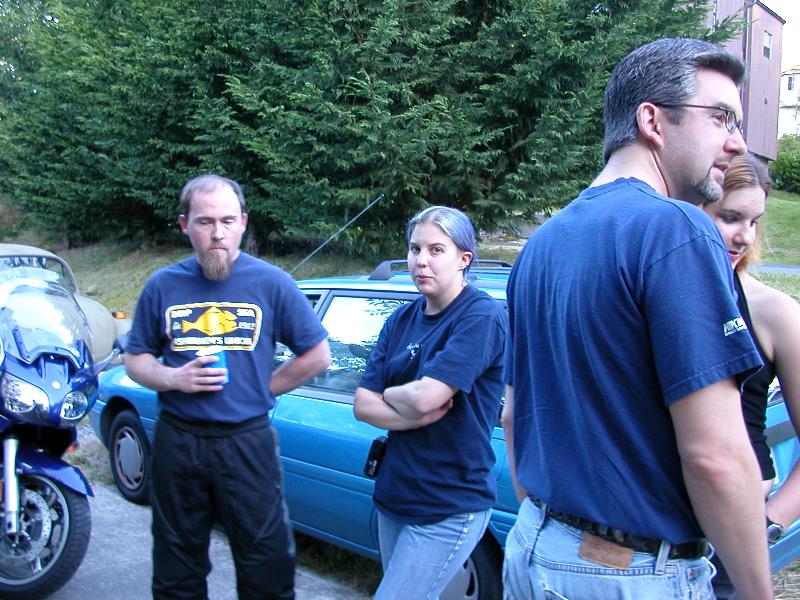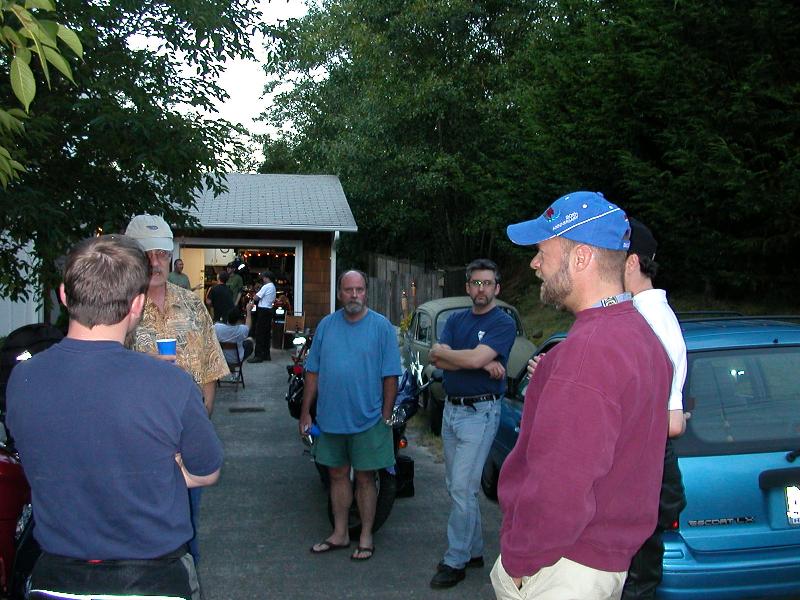 Uncle bob has a Kawasaki rat bike with a troll on the front and the lights that didn't work. He'd turboed it so the exhaust were straight. the coolant overflow was a water bottle cable tied to the frame. He had another bottle tied before but it started to leak.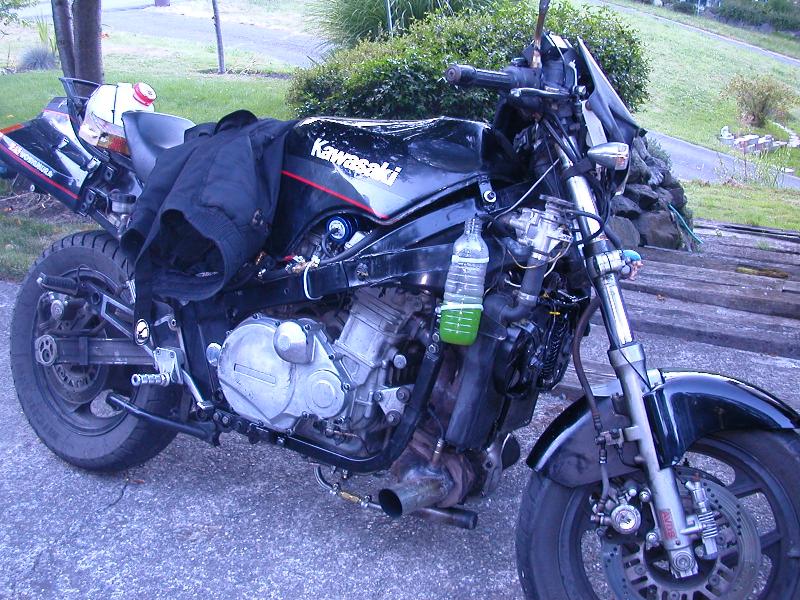 I had a sausage, diet coke and a few chips. I also had two desserts. A cake crumble thing and strawberry pie.
There was a rep from Nikwax there and he gave out some glove proof and tent & gear proof. Bluepoof got the lion's share 🙂 which she had trouble packing into her gear. Hopefully some went to others at the WCRM II BBQ tomorrow.
Jimmy, DD's cat, was enjoying himself on the bikes and basking in the attention.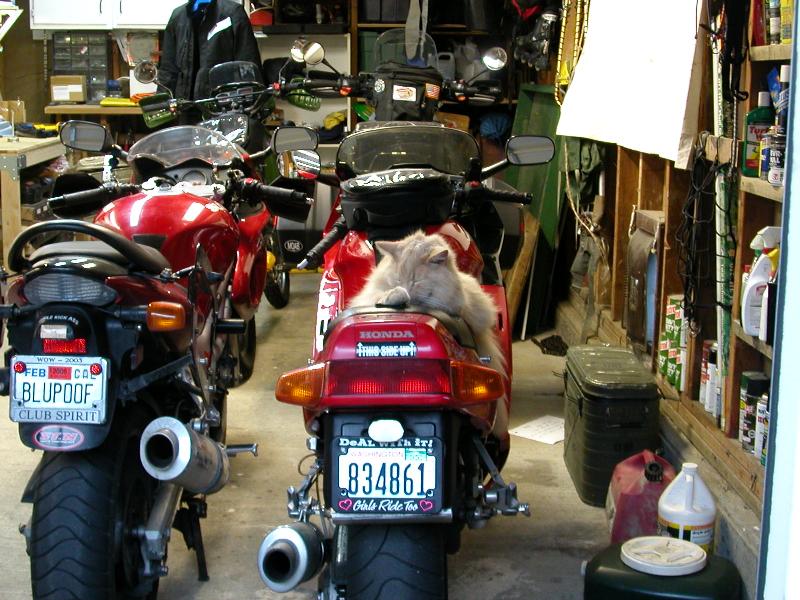 Finally I bailed at 9:30 or so since I was an hour ahead I was feeling the time. Others had already started out so I didn't feel bad about bailing. Coleen said she'd PM'd me letting me know I could stay at her place but I didn't get the message. I understand they didn't get to bed until 2am anyway so I'm not sure I would have been much fun 🙂