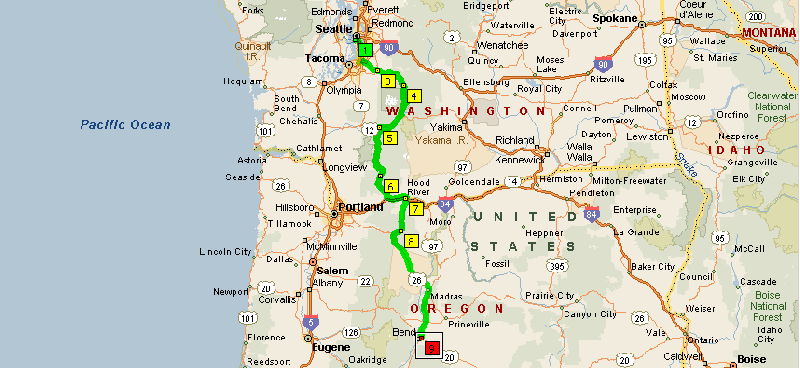 371.7 miles
At 2am some bonehead upstairs was tromping around and talking, listening to the TV. I was able to get back to sleep but he interrupted the routine. At 5:30 my alarm went off and I got my stuff packed on the bike. by 7ish, I was at Coleen's. The garage went up when I got there telling me either someone saw me come up or that someone was getting ready to roll out the bikes.
Twist was there and another rider who bailed while we were getting ready to go. I assume he headed out to the meeting place so BluePoof, DantesDame, Twist and I headed out.
We came out to 169 and followed it to Enumclaw for the meet. I was glad when we stopped. I had to hit the bathroom pretty badly. Twist mentioned that my brake light was on the entire time. I checked it out and discovered that while I adjusted the brake pedal, I hadn't adjusted the sensitivity of the brake lights so I quickly adjusted the brake pedal back so the light'd stay off unless pressed. I'll deal with it later.
While waiting a guy on a BMW stopped for gas and we chatted with him for a few minutes talking about his adventures in Mexico and different places they'd visited.
There were nine bikes at the station when we saddled up and hit the road.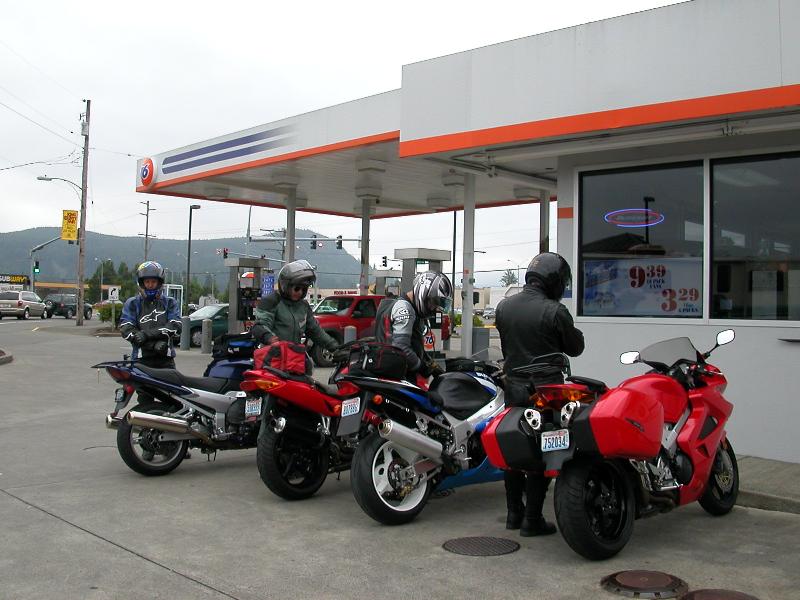 We headed down 410 around Mt Rainier, then 123 and 12 down to Randle and 131 south where we stopped again for a break. The views of Mt Rainier were clearer than Friday's ride. Apparently there had been a large rain storm Friday morning so by the time I'd gone through Friday afternoon the roads were slightly damp and fog had settled on the area. Stopping at the gas station for fuel and to make a pit stop was right on time. Of course with a car wash going on, it made it a couple of person line to the bathroom. Not great when you need to go.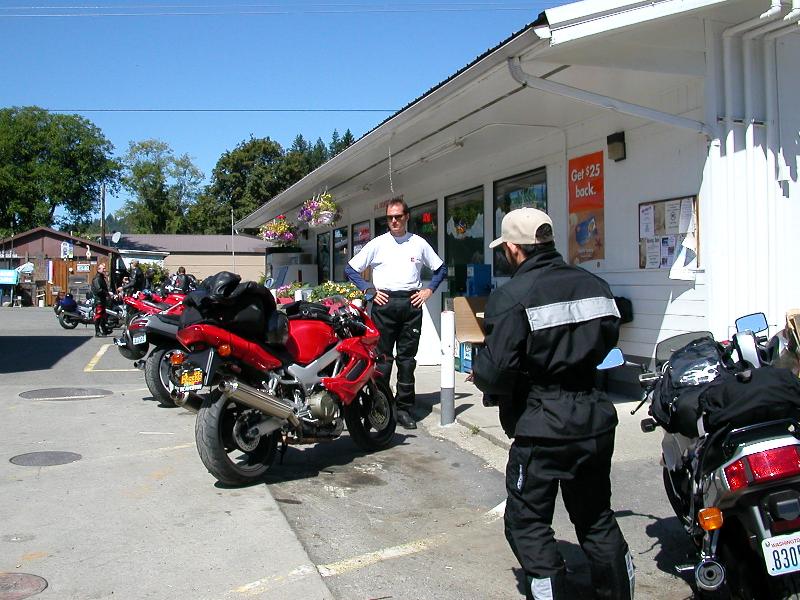 A smaller group took off and headed down 131 to Mt St Helens. I was following DD since I didn't know the exact final destination and was keeping up pretty well. I hadn't realized it was a filter trip rather than a general Seattle based group ride south so I'd hooked up with one of the groups. We'd passed a group of riders at an intersection and continued on up the road. At one point she turned around to get a pic and I followed. With the turn around, I figured that we'd simply made a quick side trip while waiting for the rest of the group to catch up. while we were snapping pics about 10 riders went by. We headed out again and as we were going by one of the turnouts, I spotted three other bikes and pulled in in order to get a couple of good pics. DD was ahead and stopped at the very end of the turnout and cruised back down to the group.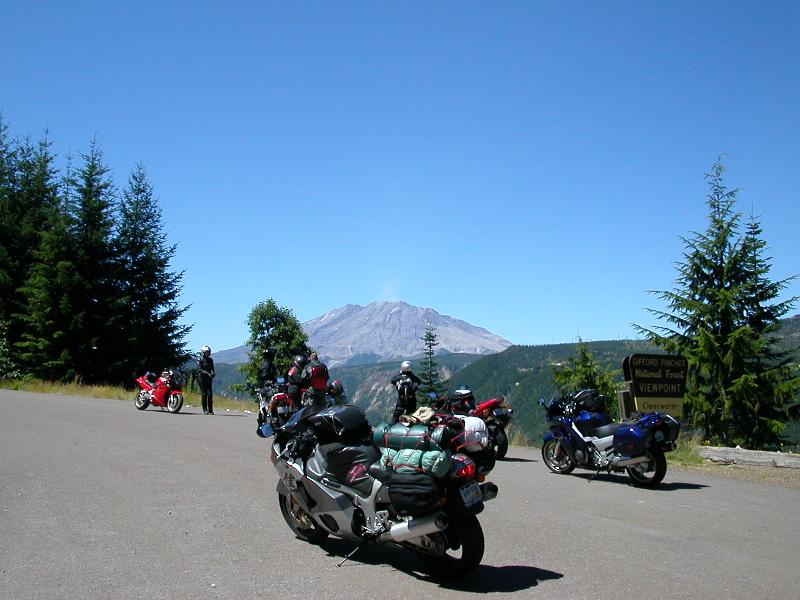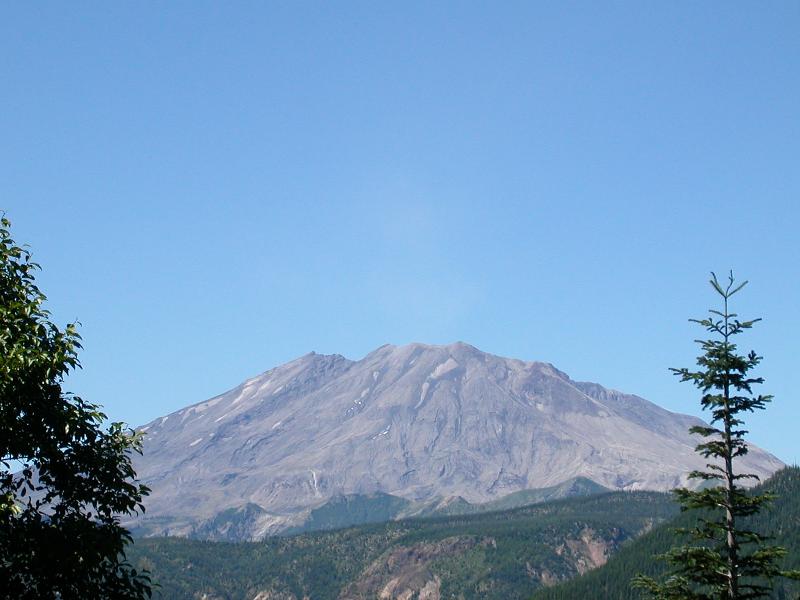 Nathan had explained that there was chip seal on the road ahead so we'd need to be careful. When we hit it, the bike was a little wobbly but I shifted off the seat in the corners and the bike seemed to handle much better. We stopped with a couple of other riders at a corner and I hit the head once again. Quite a foul stench in there. I saw someone else heading over and thought that having a smoke and going in the latrine might not be the best combination 🙂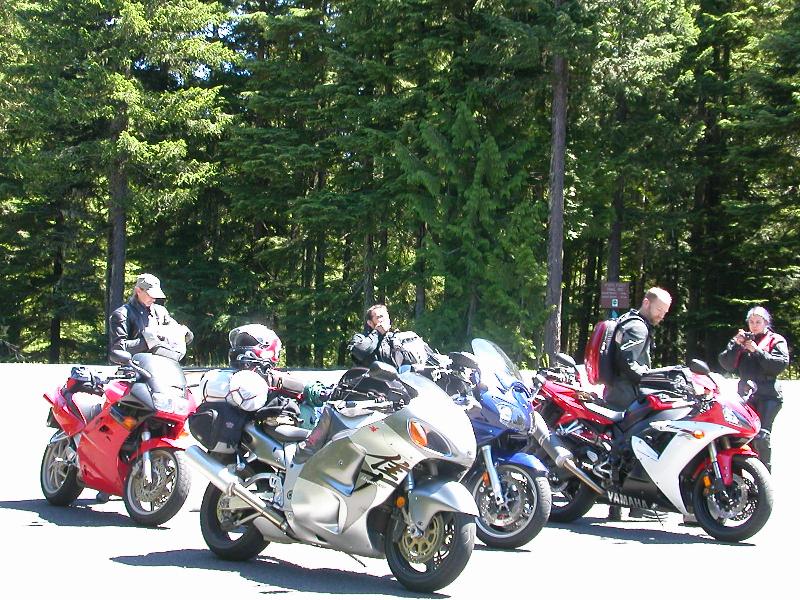 After this stop, I followed Nathan. He was a bit faster which I was enjoying. On one of the 15mph turns I hit the corner a tad hot. A rider behind me later said he saw the rear tire step out a tiny bit. We followed 25 south around the park then over to 30 south. A bit later there was a bit more chip seal that I don't think he expected.
When we got to canyon, we made a left on 14 and then right over the grated toll bridge. I was expecting some dancing but it was surprisingly stable. I looked down and could see the river below. We stopped at the toll booth, four of us with DD and BP a car back. Nathan paid for all 6 riders and we headed out to Hood River for lunch.
We parked the bikes and I locked my gear to the bike rather than carry it around with me. We wandered up the street then back to a coffee shop that one of the riders had found.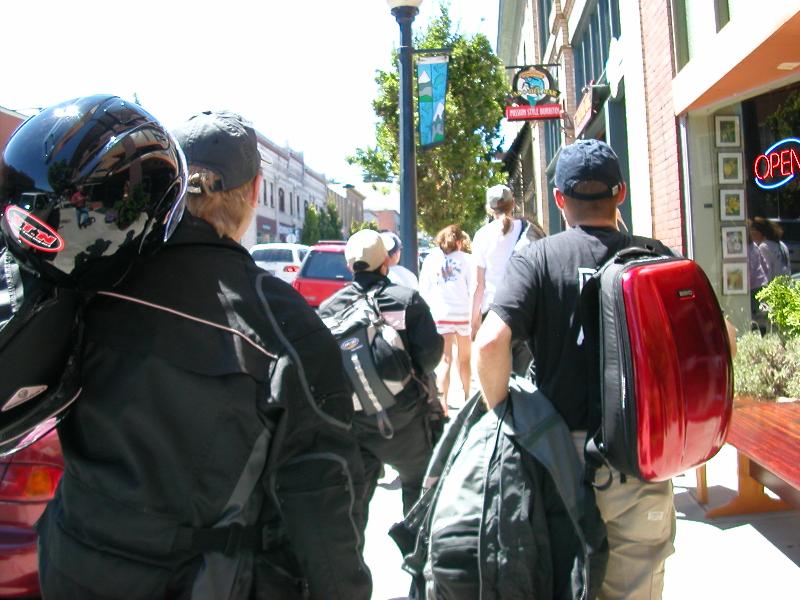 I had a half a salami sandwich. While we were sitting there chatting and eating, we spotted the GSXR1000 outside making a right. Nathan was discussing the next route south, heading down 35 to another twisty road but BP said she'd been riding twisties a little too much "seems like every group I meet wants to kill me :)" so we decided on a more direct route.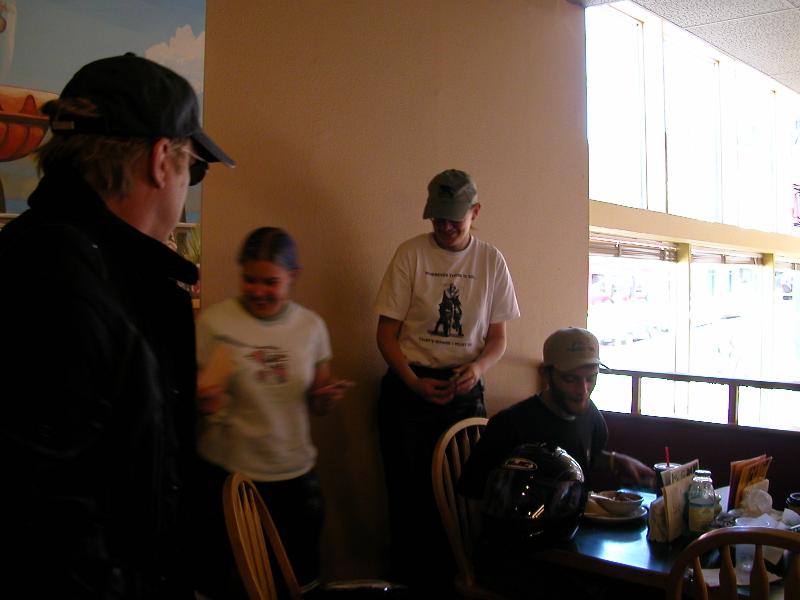 I hit the head once again and when I came out, DD and BP had bailed. I wasn't sure what was going on so I headed back to the bikes and Chris was there on his yellow bike. While we were sitting there waiting to go, Nathan and the other rider headed out. ForceOne was shaking his helmet out into the bushes. Got a bug maybe. We headed out with me in the lead for some reason. I was hoping to catch up with the others at the stop sign but I spotted one at the intersection and he waved me to the left. I made the left and started back the way we came. I wasn't sure exactly where to go and didn't think we wanted to head back over the toll bridge so I looked back shrugging and got on 84 heading east with everyone else following 🙂 Shortly DD passed me with a thumbs up so I figured I was going the right way but we hit an overpass and headed back so then I figured I made a mistake.
Sure enough, Nathan had gone back to the gas station after the bridge for gas and was waiting for us. I filled up and looped around behind. After a few minutes we headed out back to 35 south. A few minutes down 35 and DD passed us to try and chat with Nathan. We pulled over to check it out and it seemed that one of the riders wasn't with us. With people peeling off, I'm never sure just who's with us and who's not. I figure that as long as I follow DD, I'll get to Bend.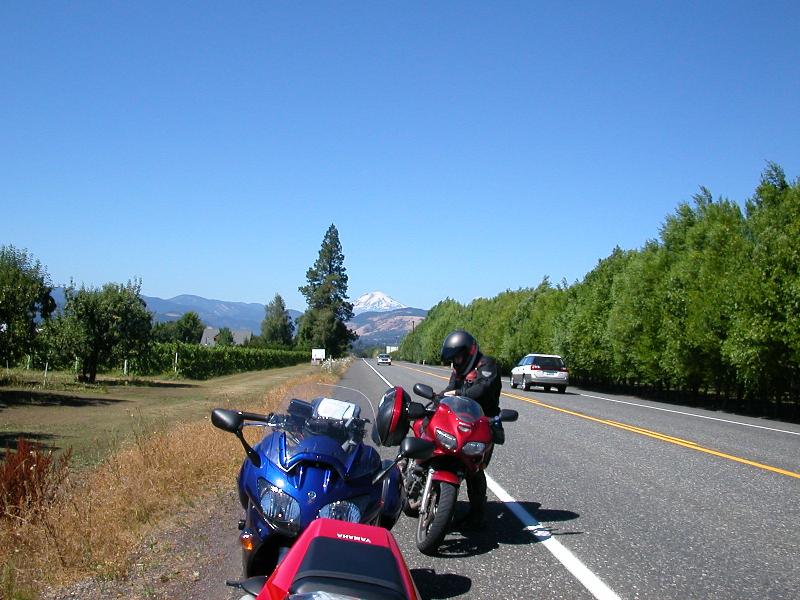 So DD headed back to get ForceOne. Chris decided to continue on so he headed out. A few minutes later, DD and ForceOne zipped by so we got our helmets on and headed out as well. We caught up with them pretty quickly and headed out as a group once again.
I had waved BP and FO by. I'd wanted to stop for a pic and didn't want other riders to stop for me. Not long after that, the other rider stopped so we stopped briefly to make sure he was ok. I snapped a couple of moving shots then a minute or so later, I stopped and got a pic of Mt. Hood.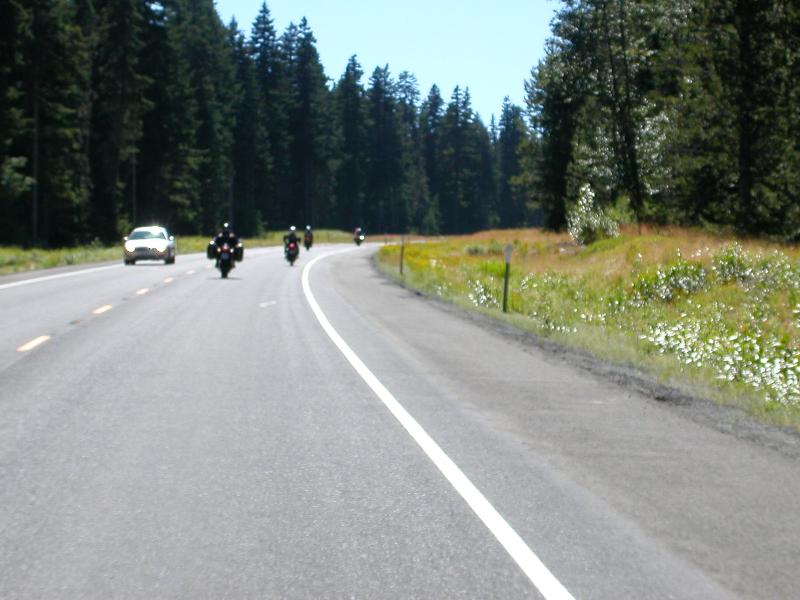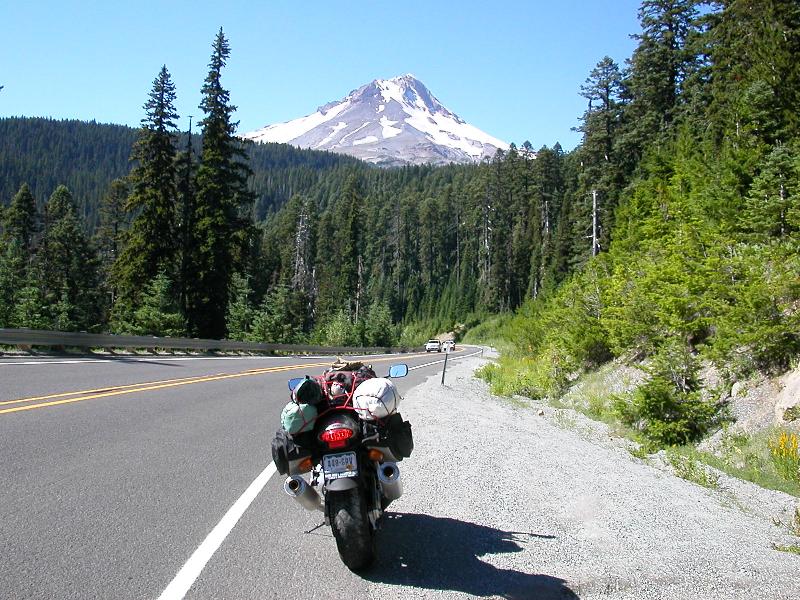 I headed out, passing when able. I got over Bennet Pass and got to the 26 cutoff but initially went the wrong way. That didn't last but a second and I quickly looped back and heading back to the east.
As I almost got to the bottom of the mountains, I caught up with ForceOne. Now earlier I'd found out he was riding a 250 Ninja and that 95 downhill with a tailwind was his fastest speed. I also recalled a story about his rev limiter causing the bike to go to idle when hit so I hung back figuring I was close enough to the pack. I watched as he slid left to check out the oncoming traffic so he could pass and finally get by all the slowpokes. We hit it to try and catch up. I snapped a couple of moving pics of Mt. Jefferson.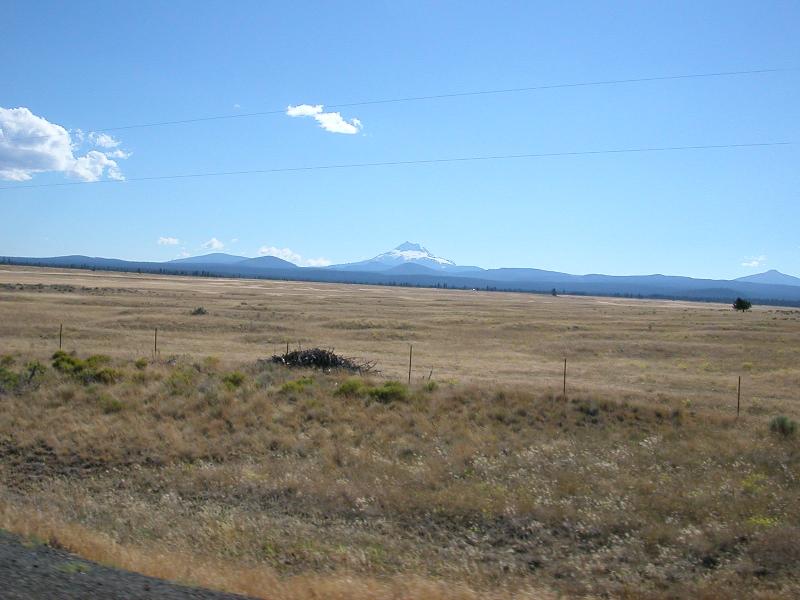 At one point, I saw FO lose a bit of momentum. I figured he'd hit the rev limiter and dropped to idle. We caught up with the group as we came into Madras. They were pulling into a gas station but a couple of bikes with boxes continued on. DD and someone else (Chris maybe) said they were going to try and catch the two other riders so they cut out. We got directions to the meet, finished gassing up and hitting the bathroom then headed out.
As we got to Bend, Nathan peeled off to find his room leaving us to find the party. The directions were interesting. Go east then west and west again then south and finally west to the house. Unfortunatly the third sign was missing but fortunatly ForceOne had his GPS set and with a slight detour, we finally made it to VFRFan's house for the BBQ.
I pulled into the garage and parked. Introductions all around and then I hunted up some food. Peter (VFRFan) was running the BBQ so I chased down a burger and a couple of chips and mingled and looked over the different bikes. While mingling I realized all the hotels in Bend were taken and the campground (I was going to camp for most of the trip) was pretty far away. Peter was nice enough to offer his back yard and I took him up on it. Another rider also camped in the backyard along with Baxter the dog.
Peter's Ural with Sidecar was the center of attention, especially since he parked it on the grass 🙂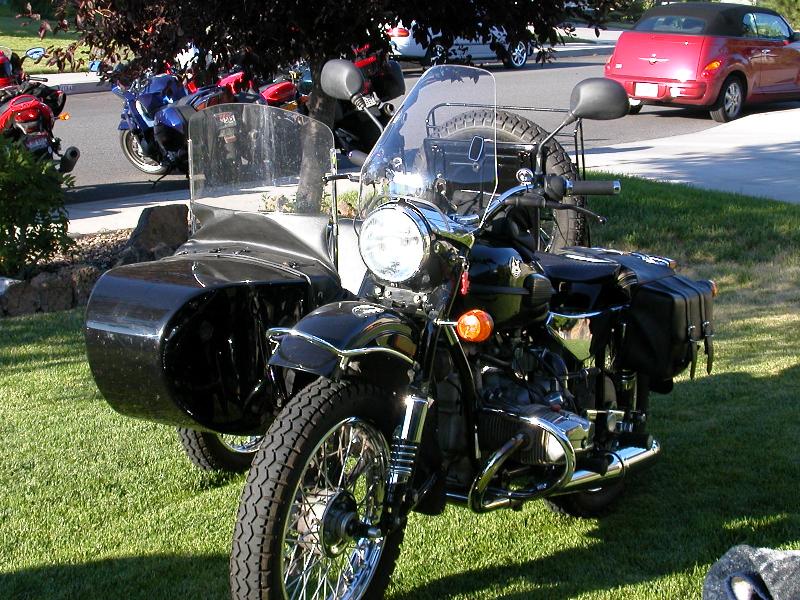 Interestingly enough, there was another Ninja 250 at the BBQ. Sam and ForceOne got together and pretty much excluded the rest of us while they chatting about their bikes and the mods they'd made. I remember the advise about not using bondo on the plastic since it doesn't flex 🙂 I always try to file away info like that for my own use, thanks 🙂 The Austrians were offerred a back room since they were also camping and with BP and DD hanging their hats in the living room, the house was full.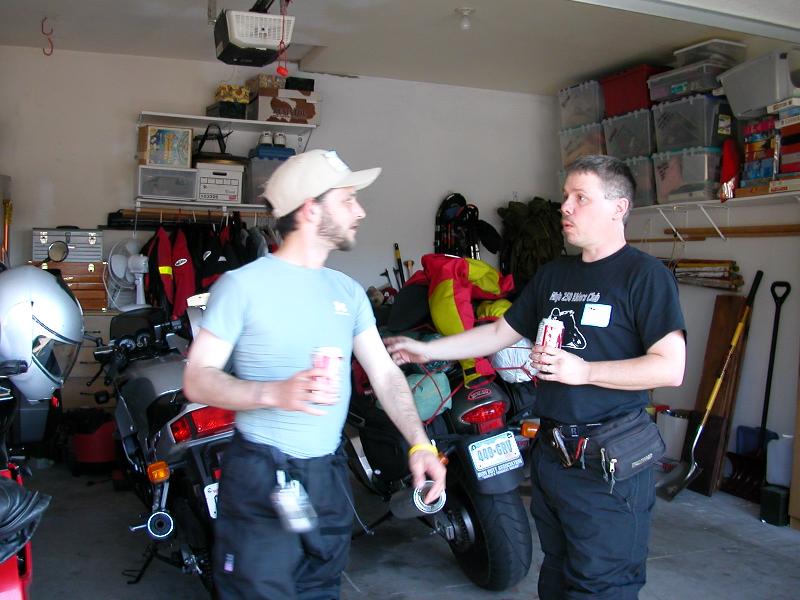 Dr. Gil and his wife arrived on their bikes. His new Moto Guzzi of course and the napkin of doom.
After a bit, Nathan arrived and said he'd found the Austrians, programmed their GPS for the address and sent them over. They arrived before he did and became the center of attention. Michael and his wife were riding a Transalp and an Africa Twin around North America. They'd been in the country for three months when they happened upon our group. I spoke to Michael and found they were from western Austria. I mentioned I had been stationed in Erlangen near Furth/Nurenburg but apparently mangled the accent because they didn't know where I was walking about. When I gave it the rolling r they immediately knew where I had been.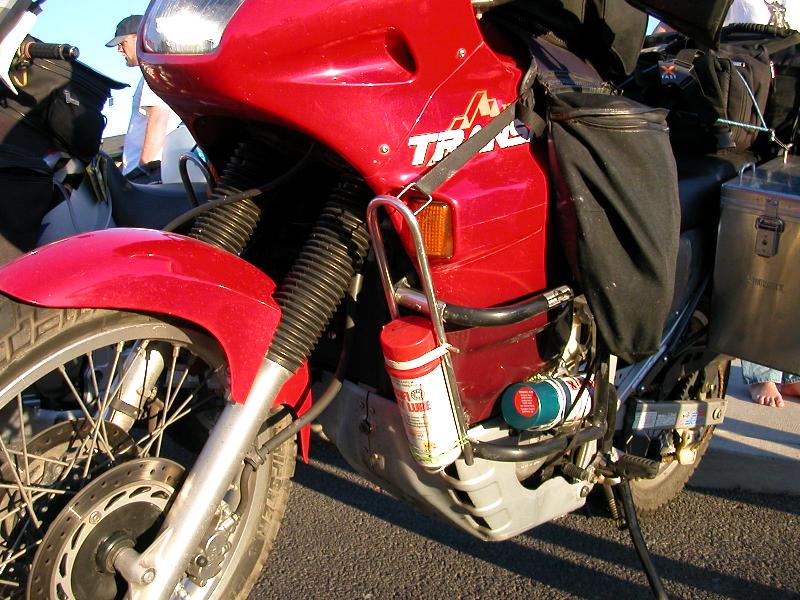 With the exception of the Austrians, I'd had the longest ride so far at about 1800 miles.
At one point, someone asked if I was the guy in the Ronald McDonald photoshopped pic 🙂 Thanks again Rich, I'm a star 🙂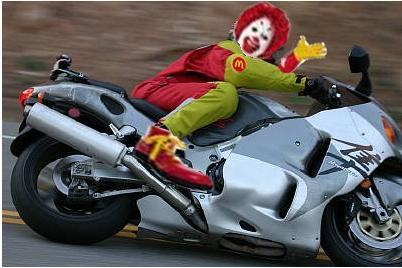 One of the folks I met was Brian (bdaleray). He's a member of the dc-cycles mailing list I was on when I lived in the DC area. We chatted for a bit and talked about the characters on the list.
The small group chatted for a little while after the BBQ broke up. We looked over the Austrians map of the US and where they'd been. Lots of riding there. He said that there were only three Africa Twins in the US. One in Florida and two in Seattle. It's been difficult to get spare parts when they're needed.
There was a consensus to hit the Black Bear Diner for breakfast at 7am which we all felt was too early 🙂 Figuring there'd be folks there at 7:30 or even 8, we decided to head over when we got up instead of trying to get up early and with that we hit the sack. There was some music playing in the distance but I was able to get to sleep without much problem.