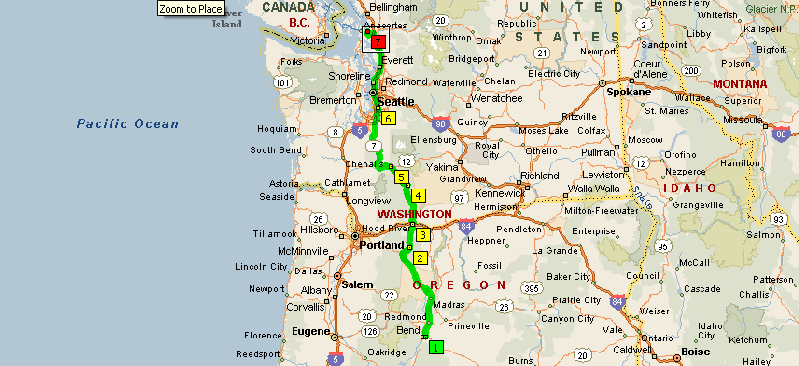 405.1 miles
At about 5:53 I woke up and started to break camp. The other guy also was up a few minutes later. Baxter was running his nose on the outside of my tent. As I got things cleaned up and started bringing my stuff to the bike and tying it in place, Baxter got in side and woke BluePoof up by licking her face. Sorry about that BluePoof 🙂 I was ready to go by 6:45 or so, so we headed over to get breakfast.
Mr. Ed was there waiting. Turns out no one told the manager that there was a larger group heading over for breakfast and we were asking for separate checks. I heard him calling other servers from home to take care of the extra guests and we were put into the conference room. It looked all set up for a meal so I figure there was another group coming for lunch. I'd ordered a short stack and a side of sausage. When it came it was gigantic. I was only able to eat about half before stopping. The Austrians, DD and BP arrived at 7:30 along with Peter, who'd said he wasn't going to come.
After some genial chatting with the others in the group, we started getting ready to go so I paid my bill and suited up. Michael asked me about the Aerostich and thought it was great that I could wear regular clothes under the gear and still be protected rather than wearing the leather pants they had.
After getting out to the lot and saying my goodbyes, I asked Peter about a Wal*Mart so I could get batteries and a sweatshirt since it was a bit chilly. I headed out, waving at ForceOne who was coming out of the hotel, stopped in at Wal*Mart and got my goods then headed off north. I was considering Crater Lake but I also had a bit of a schedule and figured that I might not make it home in time if I headed south so I decided on a northbound ride.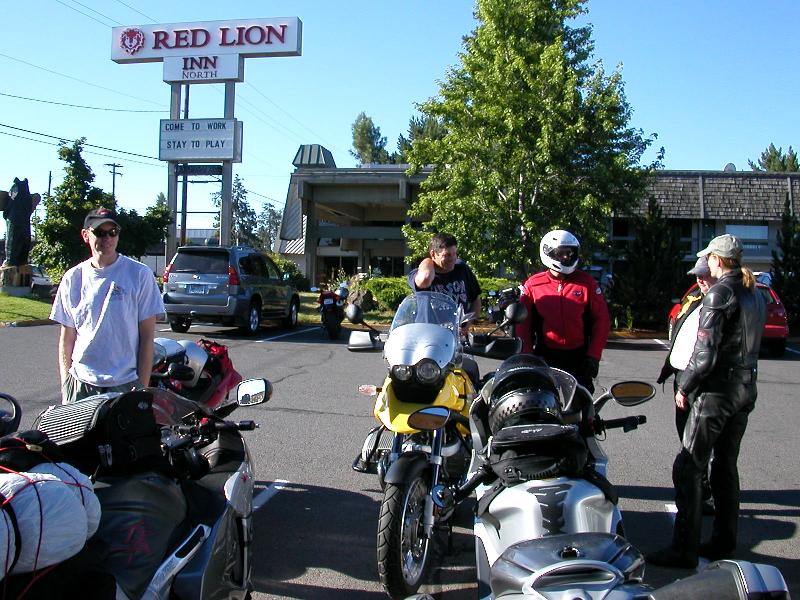 I was a tad agressive on the way up 97, passing when I could. I got behind a long line of cars, bikes, and RV's. I passed the last car then a white car to get behind the bikes. At one of the places where the lane goes to two lanes for passing, the guy in the white car came up on the right and was a little ahead when he decided he wanted to get in front of me. Nope, I'd just passed him so I wasn't letting him back in. I'd hung back a tad so I wasn't a part of the group of bikes so I closed up just a bit. When I looked over, he was red faced and screaming "asshole". Of course his windows were up so no noise was coming out. I gave him the one fingered salute and he pulled in behind me, high beams on. Not long afterwards I was able to get by the rest of the group and the RV and hot footed it up the road.
I followed the same route back to Hood River stopping a couple of times for pics or to pee.
At the toll I gave her a ten and got back $9.50 in change. Hmm, I thought the toll was 75 cents. I did get back a 50 cent piece though so maybe it was her mistake.
I made a left on 14 then a right up 141. The road was pretty nice if a little heavily travelled. I was able to pass when necessary and with no problems. I was planning on taking 23 north to 12 and enjoying one of the back roads. I could see on the map that it was a dirt road for a couple of miles.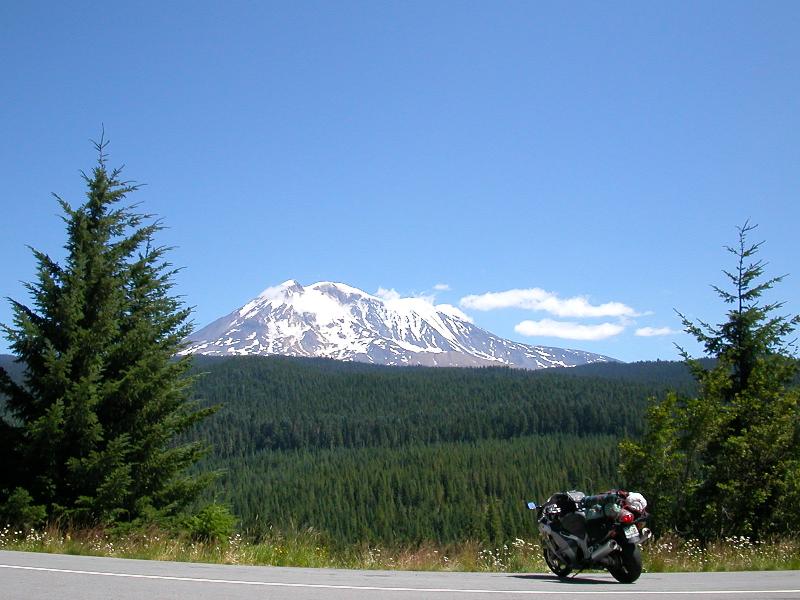 At the split for 90 the road turned to dirt. The sign said 17 miles of narrow road but there was little traffic. I hit the bushes for another break and headed on down the road.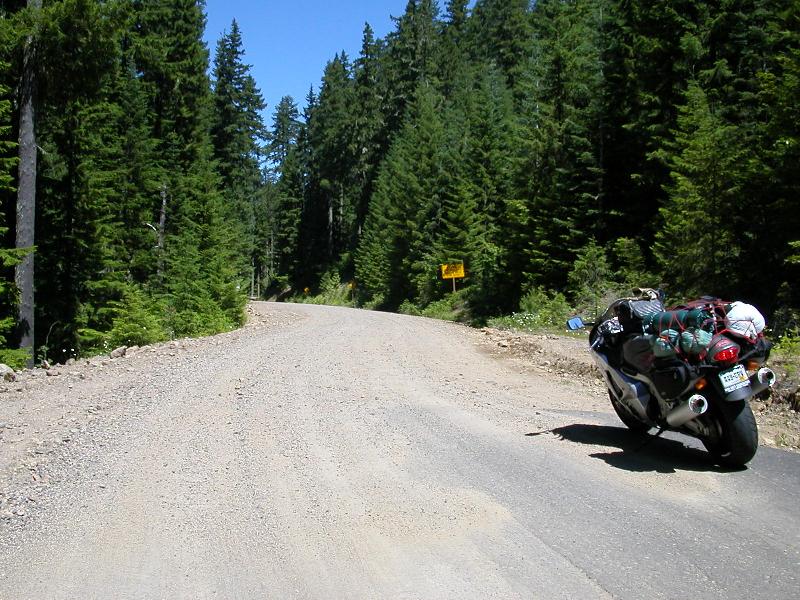 Surprisingly there was more traffic than I'd expected. I got to 12, made the left and followed the same route I did on Friday to get past Seattle.
Once in a while I'd get a car full of 20 somethings that'd pull up next to me on the freeway and look over the 'busa 🙂 It's nice to be noticed.
After Seattle I pulled in to a gas station and called Rita. It was late enough that I didn't expect to make it as far as I wanted (past Vancouver) so I had to cut out one of the rides I'd planned following 99 up to 1. I was thinking of hitting the Van Zandt State Forest but Rita found Bay View State Park so I headed over there. The ranger said to find a spot and let them know which one I wanted. As I went through the park, I found that all the sites had "Reserved" on the little posts. I went back to ask if there was an available one and she said that they just hadn't turned the signs back around yet and that any without a little receipt was available. I snagged number 42 and got set up.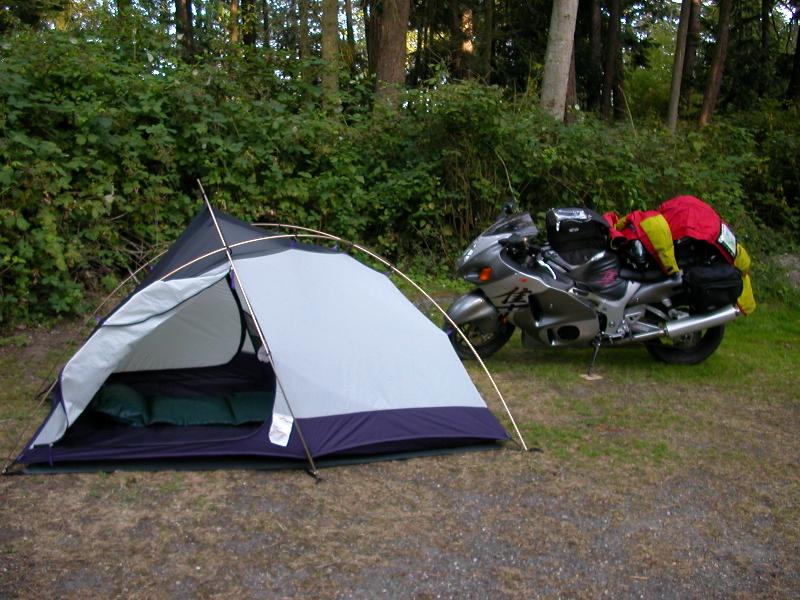 A guy on a Goldwing had the spot next to mine and we chatted briefly.
I was going to hit the showers but it turns out that they were coin operated and I'd used the last of my coins at the last gas station so I was out of luck. Rita and I chatted for half an hour, discussing routes and the costs for riding in Canada (cell phones were 60 cents a minute). I got ready for bed and hit the sack.