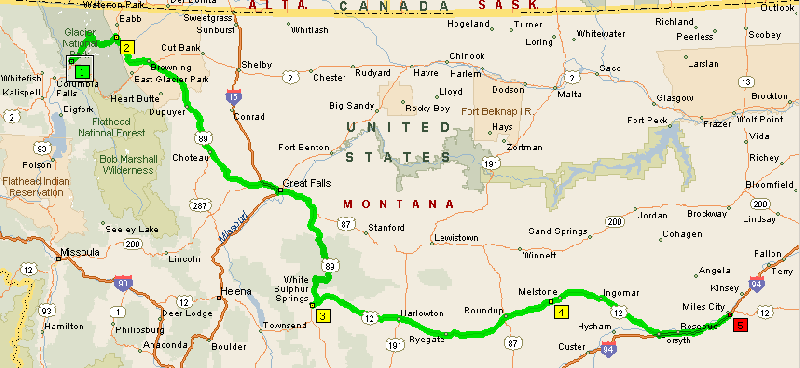 576.8 miles
I got up at the normal time of a few minutes before 6, got my gear together, cleaned up and headed up Going To The Sun Road. It was much better this morning, traffic being lighter. It was easier and safer to pull off and check out the view.
Of course the construction was still going on so the road was down to one lane in a couple of places. I got to the first one and there were a couple of bikes in the line. A BMW and something else I couldn't get a view of next to him. We moved on, around the hairpin and up the mountainside. I pulled off at a couple of places to take in the view. Rita and I'd been here a couple of years ago so it all looked familiar. About half way up, I pulled out and took a look at the famous hanging valley on Mt Oberlin.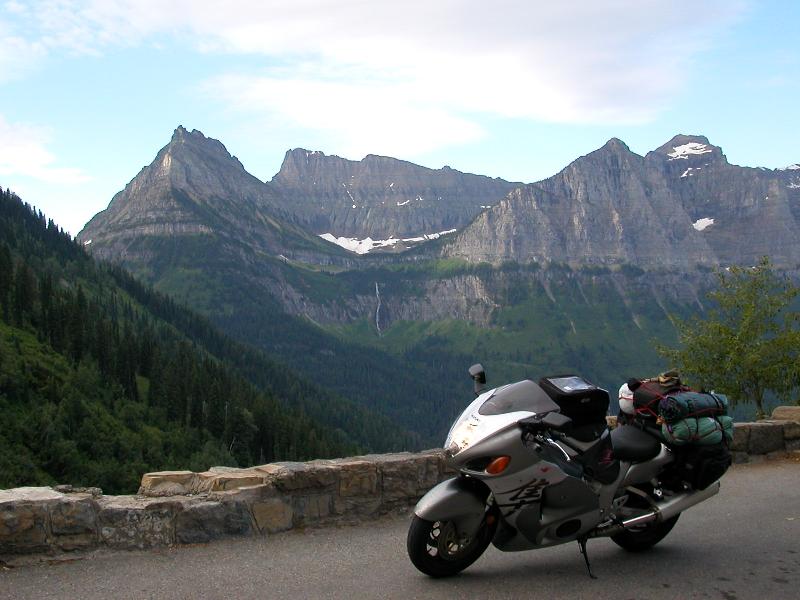 I've been harassing Rita about doing some hiking and camping. This'd be a great place to go. I'd love to camp up there and check out the valley. At one of the pullouts, spotted the two bikers heading around one of the turns in front of a hanging valley and captured them along with a pic of the valley.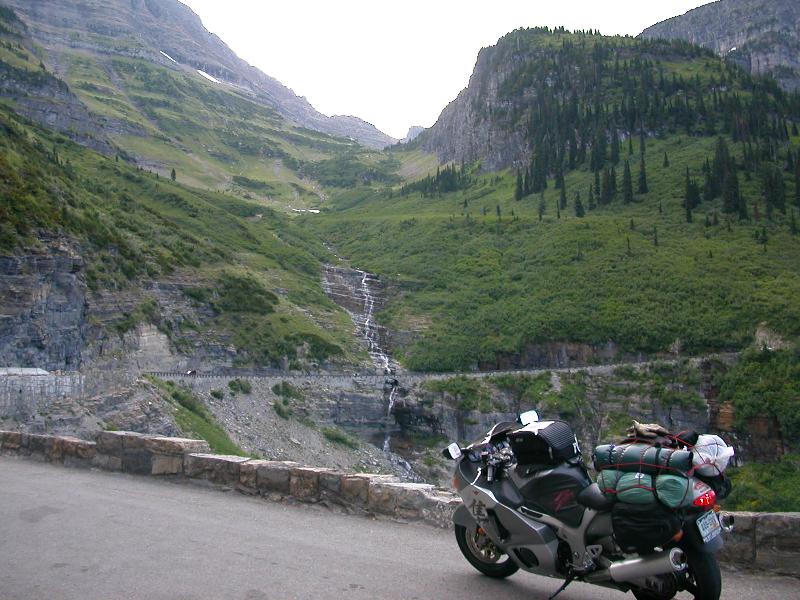 Just as I was getting to the last couple of turns approaching Logan Pass, I stopped to take a look at the valley and right next to the bike was a Marmot. He jumped up as I looked down and scurried down to the next rock, eyeing me warily. As he sat on the rock, he'd look out then down and then turn a hairy eyeball back to me.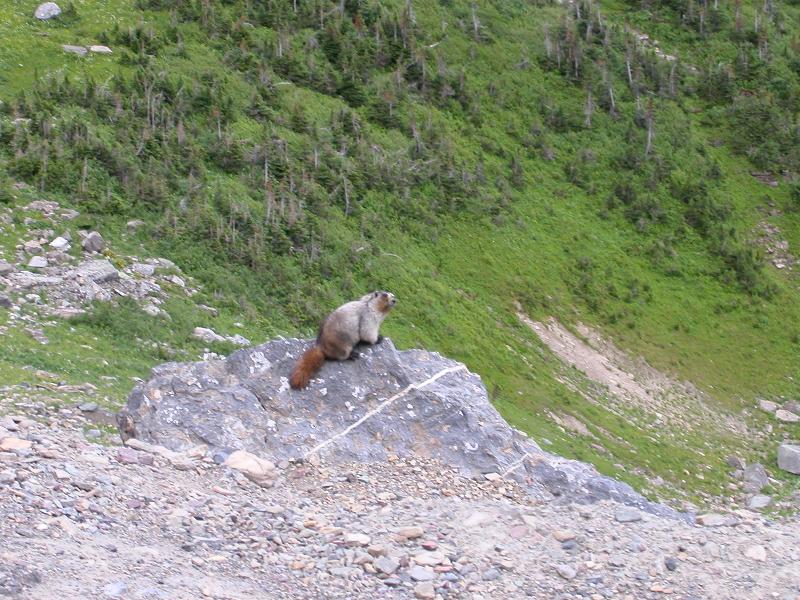 I stopped at Logan Pass for a break and to grab a soda however the store was closed since they were repairing the roof. I chatted with the two guys. One was on a Honda sportbike. I wasn't able to see the model. They were heading up to Jasper and we chatted for a few minutes about weather and general conditions. They went out to take some pictures and I grabbed a quick snack. I was watching the lot and one of the chipmonks when I turned and saw someone taking a picture. Now I passed several folks taking odd pictures of flowers and the scenery but the angle of his camera said he was shooting pretty close by. I continued around and just across the lot, a deer was browsing at the edge of the lot.
I kept myself beside and behind the bike so I wouldn't startle him since other folks were starting to gather and get their pictures. After a few minutes of browsing, he hopped over the fence, across the road and up into the trees.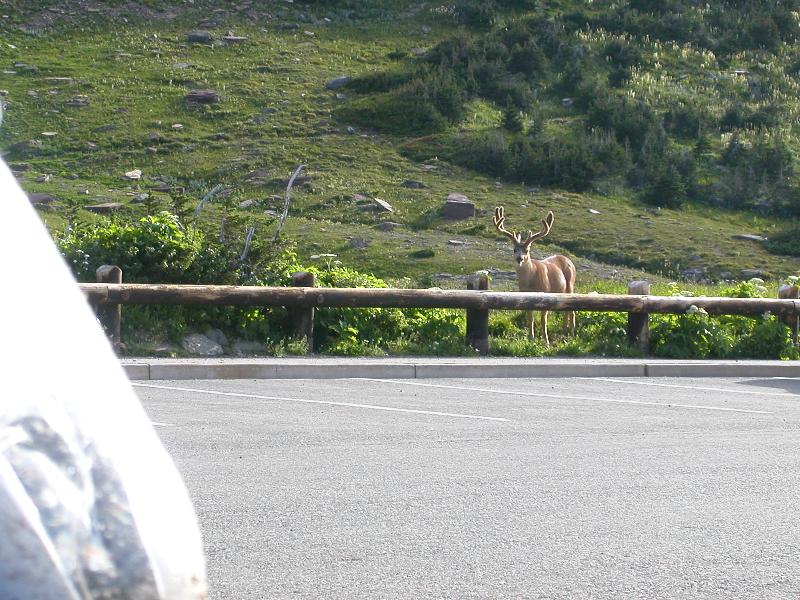 After getting out of the park, I headed south on 89. I'd spotted the Lewis And Clark National Forest and decided I wanted to check it out. The roads in the Blackfeet Indian Reservation were very quiet, very little traffic and you could easily see for long distances which made for the ability to get some speed up 🙂 I stopped in Browning for a break and the soda I didn't get at Logan Pass then continued on the Lewis And Clark Trail down to Great Falls.
It was getting pretty hot as I rolled into town. I pulled in to a gas station to locate a bike dealer. I'd run out of oil for the bike and the level was a tad low. I found a listing for "Steve's Suzuki", address of 4700 9th Street. I was on 10th Ave and I'd passed 14th Street coming into town and didn't see a 9th Street when I hit 6th Street. Scratching my head (figuratively), I crossed the river and got to 1st Street. Then 5th and then 9th Street when I made a left. The house numbers were going down so I looped around, got back on 10th Ave and made a right on 9th Street. Turns out 9th Street ends at about 2800. Hmmm, maybe it said 9th Ave. I turned back around and got to 9th Ave and made a left. The house numbers were in the triple digits and increasing until I got to about 800 at the river. Again I looped back to 10th Ave and stopped at a gas station. Filled up and asked the two clerks about the location. "Well, maybe 9th Street goes down to a field then continues on the other side." Seems they didn't understand how the streets were named either so I got a soda, geared up and headed out of town passing a Harley-Davidson dealer right on the main drag 🙂
I stopped on the side of the road after Belt after hitting a largish butterfly/moth and smelling the burst of fragrance of whatever it had ingested. I was changing the batteries on the GPS when I looked at the helmet.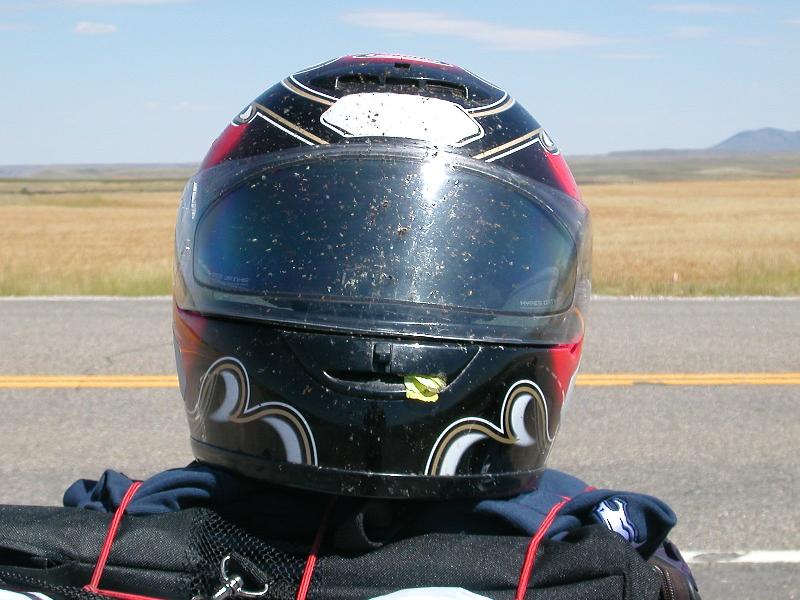 Looks like I almost ingested a butterfly.
I made the right turn following 89 south and stopped at the overlook for Sluice Boxes State Park. It was a nice little stop and I really didn't expect it since the rest of the ride has been pretty open. I stopped because I thought this was a bit unusual from my point of view. I was heading to the Lewis And Clark National Forest not really expecting much of a forest since I've always pictured eastern Montana as being fairly plains like so this was a bit of a surprise.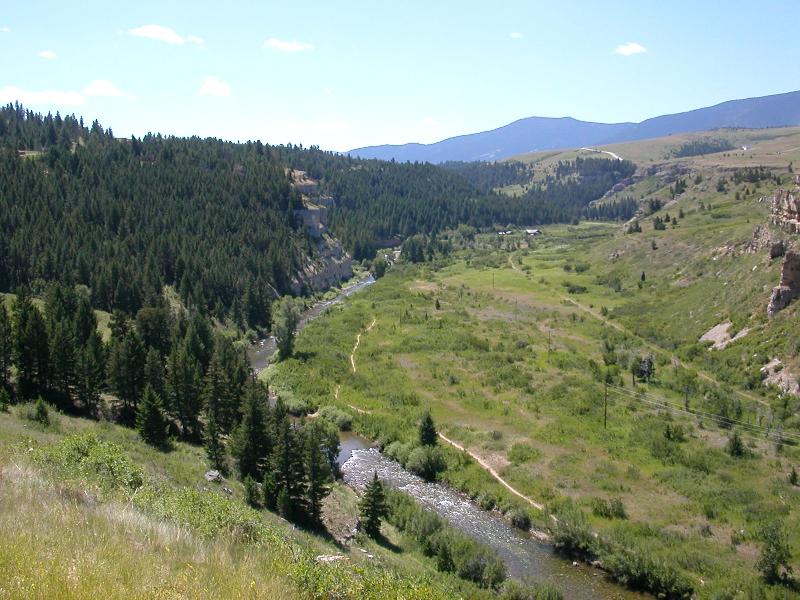 Next I headed down into the Lewis And Clark National Forest and boy was I surprised. The air started cooling down, a welcome relief, and there were quite a few trees. In fact, it was reminiscent of some of the areas in Colorado. Very familiar. I passed through Monarch and then went over Kings Hill Pass. On the other side at a pullout, there was a discussion of the Showdown Ski Area. Pretty cool stuff. I came around the bend and was on a nice long straightaway, rolling forest covered hills in the background.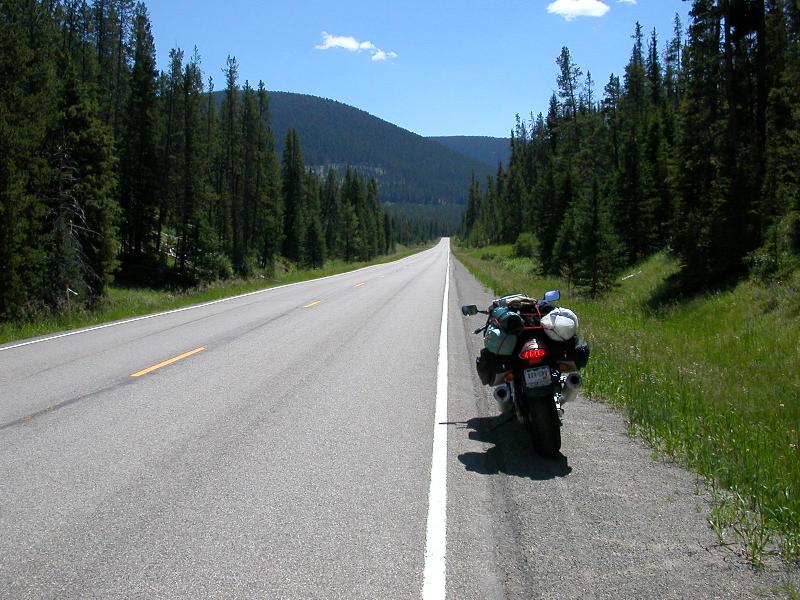 As I was exiting the park, I spotted a sport-touring bike just finishing a U-turn. I went by them waving and looked at the mileage marker signs at the intersection. I decided that Harlowtown was a bit far away and that I needed some gas so I made the right and headed down to White Sulpher Springs. When I got there, the folks on the FJR pulled in behind me and went inside. I followed them inside and I chatted briefly with the guy. He was from Mexico and he and his wife had been to Jasper and were on their way back to Mexico. They lived smack in between Mexico City and Guadalajara.
Cool beans. We talked about Copper Canyon and he expressed concern that his rear tire would make it home. He asked me if there was a dealer in Jackson Hole where he might get a tire. I told him that I was sorry, I hadn't been there so I really didn't have an answer. I did say that there was sure to be a dealer somewhere on the way south.
While he was busy, his wife started out of the store and some guy asked her if her gear was hot. It was apparent that she didn't speak any english so I headed the guy off and told him the gear could be hot, especially while walking around, but that it was protection and that as the bikes got up to highway speeds, they tended to be cool enough. We chatted for a few more minutes. He and his wife were taking their daughter up to Alaska where she was going to be teaching. I suggested they might head up through Banff and Jasper National Park and take in some sights.
While the couple was suiting up and getting ready to get on the bike, I politely asked them if I could get a picture. "Of course," he says and they started to back away. "No no, with you guys in the picture 🙂 " They came back over and I was able to get a picture.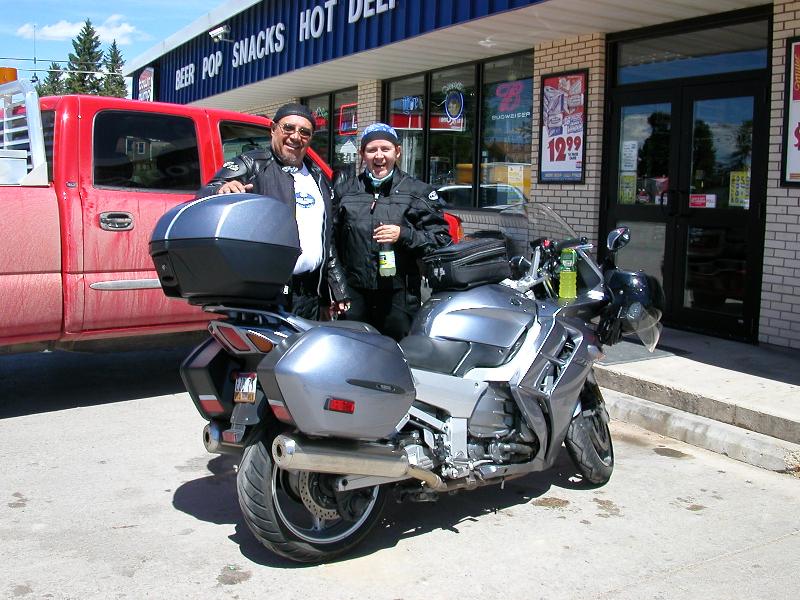 He said that when I came to Mexico, I should check in with the Iron Wind Moto Club for some hospitality.
I turned back around and followed 12 east. The lands started getting flatter again but not as flat as I'd expected and certainly not as flat as the Snake River Valley in Idaho. The heat was up there but not insanely bad (everything is compared with 107 in Idaho now 🙂 I passed small towns, some only towns in name. There were convoys of trucks with oversized loads coming my way periodically. As I passed Musselshell, a 22ft wide oversized load was slowly heading my way. The truck in front was forcing the cars and trucks ahead of me to the side of the road. She simply warned me though and I slowly motored by.
For a while as I approached Forsyth, the next town closer was Vananda. I figured that since it was actually on the signpost, it was another one of the smaller village type towns. Amazingly enough, when I got to Vananda, it was totally abandoned and all the buildings were long empty and falling in. Weird.
At Forsyth I made the left to get on 94. It was late enough that I was going to stop for the evening at Miles City. I stopped for a break at a rest area and checked the back tire on the bike. It was getting thinner than I'd expected. I was hoping to make it home on it, especially since I was only a days ride away. When I checked it, it looked like there were many small cracks in the tire. Not good news. Turns out it was just little fingers of rubber coming off of the tire from the heat and road friction.
I made it to Miles City and hit a Motel 6 so I could shower and sleep in a bed. The GPS was eating batteries like mad and I was stopping every couple of hours to change the batteries where just a couple of days before a pair would last throughout the day. I zipped over to Wal*Mart and replenished my supply just in case and headed back to the motel. I went to change the battery in the Autocomm and the connector broke. This was the second connector since the first one had broken off last year and I'd replaced it with a Radio Shack one. No music for tomorrow. Ah well, I had all the electronic devices plugged in for recharging so I hit the hay for a good nights sleep.