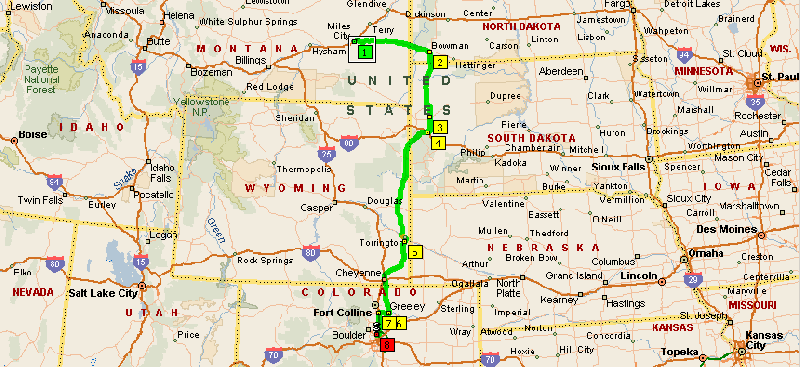 659.5 miles
As I was getting ready to go, I checked the tire again. Oh yea, I was going to have to change it soon. Maybe I can baby it until I get home.
In Baker, I stopped again to check the tire and saw a couple of threads. Too late and I'm in the middle of nowhere. I decided to continue on carefully and go as far as I could. I figured I may be forced to stop and hitch a ride to the next town with bike tires. I slowly continued on making the right turn in Bowman and heading south. I stopped again in Buffalo for gas and to check the tire. It seemed to be holding up pretty well. The showing thread didn't seem to be getting wider or longer so it was wearing better than I'd hoped. A couple stopped by on their old Harley and we chatted for a few minutes about the weather and the state of my tire.
It was about 70 miles to Belle Fourche, where a tire might be had and just a little farther to Spearfish just in case. Since the tire seemed to be holding up pretty well, I made a decision at the 168 fork and made a left intending on going into Sturgis instead of checking two towns that may not be able to accomodate me and forcing me on to Sturgis anyway. The guy on the Harley said that Sturgis was gearing up for the upcoming bike event and many vendors were in town. I might have a better chance there. So carefully I headed on down the road.
I made it to Sturgis and hunted up a phone book. I found the location of a dealer, got the address, checked the map in front of the phone book and headed on out. At the Sturgis BMW/Suzuki/… dealer, I pulled in and asked if they had a tire available. In fact they had 5 tires, all Metzler Sportecs. I'd intended on putting on Roadtecs when I got home, especially since these were more for twisties and not much good for distance riding but I was caught by the short hairs and they reamed me out pretty good. $300 total for the tire and change. Again, don't get me wrong. I was hurting. I might have made it home on the tire, but I really doubt it.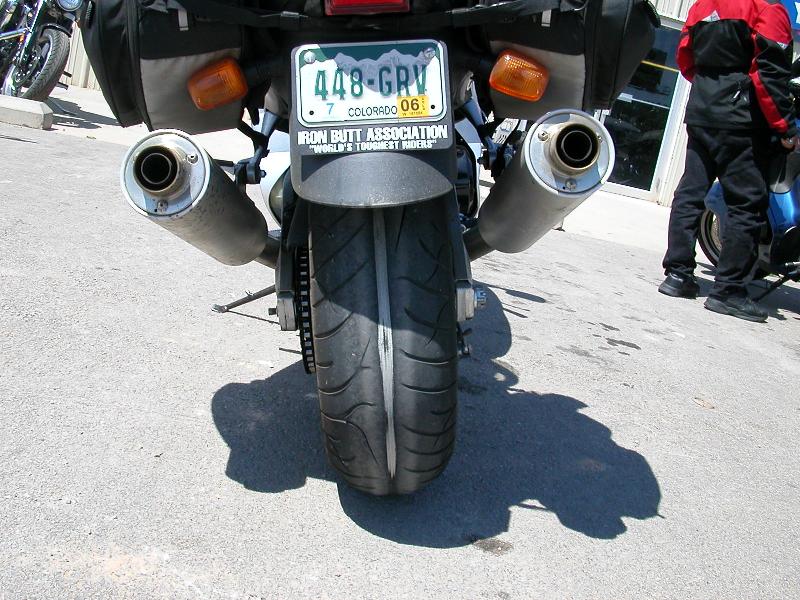 I spent an hour or so grabbing lunch and hanging around waiting on the bike to get finished. A couple had come in behind me on their BMW RT also needing a rear tire. I was ahead of them and there was another tire to be done at 2pm so they were in for a wait, unfortunately.
Turns out they have 5 or so bikes and three of them are stashed around the country. They'd fly in to a city where a bike was stashed and ride for a couple of weeks to the next big town, stash the bike and fly home. The RT had been ridden from LA to Phoenix and parked, then they flew back to Phoenix and rode up to Denver and parked it. This time they'd picked up the bike in Denver and was heading to Chicago. Sounded like an interesting idea.
We talked bikes and discussed the GS' that were on the showroom floor.
Once my bike was done, I loaded it back up, waved at the couple and headed on south again. The ride on 14 down to 85 was better this time than last time since I was on a sportbike and could enjoy the sweet curves. I headed over O'Neil Pass and into Wyoming. As I got to the edge of the plateau, I could see Wyoming spread wide in front of me. I was again a hot day with no prospect of it getting any cooler. I'd also intended on making it home tonight so there was no stopping.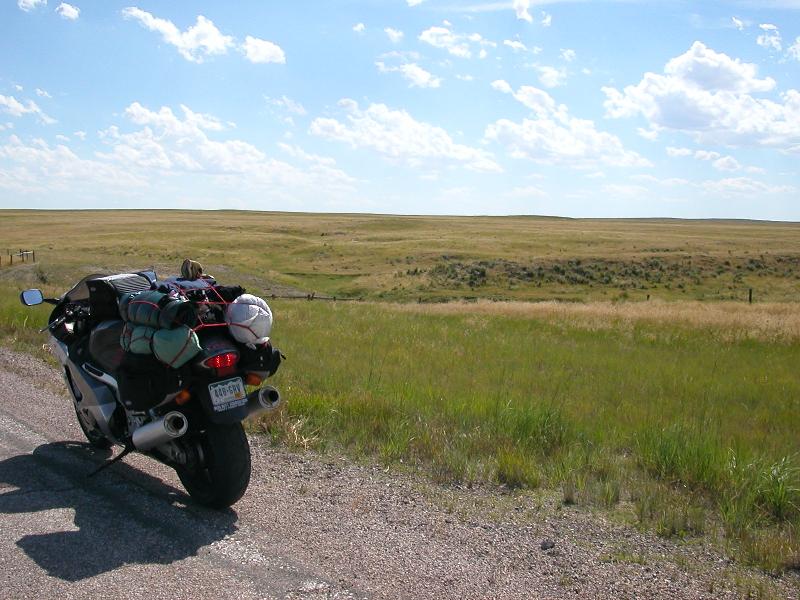 I was stopping more and more often to change the batteries in the GPS. I was going to have to mount an accessories plug to the fairing for this and to charge the other gear while camping. The more I dicked around with batteries, the better the idea sounded.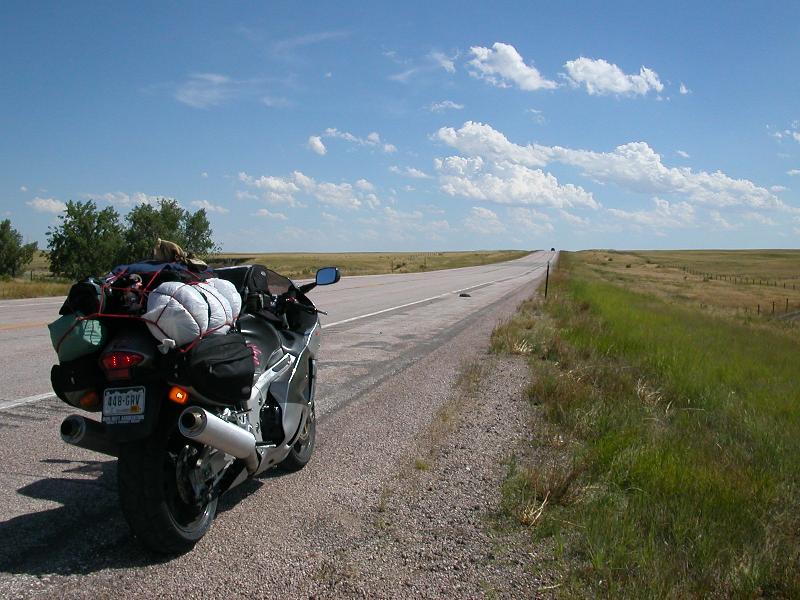 While droning down the road, I pulled out the camera and got a nice picture of my "heads down display" 🙂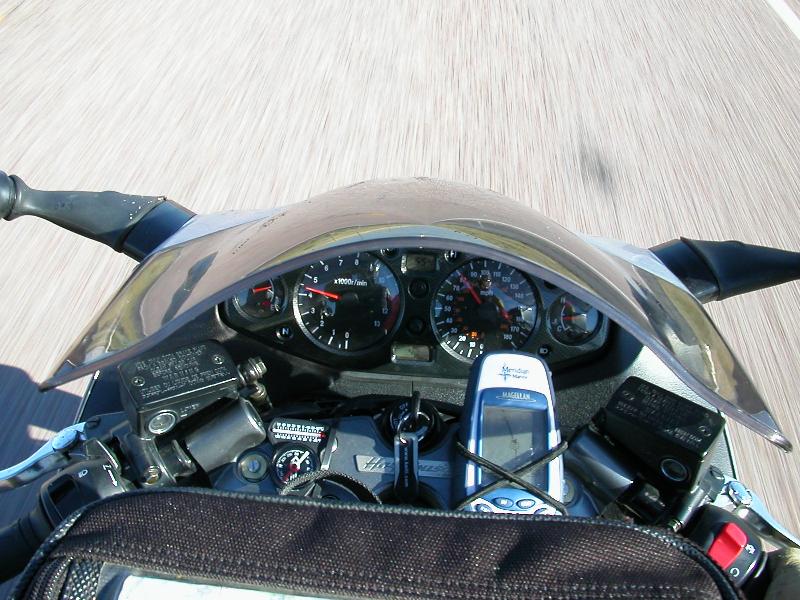 Then a pretty cool shadow pic.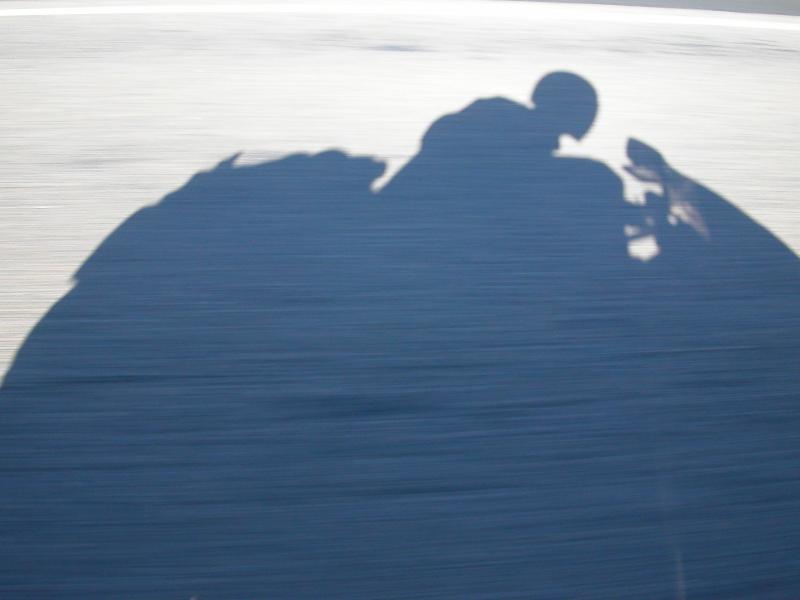 As I got to Lusk, my chain was making quite a bit of nose. The BMW dealer had also adjusted the chain out to the farthest setting so I knew it was hosed yet again. My fault for not bringing my tools or lube to take care of the chain. I will know better next time.
In Cheyenne I stopped for gas and a soda. The lady behind the counter and I talked for a few minutes then she commented that there was freeway construction on 25 south of 80 to the Colorado border. I thanked her and stayed on 85 through town. 85 through Cheyenne was shorter than I'd expected and certainly more interesting than taking the freeway. As I approached the underpass for 80, a guy in a white pickup changed into the right lane and slowed down just a bit so I could come along side. He was telling his young daughter about the bike and she was sitting up as far as she could in order to see. As I moved off, I waved to them both and I could see her small hands waving above the dashboard.
I crossed the border into Colorado and spotted the familiar welcome sign. I stopped, looped around and got a Welcome Home picture.
I kept on heading south on 85. I was going to make a right and head over to 25 south, but someone apparently didn't want me to make that turn. I passed by corn fields, a processing plant spewing flame from one of its stacks and then made it to Greeley. I used the bypass and made a right on 34 heading over to 25 south. Just before 25 the GPS's battery cut out yet again and I was tired of it so I didn't stop and didn't worry about it. It was cool to have it and checking out the stats was interesting but it wasn't as capable as a more expensive model and following the side roads on the maps didn't need a fresh download of software.
I got on 25 south, dodged the insane traffic down to my exit and headed home.